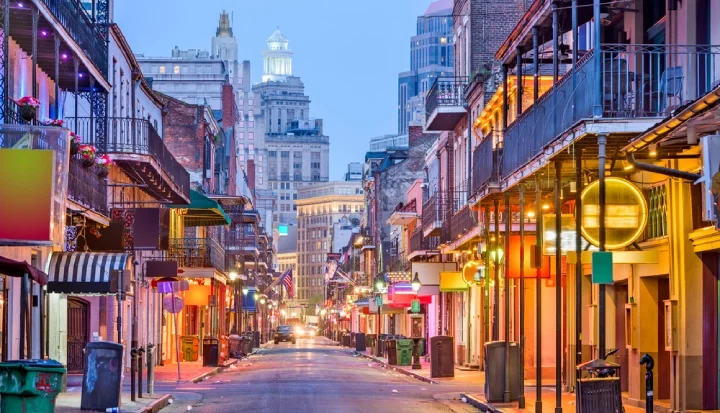 New Orleans stands out among American cities due to its truly unique cuisine, which is a result of its diverse cultural influences. The city boasts both Cajun and Creole cuisines, each with its own distinct history and flavors.
Cajun cuisine takes its name from the Acadian French settlers who migrated to Louisiana in the 1700s after being displaced from Acadia in Canada by the British conquest. This style of cooking is renowned for its robust and flavorful seasonings.
On the other hand, Creole cuisine originally evolved from the French and Spanish upper class who governed New Orleans in the 18th century. Over time, its heritage expanded, reflecting a fusion of various cultural elements. The result is a melting pot of flavors that gives Creole dishes their unique appeal.
The blend of Creole and Cajun cooking is what defines New Orleans' culinary charm, offering iconic dishes like gumbo, a thick and spicy soup, and jambalaya, a local twist on paella typically prepared with smoked sausage.
Beyond its distinctive cuisine, New Orleans boasts a rich history evident in its stunning Spanish and French architecture, as well as its characteristic shotgun shacks. Notably, The Garden District and French Quarter neighborhoods are home to numerous outstanding restaurants. Among these establishments, some have stood the test of time, such as Antoine's, which was founded in 1840 and features a series of distinct private rooms and salons. Commander's Palace is another long-standing restaurant dating back to 1880, although some believe its food quality has declined over the years.
Gatreaus's
Gautreau's is situated in the picturesque setting of an Uptown New Orleans neighborhood, surrounded by lush gardens. The restaurant's ambiance strikes a perfect balance between elegance and approachability, creating a unique and inviting atmosphere. The menu is a delightful blend of creativity and comfort, offering innovative dishes with a down-to-earth touch.
Including dishes like Hokkaido scallop crudo with sweet and sour cucumbers baby tatsoi, watermelon radish and peanut lemongrass vinaigrette and filet mignon with buckwheat and satsuma harissa demi-glace matsutake mushroom, cauliflower, leeks and bok choi, Gautreau's boasts its elaborate and unique food combinations.
Brigtsen's
Today the best food is to be found in some of the more recent establishments. Chef Frank Brigtsen and his wife Marna brought to life Brigtsen's in 1986, a restaurant located in the Riverbend neighborhood of Uptown New Orleans.
It is considered one of the city's culinary gems, known especially for its exceptional rendition of both the Creole and Cajun cuisines. The diners can enjoy a warm and inviting atmosphere, which is the perfect blend of Southern charm and culinary excellence.
When it comes to the menu, every dish focuses on fresh and locally-sourced ingredients. While still inspired by traditional dishes such as fried catfish or blackened tuna, the chef always gives a modern twist.
August
The restaurant August in New Orleans is a contemporary and refined dining spot which offers its diners a modern rendition of Creole cuisine. It is situated in a 18th-century Creole building in New Orleans' Central Business District, with the interior characterized by original architectural details such as hardwood floors, columns, mahogany paneling and vintage mirrors.
The executive chef is Corey Thomas and, thanks to his experience, he is able to bring the most authentic and sophisticated French techniques to the table with every dish. Between foie gras and duck, the menu is the perfect blend of French and Louisiana influences.
Bayona
First opened in 1990, Bayona was created by Regina Keever and chef Susan Spicer. Both women are now world-renowned thanks to the restaurant's award-winning dishes.
The eatery itself is located within a 1769 Creole cottage in the heart of the French Quarter, giving the atmosphere a romantic connotation.
The menu is inspired by flavors from all around the world while still utilizing locally-sourced produce. Indeed, over the last three decades, chef Spicer created a global menu with influences from countries like Spain, Italy and France but also from India and the Orient.
Bayona's menu changes daily, with some favorites such as pan-seared scallops and Mississippi rabbit on rice leaving marks in every diner's heart.
Restaurant R'evolution
Walking in Restaurant R'evolution feels like going back in time to the French Renaissance era. The offerings also reflect history, with gilded age-inspired cocktails and Creole and Cajun dishes.
This eatery is located at the core of the French Quarter at Royal Sonesta New Orleans, and today it is one of the locals' favorite fine dining establishments.
Restaurant R'evolution was opened in 2012 as a collaborative effort between award-winning chefs Rick Tramonto and John Folse, both renowned for their culinary expertise and dedication to celebrating the diverse flavors of Louisiana.
Including classical dishes like gumbos, of quail and seafood, and delicate Wagyu tenderloin carpaccio, Restaurant R'evolution does a great job of fusing various world cuisines.