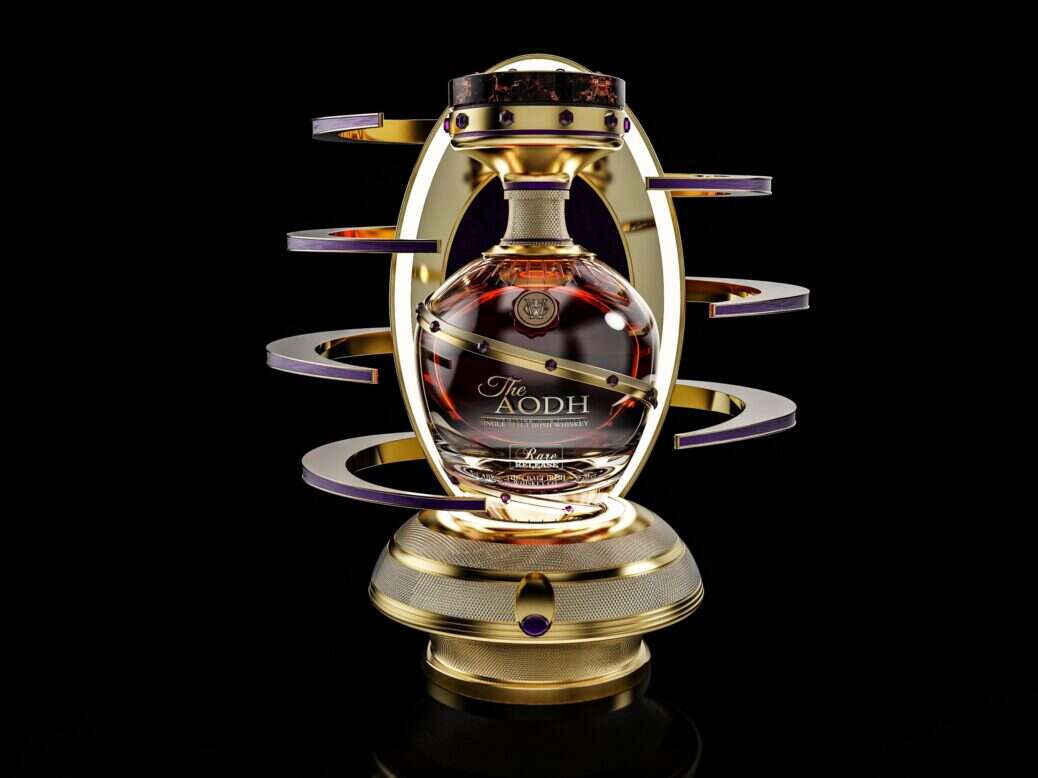 Industry maverick The Craft Irish Whiskey Co has revealed the latest edition to join its glittering portfolio: The Aodh. Released in partnership with leading jewelry designer MJ Jones, like its predecessors, The Aodh is a whiskey designed to be an heirloom and a conversation starter, not just a drink.
Highly limited to just 88 editions, each bottle of The Aodh is the result of meticulous design. The glass itself is curved, meaning it cannot be put down; instead, it must either be handed around for guests to admire or returned to its case.
Inspired by the fabled story of Aodh, a god of the underworld who, according to Irish mythology, was imprisoned in the body of a swan, The Aodh's presentation box is designed to emulate a skeleton-like prison. The bottle is encased in spiraling arms of gold and royal purple, with a winged chassis locking it in place.
[See also: The Craft Irish Whiskey Co Reveals Fourth Release]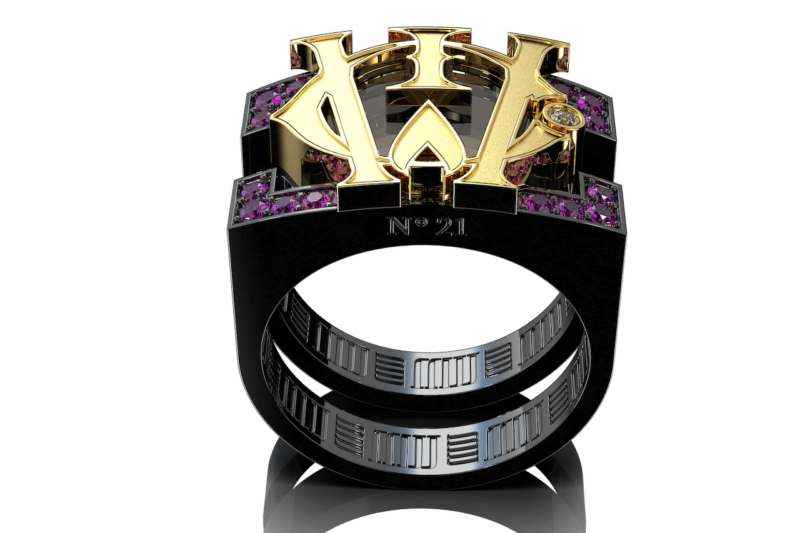 Each bottle is inlaid with semi-precious obsidian stones that conceal a secret compartment, inside which is a bespoke 18k-gold MJ Jones-designed ring, bearing both The Craft Irish Whisky Co logo and a single diamond surrounded by a halo of amethysts. Each ring is carefully engraved with a number corresponding to which of the 88 bottles it accompanied.
Collaborations like this are not new to The Craft Irish Whiskey Co, with the brand having previously partnered with leaders in the luxury sphere to bolster the exclusivity of its releases. For the Emerald Isle for example (which shot to the top of the record books to become the most expensive whisk(e)y in the world when it sold for a dizzying $2m at auction in 2021), the brand asked renowned jewelers Fabergé to create two bespoke versions of its world-famous eggs.
However, while Craft Irish is clearly ahead of the game when it comes to industry-leading packaging, design and partnerships, it's what's in the bottle that really counts. The Aodh is a single malt drawn from just two sherry oloroso barrels. 
[See also: House of Hazelwood: Ultra-rare Whiskies You can Afford to Open]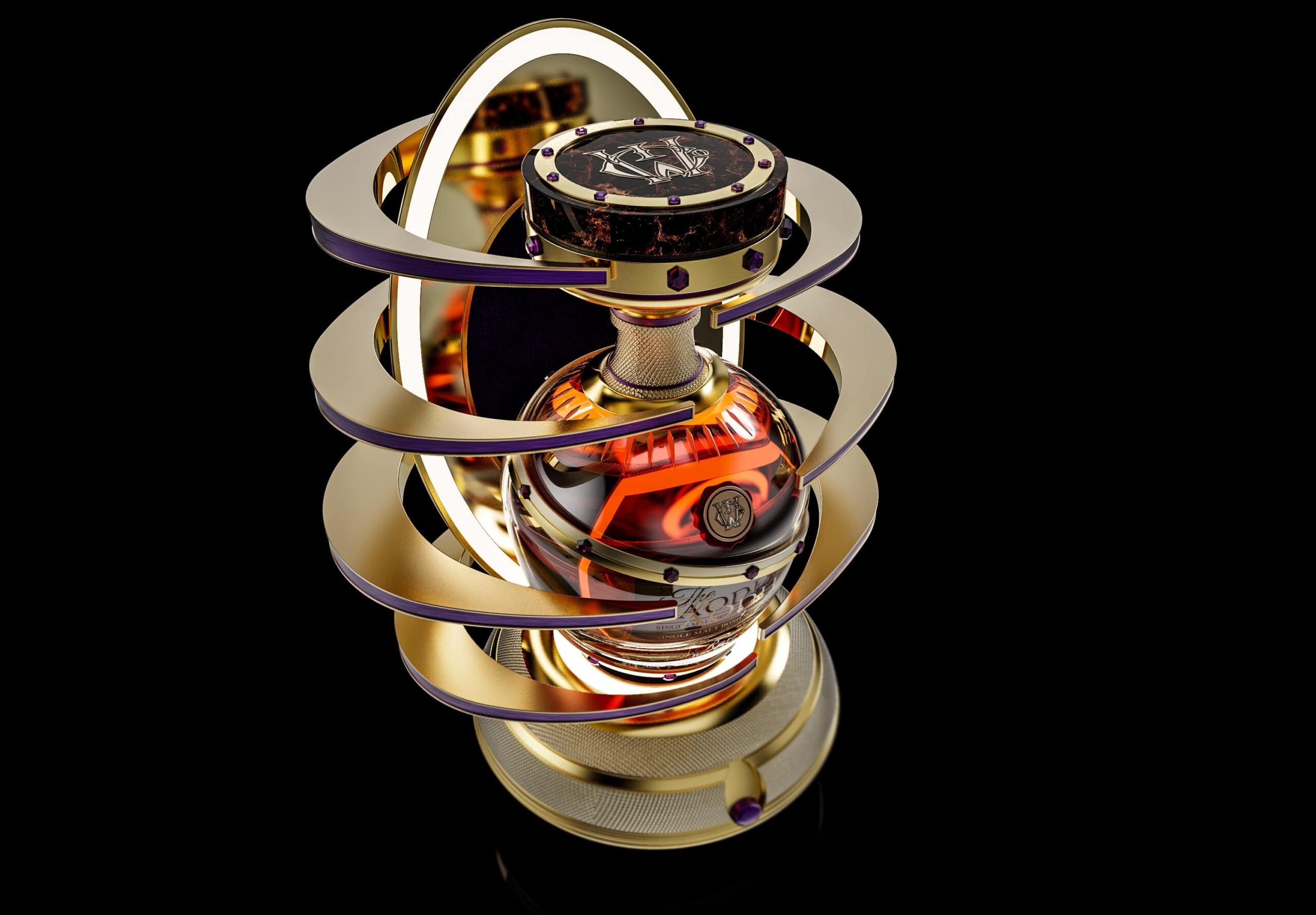 The small size of these barrels is unconventional given the massive amount of evaporation, but the risk paid off: The Aodh is rich and deep, leading with notes of sweet honeycomb that melts away into syrupy dried fruit with hints of spice.
"Less than two years since The Craft Irish Whiskey Co introduced its first whiskey, as a business we have succeeded in taking Irish whiskey into a new top-shelf, ultra-luxury category," said The Craft Irish Whiskey Co founder, Jay Bradley. "Through this partnership with MJ Jones, we have created a truly unique offering for whiskey lovers and collectors, with no expense spared." 
Along with being in possession of one of just 88 rare bottles of whiskey, The Aodh owners will also be granted access to The Craft Circle – an exclusive members' club offering invitations to private events and tastings among other privileges. 
[See also: The Dalmore Launches Luminary Series with Rare No.1 Expression]