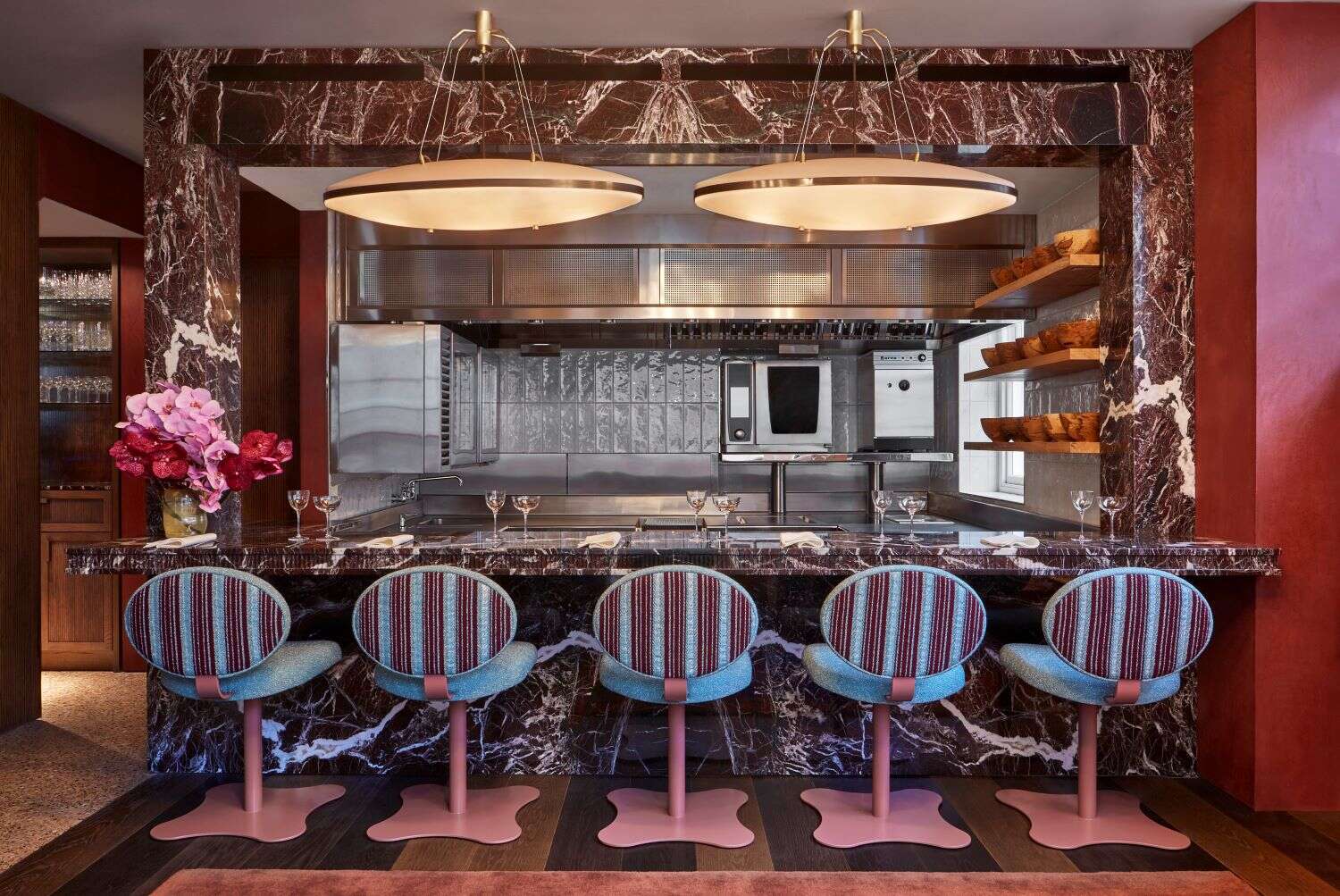 It is not often that a greatly admired chef will invite you into his house, seat you at a counter overlooking his kitchen, cook and plate up at arm's length in front of you, then talk you through the intricacies of the dish he's personally served you. But that's exactly what happens at Muse by acclaimed chef Tom Aikens.
Just 25 seats make up this blink-and-you'll-miss-it restaurant contained in a petite converted Georgian mews house positioned down a handsome cobbled back lane in London's Belgravia. 
Arriving at the restaurant's unassuming residential-looking black front door and curtain-draped window, you could be forgiven for wondering if you'd come to the right place. The only thing that gives the contents of the building away is a red Michelin star 2021 plaque — an accolade the restaurant quickly scooped just a year after opening in January 2020. What lies within is an experience you will not forget quickly. 
[See also: Scandi Smoke: Inside Niklas Ekstedt's New London Restaurant]
Interior
Step inside and the understated exterior gives way to a plush but playful, snugly-lit interior, as warm staff usher you in from the city's cold evening air. Split over two levels (the third level contains Muse's third kitchen), the red and gold-toned ground floor features a wide and inviting booth should a pre-dinner cocktail take your fancy. 
The focal point is the first of Muse's two open kitchens. It is framed by an obsidian marble counter and curvaceous peppermint and beetroot-hued boucle-upholstered swivel chairs, eagerly awaiting the evening's diners. 
Follow a narrow staircase and you will arrive at the larger but still perfectly bijou first floor. This has been decorated in lighter shades of cream, beige and gold. There is an instant buzz as waiters and chefs criss-cross back and forth from the buzzing kitchen carrying beautiful gourmet works of art. There are just a handful of tables surrounded by cream boucle booths and chairs, all tenanted with diners, making you feel like you are amongst a chosen few about to be treated to something quite special. 
At a similar but paler-looking marble counter to the one downstairs, on a cream-colored boucle swivel chair, Elite Traveler takes a seat gazing directly into Aikens' kitchen.
Chef
Aikens's rise was a swift one. As a teenager the ambitious chef set himself a goal to have made a name for himself by the age of 26. Arriving in London in 1990, he got straight to work in achieving it. The young chef cut his teeth at Michelin star Cavaliers, followed by two-Michelin-star Pied a Terre. He then honed his craft as chef de partie for Pierre Koffman at three-Michelin-star La Tante Claire before heading across the channel for Paris, which proved to be a defining moment in his career. In France, he worked at three-Michelin-star Joël Robuchon in Paris and Les Crayères in Reims.
On his return to London in 1996, he filled the shoes of his former mentor, chef Richard Neat and took over the role of head chef and co-proprietor at Pied a Terre. Under Aikens lead, the restaurant maintained its two Michelin star status, making him the youngest British chef to achieve such a feat. He was 26. Mission accomplished. 
Muse by Tom Aikens is a culmination of the chef's early experiences in both restaurants and at home as a child in the wholesome green pastures of County Norfolk. It is here between his parent's kitchen and garden that he cultivated a respect for fresh, seasonal ingredients, homegrown veg and the joys of baking. This engrained passion for fine sustainable produce forms the very bedrock of the menu at Muse. 
Aikens is devoted to working hand in hand with British suppliers with his team quick to tell any enquiring diners where the four types of flour in the freshly baked bread come from or the Oxfordshire estate the restaurant sources its venison. 
Menu
As Aikens and his team prep, chop, grill and assemble under the spotlights of the kitchen, the eight-course seasonal tasting menu arrives and it takes the form of a pop-up mews house — the first treat for the senses. The second one shortly follows in the form of an aperitif of J.M. Goulard La Sereine Champagne. Each of the dishes listed on the menu is inspired by nostalgia featuring a charming name representing a moment from the chef's life, accompanied by a one-sentence trip down memory lane. You can't help but feel like you're getting a rare personal insight into the chef behind the counter. Not much is given away about the food you're about to eat, however — but sparking intrigue is all part of the fun.
Dinner at Muse starts with a trio of 'snacks' entitled Forever picking, the star of this is a tiny bonbon filled with stilton and topped with butternut squash puree and grated black truffle. This is followed by Just Down the Road, a sweet-savory dish that celebrates the farm "just down the road" from Aikens childhood home, as swirls of citrussy ricotta meet earthy organic beetroot.
The next surprise comes in the guise of  Any favorites, inspired by Aikens' fond memories of Pierre Koffman's penchant for steak tartar which the chef would eat with a crisp baguette and a fried egg. Aikens interpretation of this very French dish is given a twist using flavorsome onglet, elderberries and walnut and topped with Jerusalem artichoke and vivid yellow egg yolk puree. 
A plate of beautifully sweet scallops with luxurious champagne foam makes its way to the table next accompanied with reference to Aikens' tenure under Joel Robuchon. Hot on its heels is a marvelous-looking bowl featuring tender charcoal-grilled langoustine cooked in pork fat with hints of burnt apple. This is devoured as Aikens team plates a Dover sole dish entitled Patience is a virtue. The name for which is in part dedicated to the long lifespan of its main component, but also the patience Aikens says he has learned over the years as a chef. The mild flavors of the fish are escorted by confit fennel, artichoke and a silky sauce concocted from fish stock and pistachio oil, poured from a quintessentially British miniature Toby Jug.
The final savory dish is free-range rack of venison. Before it arrives, a friendly waiter presents a wooden box filled with a selection of steak knives to choose from. A nice bit of theatre before watching on as Aikens delicately churns perfect quenelles of caramelized celeriac puree which are placed beside tiny potato celeriac lasagnas, before a garnish of pickled shallots and mustard seeds take their positions. This is winter on a plate.
Aikens has featured two sweet courses on the tasting menu at Muse. With Wait and See, the chef recreates the suspense he experienced as a child awaiting his mother revealing the evening's dessert. This is a zingy honey cake topped with lemon puree and ice-cold granita. This is followed by possibly the prettiest plate of the whole evening which is aptly entitled From the garden to the forest, as fresh rhubarb, scents of pine and petals act as the perfect closing act.
Muse by Tom Aikens, 38 Groom Place, London, SW1X 7BA, musebytomaikens.co.uk
[See also: The Most Anticipated Restaurant Openings of 2022]