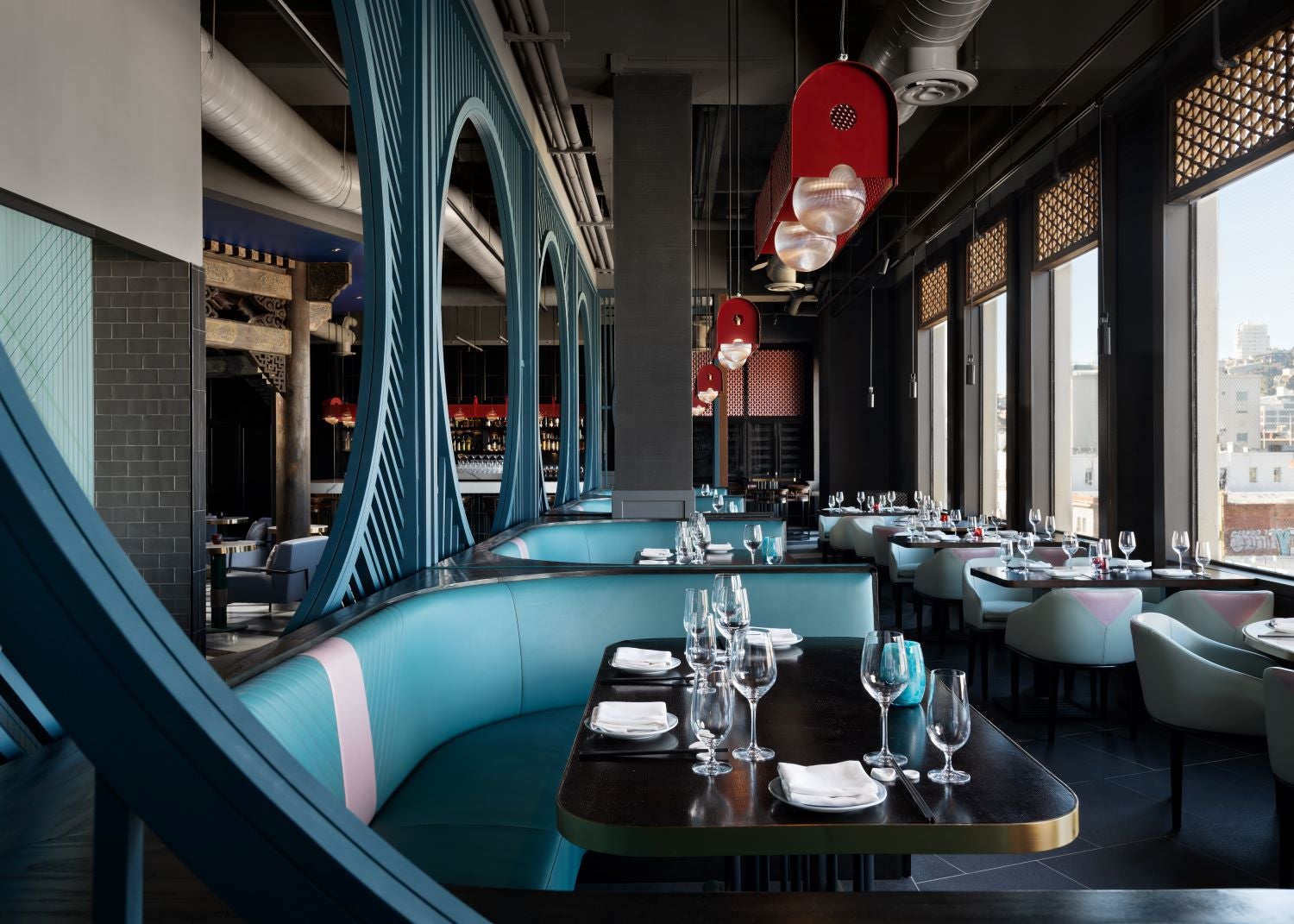 In the heart of San Franciso's bustling Chinatown stands one of the area's most iconic buildings: 838 Grant Avenue. The famed Empress of China banqueting hall occupied the top floor of this history five-story block for nearly half a century.
Opening its doors in the 1960s, it became a San Francisco landmark, serving as a community gathering space as well as attracting a wave of celebrity diners. However, after shutting its doors for the last time in 2014, the illustrious eatery has sat empty. That is until last Friday, when the long-anticipated Empress by Boon restaurant opened its doors. 
At its helm is Hakkasan's international executive chef, Ho Chee Boon. Ho is well aware he has big shoes to fill, but the cutting of the ribbon at Friday's grand opening represented a personal dream come true. "Opening my own namesake restaurant has been a career goal of mine for decades and I'm very pleased that my dream has come to fruition here in the United States' most historic Chinatown," said Ho. "The delays this past year due to COVID-19 has only made our team more grateful to announce the opening so we can contribute to the revitalization of this beloved community.
"I want to provide a positive contribution for the people of this great city that I love so dearly," he added. 
The opening of Empress by Boon has created quite a buzz – the Californian restaurant is largely booked up for its first month with diners eager to sample the wares of Ho's first independent eatery. 
Chef 
Malaysian-born Ho has nearly 30 years of experience at some of the world's most celebrated Asian restaurants, including Breeze in Bangkok and Turnadot in Moscow. However, the accomplished chef is best known for opening several of Hakkasan's most renowned eateries, including  Hakkasan Hanway Place in London and Hakkasan New York (both quickly earning Michelin stars under his leadership).
With Empress by Boon, Ho is aiming to create a destination where diners can once again gather and celebrate with family and friends. He is also keen to continue the special location's dining legacy, albeit with his own brand of elegant, modern Cantonese cuisine.
The chef has assembled an experienced core team which includes English pastry chef Rory MacDonald, formerly of Hakkasan New York. MacDonald will create an array of desserts to compliment Ho's dishes. 
[See also: The Zero Waste Restaurants in the USA]
Menu
Diners can expect traditional techniques combined with fresh and local produce from the restaurant's own organic farm in Gilroy, California. The result is seasonal dishes that are both approachable and contemporary, while not neglecting the very essence of traditional Cantonese cuisine. 
The restaurant isn't set to launch its a la carte menu until July 18; until then, diners can enjoy a curated selection of dishes from Empress by Boon's prix fixe menu. What the a la carte menu will contain is yet to be revealed, but the prix fixe menu should give us a few hints. 
The restaurant's opening menu is a select showcase of elevated dishes using the finest ingredients, including luxurious dim sum such as Steamed shrimp with Kaluga caviar and Aromatic clove smoked baby pork rib with plum and lemon sauce. For the main course, Grilled rib eye with tofu in mala sauce (a spicy sauce made using Sichuan and chili peppers) sits on the menu alongside Hand-pulled noodles with enoki, shitake and shimeji mushrooms. 
When it comes to drinks, guests at Empress by Boon are spoiled for choice. A traditional tea menu can be enjoyed alongside one's meal or within the elegant tea lounge. The restaurant also has an extensive wine list. Meanwhile, the creative cocktail menu pays homage to flavors of the East with options such as the inventive 'Paper Wings', which contains Haku Vodka from Japan, lemon and Sichuan peppercorn. 
Interior 
The expansive space has been re-imagined by UK-based design studio Atelier LLYS and offers several modern and sophisticated dining spaces, which still remain true to the building's roots as an iconic part of Chinatown's fabric. 
Despite its 21st-century make-over, diners familiar with the restaurant's predecessor will already be acquainted with some of the elements found inside. Ho and the design team were keen to ensure the building's legacy remained apparent and new elements sit seamlessly alongside restored features from the location's much-loved forerunner, including the beautifully carved panels and the original wooden pergola, which graces the new bar lounge.
One thing that certainly hasn't changed is the breathtaking views, with the restaurant serving up the same unbeatable vistas of the city skyline (albeit with a few more buildings) that it did over 50 years ago. 
[See also: Inside Damian, the New LA Restaurant by Enrique Olvera]