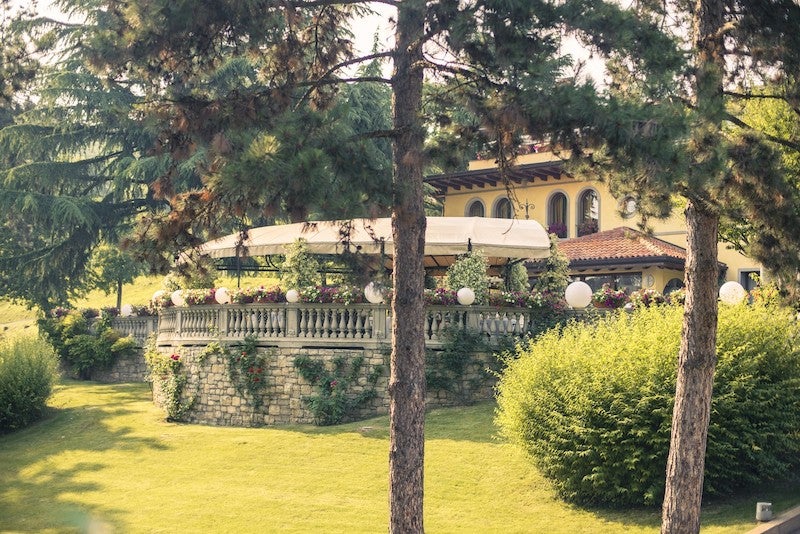 A set of pearls finesses a head-to-toe statement that elsewhere might appear old fashioned, but here is simply understatedly elegant. Propelled along by a no-nonsense demeanor tempered by a kindness in the eyes, and with little doggies, Gigi and Sissi, following dutifully on behind, Signora Bruna Cerea is every inch the matriarch.
Bruna's fiefdom is Da Vittorio, the three-Michelin-starred restaurant incorporating a ten-room hotel in Brusaporto, just outside Bergamo in northern Italy, named after her late husband. But this is more than a restaurant, it's a gastronomic institution, that, whilst not as well known outside Italy's borders, is revered within them. In the 1960s, the ancient hilltop town of Bergamo was a kingdom of carnivores. That's the way it had always been in a country where the way it's always been, is generally the way it goes.
Until, that is, Vittorio opened a fish restaurant in 1966, which remained resolutely empty. It wasn't long, though, before curiosity got the better of Bergamo, and Da Vittorio took off on a journey from which it has yet to pause for breath. There can be few members of the great and good in nearby Milan, who won't have made the 30-mile journey into long languorous lunches, carefully choreographed by the Cerea family.
[See also: Elite Traveler Reveals Top Restaurants Readers' Choice 2023]
And family is what Da Vittorio is all about. Following Vittorio's untimely demise in 2005, after the restaurant relocated to a 25-acre park at Brusaporto, Bruna and her five children have developed his legacy exponentially. In 2010, Da Vittorio was one of only seven Italian, and 100 restaurants worldwide, to be awarded three Michelin stars, an accolade it's achieved every year since.
Underpinning this enduring success is Bruna and Vittorio's searing ambition and an ingrained work ethic. That's clearly been instilled into the Cerea siblings, who recall a childhood where schoolwork and restaurant work became indistinguishable.
At 82, Signora Bruna still works every day except Wednesday afternoons, amongst other things, preparing the customer's checks – by hand.
[See also: Rising Stars: Next Gen Chefs in the Michelin Guide]
Chef
Vittorio was an enigmatic self-taught chef who began with a sandwich bar and by 1978 had a Michelin star, though the credit for Da Vittorio's prevailing pre-eminence lies with first-born Enrico, and his brother Roberto, universally known as Chicco (pronounced Keeko) and Bobo. As executive chefs, they oversee the bustling kitchen, visible behind a large expanse of glass.
Their legendary expertise was acquired as much by total immersion into their father's kitchen, apparently from the age of ten, as by sojourns at other iconic restaurants, including El Bulli in Spain and France's Maison Troisgros.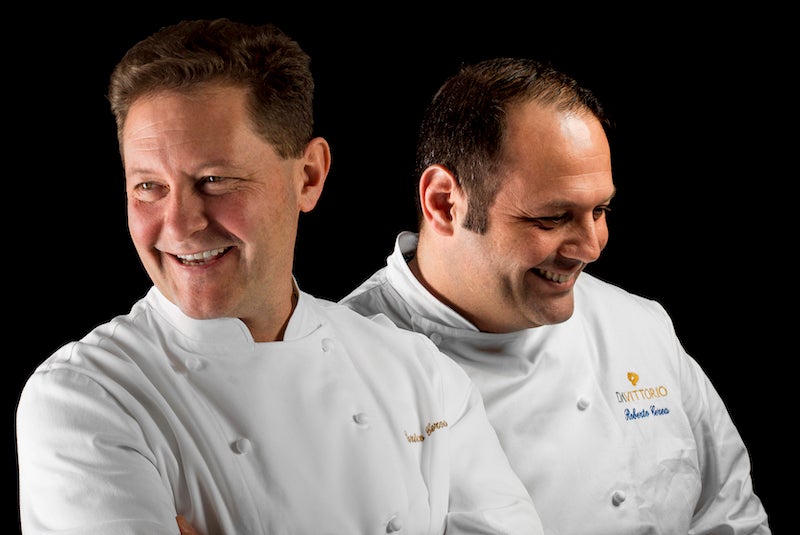 Steeped for their entire lives in the highest standards of the Italian culinary arts and the creative impulses required to propel them ever higher, they are at the top of their game. Their influences are manifold, with Chicco paying homage to his time spent in Japanese kitchens, whilst Bobo confesses to an affinity for the primi piatti – pasta or rice dishes.
When Queen Elizabeth II visited Milan, and Da Vittorio was called upon to tantalise the royal tastebuds with its interpretation of the classic Risotto alla Milanese, it was Bobo who found himself being asked for seconds by the British monarch.
Both disport a down-to-earth, disarming demeanour, untarnished by their ever-mounting success. Chicco, in particular, is hardly ever without his infectious laugh as they work the room, where they like to be as much as in the kitchen. If you're lucky like me, they'll be in there together.
[See also: Iris: Inside the Floating Norwegian Restaurant]
Menu
Seafood still features prominently, though the menu embraces anything ripe for transformation into edible artwork. In an almost conciliatory gesture for its anti-meat manifestations half a century earlier, Da Vittorio has an eight-course meat-based menu honouring Bergamo's traditions during its tenure as Italian Capital of Culture 2023.
There are similar seafood and vegetarian menus, and a concise à la carte, but what the Cerea brothers really love to serve up is the 16-course Carte Blanche menu, where you indicate likes and dislikes, and they teleport you into a gastronomic dimension you never knew existed.
On the beautiful terrace overlooking the vertical farm, my "little Mac," a miniature hamburger, is accompanied by a tiny hotdog, as sommelier Fabrizio materialises with a glass of Ferrari, the sparkling wine from nearby Trento, to accompany the amusing amuse-bouches.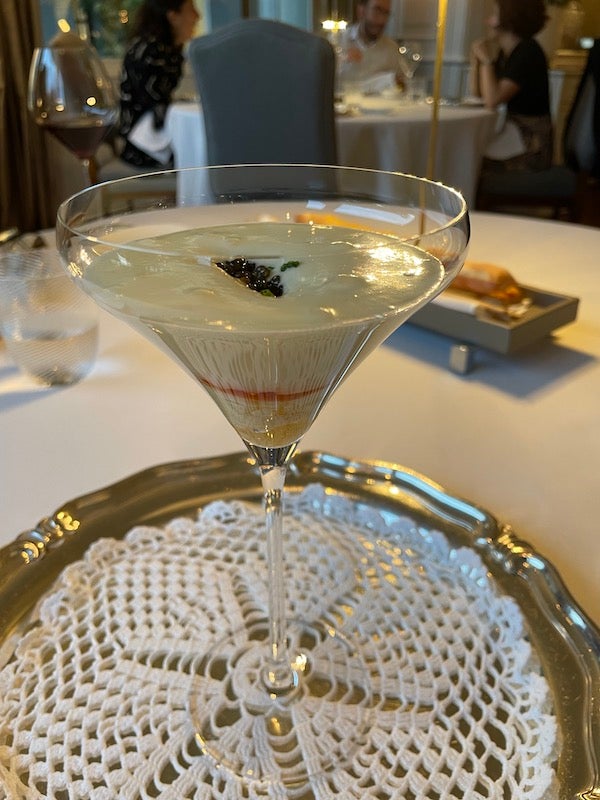 The menus are as playful as they are skilful, and nothing if not versatile, with molecular gastronomy sitting side by side with old-school sauce-based dishes like Paccheri alla Vittorio. Composed of huge tubular pasta, this Vittorio-created signature dish is still prepared table side by Bobo.
Fabrizio reappears brandishing a Frappato from the young Sicilian winemaker Arianna Occhipinti, who, at 22, began with two acres and a dream, and now makes exceptional organic wines alongwith a lot of waves in her traditional patriarchal universe. As with the family behind Ferrari, the oldest of Italy's traditional method sparkling wines, she's typical of the high quality, low-intervention producers, with whom the Cereas form relationships. It goes back, Chicco explains, to following his father around the Milan markets, sifting out the very best from merely the best.
Other signatures appear as the room fills up (it's never not full) with an eclectic and largely Italian clientele, the staff swerving sedately around in a stylised symmetry, like a performance of Swan Lake for gourmands.
The famous Egg à la Egg in a large martini goblet is composed of delicate layers of scrambled eggs to poached quail eggs and salmon eggs, interspersed with golden apple sauce, potato spuma and mascarpone, garnished with beluga caviar – an exceptional creation.
[See also: Whatley Manor: Sustainable Luxury Without the Compromise]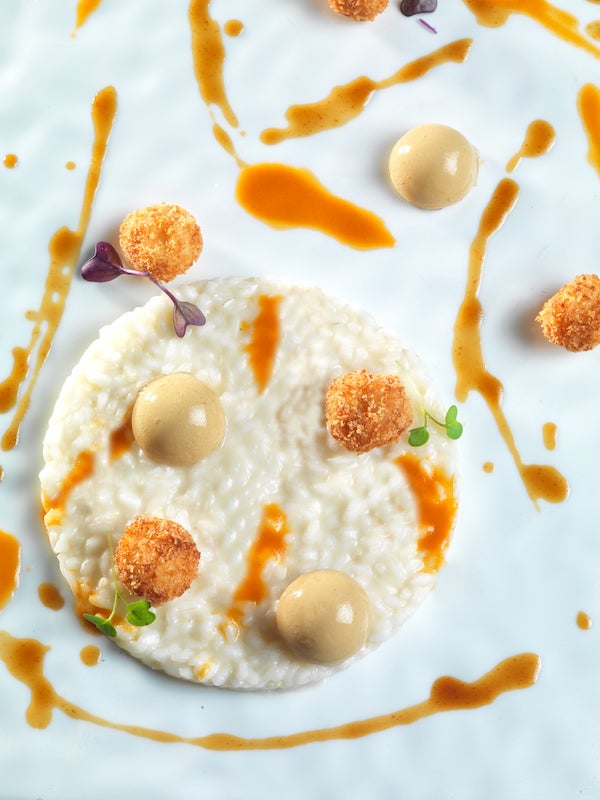 Tuna spaghetti, as emblematic of the Cerea's audacious creativity as anything, on close examination, doesn't contain one single strand of spaghetti. Instead, long thin strips of tuna are wound around exactly like spaghetti, bathed in bagna cauda (warm almond and anchovy sauce), and pistachio crumble.
The unrestrained romp through the Cerea's repertoire of culinary exotica with calling points like amberjack tataki lemongrass and crispy rice; scampo with eggplant, bottarga, pistachio and celery; or risotto with kid goat meat, eggplant and burnt tomato, interspersed with Fabrizio's immaculately curated oenological interventions, finally deposits us … at the funfair!
On the dining table, a Ferris wheel with cotton candy passengers, slowly rotates, whilst on a side table, cannoli cones are casually filled and placed onto the little horses of a miniature carousel. A little bit of theatre, as indeed there should always be in a three-star environment. But to be clear, this isn't Off-Broadway, this is the Met on opening night – every night.
Interior and exterior
The restaurant and hotel, which, together with a large function space, overlook a sizeable swimming pool, are resignedly traditional. The interiors are elegantly conceived, light-filled, grand spaces. Any absence of cutting-edge design in the hotel is compensated by generous room sizes and balconies with tranquil views. This, I'm guessing, is the way Signora Bruna likes it, the way it was created with Vittorio, and as with everything else around her, it all works exceptionally well.
[See also: Les Ambassadeurs Opens at Hotel Metropole Monte-Carlo]
This expansive private estate which looks as if it might be the headquarters of some secretive Bacchanalian cult, contains its own vineyard, a capacious wine cellar, tennis courts, lakes, and a helipad, from where guests are whisked to the reception desk in minutes. The recently constructed vertical farm, a million-dollar venture, sits somewhat incongruously, in full view of the main building like a giant sci-fi cabin.
I'm not sure what Mamma Bruna makes of it, but Chiccoloves how its high-tech hydroponic, fertilizer-free systems produce copious quantities of premium quality herbs and salads. Whilst the jury's out on vertical farms' sustainability claims, due to their energy consumption, the jury might need to sample Chicco's basil and tomato salad before arriving at any hasty verdicts.
Da Vittorio's expanding empire
As one of the most family-oriented of family restaurants, Da Vittorio is ideally suited to that larger global family of Relais & Chateaux independently owned properties, of which it's been part for nearly two decades. The tendency to remain rooted in Bergamo, however, where, alone, the company headcount now nudges 250, is gradually being usurped by a more defined global imprint.
In 2012, Da Vittorio St Moritz opened in the exclusive Swiss ski resort under executive chef Paola Rota, husband of Chicco and Bobo's sister, Rosella, who manages Brusaporto. By 2014 it had a Michelin star, by 2020, a second, and is now widely perceived as the finest Italian restaurant in Switzerland. In 2019, Da Vittorio Shanghai debuted, earning an immediate Michelin star, followed by a second the following year.
[See also: Bossa: Alberto Landgraf Brings Brazil to London]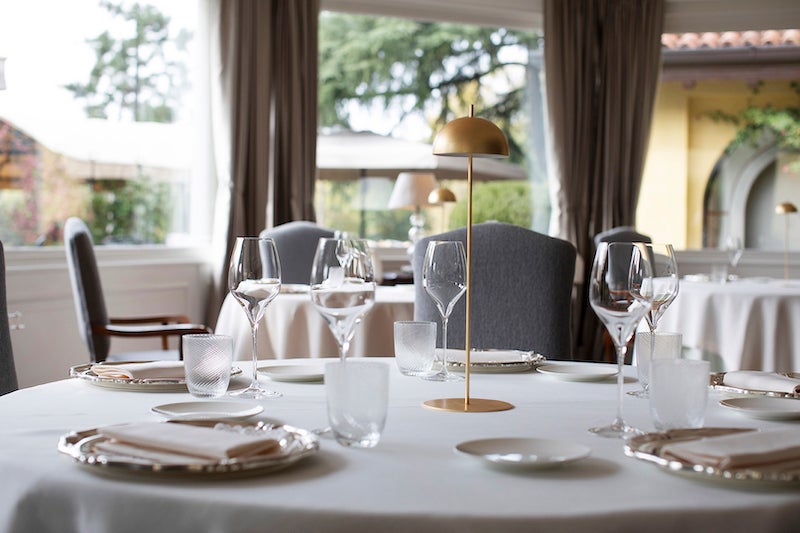 It was recently voted the number one Italian restaurant outside Italy, narrowly beating Toronto's Don Alfonso 1980 and Fiola in Washington DC. In 2022, Da Vittorio Saigon opened, albeit too soon for the inaugural 2023 Vietnamese Michelin Guide. There are also casual dining concepts: DaV in Milan and Portofino, together with a long-established outside catering operation, invariably with Chicco or Bobo performing superstars in a gastronomic rock band on tour.
In the next village to Brusaporto I meet a man who, with steadfast seriousness, describes his life as the quest for the perfect chocolate. Davide Comaschi oversees the busy DaV Pastry Lab, an artisanal productional facility creating pastries, desserts and chocolates for the restaurants; Cavour 1880, the Cerea's café in Bergamo's historic centre; and other outlets. A former winner of the World Chocolate Masters, a kind of Academy Awards for the sweet-toothed, Davide's obsessive dedication to his craft constitutes yet another cog in a finely tuned culinary machine.
Commenting on the 2017 dinner the Cereas prepared for Barack Obama (whose guests included a couple of former Italian prime ministers along with Donatella Versace), Chicco not only referenced the pleasure and the privilege, but also how proud their father would have been. It's abundantly clear that Vittorio isn't just the name above the door; in so many ways, he's still in there. I wish I was!
La Vittorio, Via Cantalupa, 17, 24060 Brusaporto, Italy, davittorio.com