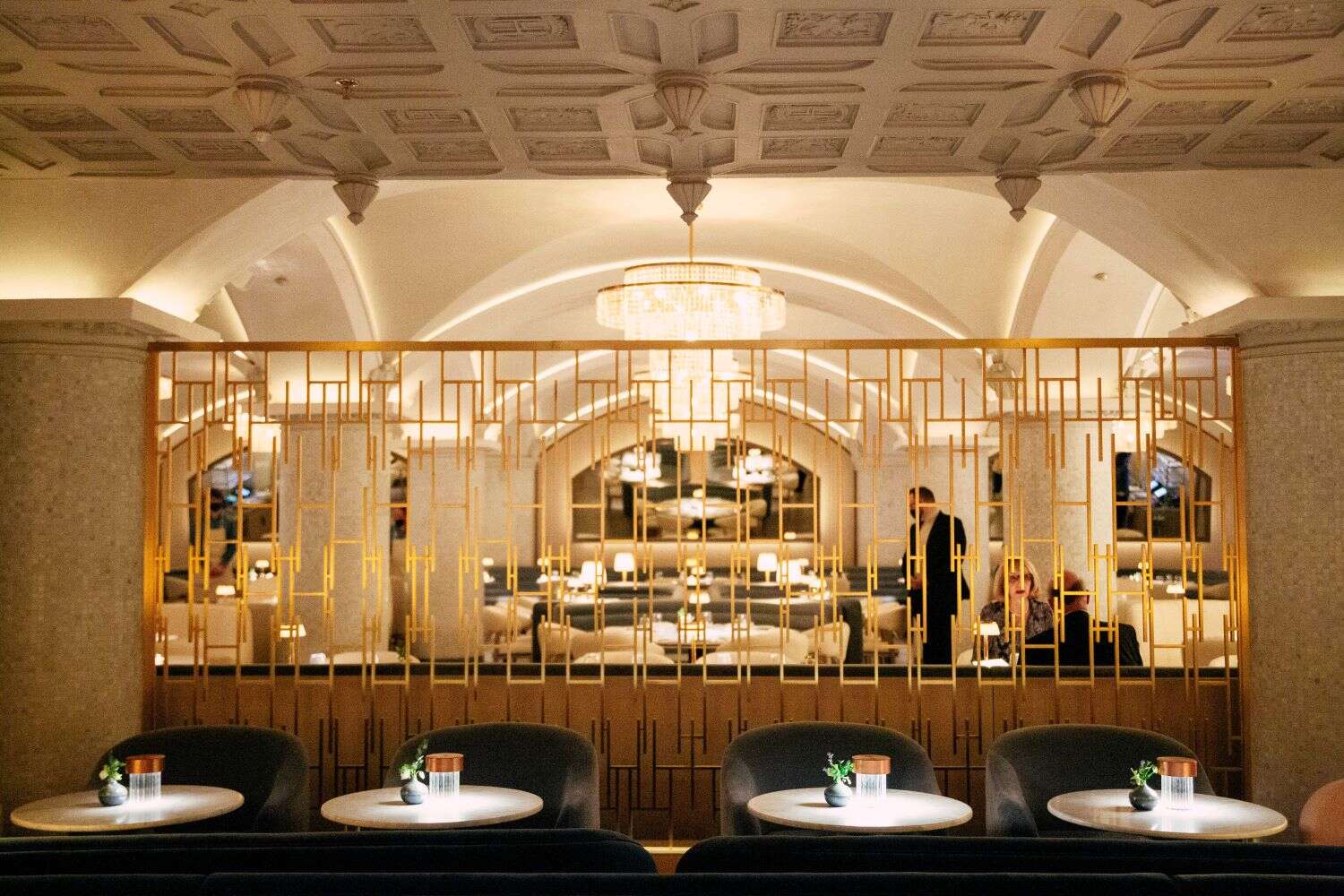 With its makeover well underway, The Hermitage Hotel in Nashville is this week unveiling the jewel in its crown: the new Drusie & Darr restaurant from world-renowned chef and all-round culinary icon, Jean-Georges Vongerichten.
The French chef, best known for his two-Michelin-star eponymous New York restaurant Jean-Georges, is set to add some serious star power to Nashville's beloved 111-year-old grand dame with his arrival. 
Although the space has had a modern revamp, the hotel's rich history is celebrated not only in the vintage-inspired interior of the restaurant but also in its name, which pays tribute to Drusie and Darr Hall – the children of The Hermitage Hotel's longtime former general manager, Dick, who grew up in the hotel.
Despite these references to the past, Vongerichten is firm in his ambitions that his Nashville culinary debut will offer something new to the city's food scene. Known for his dedication to innovation, the chef plans to showcase the best of Tennessee's regional produce with elevated, yet accessible dishes that celebrate the South whilst also adding a touch of global influence. 
Much of this produce will be sourced from The Hermitage Hotel's two-acre heirloom garden at Glen Leven Farm which belongs to the non-profit, The Land Trust for Tennessee. Located just a few miles from the door of Drusie & Darr, not only will the garden bestow the kitchen with a bounty of locally harvested goodies, the historic urban farm also serves as a recreational and educational resource for the Nashville community. 
The Chef
Vongerichten trained under some of France's most notable chefs before heading to the high-end kitchens of Bangkok, Singapore and Hong Kong where he fell in love with the fragrant flavors of the East. His time in Asia in the early 80s had a huge influence on his forward-thinking brand of cookery, with the chef praised for his ability to create dishes featuring global ingredients, underpinned by French technique. 
Leaving Asia behind, Vongerichten touched down in his adoptive home of the United States in 1985 and quickly caught the attention of the New York Times for his cutting-edge interpretation of classical French cuisine at New York fine-dining eatery Lafayette. Ten years later, he opened his namesake two-Michelin-star restaurant on Central Park West, lauded the world over for impeccably crafted dishes that harmonize French, American and Asian influences.
Drusie & Darr in Tennessee will mark the opening of Vongerichten's 40th restaurant and will be a fairly relaxed affair compared to the fine dining tasting menus of his Big Apple flagship. One thing the dishes at both eateries will share is Vongerichten's dedication to organic and sustainably sourced ingredients. 
[See also: New York's 2021 Michelin-Star Restaurants Revealed]
Vongerichten has placed Drusie & Darr in the capable hands of executive chef Kelsi Armijo. Armijo brings more than a decade of experience helming the kitchens of prestigious eateries across the country — most recently The Peninsula Beverly Hills.
Menu
Drusie & Darr's modern American menu will change with the seasons, enabling the chef to serve up artisanal and sustainable produce at its peak. Of course one of the beauties of American cuisine is the way in which it fuses international influences and the menu at Drusie & Darr is a testament to this.
From the 'Raw' section diners can opt for Ahi Tuna Tartare, a nod to both Southeast Asia and France that features freshly crushed avocado, radish and ginger dressing. Appetizers take an Italian turn with dishes like creamy Fall mushroom risotto and Lightly fried hopper shrimp served alongside aioli and adorned with grated bottarga, a lightly cured roe popular in Sicily.
For the main course, diners have four options. There's a small selection of elevated pizza and pasta dishes (the black truffle pizza is a must-try), then there is a small 'Plant' section which contains innovative offerings such Celeriac katsu curry with horseradish and shiso. 
'Fish and Meat' features good old-fashioned American classics with a twist. Maine lobster is given a kick with chili and ginger, served alongside noodles and a fragrant savory broth, while the Fried organic chicken is accompanied by wild rice and fiery habanero hot sauce. 
The final mains offering is 'Simple' which strips away the global flavors with Maine lobster sans-chili and ginger and juicy New York strip steak. These are best enjoyed with sides such as herby french fries and the humble brussel sprout which has been given a new lease of life with pecans, avocado and aged balsamic. 
Dessert will be hard to resist with options such as Roasted pumpkin sundae and Hazelnut frangipane with poached pear and amaretto truffle. There is also a good selection of Californian and international wines as well as local beers cocktails, ports and sherrys. 
Interior
Located in the hotel's former Capitol Grille space, Drusie & Darr's warm yet elegant interiors are the work of acclaimed designer Thomas Juul-Hansen. Rich with Beaux-Arts details such as vaulted ceilings and original oak walls, the space exudes early 20th-century glamour.
The extended bar forms a centerpiece but eyes are likely to be on the state-of-the-art open kitchen which allows diners a sneak peek at the action. 
It's rare for a restaurant bathroom to warrant special attention, but a special mention must be given to the beautiful new pink-marble ladies' room, the 21st-century answer to The Hermitage Hotel's famous 1930s-era Art Deco men's room.
Drusie & Darr, The Hermitage Hotel231 6th Avenue, Nashville, Tennessee, 37219, thehermitagehotel.com
[See also: A Long Weekend in Nashville]