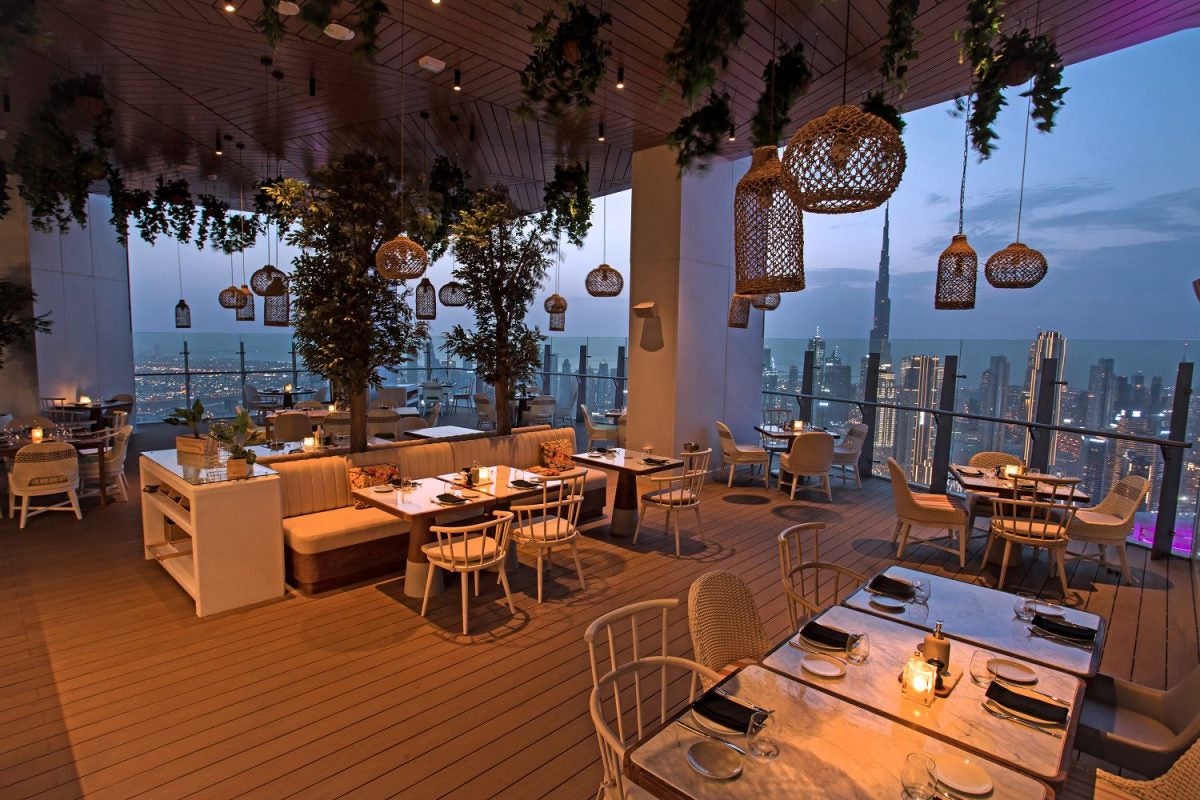 With two restaurants in the US and one in the Bahamas, Fi'lia has brought its fresh brand of Italian cookery to a fourth location, opening Fi'lia Dubai. 
One of the newest eateries on Dubai's ever-evolving dining scene, the restaurant is set on the 70th floor of the SLS Dubai. What makes it stand out, however, is not its location or its menu but its leadership team. Fi'lia is something of a rarity in that it is a fully female-led restaurant. In fact, 80% of the entire team, from front-of-house to back, are female.
Helmed by Jordanian-Palestinian chef Sara Aqel, Fi'lia takes an authentic approach to Italian cuisine. Based on the age-old concept of recipes being passed on from one generation of women to the next, the restaurant's name 'Fi'lia' – taken from figlia, the Italian for 'daughter' – was born out of this intergenerational approach. A fitting title for putting a modern spin on traditional and much-loved Italian-Mediterranean dishes.
[See also: The Most Iconic Restaurants of the Elite Traveler Era]
Chef
Twenty-five-year-old Aqel has enjoyed a rapid rise. From cooking with her mother in her family kitchen in the Jordain capital Amman to training under legendary Italian chef Massimo Bottura of three-Michelin-star Osteria Francescana in Modena, Fi'lia Dubai marks a new chapter for the ambitious young chef. 
Menu
Fi'lia's menu aims to be read like a culinary story passed down through the generations. Divided into three distinct sections: Nonna (Italian for grandmother), Mamma and Figlia, each offering up dishes of varying levels of tradition, from the hearty classics of Nonna to the fresh approach of Figlia.
Nonna's creations include well-known favorites such as Lasagna and Ravioli quattro formaggi, whereas Mamma's dishes put a modern twist on classics such as comforting Risotto alla milanese with ossobuco (slow cooked veal), elevated with a balsamic reduction.
The contemporary Italian-Medeterain dishes found under Figlia take this one step further with offerings such as Beef tartare dressed with egg yolk jam and pecans and Cured salmon in citrus fruits and served with strawberry blossoms and chives. 
Handmade pizza is made fresh and fired in the restaurant's centerpiece copper ovens and there is a mouthwatering selection of flavor combinations to choose from including burrata and bresaola and black truffle and porcini mushroom.
Though sustainability isn't a word typically associated with Dubai, Aqel is keen to emphasize her zero waste approach to cooking, resourcefully utilizing ingredients for all they are worth. For example, Fi'lia's Seabass carpaccio utilizes the part of the fish that would normally go to waste and the skins from mushrooms, tomatoes and Jerusalem artichokes are saved and turned into chips to garnish other dishes. 
When it comes to the drinks menu, Fi'lia Dubai stays true to its female-focused-ethos, featuring a 100% female-produced wine list and a special cocktail menu with female-led spirits, a first for the region. 
Interior 
Diners are greeted by 360-degree views over Dubai's iconic skyline including the soaring Burj Khalifa. The 76-person outdoor terrace is the best spot in the house but the dining room is almost just as inviting. With an interior designed by the acclaimed Dubai-based Bishop Design – responsible for a swathe of the city's hottest locations including Massimo Bottura's Torno Subito at W Dubai on The Palm – the light-filled space is adorned with greenery and natural textures, while the live cooking station adds a contemporary touch. Like the food, the unpretentious setting exudes a relaxed charm.
[See also: Inside Damian, the New LA Restaurant by Enrique Olvera]