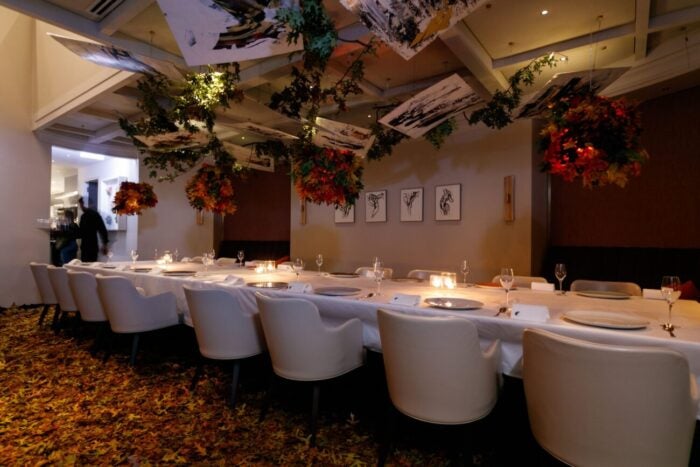 Each year, Elite Traveler turns to its trusted readers to crown what are, in their collective opinion, the best restaurants in the world. For many years, the top spots were dominated by three restaurants: Alinea, Azurmendi and Eleven Madison Park. But in 2019 a new name leapt from ninth position to occupy the top spot — despite the fact that it first opened 66 years ago, Restaurant de l'Hôtel de Ville continues to amaze its guests.
However, for the first time in modern history, last year presented a challenge that impacted every single restaurant in the world, with global lockdowns forcing shutters to close and doors to lock. Restaurants responded to the new normal by offering all-new at-home menus, which is a concept that was mostly alien to the world of fine dining.
With most restaurants shut down for much of last year, Elite Traveler has paused its Top 100 Restaurants surveys; instead, we are celebrating the industry's remarkable resilience by shining a spotlight on the restaurants that have, over the 10 years of running the competition, been voted one of the best restaurants in the world by our readers.
And, with Elite Traveler's newly instated focus on only responsible luxury, we also thought it vital to highlight what our extensive data-led research deems to be the world's most sustainable restaurants. From head chefs championing nose-to-tail cooking to inventive zero waste policies, the final restaurants in this line up are our future heroes, who we believe are going above and beyond to work for the greater environmental good.
[See also: Introducing the Ultimate Guide to Responsible Luxury]
Reader's Choice
Azurmendi, Spain: 2017
Found in the Spanish town of Larrabetzu just outside Bilbao, chef Eneko Atxa's flagship restaurant Azurmendi celebrates the big, bold flavors of its home country in a refined and strikingly modern way. Although it first opened in 2005, it wasn't until 2012 that the newly imagined gastronomic space was revealed, catapulting Azurmendi into a new era of excellence.
Built using recycled materials and noninvasive methods with a reliance on renewable energy, Azurmendi proudly claimed to be the first sustainable restaurant in the Iberian Peninsula region — a title that was of utmost importance to Atxa, who believes that it is a human responsibility to act only in a way that cares for the environment.
Atxa and his team also have a firm focus on local, seasonal ingredients; what can't be sourced on-site is supplied by trusted local suppliers who share the restaurant's ethos. And Azurmendi's environmental efforts have been widely recognized: In addition to its three Michelin stars, it was also awarded the newly created Michelin Green Star, which recognizes sustainable gastronomy, in 2020.
Atxa has lovingly developed Azurmendi's culinary offering to serve as an immersive foray into his philosophy. Each reservation is accompanied by an intimate tour through the restaurant's adjoining gardens and greenhouse, as well as a visit to the open kitchen where guests can meet the chefs (at each stop a correlating amuse-bouche is served). Chef Atxa very clearly wants each of his guests to understand why his restaurant operates as it does, not just taste his food from afar.
Set menu from $300 per person. Contact info@azurmendi.biz, +34 944 558 359, azurmendi.restaurant.com
Restaurant de l'Hôtel de Ville, Switzerland: 2019
Restaurant de l'Hôtel de Ville was founded in 1955 by Benjamin Girardet and, during its history, the kitchen has been run by a number of world-leading chefs. Since the untimely death of Benoît Violier in 2016, Franck Giovannini has assumed charge of the Swiss restaurant. Chef Giovannini remains true to the core principle of simplicity that has guided Restaurant de l'Hôtel de Ville since its inception, with each dish celebrating three primary flavors. Ingredients are meticulously sourced: Game is bought directly from hunters; vegetables are grown locally; bread is from a nearby bakery.
Of course, ingredients alone are not what saw Restaurant de l'Hôtel de Ville voted the best restaurant in the world by Elite Traveler readers, nor what has earned it three Michelin stars every year since 1994. For these accolades, its remarkably talented chefs must take credit. Regarded as one of the world's best, chef Giovannini is a technical master and, while he remains respectful of his predecessors, he isn't afraid to champion new methods to ensure relevance in a modern market.
Despite his seasoned experience in the kitchen, the past year has naturally been like no other for the chef. Commenting on the unique challenges presented by Covid-19, Giovannini told Elite Traveler that "2020 has been a year full of twists and turns, through which each of us has had to learn to adapt."
Restaurant de l'Hôtel de Ville's classic French cuisine can be enjoyed either à la carte or as part of a set menu, both of which offer changing seasonal dishes as well as a selection of classic favorites. The dining room experience is equally as polished as the dishes leaving the kitchen, with a leading sommelier also on hand to guide guests through the extensive French-dominated wine list.
Set menu from $426 per person. Contact contact@restaurantcrissier.com, +41 216 340 505, restaurantcrissier.com
Alinea, USA: 2012, 2013, 2014, 2015, 2016, 2018
If one restaurant is no stranger to Elite Traveler's Top 100 Restaurants list, it's Alinea. Since 2011, it has missed out on the top spot just twice. Under the lead of chef-cum-owner Grant Achatz (who cut his teeth at California institution The French Laundry), Chicago-based Alinea has pushed the boundaries of fine dining since it first opened in 2005.
The restaurant offers three alternative experiences: The Kitchen Table, The Gallery Menu and The Salon Menu, each of which is booked in a ticketed format. The most intimate and exclusive of the three is The Kitchen Table, which offers a private table inside the kitchen to which only servers and chefs have access. The extensive 16- to 18-course Gallery Menu is served in the restaurant's gallery area, while the Salon Menu is considered to be the most approachable of Alinea's menus — but still includes up to 12 courses.
What unites all three dining options is the assurance that each will be like nothing you've experienced before or will ever experience again. Expect surprising tricks, tableside preparations and intriguing plating galore, as Achatz's cuisine adopts an inventive approach to fine dining, targeting each of the senses simultaneously. And Alinea's avant-garde approach has been well-rewarded: Alongside its numerous titles from Elite Traveler, it has also been awarded three Michelin stars — the only restaurant in Chicago to achieve this status.
During Covid-19, as with restaurants around the world, Alinea had to rapidly adapt. Ever the innovators, instead of the highly exclusive, in-restaurant dining that Alinea usually offers, it turned to takeout options. Two menus were available, including a comfort food menu that featured classic favorites such as Osso Buco and Risotto alla Milanese, that perfectly matched the nation's collective mood during troubled times.
Kitchen Table experience from $395 per person; booking via tock.com only. Contact hospitality@alinearestaurant.com, alinearestaurant.com
[See also: A Guide to All Three-Michelin-Star Restaurants in Spain]
Editor's Choice:
The French Laundry, California
Along with its sister restaurant, Per Se, The French Laundry has consistently been voted as among the top 100 restaurants in the world by Elite Traveler readers. Tucked away in an unassuming ivy-clad stone farmhouse (with an ultra-sleek exterior to the rear) in Yountville California, the restaurant has become an undisputable culinary institution, with gourmands traveling from far and wide to experience it for themselves.
Although The French Laundry existed as a restaurant before its now-owner Thomas Keller, there is no question that Keller has been the driving force behind establishing it as one of the world's best. Since he reopened the restaurant in his name in 1994, The French Laundry has been awarded the maximum three Michelin stars – as well as recently created Michelin Green star – with the guide going as far as to name it "the greatest cooking space in America."
Under the guidance of both Keller and chef de cuisine David Breeden, the prestigious kitchen delivers classic French cuisine with a contemporary American twist. The menus change daily but will typically feature the choice between two set tasting menus, including a vegetarian option. Each menu features only the finest seasonal ingredients, with the restaurant working closely with suppliers to ensure unrivaled freshness and flavor. Expect delights such as oysters, truffle fondue and veal chateaubriand, all of which are accompanied by an expertly selected wine pairing from the world's most revered producers – as well as a few hidden gems.
Set menu from $350 per person; reservations via tock.com only. Contact +1 707 944 2380, thomaskeller.com
Le Manoir aux Quat'Saisons, UK
Hidden in a picturesque corner of the English countryside, Le Manoir aux Quat'Saisons, A Belmond Hotel, is a harmonious fusion between hotel and restaurant – a concept imagined by one of the culinary greats, Raymond Blanc. Occupying a 15th-century manor house, the hotel offers just 32 guest bedrooms, each of which reflects a different facet of Blanc's many traveling experiences.
The restaurant is open for both lunch and dinner seatings. At lunch, guests can enjoy a six-course menu, with a seven-course offering served in the evening. Each menu takes heavy influence from French culinary traditions while simultaneously showcasing the best of organic British ingredients, with highlights such as Devon crab and Cornish seabass, as well as fruit, vegetables and herbs plucked directly from Le Manoir aux Quat'Saisons' own gardens. The incredible quality of Le Manoir aux Quat'Saisons' food is testified in the fact that it received two Michelin stars in its first year of opening and has retained them ever since.
While the Le Manoir aux Quat'Saisons experience is centered around the intertwined hotel and restaurant, non-residents are also welcomed to the manor to enjoy its exquisite culinary offering on its own. However, a room reservation comes with a guaranteed dinner table, which is otherwise impressively hard to come by.
The diverse destination is also home to the Raymond Blanc Cookery School, where guests can embark on an immersive crash course into the chef's distinctive cooking style and try their hand at some of his best-loved recipes. Running alongside this is the Raymond Blanc Gardening School, which teaches guests how to cultivate their own organic vegetable and herb gardens.
Lunch menu from $220 per person. Contact manoir.mqs@belmond.com, +44 0184 4278 881, belmond.com
Restaurant Guy Savoy, France
Restaurant Guy Savoy is another destination that is no stranger to the Elite Traveler top 100 best restaurants lists, having frequented the top ten year after year. The restaurant's eponymous owner has developed a reputation as one of the most distinguished figures in the culinary world, with his first restaurant opening in Paris in 1980. Fast-forward to 2015 and Restaurant Guy Savoy moved to its new – and current – home. The restaurant was first awarded three Michelin stars in 2002, which it has retained every year since.
The restaurant is spread across six 18th century saloons in the historic Monnaie de Paris, overlooking the river Seine. Each of the dining rooms is meticulously finished, with atmospheric lighting, intriguing artworks and dark paneling aplenty.
An a la carte menu is available, but for the full Restaurant Guy Savoy experience, opt for the 13-course set menu which features culinary marvels such as shellfish in 'ocean mist', slices of whole-roasted veal and a dessert trolley, as well as Guy Savoy's signature truffle and artichoke soup.
What sets Guy Savoy apart from its fellow French fine dining institutions, however, is the restaurant's commitment to conviviality. Instead of being lofty and aloof, Guy Savoy's servers are friendly and welcoming, inviting guests to take undiluted enjoyment from the meal they are served and the environment in which they eat – as of course should be the case with all meals of this caliber.
Set menu from $597 per person. Contact reserv@guysavoy.com, +33 1 43 80 40 61, guysavoy.com
Il Cantinone, Italy
Tucked away in the Italian skiing village of Madisimo, Michelin-starred Il Cantinone restaurant has been run by Stefano Masanti and his now-wife Raffaella Mazzina since 1988. Before this, Masanti's grandparents ran the establishment. When he took over, Masanti decided to reinvent what was previously a simple pizzeria and wine bar to establish a fine dining restaurant that celebrates the ingredients, recipes and heritage of the Valtellina region.
Il Cantinone's menus are completely seasonal, with ingredients sourced as locally as possible — so local, in fact, that game is provided by the father of Masanti's right-hand man Stefano Ciabarri. The chefs take utmost care with every ingredient in the kitchen to ensure minimal waste; any waste that is produced is composted on site and then used to fertilize homegrown vegetables or sent to local farms.
Energy and water consumption are also closely monitored, with new technologies ensuring that both have been reduced by 60% or more. Masanti's approach to sustainable fine dining is remarkably simple and refreshingly adoptable: "I think that everybody can make a difference by choosing to be respectful, kind and ethical," he says.
Despite its lofty status, Il Cantinone is completely without fuss or formality. The main dining room has the warmth of a cozy log cabin, and the atmosphere is as inviting as one would expect of a family-run establishment. The bad news, however, is that Il Cantinone is only open for five months a year (December through April), with Stefano and Raffaella spending summers at the V. Sattui Winery in Napa Valley.
Contact info@sporthotelalpina.it, +39 034 356 120, ristorantecantinone.com
Blue Hill at Stone Barns, USA
Since opening in 2004, Blue Hill at Stone Barns has been more than just a restaurant. Set within the nonprofit Stone Barns Center for Food and Agriculture 80-acre farm estate in Westchester County, New York, Blue Hill at Stone Barns is renowned for its impressively enormous multicourse menus — sometimes up to 40 courses — that unwaveringly champion a farm-to-table ideology.
Led by chef Dan Barber, Blue Hill at Stone Barns (along with its elder sibling in New York City) is on a mission to adapt how we think about food and agriculture every day and to familiarize diners with a more sustainable path to sourcing and cooking ingredients. This might involve reimagining ingredients that would otherwise be discarded or promoting greater accountability in ingredients' origins. Barber is also keen on experimenting with more eco-conscious cooking methods. For example, using the heat expelled by composting vegetables to cook with.
However, in light of the Covid-19 pandemic, Blue Hill at Stone Barns has changed its tack. Now, instead of acting as a restaurant in the conventional sense, it will host a series of Chef in Residence experiences, with the first season of the program underway.
Developed in partnership with the Stone Barns Center, the program will see four visiting chefs take over the Blue Hill kitchen to deliver a culinary experience that is an interpretation of the Blue Hill ethos through the lens of their own lives and careers. While the Chef in Residence at Stone Barns program will replace the restaurant concept for now, it will open for special holidays throughout the year, and guests can still book for private events.
Chef in Residence at Stone Barns experiences from $230 per person. Contact reservations@bluehillfarm.com, +1 914 366 9600, bluehillfarm.com
Future Heroes
Silo, UK
Silo is a restaurant that took a while to find its spiritual home. After first opening in the British seaside destination of Brighton in 2015, the restaurant's chef Douglas McMaster decided that the city wasn't quite ready for his restaurant and its philosophy so, in 2019, it was moved to a new site in London's übercool borough of Hackney.
Silo's philosophy isn't necessarily groundbreaking: McMaster runs his restaurant with the straightforward notion that sustainability is non-negotiable. In order to achieve its sustainability goals, Silo is committed to having zero waste and works directly with farmers and suppliers to ensure that it can make use of every ingredient.
Part of this principle includes a 'nose to tail' ideology, which strives to maximize every part of an animal (even the bits that other restaurants might discard). Everything possible is done within the restaurant, both to preserve ingredient integrity and minimize transport emissions. Wheat is turned into flour in an in-house flour mill; butter is churned in the kitchens; and the on-site brewery creates natural fermented drinks. Even the food scraps (which are few and far between) are composted on site.
As a result, the menu offers some somewhat unusual concepts that you're unlikely to find elsewhere — for example, 'meta dairy' and 'egg yolk fudge.' Fortunately, Silo is aware that not all its guests will be familiar with such ingredients and employs a team of meticulously trained and exceptionally informative servers to do some gentle hand-holding as diners navigate the menu.
Silo 'All In' menu from $70 per person. Contact reservations@silolondon.com, +44 207 993 8155, silolondon.com
[See also: London's Most Indulgent Fine Dining Restaurants]
Saint Peter, Australia
The fishing industry has faced serious scrutiny over its environmental impact recently. Sydney's Saint Peter restaurant, however, is here to back a sustainable approach to procuring, serving and enjoying seafood. While many dining outlets are guilty of only working with the prime fillets of a fish, Saint Peter's owner-chef Josh Niland is pioneering whole-fish cookery which, as you might imagine, is the process of utilizing a fish in its entirety.
The restaurant purchases each fish whole from a trusted fisherman and prepares it in its nearby purpose-built fish butchery to ensure no part of the animal is wasted, meaning that ingredients that other chefs may discard, such as offal, are featured on Saint Peter's menus. Each fish is handled carefully and served simply so its distinct flavors can shine.
This level of care and detail extends to each ingredient the restaurant serves, from the thoughtful vegetable preparation to the carefully chosen selection of Australian wines. In the interest of both traceability and transparency, Saint Peter's menu also specifies the supplier of each ingredient, from fish to cheese.
During Covid-19 closures, chef Niland offered an at-home menu from his second restaurant. Now that Saint Peter is open once again, it has reimagined its already compact dining room to offer a single side-by-side countertop dining setup, with chefs on one side and guests on the other. Although this excitingly positions diners right in the heart of the kitchen action, be warned that this comes at the cost of a coveted seat at Saint Peter being even harder to come by.
Daily set menu from $120 per person. Contact hello@saintpeter.com.au, +61 289 372 530, saintpeter.com.au
[See also: Michelin Star Cookbooks from the World's Best Restaurants]