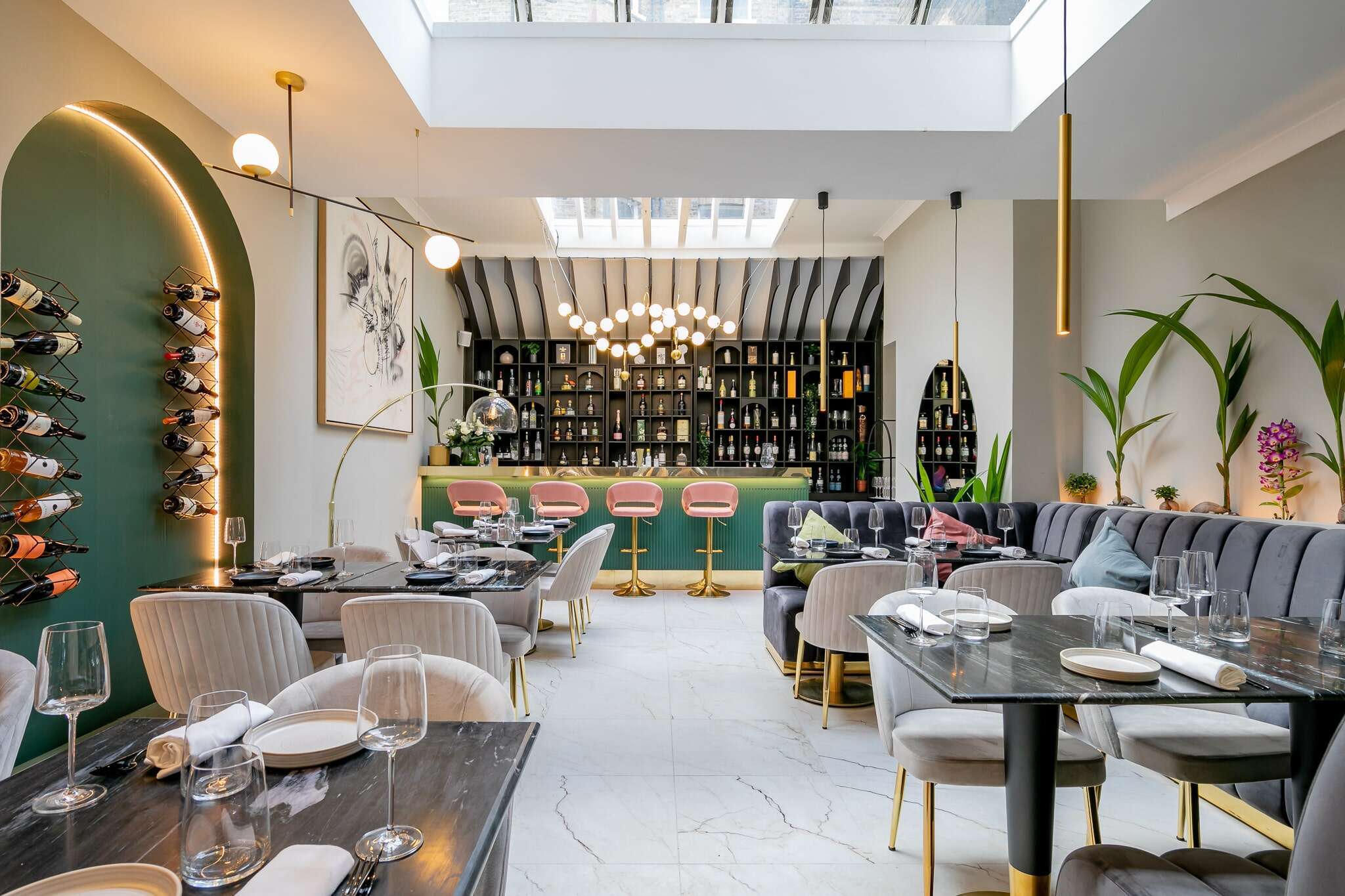 Having arrived on London's food scene last month, Itaku is the latest opening from celebrity restaurateur Jean-Bernard Fernandez-Versini, who has teamed with Osteria Francescana alumni Ivan Simeoli to deliver a fresh take on Italian-Japanese fusion cuisine.
While Fernandez-Versini (AKA the brains behind Cannes Film Festival's ever-popular Cosy Box pop-up) has made several hints at opening a London restaurant through the years, this is the first to actually come to fruition, so with it comes a high level of anticipation.
Found on Great Portland Street, which bridges the gap between the bustling areas of Marylebone and Fitzrovia, Itaku's new home is within a stone's throw of some of the city's finest hotels and restaurants. And, with a chic design, a vibrant menu and a focus on authentic culinary techniques, the hope is clearly to challenge some of its more established neighbors.
Although newbie Itaku isn't the first London restaurant to attempt this genre of cross-continental Italian-Japanese fusion food, nor will it be the last, with the likes of Fernandez-Versini and Simeoli behind it, the destination is set to cause quite a stir.
[See also: The Best Restaurants in London]
Chef
Fernandez-Versini has entrusted the running of the kitchen at his latest dining spot to head chef Ivan Simeoli, who with him brings a wealth of experience at some of London's most celebrated destinations including The Wallace Collection and The Royal Academy of Arts, as well as a stint at the Michelin-starred Osteria Francescana in his native Italy.
Simeoli will call upon his heritage to deliver a menu that celebrates the rich cuisine of Italy, while simultaneously harnessing the fresh flavors and innovative techniques of Japanese cooking. Fusion cooking is Simeoli's personal passion, so we've no doubt that this will shine through in his cooking at Itaku.
Menu
While the dishes of Italy and Japan are a world apart in terms of flavor, the devout focus on time-honored techniques and high-quality ingredients make the two cuisines an unexpectedly perfect pairing.
Itaku's menu is conveniently split into five categories: Raw, Pizzetta, Primi, Secondi and Contorni. As billed, virtually every dish represents both Italy and Japan in equal parts, with highlights including a Grass-fed beef carpaccio with kewpie, aged parmesan and shallot crackers; Uni burrata with sea urchin and black sesame crisp; and Handmade Japanese mushroom cappelletti in a miso broth.
As is usually the case in both Italian and Japanese cooking, the provenance of ingredients is a top priority for Simeoli, with emphasis put on sourcing super fresh, local produce wherever possible.
For guests short on time who still want to experience the best of Itaku's offering, Simeoli has also crafted a short but perfectly formed set lunch menu, which highlights a small selection of the restaurant's signature dishes.
The drinks offering is equally as thoughtful, with mixologist and bar consultant Nicolas Medicamento (previously of The Savoy's American Bar) crafting a menu of cocktail classics with both Japanese and Italian influence. The East to West Manhattan, for example, teams bourbon with plum-infused sake, while the Bloody Itaku offers an East Asian twist on a Bloody Mary with the addition of yuzu juice.
[See also: Michelin Reveals Great Britain and Ireland Guide 2022]
Interior
As is the case with any new restaurant hoping to make a real impact on London's formidable dining landscape, Itaku packs a punch when it comes to interiors. Up-and-coming Italian architect Maria Morra is responsible for designing the space, which offers 55 seats in an intimate one-level layout.
Complementing the fresh, vibrant menu, the restaurant is bright and airy, with high ceilings and skylights inviting an abundance of natural light in and smartly placed mirrors creating the impression of never-ending space. The color scheme is simple but effective, with white walls allowing flashes of green, pink and gold to take center stage.
The restaurant's art has also been specially selected to match both the food and the interiors. A Japanese-inspired mural by local artist Evan Barlow snakes its way down the stairs, while a large painting from Mayfair's iconic JD Malat Art Gallery adorns the wall in the main dining room.
Itaku, 110 Great Portland St, London, W1W 6PQ, itaku.co.uk
[See also: The Most Anticipated Restaurant Openings of 2022]