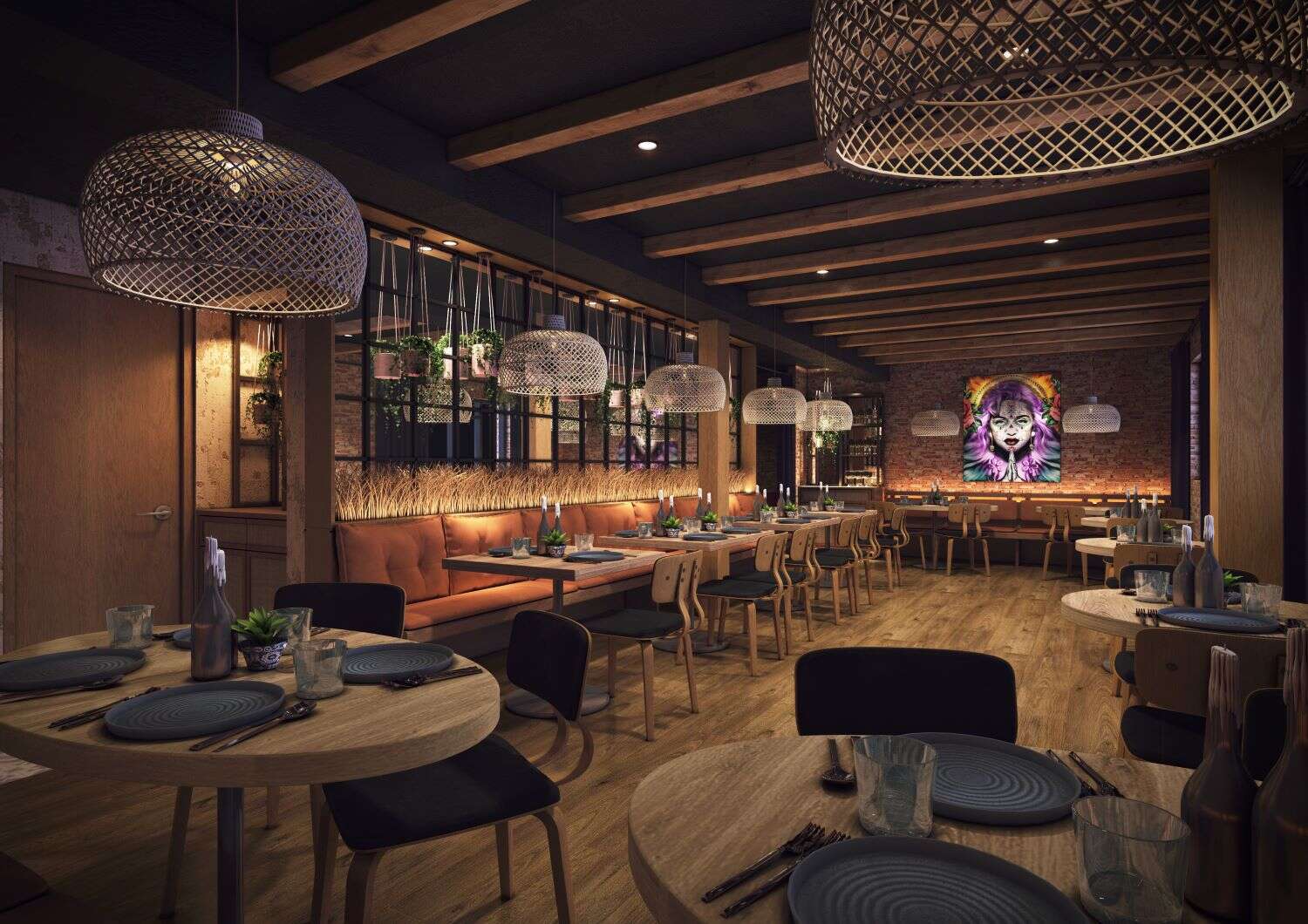 Markus Thesleff is a man who doesn't shy away from a challenge. The restaurateur is probably best known for the award-winning Japanese fine-dining restaurant Okku in Dubai, not to mention the famed nightspot Pangea in downtown Manhattan. The opening of both ventures seemed to coincide with global events of huge economic magnitude that would make even the most seasoned of entrepreneurs rethink their plans. 
Not Thesleff, who signed the lease for Pangea in 2001 in the wake of 9/11 and then went on to open Okku in early 2009,  just after the global financial markets crashed. However, despite the precarious circumstances, both became hugely successful, with a string of further international openings soon following. 
The Finnish-born entrepreneur has now left Dubai and set his sights on London. And it should probably not come as a surprise to those familiar with his track record that as the UK's hospitality industry is suffering like no other time in living memory thanks to the global pandemic, Thesleff has decided that this is the time to launch his new London restaurant: Los Mochis, which combines Japanese and Mexican flavors.  
[See also: Midleton Very Rare 2021 Marks New Era for Irish Whiskey]
Elite Traveler spoke to the restaurateur over Zoom from his home in London's Holland Park about his unwavering passion for hospitality, his latest venture and his plans to give back. 
We start at the beginning: what inspired Thesleff to get into hospitality? From what he tells me, it seems as if it was a career he was always destined for, with his first foray into the industry in his freshman year of college. After receiving an ice hockey scholarship to study in the US, he started to host parties on campus to pay his rent and have some spending money. Beyond enjoying a good party, however, Thesleff says his real driving force is his love of making other people happy, which he says is in his DNA, adding: "I'm in the business of creating memories and experiences. It is our job to bring joy and happiness to our guests – that's really my business," and it's clearly something the restaurateur is genuinely passionate about. 
After graduating and working for his family's highly successful Swedish-based food business (which is responsible for none other than Ikea's world-famous Swedish meatballs, as well as helping to launch Oatly oat milk's original predecessor – entrepreneurship is clearly in his blood), he set out on his own. 
First came the nightclub Pangea, then a flurry of other openings followed by the critically acclaimed restaurant Okku, which quickly became a Dubai institution, scooping up countless accolades. Thesleff speaks passionately about building the restaurant's award-winning team and the pride he took in creating a positive work environment at the restaurant: "I have a dream and a vision, and [my team is] helping me achieve mine. [I] give back [by] giving them the skills and the knowledge to be able to fulfill their dreams.
"I hate the idea that we have self-limiting beliefs. So my role is to push [my team] to break down those barriers. And I do that by instilling two main properties: entrepreneurship and leadership."
Indeed Theseleff tells me he is still in touch with many of his past employees, and in fact his chef and general manager from Okku have joined him in London to work at his new venture, Los Mochis. Located in Notting Hill, the restaurant and bar, which combine Japanese and Mexican flavors and techniques, is set to open in spring as soon as lockdown is lifted. 
[See also: George Mendes Pairs With Dewar's for Virtual Culinary Event]
One question everyone wants to know the answer to is why Theselff is opening a restaurant now? With Los Mochis, he says that he sees an opportunity to create something new and fresh. Although well aware of the challenges the industry is facing, he believes post-lockdown that there will be a strong demand for quality when it comes to dining out. Actually, Thesleff expects a spike in those opting to eat out. Referring to last summer, Thesleff notes that "you actually saw [a rise in people eating out] when there was a brief respite. I was out most nights.
"The casual sector was hurting, but if you went to Annabel's, Le Petite Maison, Nobu or Zuma, you couldn't get a table. The absolute same is going to happen again. People have gone through trauma and we've been locked up indoors… We're craving human contact, we want to celebrate life," he says. 
Another question many people have asked the award-winning restaurateur is: "Why Mexican-Japanese fusion?" To Thesleff, who adores both countries and their cuisines, the pairing makes perfect sense. "I love Mexican food, and I love Japanese food. For me, there were three things in London I found whenever I went for Mexican food. Firstly, it tended to be Tex-Mex food. And secondly, for the most part, [Mexican restaurants] seem to be perceived as dark, dingy basements serving subpar food with cheap tequila, right? And for me, that's not Mexican food at all. 
"Now, mind you, there is amazing Mexican food in London at Michelin-star level – and quite a bit of it, like Ella Canta – but what I wanted to create was more California-style."
Thesleff describes the menu as "Pan-Pacific" and explains we can expect predominantly Japanese food in Mexican format: "So super-clean, super-fresh, with banging flavors," he adds.
Diners at Los Mochis will be treated to some impressive combinations. "Remember the TV show Pimp My Ride? This is essentially Pimp My Taco," he says. Thesleff goes on to describe some mouthwatering and truly elevated taco options such as seared ginger, sesame and soy-infused steak and truffle mushroom, as well as a selection of other dishes, including black miso cod and an array of ceviche and maki rolls. 
With an emphasis on using the best produce, Thesleff shares his focus on sourcing sustainable ingredients. The restaurant will only use sustainably sourced fish and is partnering with a number of farms to source free-range chicken and grass-fed beef as well as eggs from the Cotswolds, he explains. "We're also big on trying to use our artisanal products where possible. For example, our fresh cheeses are made by a friend here in London," adds Thesleff.
To complement the fresh and sustainably sourced menu, the restaurant's super-cool interior mixes Mexican spirit with Japanese elegance and is adorned with Mexican art. 
However, it is not just a deep-running passion for food that is driving Thesleff's new opening. It is also a desire to give back. The restaurateur has teamed up with businessman Dan Atkins, founder of the London-based homelessness charity Buses4Homeless on an initiative to help combat food poverty. "We will provide a meal to the homeless for every meal we sell," explains Thesleff. He is also in the early stages of discussions with the charity Only a Pavement Away around providing job opportunities and training to some of the its beneficiaries. 
As the final touches are being added to Los Mochis before it opens its doors, what's next for the ever-optimistic restaurateur? He tells me he's returning to the world of super-fine dining for his next venture."So you have a new restaurant in the pipeline already?" I ask. "I have three," answers Thesleff defiantly.
[See also: How SGC Wines Struck Gold Beneath the Grapes in Bordeaux]