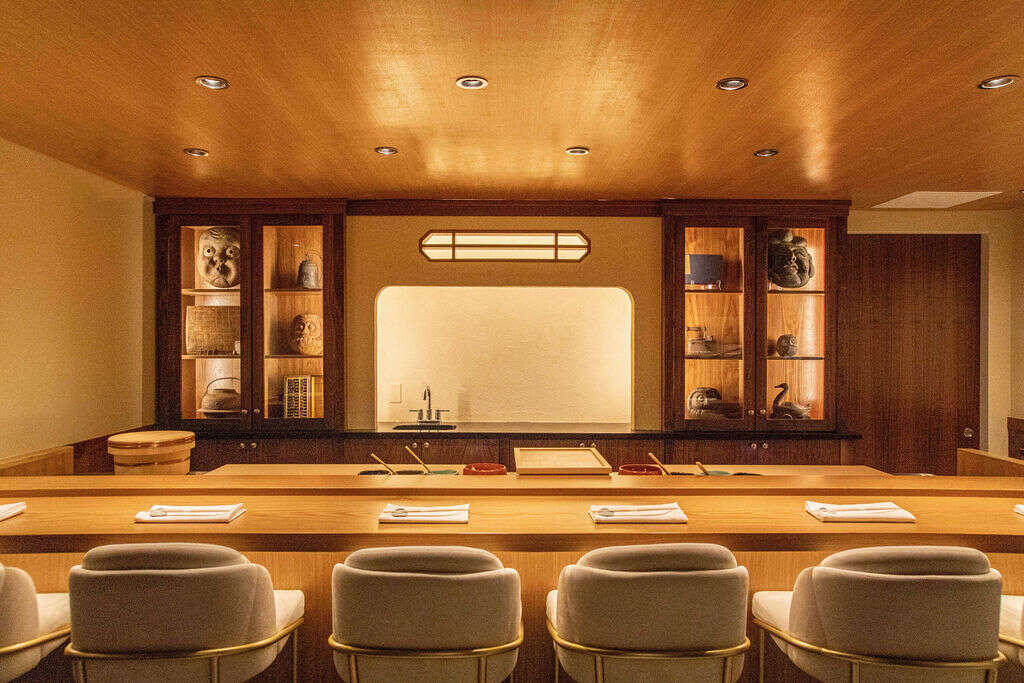 In New York City (and presumedly beyond), you currently can't move for immersive dining experiences – from blindfolded dinners to virtual reality spectacles. However, for those who want to combine an experiential meal with actually good food, The Office of Mr. Moto might just tick all the restaurant boxes.
Brought to you by the team behind TabeTomo and Tomokase, Mr. Moto positions itself as a speakeasy-style omakase experience, inspired by the fictional master of ceremonies, Mr. Moto himself. Spanning an entire evening, the multi-course menu is a culinary journey from ancient Japan right through the country's modern day.
[See also: Principe Brings the Italian Coast to New York City]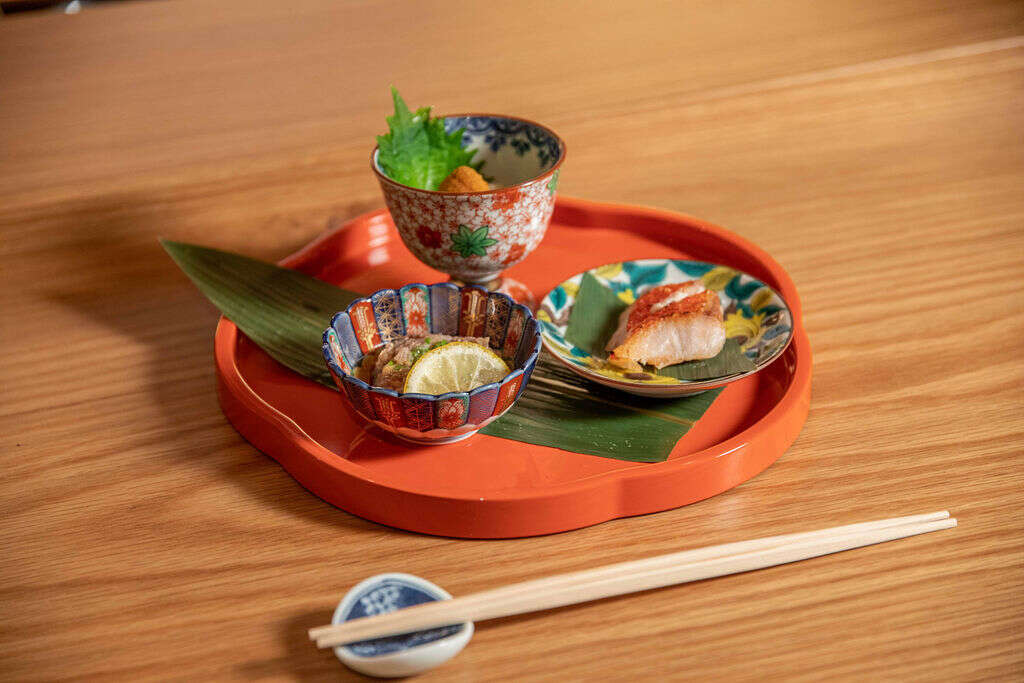 Eating here isn't as simple as showing up and ordering though – even once you've managed to secure a seat (there are only two sittings per evening), your meal is not guaranteed. Ahead of their reservation, guests will receive a letter from Mr. Moto containing a cipher that must be solved to gain access to the restaurant.
The more serious fine dining lovers might find such gimmick a hassle, but others will clock that the brains behind Mr. Moto are just tapping into what the restaurant world needs after a tough few years: A bit of good fun.
[See also: Le Manoir aux Quat'Saisons Continues to Dazzle]
Chef
Several culinary minds have come together to create Mr. Moto. One of which is chef Tomo Kubo, who, together with business partner Mier Wang, has founded several successful restaurants, including NYC favorite TabeTomo, which is best known for its signature 60-hour ramen broth.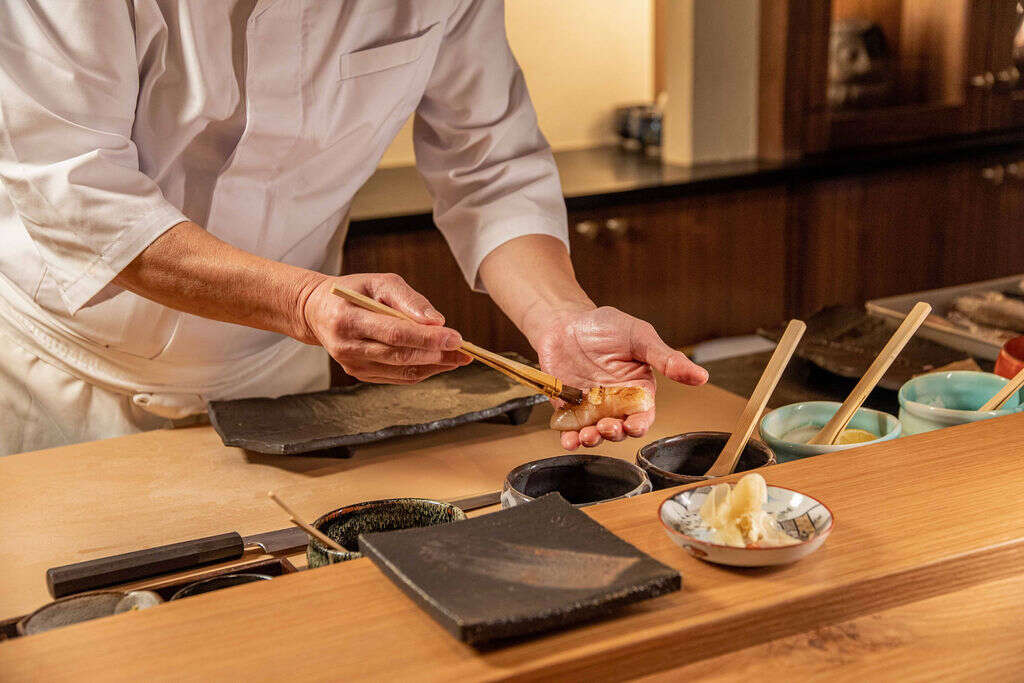 Other projects from the duo include TabeTomo's sister outlet, TomoTomo, and Tomokase, an at-home om
In charge of the everyday running of the kitchen, however, is executive chef Toshio Matsuoka, who comes to Mr. Moto from Tomokase with over 40 years experience at some of the US and Japan's finest sushi restaurants.
[See also: The Most Anticipated Hotel Openings of 2023]
Menu 
So, you've cracked the entry code, and you're sat at one of Mr. Moto's two tables (The Counter which seats six, or The Gallery which has room for up to eight) – what's to eat? The nature of omakase – which translates directly into 'I leave it up to you' – means diners have little say over the matter.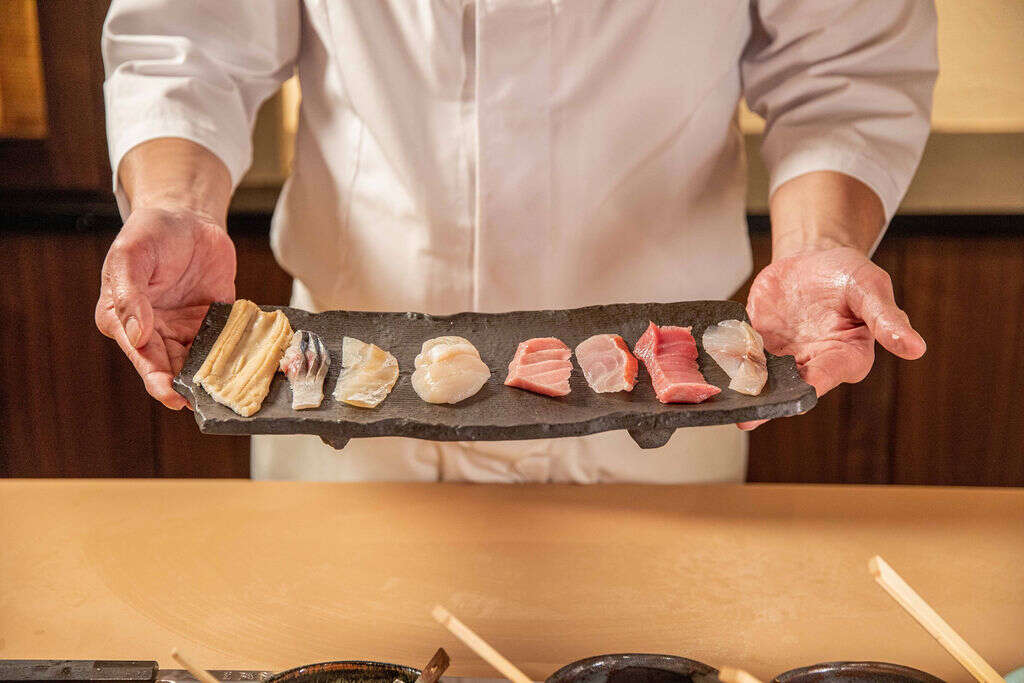 Instead, Matsuoka and his talented team of sushi chefs will craft a meticulous menu, with each dish only the finest ingredients, and all fish sourced directly from the Toyosu Fish Market. Highlights include Ni-Anago (simmered sea eel), Madai-Kobujime (kelp-cured Japanese sea bream), and Kohada (gizzard shad).
Each of the 21 courses showcases a different segment of Japan's long history. For example, an Oshizushi course examples traditional pressed sushi from the 18th century, while Nigirizushi was popularized in the 19th century. Towards the end of the experience, the menu moves toward more modern sushi techniques, such as Uni and Temaki. 
Accompanying the food menu is a matched selection of craft sake or fine wines.
[See also: The Ninth: Food Retakes the Spotlight as Fire Memories Fade]
Interior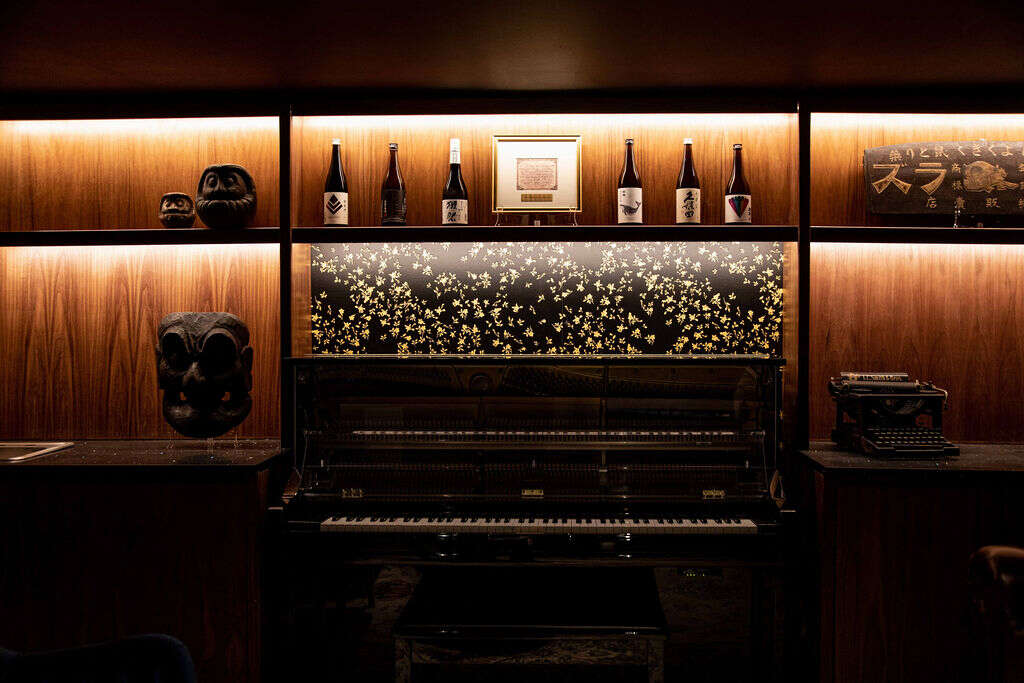 Hidden behind an unassuming front, the Mr. Moto restaurant is a labyrinth of intimate spaces, each thoughtfully designed with the help of Blank Design. For the dinner, there's The Counter – a bright, wood-decked room with a six-seat sushi counter in the traditional Japanese style – or The Gallery – a darker room brimming with historic pieces. For post- or pre-dinner drinks, there's also The Library, where a self-playing Yamaha piano gently tinkles classic Jazz and cozy leather seats all but beg to be reclined on.
Nestled throughout the space are a series of one-off artifacts that complete the carefully created food menu in telling the story of Japan. Among them are the first-ever English language newspaper to run in Japan, a concealed 6ft-long replica of a 19th century US naval ship, an 1883 map of Tokyo Bay and one of the first Japanese payphones.
Even Mr. Moto's plate ware has been carefully sourced: Some dishes are served on antique dishes that date back some 200 years to Japan's Edo period, while others are presented on bespoke pieces by Brooklyn-based ceramicist Sophia Yoo, who worked closely with the restaurant to create dishware inspired by Japanese history.
The Office of Mr. Moto, 120 St Marks Place, New York, NY 10009, dearmrmoto.com