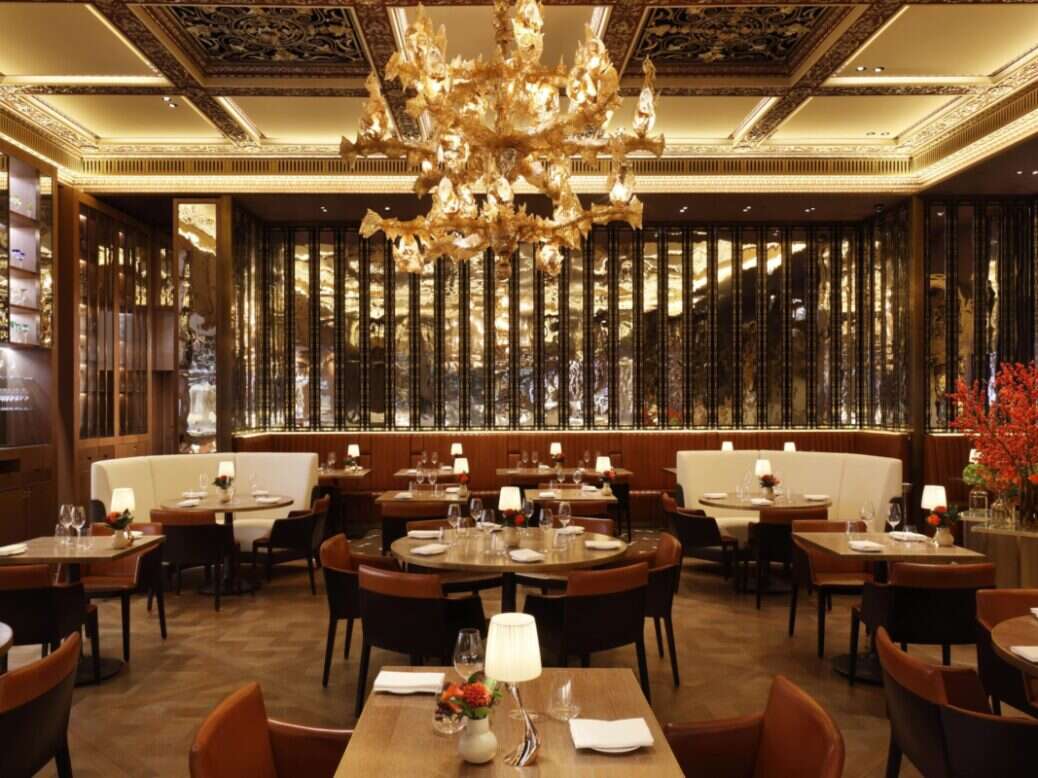 When we heard The Dorchester was bestowing its much-loved restaurant – The Grill – with a new name, we were eager to get down to the iconic Park Lane hotel and experience it for ourselves. It is, after all, a momentous moment to see a chef's name added above the door for the first time in the revered dining establishment's 92-year history. Tom Booton must be doing something right.
The fiercely talented chef took over The Grill back in 2019. At just 26 he became the youngest head chef ever to be appointed by the luxury hotel. The message was clear: The Dorchester wasn't going to let itself fade quietly into the background.
Four years down the line, the gamble has paid off. Booton has relaxed into his role and been given the time and support to really shine. Buoyed by the gleaming new sign above the door – The Grill by Tom Booton – his new menu is that of a confident chef. You won't find any minuscule portions here: this is no frill, no fuss fine dining that gives you a snapshot of the type of food Booton actually enjoys eating.
[See also: Jean-Philippe Blondet on his Inventive Approach to Fine Dining]
Chef
Hailing from Colchester in Essex, Booton was enamored with the world of cooking from the moment he stepped through the doors at a local three-AA-rosette restaurant, Le Talbooth. It was here, age 15, he began to work part-time in the kitchen while he was still at school.
Booton caught the attention of executive head chef Ian Rhodes and steadily rose through the ranks winning 'Chef of the Future' at the Essex Food & Drink Awards. The ambitious chef moved to London in 2013, securing a role as a commis chef under Alyn Williams at The Westbury in Mayfair.
He went on to hone his skills under Andy McFadden at the Michelin-starred L'Autre Pied, becoming sous chef at just 22. Following a brief stint at Pied a Terre, he moved abroad, working in kitchens peppered across Iceland, New York, and Copenhagen before returning to London.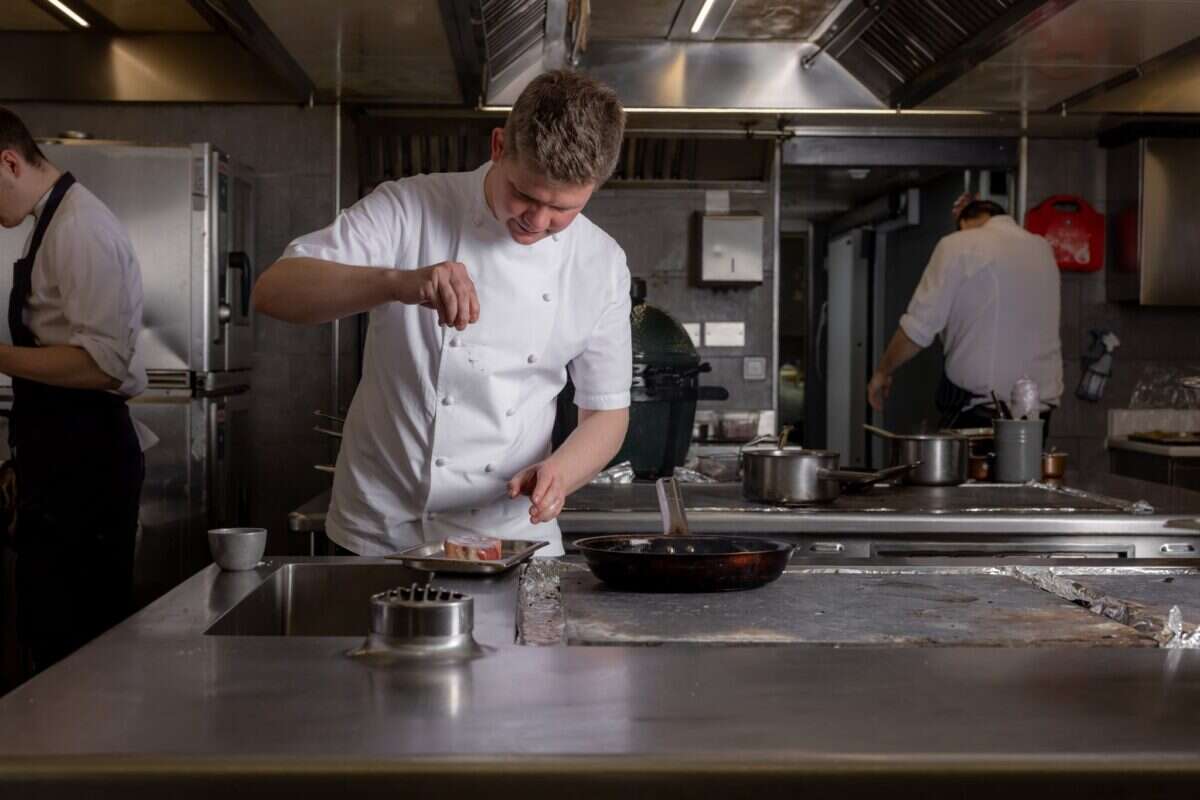 Booton spent a year with Ollie Dabbous at his eponymous restaurant in Fitzrovia before he was lured back to The Westbury by Williams with the promise of his first head chef position. He was 24. Over the next three years, he retained the eatery's Michelin star while fine-tuning his own cooking style.
When the call came from The Dorchester to head up The Grill, the decision was an easy one. Booton took over the kitchen in 2019, gradually building his own team and developing a menu to showcase the British ingredients he loves to cook with.
We catch a glimpse of Booton standing at the chef's counter – all smiles and looking very much in his element. I'm surprised to see just how young he looks; it's hard to believe this fresh-faced chef's career has already spanned well over a decade.
Menu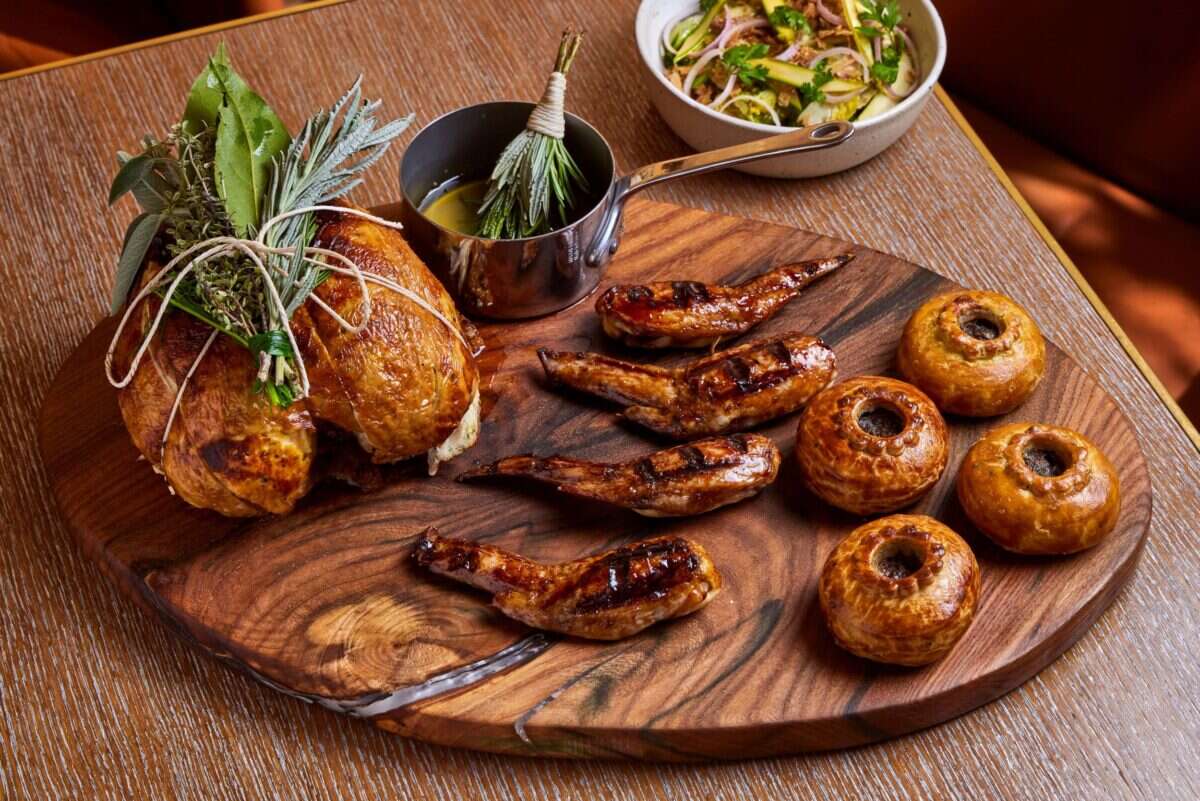 Booton unveiled a new menu this spring built around sharing plates that are rooted in British classic comfort dishes. While the dining room itself is decorated in hues of silver and gold, the food is much more laid-back. It feels almost as if you've been invited over for dinner at Booton's house and he's treating you to some of his favorite dishes.
We kicked things off with fresh Killough Bay oysters dotted with XO (an intense seafood sauce packed with chillis), and shimeji mushrooms dusted in a KFC-style breadcrumb coating and served with a generous pot of mushroom mayonnaise.
On the advice of our charming – and knowledgeable – waitress, we opted for 'All the chicken' – an entire roast chicken (ideal for two to share), gravy, BBQ-glazed wings and a mini shortcrust pie. This was complemented by an assortment of sides including hispi cabbage smothered in an olive oil and basil sauce, and Booton's famed mashed potato loaded with cheddar and crispy onions. We just had room to squeeze in the 'white snickers' desert – an outrageously delicious take on the British candy bar, served with a dollop of salted milk ice cream.
There is, of course, a sizeable wine list, and lengthy cocktail menu (the espresso martinis were excellent). It was refreshing to get to the end of the meal and leave feeling well fed. Booton doesn't hide behind powders or foams; he cooks from the heart, and it shows on the plate.
Interiors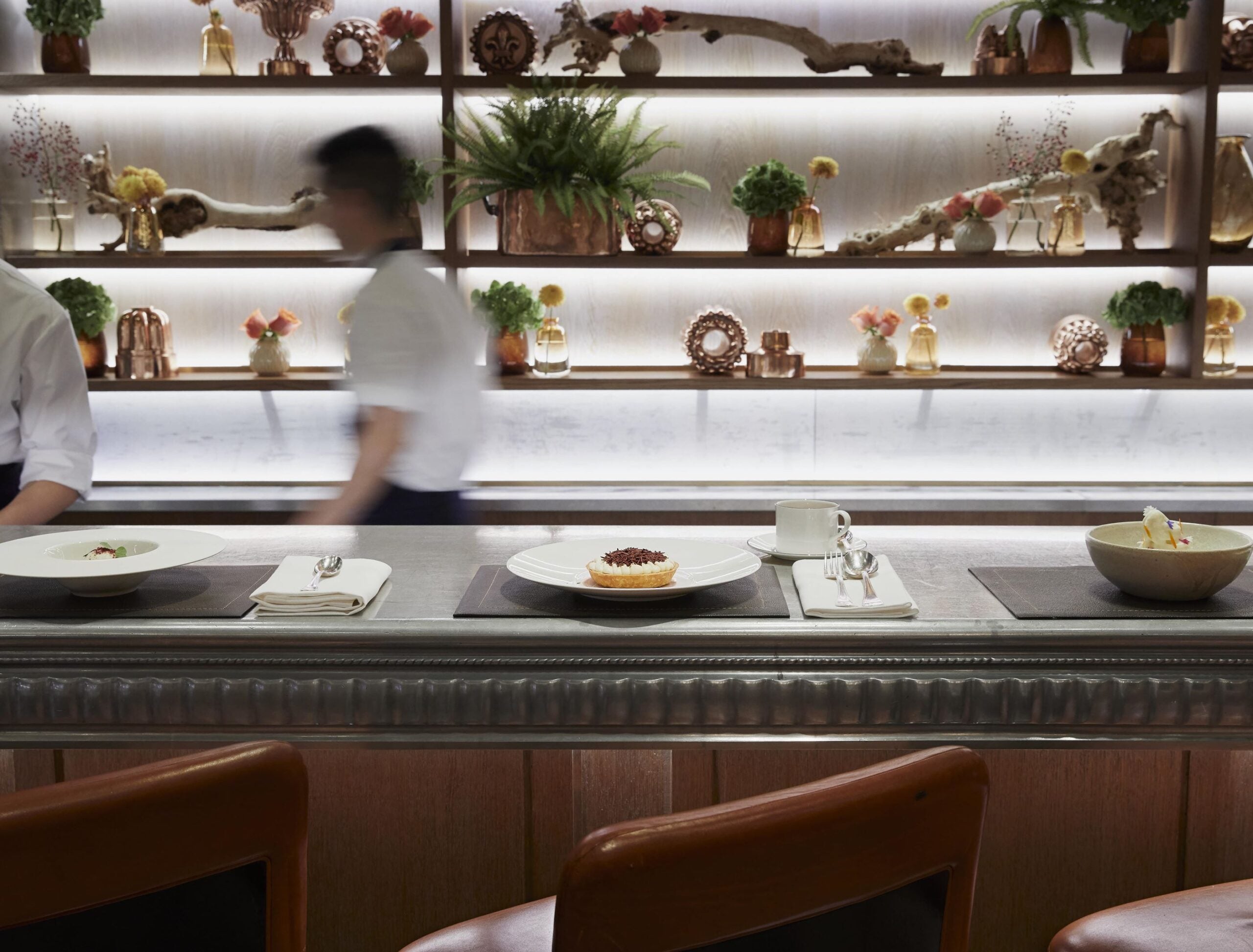 The restaurant underwent an extensive revamp back in 2019, with esteemed French designer Bruno Moinard brought in to craft the lavish interiors. A hand-blown gold Murano glass chandelier is the focal point of the room; antique mirrors and gilded wall panels add to the glamor.
At first, this extravagant setting feels somewhat at odds with the down-to-earth menu but look closer and you'll find subtle nods to the chef. The open counter gives diners the chance to watch Booton putting finishing touches to his dishes, while the music in the background is his personal playlist.
You won't find any starched white tablecloths here, either. Instead, comfy leather banquettes and warm oak tables create a more casual vibe. This is very much a place to relax and focus on the food; you're certainly in safe hands with Booton at the helm.
[See also: Shinji Kanesaka Brings Sushi Restaurant to 45 Park Lane]