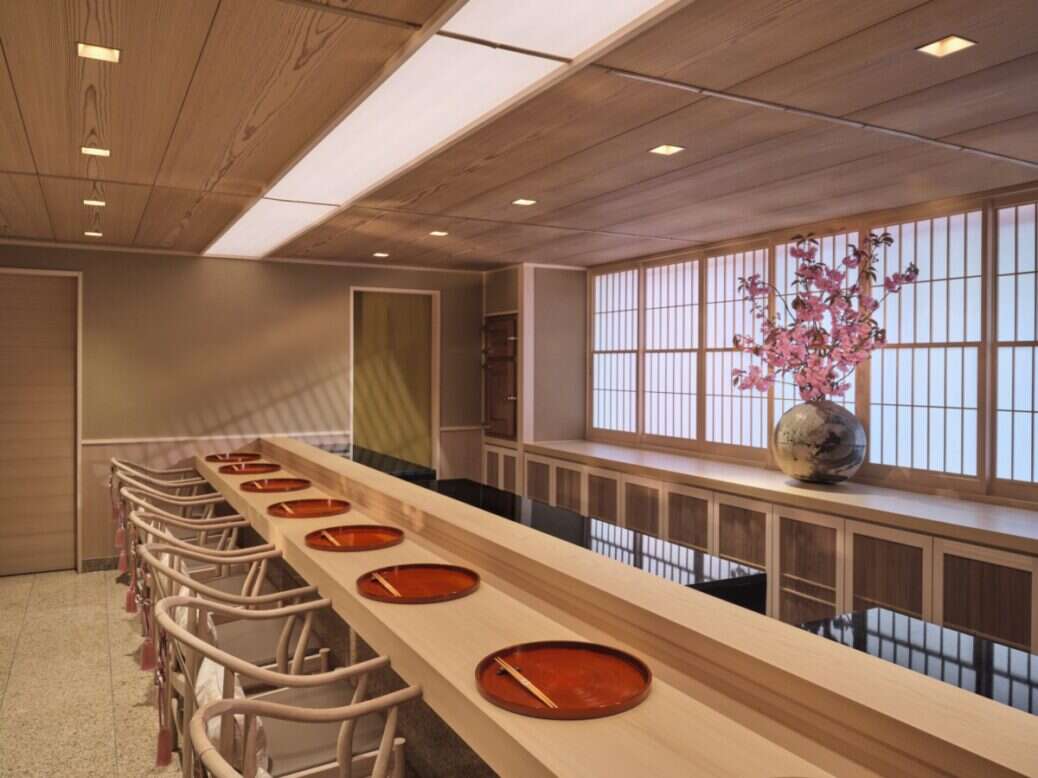 Ahead of dining at Shinji Kanesaka's exclusive new sushi restaurant at 45 Park Lane, I'm sent an intriguing list of requests. "Please refrain from wearing perfume," the instructions read, "as the refreshing aroma of vinegar is an important part of the sushi experience – as is the natural flavor of the fish itself."
There is also, I am told, a strict late arrival policy: "Any courses already served in case of tardiness will not be replaced," the email continues, and chef Kanesaka himself will be informed in the case of those unlucky souls that don't make it on time for their reservation.
So, it is with a touch of trepidation that I make my way (in plenty of time) to The Dorchester's sister hotel. After all, there is nothing worse than keeping a Michelin-starred chef waiting.
[See also: Maru Makes its Mark on London's Mayfair]
The hotly anticipated new restaurant – Kanesaka's first in London – is hidden behind a discreet doorway in the moodily lit bar upstairs at 45 Park Lane. Just 13 guests are served at each sitting, seated around a traditional omakase counter; the 18-course menu (rumored to be the most expensive in the capital) is prepared in front of diners.
We're ushered through to the smaller private dining room (which seats four) where Usuba-san – one of Kanesaka's trusted sushi chefs – stands behind the counter, warmly greeting us as he prepares for the evening ahead.
It is immediately clear this will be no ordinary meal. Over the next two-and-a-half hours we are treated to what Usuba-san describes as an immersive "performance". The sushi counter, he tells us, is his stage.
Chef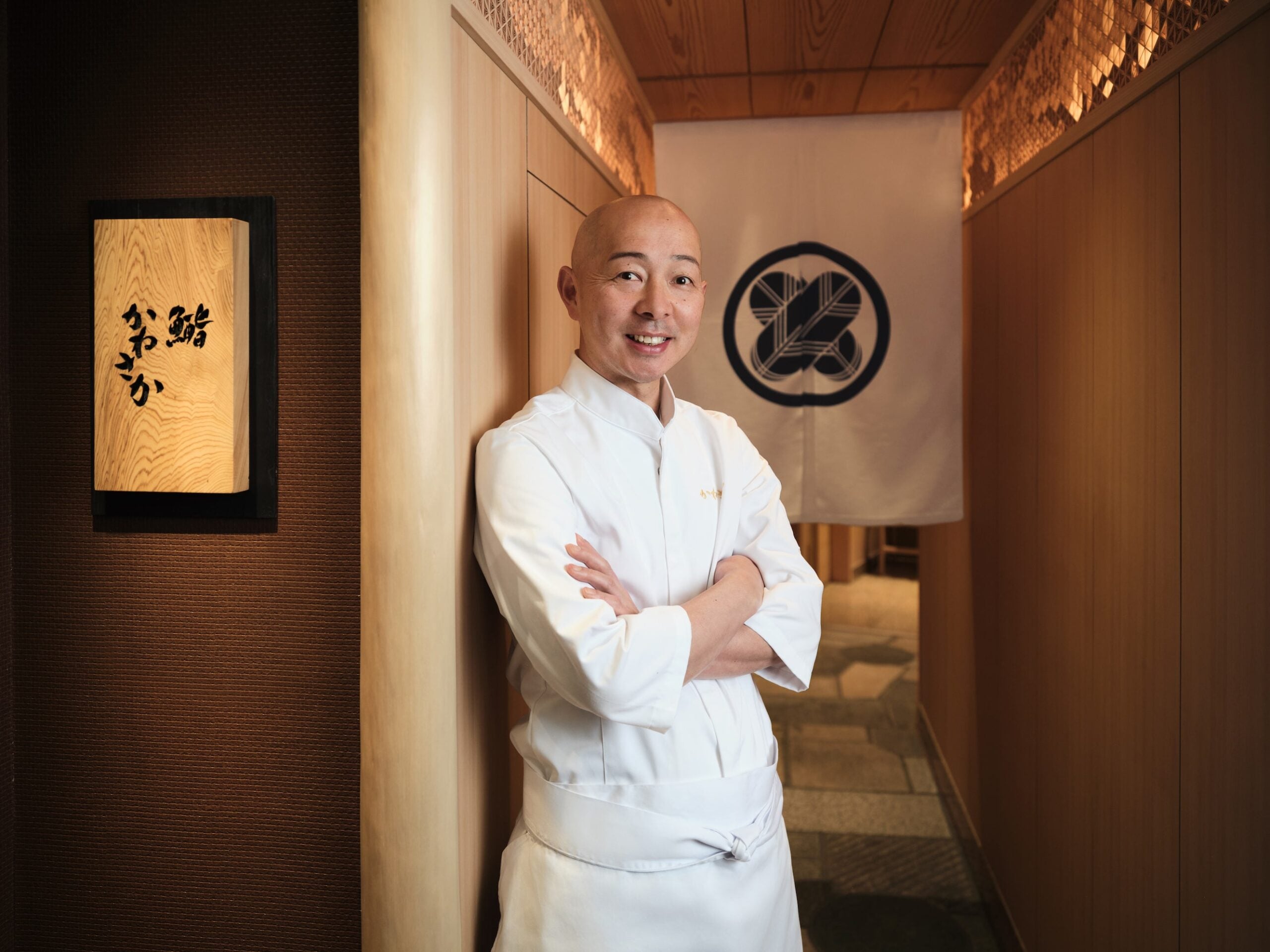 Kanesaka is by far the friendliest chef I've ever met – on our way in, he tells us, with a bright smile, that he has finally fulfilled his dream of opening a restaurant in London.
It's certainly been a long time coming. Kanesaka spent over a decade honing his craft at Kyubey – one of the most highly regarded sushi restaurants in the world, which held three Michelin stars until it closed reservations to members of the public.  
At just 28, the talented chef struck out on his own setting up his first restaurant – Sushi Kanesaka – in Tokyo's Ginza district. The eatery quickly became a much-loved sushi spot, scooping its second Michelin star in the 2018 guide.  
Kanesaka is known for the deep respect he has for his ingredients; he works with a trusted network of suppliers to source the very best seafood and even has his own rice blend from Japan's Yamagata prefecture which he expertly seasons with a carefully chosen ratio of red vinegar and salt.
For Kanesaka, the secret to great sushi lies in the "three-way interplay" between topping, vinegared rice and wasabi. Every last detail must be perfect.
Menu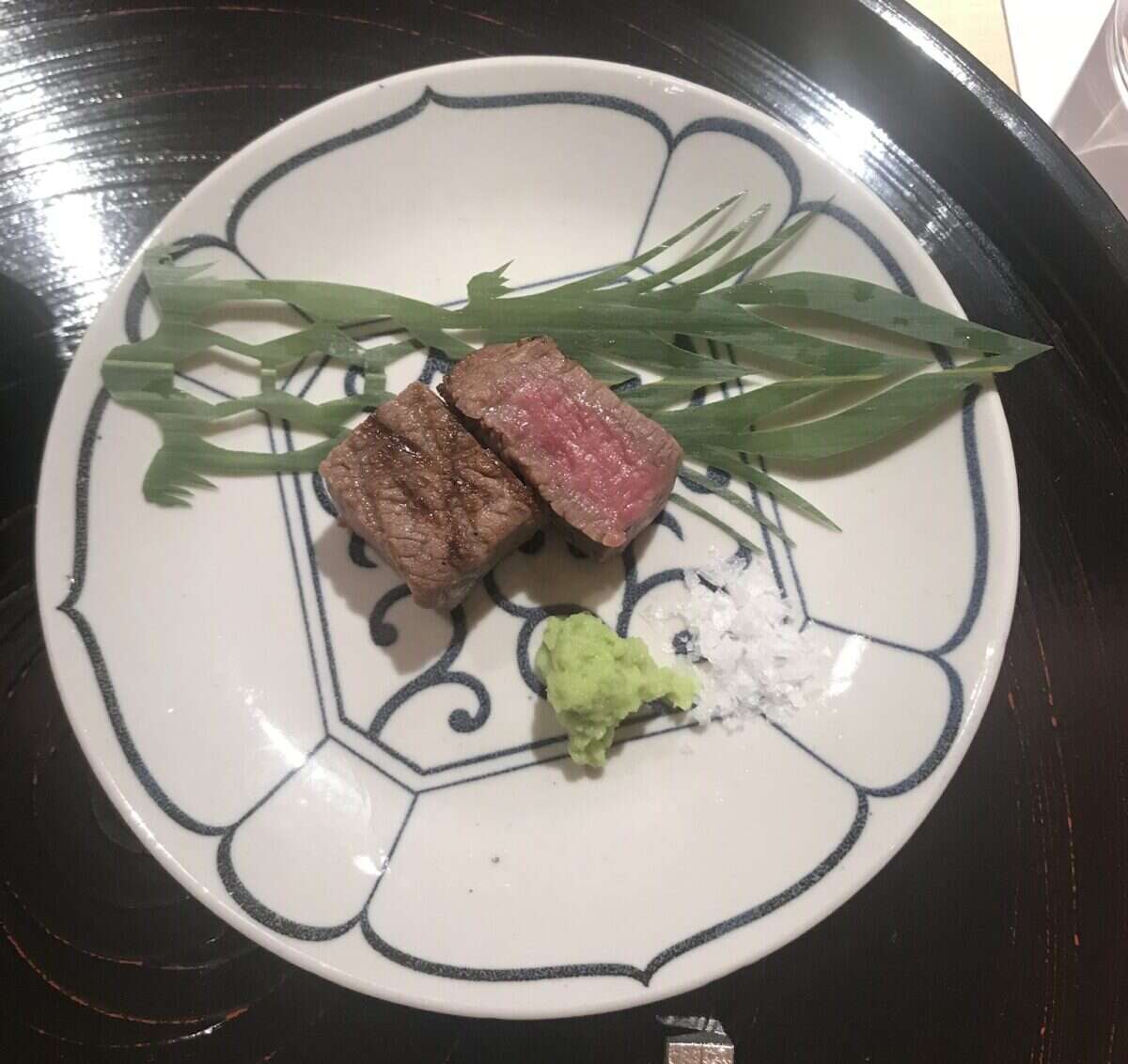 The menu at 45 Park Lane's Sushi Kanesaka is based on the Japanese tradition of omakase meaning 'I'll leave it up to the chef'. With Kanesaka at the helm, you're certainly in safe hands. The culinary master has crafted an 18-course menu that changes with the seasons, showcasing some of the planet's best fish – much of which is sourced from rivers and seas across Europe.
In keeping with the food served at his Ginza flagship, Kanesaka makes his sushi in the traditional Edomae style which involves curing the fish to bring out its delicate umami flavors.
Our meal kicked off with sweet Cornish crab topped with Beluga caviar followed by a ramekin of silky smooth Chawanmushi (Japanese steamed egg custard) with a rich fish soup stock.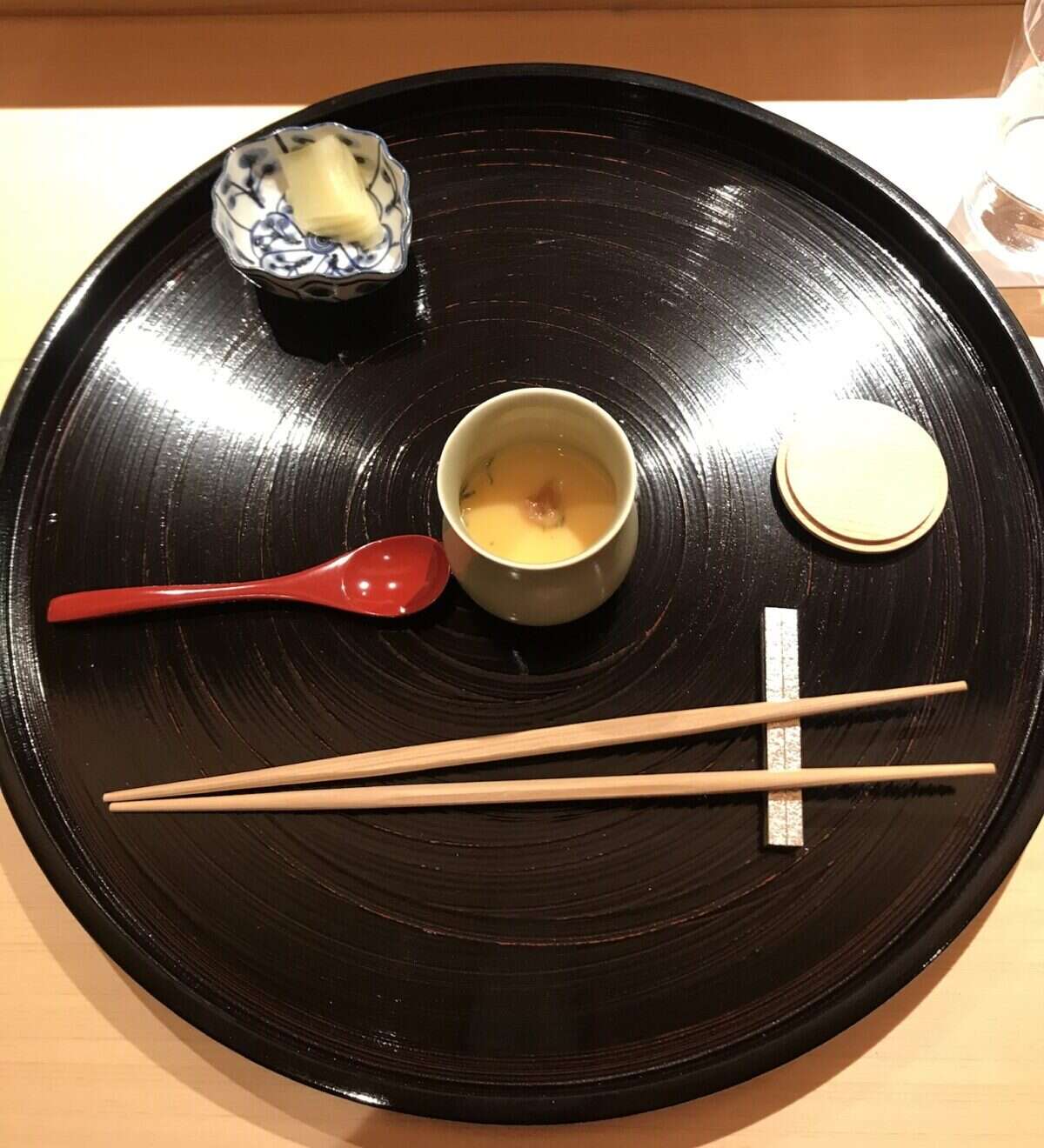 Other standout dishes included buttery soft Kobe beef seared over charcoal and served with a dollop of freshly grated wasabi and shio (salt), and Ebifurai Scottish lobster perfectly complemented with a generous blob of Japanese tartar sauce reminiscent of a bite-size morsel of posh fish and chips.
Of course, the meal was peppered with plenty of sushi which Usuba-san rolled by hand and presented to us one by one to devour in a single bite (the fatty tuna was our favorite). Between each course we cleansed our palettes with slices of the most delicious pickled ginger I've ever tasted – I wasn't surprised to learn Kanesaka brought this with him from Japan.
Just when it felt like we couldn't possibly eat another bite, we were treated to dessert – a glorious chunk of Japanese mango followed by a mug of green tea. The meal was expertly paired with a selection of fizzy and still sakes (there's also a lengthy drinks list with an impressive selection of Japanese whiskies).
Interiors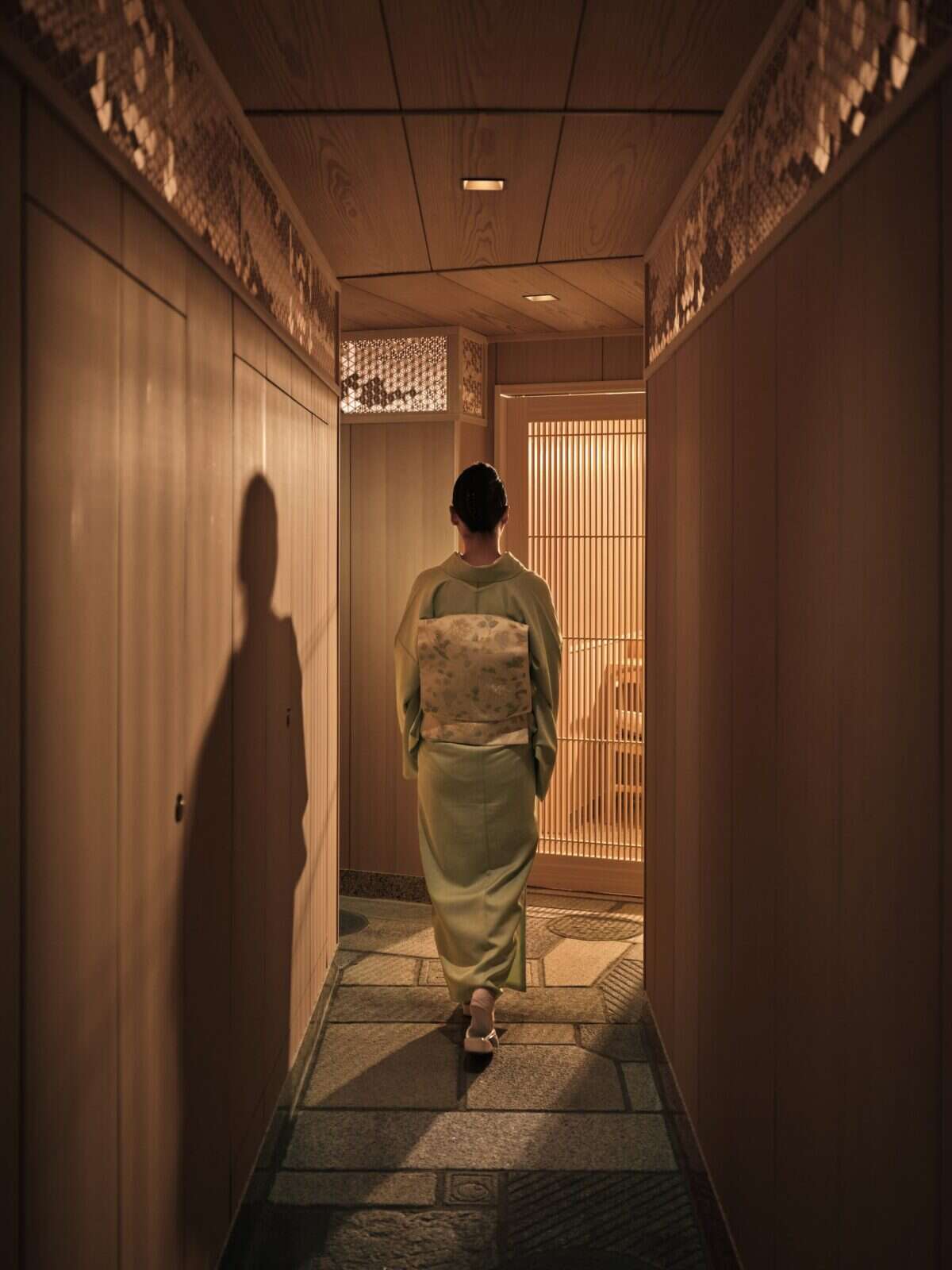 The interiors at Sushi Kanesaka are pared back and simple, letting the food take center stage. A walkway of reclaimed Japanese granite and beautiful wooden Kamiko panels leads into the main room – all eyes are on the counter which is crafted from a single piece of Kiso Hinoki (cedar wood).
Gentle music plays in the background and there is little décor save a few pretty vases made by contemporary ceramic artist Shiro Tsujimura filled with sprigs of cherry blossom. It's hard to believe 45 Park Lane's bustling bar lies just a few steps away. Behind these doors, you can kid yourself – just for the evening – that you're dining at Kanesaka's restaurant in Tokyo.
The 18-course menu at Sushi Kanesaka, 45 Park Lane is priced at £420 (approx. $530) per person. Sake pairings are between £150 (approx. $190) and £220 (approx. $278). Booking are currently being taken from 1 July 2023.
[See also: Follow in Barbara Hepworth's Footsteps on 45 Park Lane's Art Trail]