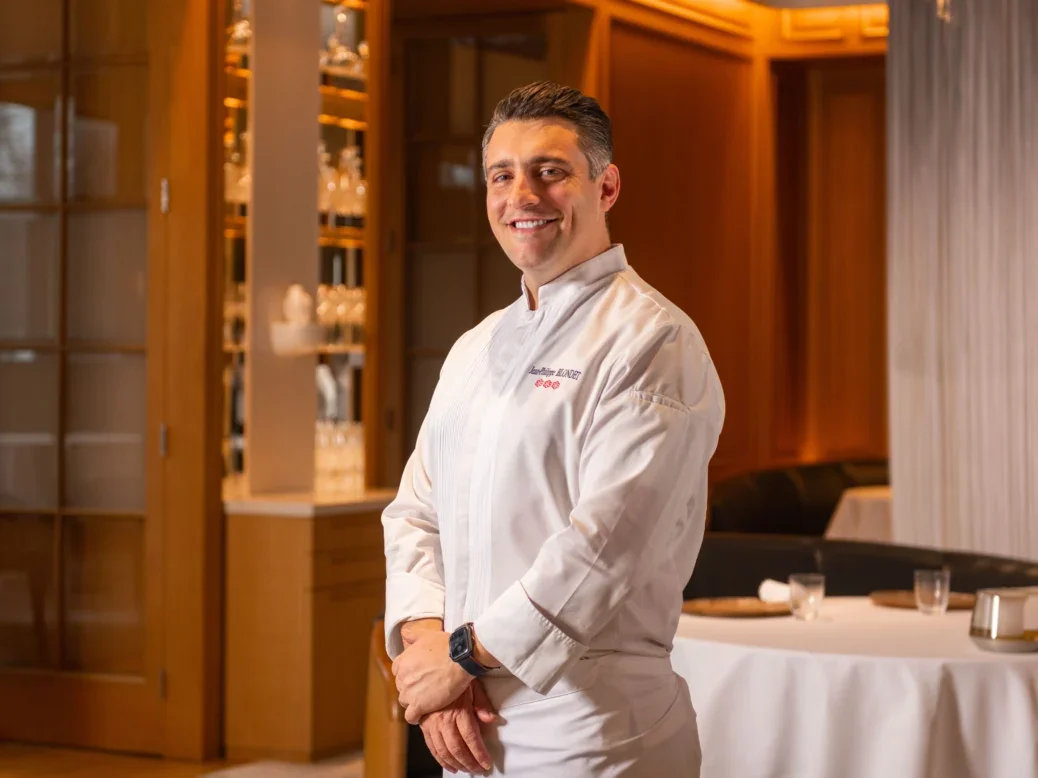 Jean-Philippe Blondet sleeps with a notepad beside his bed. But this isn't because the executive chef of Alain Ducasse at The Dorchester keeps a diary. Rather, it's a place to jot down his ideas for new dishes – ideas that often come to him in the middle of the night.
Sometimes he wakes to find little more than a fevered scrawl. Other times, his notes are the starting point for a creative new addition to his ever-changing menu at the three-Michelin-star eatery.
"One time, I couldn't stop thinking about sardines," he tells me, sitting in the glamorous restaurant on London's Park Lane. "Every day for three months I was asking myself 'Why have I got this on my mind?' Then, in the middle of the night, it came to me: pigeon and sardines."
At first, balancing both powerful flavors on one plate seemed all but impossible. "The first time I tasted it, it was terrible. Urgh, I couldn't eat it," he says with a laugh. "After that, we tried maybe 70 or 80 recipes to find the right one."
[See also: The Chefs Fighting to Make Fine Dining Sustainable]
Most important of all, however, was ensuring every single part of the ingredients were used right down to the sardine scales which were dried, fried and mixed with crispy aubergine skin to season the dish. "Everything is pushed to the limit," says Blondet. He pauses. "There are no limits."
The inventive chef always knew he was destined to end up in the kitchen. Growing up in Nice, the picturesque capital of the French Riviera, he loved visiting the bustling food markets and cooking with the region's vibrant ingredients. The day after graduating from hospitality school, Blondet took a long shot and sent his CV to the most prestigious company he could think of: DUCASSE Paris.
To his surprise, the human resources department contacted him almost immediately and he secured his first role with Alain Ducasse at Spoon at Sanderson in London. But it wasn't until a couple of years later when he was about to leave the eatery that he met the legendary chef for the first time.
"I told him I'm leaving to join another of your restaurants in Monte Carlo (the three Michelin star Le Louis XV)," recalls Blondet, "and he said, 'okay, you've finished your holidays – you're going to start work now.'"
Ducasse wasn't joking. Blondet describes his stint at the iconic Hôtel de Paris as "the most difficult job" of his life. "When I arrived at the restaurant, I had cooked for two years in London, I was chef de partie, I was happy," he says. "I went there and anything you do, skinning the potatoes or the tomatoes, anything, you need to ask – I had to learn everything from scratch."
It might have been the hardest point in his career, but Blondet tells me, it also taught him a valuable lesson. "When you're young, you want to do things faster and faster," he explains. "In London, you can grow very quickly – it's crazy I was managing all these people when I didn't really know how to cook. [Alain Ducasse] told me to go back to the beginning – it was the first advice he ever gave me. So I took a step back and learned to take my time."
Taking this advice on board, Blondet honed his skills and progressed to sous chef at Spoon in Hong Kong. It was here that Ducasse took an interest in the ambitious chef and invited him to join the team at Alain Ducasse at The Dorchester back in London.
"We spent a lot of time together tasting everything at the beginning," remembers Blondet. Within three short years, he climbed the ranks to become executive chef in 2016 – a post he has held ever since.
So who gets the last say over the menu? "Now I'm totally free to do what I want," explains the executive chef, "but of course [Ducasse] is the one who trained me for 18 years so I have his vision and philosophy inside me. At the end of the day, he tries everything."
At the heart of this philosophy is respect for the ingredients. In what was once considered a radical approach to fine dining, vegetables are the starting point for the dishes, with protein added later. The idea is for the plates to look alive – carrots and tomatoes are all different shapes and sizes as nature intended.
[See also: A First Look at The Dorchester's Major Renovation]
Blondet works with a trusted network of suppliers he has built over the years to source the very best ingredients. Being in central London, it's not easy finding local producers but the chef gets his cucumbers and courgettes from a farm in Epping Forest just outside the city. He also works closely with a supplier in Cornwall to source vegetables, that, he explains, benefit from the region's high-quality soil and sea air.
When he arrived at The Dorchester nine years ago, around half of the ingredients at the restaurant were imported from France. Today, Blondet tells me, over 95% of the kitchen's produce is sourced in the UK – a figure he is keen to increase.
Once the meat or fish has been added to the dishes, the restaurant's head sommelier Vincenzo Arnese – who recently scooped Taittinger's UK Sommelier of the Year 2022 award – is brought in to figure out the perfect wine pairings.
"Sometimes he'll tell me 'okay maybe decrease the acidity of this because the wine doesn't open up as it should,'" explains Blondet. "We work together on all of the tiny details which make a huge difference to the final plate of food."
Above all, the executive chef avoids waste in his kitchen wherever possible and only uses seasonal ingredients. "It's so important for our grandchildren to eat less, eat better and think about what will affect the planet later," he says. "When I see tomatoes in winter it makes me crazy."
In recent years, Blondet has been encouraged by signs the wider industry is finally taking sustainability seriously. He points to the establishments that have entirely overhauled operations to reduce their impact on the environment – restaurants, he says, that are well deserving of the Green Michelin star.
While Alain Ducasse at the Dorchester has not yet been awarded this eco-friendly accolade ("I still feel we can do much better and wouldn't be happy to have it straight away"), the Park Lane eatery is one of only eight restaurants in the UK with three Michelin stars – a coveted title it has held for over a decade.
Does he feel the pressure cooking under the inspectors' watchful eye? "Any chef that says they don't care about the stars is a liar," Blondet tells me in his no-nonsense manner.
"Of course there's a lot of pressure – when you have it, you need to keep it and save it. Because we have three stars, we can afford to put our prices quite high and have 20 chefs in the kitchen and 25 staff front of house. If I lost a star tomorrow, because of me people would be made redundant, so, yes, it's a huge pressure."
On a day-to-day basis, though, Blondet admits he isn't thinking about the stars. The biggest challenge, he says, is reaching the high standards customers have come to expect.
"They arrive expecting something magical," he explains, "so I have to make sure they leave very happy thinking 'wow this is an unforgettable experience that will stay with me forever.'"
To this end, Blondet is forever taking risks and changing the menu. The innovative chef cannot imagine cooking any other way. "It's a lot of work for me, but I need it because if I don't change the menu I feel frustrated, if I feel frustrated I'm crazy, if I'm crazy people are leaving," he laughs.
The other benefit of constantly creating new dishes is keeping his staff happy and fulfilled – something that is clearly of the utmost importance to the chef. Ultimately, he says, "they are never bored because they learn to cook so many different dishes. Every time they start to feel a bit comfortable, bam! I change."
This summer, Blondet took over The Dorchester Rooftop creating a simple, Italian-style menu entirely on his own. The executive chef still spends most of his time in the restaurant downstairs, but the project has given him a taste of what it's like to have complete control over a dining concept.
After 18 years working under Alain Ducasse, I ask if Blondet plans on one day opening his own restaurant. He doesn't skip a beat. "Yes, definitely – one or many!" he says, and his eyes light up. "I'd like to have my first one in London because people are starting to know me here. Maybe one day I'll even open a vegetarian restaurant. It will be the best of the best."
As the chef heads back into the kitchen to start preparation for the evening's service, I don't doubt he will fulfill this dream. His creativity and passion are clear to see, and it is only a matter of time before Alain Ducasse's protégé strikes out on his own. When he does, London's fine dining scene will be watching.