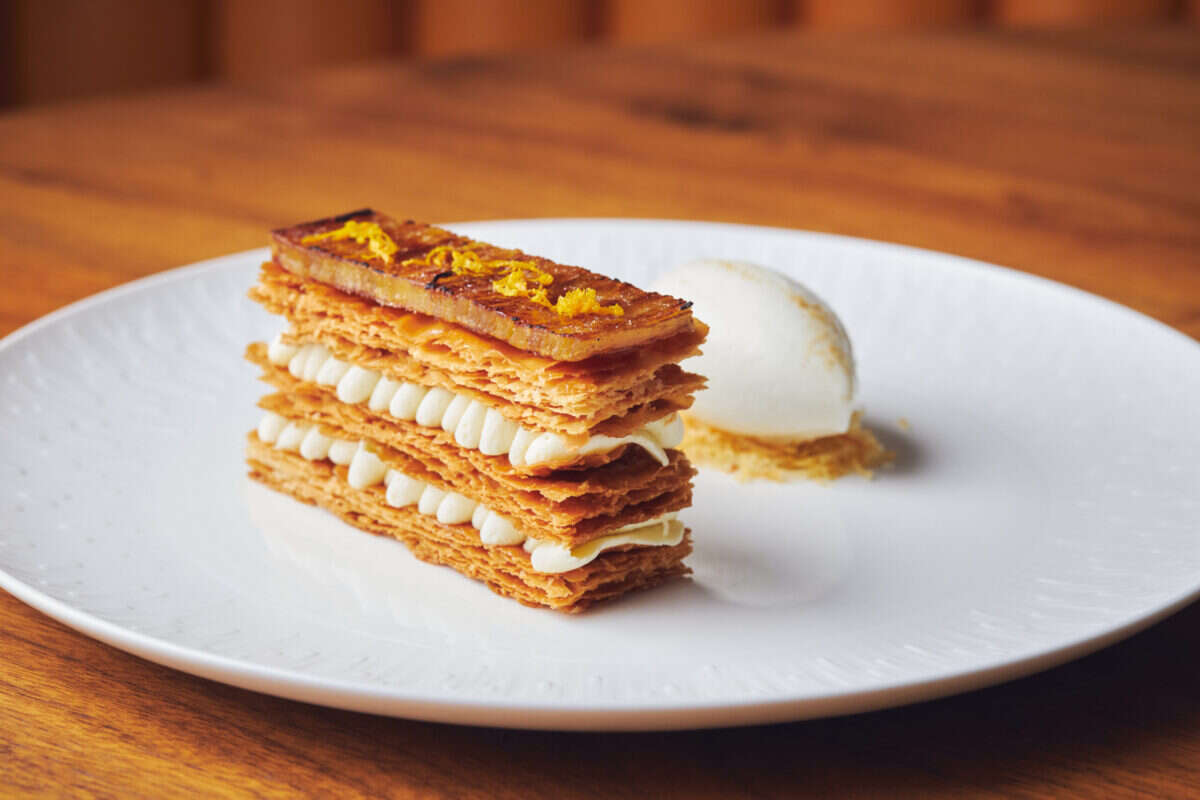 When it was announced that Trivet, a restaurant located in the heart of London Bridge, was awarded its first star in the Michelin Guide Great British and Ireland 2022, it struck a personal chord. Opened in October 2019 by Fat Duck alumni Jonny Lake, its unpretentious take on fine dining quickly made waves.
I had a table reserved for the following March. Then, Covid-19. The virus crept into London life very slowly and then very quickly. One week, the restaurant was fully booked; the next, its doors were closed indefinitely. Trivet's momentum was brought to a shuddering halt. It remained in my mind as the last review I had to cancel before lockdown. As one so young, I feared the worst for Trivet. Countless restaurants (some, very good) would fail to see the other side of lockdown.
But having survived a tempestuous 18 months, Trivet is now thriving. It was not only awarded its first Michelin star, but Lake's founding partner, Isa Bal, received the highly-regarded Michelin Sommelier Award. Once again, Trivet is the hottest fine dining restaurant in London. And after a two-year delay, I was finally able to experience it.
[See also: Dining gets Personal at Muse by Tom Aikens]
Chef and sommelier
Isa Bal
You cannot talk about Trivet's head chef without also mentioning the head sommelier. Here, wine and food get equal billing. Lake and Bal both worked at Heston Blumenthal's three-Michelin-star Fat Duck before striking out on their own. Having to pair wines with dishes such as snail porridge and egg and bacon ice cream forced Bal to think outside the box during his 12 years in Bray.
He has done the same here, taking the novel approach of ordering his 450-label wine list in chronological order according to the earliest mentions of wine in literature. While France and Italy dominate the lists of most fine dining restaurants, Bal has instead championed those countries with the longest history of winemaking.
There are wines here you cannot find on any other wine list in London, sourced from tiny vineyards in Georgia, Armenia and Turkey. There is, of course, a wide selection of Grand and Premier Crus for the traditionalists, but the personable Bal is passionate about these regions and encouraged us to challenge ourselves with something outside of the normal.
Jonny Lake
Bal and Lake joined The Fat Duck at a similar time, working together for over a decade before departing in 2018 to start a project that would evolve into Trivet. Lake began his cooking career as a volunteer for a meals-on-wheels charity while earning a degree in physics and biology (knowledge that would come in good stead at The Fat Duck).
After cutting his teeth in his native Canada, Lake moved to Italy where he worked at Michelin-starred restaurants A Spurcacciun-a and Quintilio, as well as for the legendary Italian chef, Gualtiero Marchesi at L'Albereta.
Lake joined The Fat Duck in 2005 and became head chef in 2009. He was eventually promoted to executive head chef for The Fat Duck Group, essentially overseeing the entire menu at a time when the restaurant was considered to be the very best in the world. Having developed his skill for spectacular molecular gastronomy over years at The Fat Duck, Trivet is a big departure for the chef. Lake has left the dry ice and olive oil gels behind in exchange for something far more approachable.
Menu
Trivet promises a fuss-free menu and it certainly delivers on that. Lake offers a three-course a la carte format instead of a tasting menu with four to five choices in each section. Apart from some delicate crackers, there are no canapes. Instead, Trivet prides itself on hearty portions of perfectly-prepared high-quality ingredients.
The menu is not so much seasonal as it is adaptable. Dishes rarely change completely but individual ingredients do according to what can be sourced. Shunning constant change – rife within the modern fine dining scene – has allowed Lake and his team to perfect certain dishes while leaving room for incremental adaptations.
We're told a popular pigeon dish had been removed due to a large outbreak of avian flu in France. Unable to source from his trusted supplier, Lake preferred to take it off the menu until a new one can be found. In desserts, the popular almond and cherry tart will soon change to almond and apricot as they come into season.
Starters include 'Dante's Pici', a pasta dish served with Salcombe crab and Monk's beard. The fresh pasta is cooked al dente and brought to life with a zesty foam that offers both comfort and freshness. But as summer kicks into gear, the Cured sea bass and red gurnard will be a popular choice. Served with toasted barley and corn silk Salsify, mustard seeds and quinoa, this dish offers the texture that is so often missing from delicate cured fish dishes.
For mains, the Grilled loin of venison puts forward every Michelin-starred chef's favorite ingredient: the beetroot. Versatile, sweet, savory and, most importantly, cheap; the humble beetroot is utilized well in this dish. It's served as a smooth puree alongside healthy portions of venison, king oyster mushrooms and a deeply flavorsome beetroot sauce. 
The 'Not a crispy duck' is also highly accomplished. Poached and then roasted, the duck is wonderfully tender and served alongside a  satisfying duck croquette and an orange sauce. It is probably the safest dish on the menu in terms of flavor combinations, but as such is executed to absolute perfection. 
[See also: The Most Anticipated Restaurant Openings of 2022]
As for sides, each one has been designed to complement every main course, or so I'm told – it's hard to imagine the roasted beetroot dish complimenting an already beetroot-heavy venison. But the charred Purple sprouting broccoli with Isot pepper dressing and Homemade French fries with onion ketchup were both perfect pairings for each main.
For dessert, the signature 'Hokkaido Potato' is a must if only for the experience. Delicately constructed with puff pastry and baked potato millefeuille, this dish is always on the menu. Served with a saké gelato and paired with an unfiltered saké at a punchy 17%, it is a decadent way to end the meal. The potato millefeuille invites a saltiness to the dish and dials down the sweetness found in a traditional vanilla equivalent.
Interiors
Designed by Umay Çeviker of Derin Yeşil, Trivet is a mid-century restaurant that combines natural textures of wood with earthy textiles. Guests walk in to see a towering bar with plenty of exposed brass. A lengthy cocktail list will coax many a guest to experiment before taking their seat in the dining room. The restaurant seats 45, but every diner gets a generous amount of space.
There is a blend of styles throughout with inspiration taken from Nordic and Mediterranean architecture, while eye-catching illustrations from a Turkish artist bring it all to life.
Lake can be seen completing and inspecting every dish on the pass on the other side of an open kitchen. This highly accomplished meal suggests he will be there for as long as he wishes to be.
Trivet Restaurant is open Tuesday-Saturday.
36 Snowsfields, London, SE1 3SU; info@trivetrestaurant.co.uk , +44 203 141 8670,  trivetrestaurant.co.uk
[See also: Inside The LaLee, The Cadogan's Glamourous New Eatery]