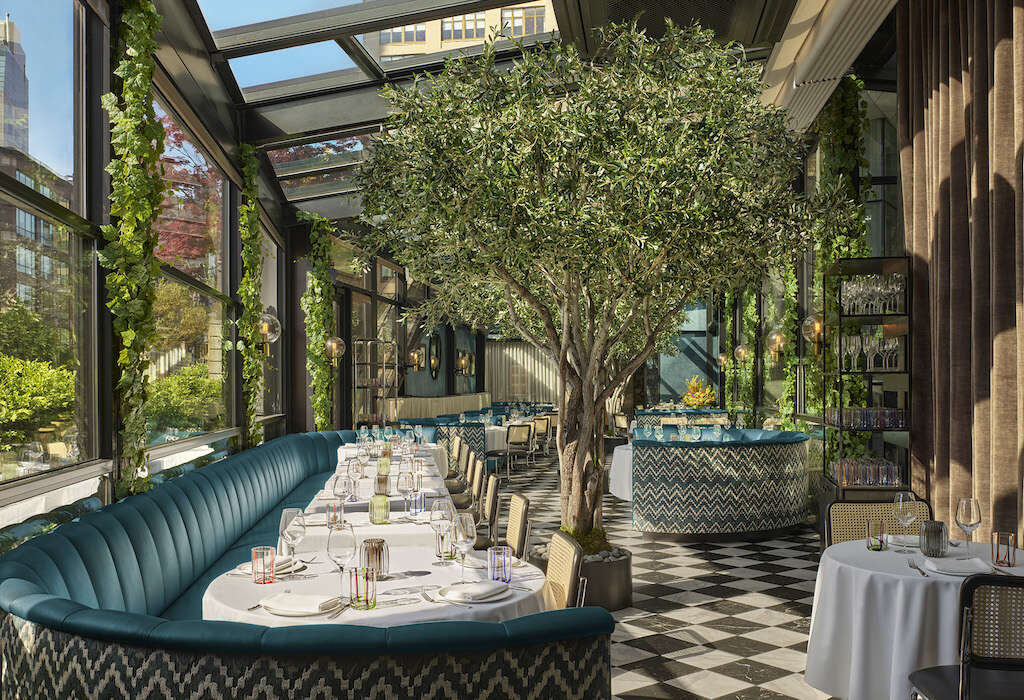 When early summer finally rolls around in New York City, few things are more coveted than an al fresco dinner reservation. One of the city's latest is Twenty Three Grand, which opened last month inside ModernHause SoHo.
The restaurant has been conceived by industry veterans David Rabin and James Julius, with chef Ashley Rath in charge of the kitchen, and deftly mixes chic décor and a convivial atmosphere with an internationally inspired menu. "Twenty Three Grand feels fresh yet timeless all at once," said Rabin. "Our hope is to become a go-to New York spot."
Located on the corner of Grand and Thomspon in the heart of SoHo, Twenty Three Grand is aiming to position itself as one of the city's al fresco hotspots, with its sun-filled, chicly fitted atrium (complete with retractable roof) offering a slice of the Med – without you needing to leave the city.
[See also: Principe Brings the Italian Coast to New York City]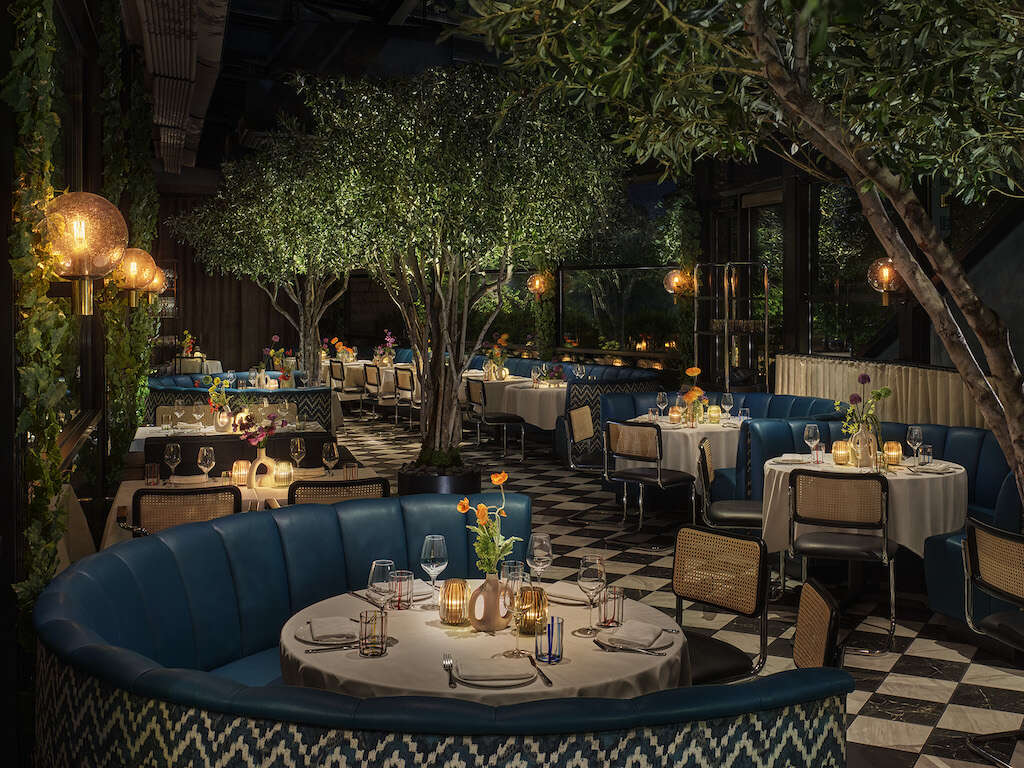 Chef
Executive chef Ashley Rath joins Twenty Three Grand from Saint Theo's, where she helped conceive the Venetian-inspired menu that garnered the restaurant such a loyal battalion of guests. Before this, Rath could count herself as a Major Food Group veteran, having worked across several of the group's outlets, including Dirty French, Santina and The Grill.
Although Rath was born in New Jersey and has spent much of her culinary career in NYC, a life of traveling has meant that her signature style plucks from international cuisine and consistently prioritizes the communal joy of dining. 
"Twenty Three Grand pulls inspiration from a variety of things including my mother's recipes and some of the world's top restaurants that I have been lucky enough to have both visited and worked in," she said in an opening statement. 
"Working with the team to come up with dishes that will bring people together, again and again, has allowed us to create something that is fresh but familiar, lively but elevated."
[See also: The Best Restaurants in NYC]
Menu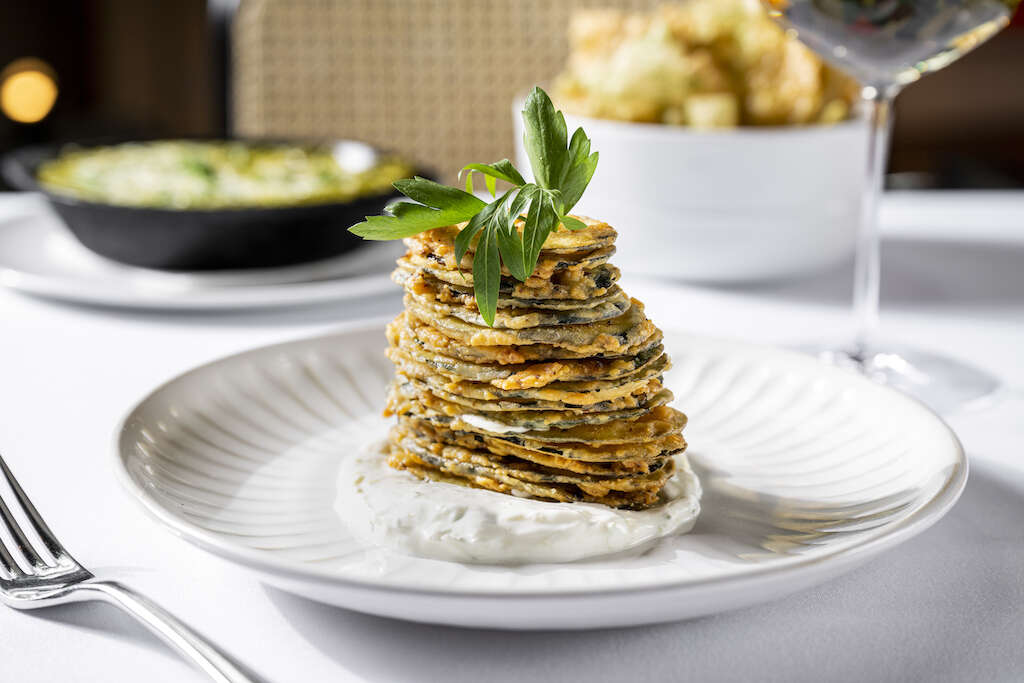 Dishes at Twenty Three Grand are carefully designed to be approachable with a focus on sharing plates. Much of the menu takes heavy influence from Mediterranean cuisine – think a tower of zucchini fritters on a bed of fresh, garlicky tzatziki, a series of creative carpaccio dishes and an extensive selection of pastas.
Rath and team have also looked to other corners of the world for inspiration, with the likes of cauliflower steak with miso mojo, and a Mandarin chicken salad.
Lovers of life's more elevated luxuries will also be pleased to see Twenty Three Grand's lavish caviar service, featuring both Imperial Siberian and Golden Ostera varieties. Follow with the Twenty Three Grand Burger, complete with sliced prime rib, whipped horseradish and steak sauce, for a fully indulgent meal. 
[See also: Onefinestay Launches New York Monthly Rentals]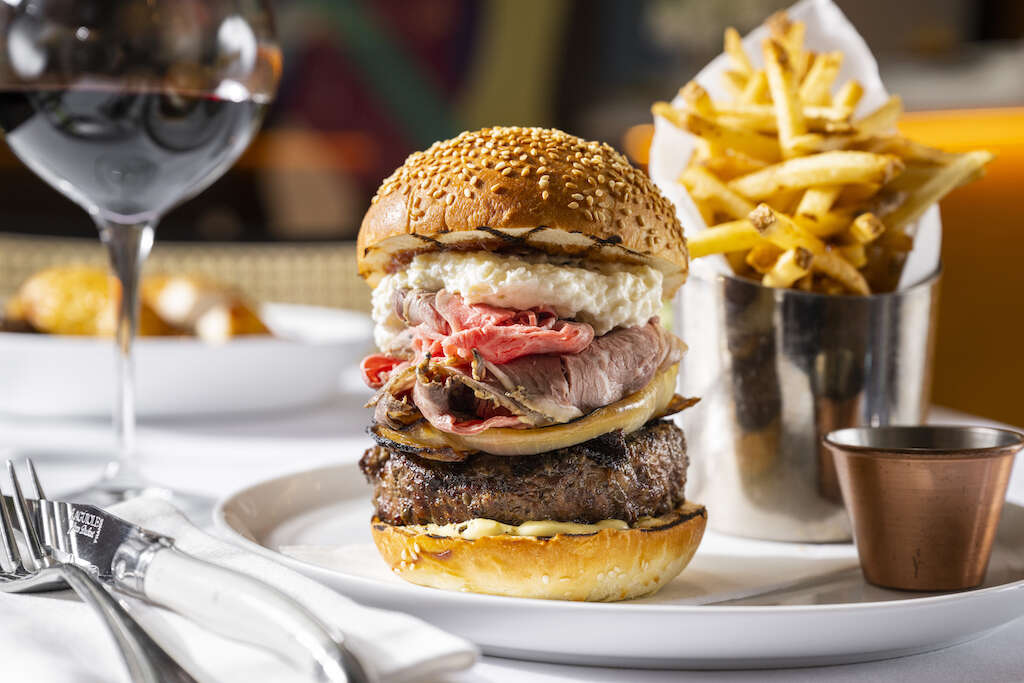 Desserts are fun and considerably retro – molten white chocolate poured over frozen berries and a build-your-own ice cream cookie sandwich promise to be quick favorites.
Accompanying the food is an impressive wine list, that calls on some of the best regions in the world and is separated helpfully by grape. Most are naturally by the bottle but there's a good number of by the glass too. 
[See also: Four Seasons Hotel Boston Reopens Transformed]
Interiors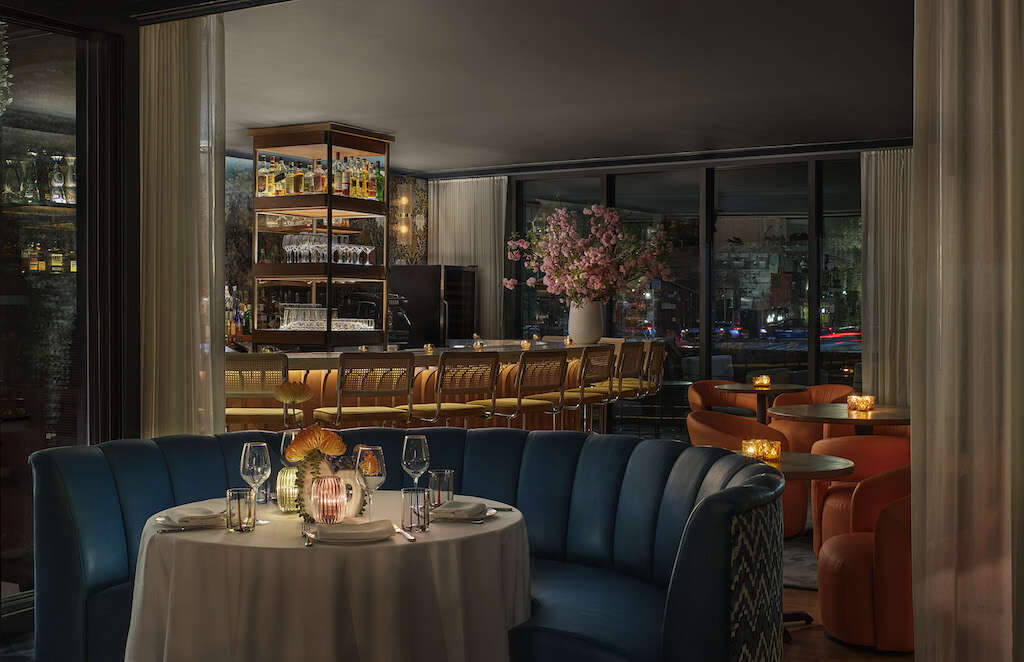 Created by stylist and interior design consultant Melissa Bowers Twenty Three Grand is all at once luxurious but welcoming. Outdoors, that flagship atrium is less makeshift terrace and more glam dining area, with the handy retractable roof making it prepared for all weathers.
The black and white tiled floor paired with the bright blue leather banquette seating could veer into modern diner territory, but things are kept cool and contemporary with the presence of oversized greenery and Murano glass fittings. Come nighttime, moody lighting transforms the space into a buzzy after-hours venue.
While the outdoor area is naturally the big draw as summer gets into its stride, the indoor portion of the restaurant has received equal attention, with a one-of-a-kind art collection gracing the walls.
Twenty Three Grand, 23 Grand St, New York, NY 10013, United States, twentythreegrand.com