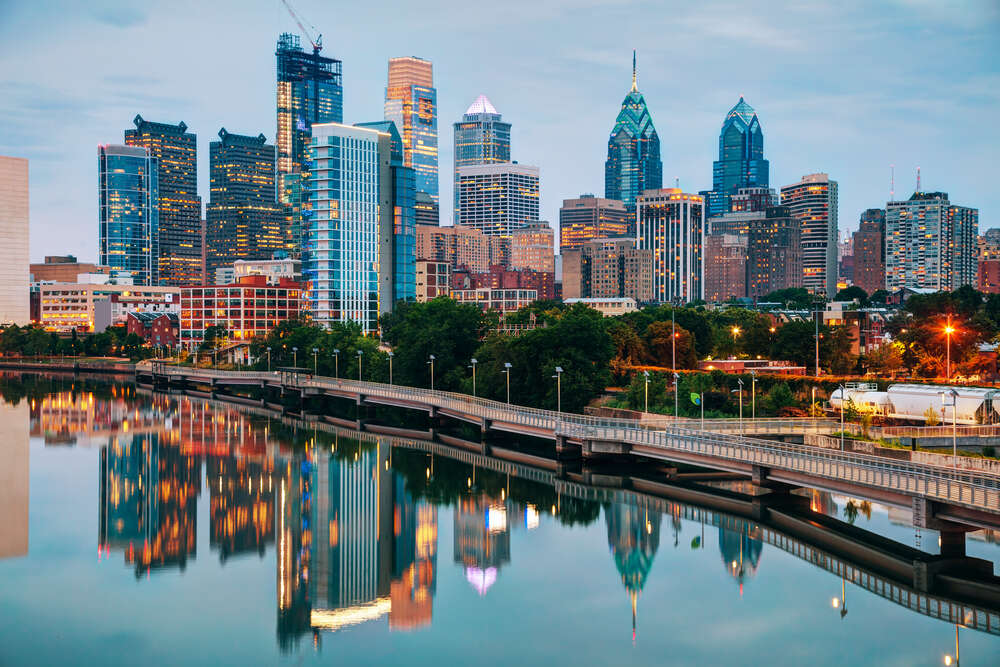 While Philadelphia might be known for its soft pretzels and cheesesteaks, those who are willing to explore will find the city also boasts an incredible network of fine dining restaurants.
Spanning every cuisine you can think of from Japanese to Ethiopian, Mexican to Thai, this is a place for real foodies. Here, we share our pick of the best restaurants in Philadelphia. Trust us – you're in for a treat.
[See also: A Guide to All Green Michelin Star Restaurants in the US]
Vetri Cucina
After honing his skills across the US and Italy, chef Marc Vetri returned to his hometown of Philadelphia and has since garnered a reputation for his Italian cooking. The popularity of Vetri is a testament to this, receiving a handful of accolades, including a James Beard Award for Best Chef: Mid-Atlantic. Vetri specializes in authentic northern Italian dining and solely offers a custom tasting menu featuring dishes such as prosciutto cotto, eggplant rotolo and chocolate polenta souffle for dessert. The restaurant offers a wine list of 2,500 bottles, focused primarily on Italian wines from various regions. Dining here is an intimate affair, with Vetri only seating 32 guests in the dining room with additional space for private dining, including a test kitchen.
Morimoto
Philadelphia's premier Japanese dining destination, the cool and contemporary interior of Morimoto has an enticing menu to match. The decor features color-changing booths awash in glass and colors creating a striking and serene design. The restaurant's chef and namesake, Morimoto, offers a multi-course omakase tasting menu, showcasing the very best of Morimoto's cuisine. Guests can also enjoy an expansive menu from the sushi bar or opt for raw bar items. The well-stocked wine cellar boasts an international selection that will complement your meal. The mezzanine level lounge is the perfect spot to enjoy some pre- or post-dinner drinks while overlooking the vibrant restaurant below.
Volvér
The consistently refreshed menu at Volvér boasts locally raised meat, poultry, seafood, and even includes produce fresh from chef Garces' own farm, ensuring that no two meals are ever exactly alike. Located within the Kimmel Center for the Performing Arts, Volvér offers a seasonal 12-course chefs tasting menu with optional wine pairing. Dishes can range from deviled egg to fava bean tortellini to yogurt panna cotta. The restaurant also accommodates theater-goers with a curated pre-theater menu of first course, second course and dessert.
philadelphia.volverrestaurant.com
Barclay Prime
Located on the first floor within the historic Barclay Building on Rittenhouse Square, Barclay Prime is Stephen Starr's modern boutique steakhouse. The immaculate decor features glass chandeliers, wood-paneled walls and marble floors to coincide with the sophisticated menu. While the menu features varieties of steak, selfish and entrees, one thing that makes Barclay Prime really stand out is the famous $120 cheesesteak: wagyu beef topped with foie gras and truffled cheese whiz on a fresh-baked sesame roll. Served, of course, with a little bottle of champagne.
Lacroix Restaurant at The Rittenhouse
Situated on the second floor of the prestigious Rittenhouse hotel, Lacroix provides some of the best views of Rittenhouse Square. Executive chef Eric Leveillee carefully develops the creative menu which continues to change seasonally, focusing on fresh and enticing ingredients. This AAA Four Diamond Award restaurant also offers an extensive wine list boasting over 4,000 varieties.  Diners can partake in a four-course chef's tasting menu with wine pairing comprising dishes like scallops, bluefin tuna and a lychee dessert. For something special, Lacroix offers a caviar menu enhancement that includes deviled egg, cannoli, potato rosti and crispy leek with 10g of caviar as well as caviar service with traditional garnishes.
Buddakan
Next up on our list of the best restaurants in Philadelphia is Buddakan. A 10-foot-tall gilded Buddha exudes calm in this Asian-inspired restaurant. The menu boasts a variety of dishes including tuna pizza, Buddakan style sashimi and Peking duck salad. For dessert, the chocolate bento box makes a fun and unusual choice. The sleek, modern decor and 20-person dining table make Buddakan a great place for larger groups as meals can be shared family-style.
[See also: The 15 Best Restaurants in New York]
Urban Farmer
On Philadelphia's Logan Square, Urban Farmer Philadelphia brings the charm of a rustic steakhouse to urban Pennsylvania. The menu focuses on local ingredients sourced from regional farms, ranches and fisheries. Urban Farmer's emphasis is on steak, offering everything from a New York steak tasting to a Colorado wagyu beef. Craft cocktails are a must, especially the locally-inspired Rittenhouse Square with rye and vermouth, though the whiskey list itself is extensive and the restaurant also serves several regional draft beers.
[See also: The Chefs with the Most Michelin Starred Restaurants]
To read more about the world's finest restaurants visit our Top Restaurants database.