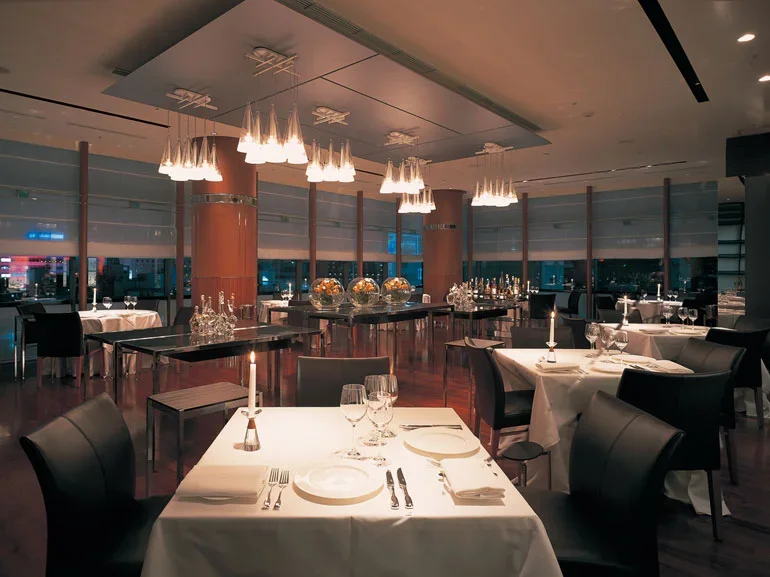 Boasting more Michelin stars than any other city on the planet, Tokyo is home to some of the best restaurants in the world. As any serious foodie will know, a trip to Japan's vibrant capital is a must.
With its array of delicate, seasonal ingredients and talented chefs who know exactly what to do with them, it's the perfect destination to embark on a culinary adventure. And while sushi and ramen might be the first dishes that spring to mind when you think of Tokyo, for those eager to explore there is so much more to discover. The city's incredible fine dining scene has not gone unnoticed, with the discerning Michelin Guide inspectors awarding stars to 203 restaurants in 2022.
However, this abundance of choice can make deciding where to dine feel a little overwhelming. To help, Elite Traveler has rounded up 20 of the best restaurants in Tokyo.
[See also: Discover Real Japan on the Three Star Road – Part 1]
The Best Restaurants in Tokyo
Fukamachi
Behind the discreet entrance is a little L-shaped counter at which the chefs prepare light, delicate tempura using high-quality ingredients. The prawn tempura combines excellent fresh seafood with the airiest coating to produce delicious tempura, and vegetables receive the same care and attention as the costlier ingredients.
2 Chōme-5-2 Kyōbashi District, Chūō Ward, Tokyo 104-0031, Japan
Contact +81 3 5250 8777 for more information.
Ishikawa

Hideki Ishikawa has perfected the art of kaiseki cuisine at his eponymous restaurant in Shinjuku. Kaiseki, or kaiseki-ryori, is a traditional form of Japanese cuisine in which a multitude of dishes are presented to guests in order to demonstrate the wide and varied skillset of the chef. Your meal will progress through many stages of ultra-seasonal ingredients, with superb dishes such as chargrilled eel with beautiful sweet onion, or rice cooked with prized matsutake mushrooms.  This restaurant thoroughly deserves its three Michelin stars.
Takamura Building, 5 Chōme-3-7, Kagurazaka, Shinjuku City, Tokyo 162-0825, Japan
[See also: How the Prestigious Michelin Star System Really Works]
Joel Robuchon
The flagship outpost of iconic French chef Joel Robuchon is located in a custom-built French chateau in the heart of Tokyo. The elaborate three-star Michelin cooking relies on French technique and top Japanese ingredients, such as ravioli of lobster with Japanese radish. The trademark Robuchon dessert trolley is an indulgent way to conclude your meal.
Yebisu Garden Place, 1 Chōme-13-1, Mita District, Meguro City, Tokyo 153-0062, Japan
The Chefs with the Most Michelin Starred Restaurants
]
Kadowaki
Toshiya Kadowaki serves two Michelin star kaiseki cooking, but allowing some French influences into this ultimately Japanese dining style. He uses only top ingredients, and you may be served snapper with spicy pepper, or white asparagus with sesame sauce and mountain vegetables. The cooking is balanced and highly skilled.
Rose House Azabu Jūban 1st floor, 2 Chōme−7−2, Azabu-jūban District, Minato City, Tokyo 106-0045, Japan
Ginza Kojyu
Offering seasonal kaiseki cooking at its finest, the chef's speciality in the summertime is a dish of chargrilled, wild unagi (or freshwater eel) that is not to be missed. Located in the Ginza, an upscale shopping destination filled with independent boutiques and luxury brands, Ginza Kojyu is the perfect place to enjoy a memorable two-hour kaiseki course in the heart of the city.
Carioca Building 4th floor, 5 Chōme-4-8 Ginza District, Chūō City, Tokyo 104-0061, Japan
Kanda
Three-Michelin-starred Kanda serves kaiseki cuisine in a residential Roppongi apartment block. You can watch the chefs demonstrating their considerable knife skills as they prepare your meal, which might include a dish such as baby sea trout or a ball of rice wrapped with eel skin and seasoned with lime.
Calm Motoabazu, 3 Chōme-6-34, Moto-Abazu District, Minato City, Tokyo 106-0046, Japan
Kondo
Fumio Kondo cooks superbly light tempura for his guests in this two Michelin star 9th floor Ginza restaurant. From ultra-fresh prawns to finely julienned carrots, the ingredients are of top quality, and the great skill of the chef self-evident. This is one of Tokyo's top tempura restaurants.
5 Chōme-5-13, Ginza District, Chūō City, Tokyo 104-0061, Japan
Contact +81 3 5568 0923 for more information.
[See also:
The 11 Best Restaurants in London
]
Nanachōme Kyōboshi
If you have ever wondered just how good tempura cooking can really be, Nanachōme Kyōboshi will show you. The ingredients used are of an exceptionally high standard, the skills of the chef shown in the ultra-light batter and the simplicity of the cooking: no dipping sauces are to be found here in this three-Michelin-star tempura restaurant.
Ozio Ginza Building 6th floor, 5 Chōme-9-9 Ginza District, Chūō City, Tokyo 104-0061, Japan
Contact +81 3 3572 3568 for more information.
Quintessence
This smart restaurant serves classical French cuisine using the finest Japanese ingredients. An example of this is sweet sea scallop with a buckwheat crust, served with buckwheat risotto seasoned with Gironde salt. The chef, who trained at Astrance in Paris, now has three Michelin stars of his own.
Garden City Shinagawa Gotenyama 1st floor, 6 Chōme-7-29, Kitashinagawa, Shinagawa City, Tokyo 140-0001, Japan
RyuGin
Seiji Yamamoto's modern cooking takes kaiseki dining and reinvents it for the modern era. There is still a focus on ultra-seasonal, high quality ingredients, but modern kitchen techniques are brought to bear too. RyuGin thoroughly deserves its three Michelin stars, and can be regarded as exemplifying the finest in modern Japanese cooking.
Midtown Hibiya 7th floor, 1 Chōme-1-2, Yurakucho District, Chiyoda City, Tokyo 100-0006, Japan
Sushi Saitō
Sushi Saitō is widely acknowledged as the top sushi restaurant in Tokyo, despite the removal of its three Michelin stars in 2019 after it stopped accepting reservations from the general public. The standard of the fish used here, such as its tuna and squid, is exemplary, and its chef/owner is incredibly charming.
Ark Hills South Tower 1st floor, 1 Chome-4-5, Roppongi District, Minato City, Tokyo 106-0032, Japan
Contact +81 50 5263 6863 for more information.
Sushi Sawada
This tiny six-seat sushi restaurant serves some of the finest sushi in Tokyo and boasts two Michelin stars. Ex-truck driver and chef/owner Koji Sawada carefully prepares the long grain rice with white vinegar, and serves an elaborate menu of highest quality seafood, such as very tender abalone and needle fish.
MC Building 3rd floor, 5 Chōme-9-19, Ginza District, Chūō City, Tokyo 104-0061 , Japan
Contact +81 3-3571-4711 for more information.
[See more: The Chefs with the Most Michelin Starred Restaurants]
Sushi Yoshitake
Masahiro Yoshitake is one of Tokyo's most respected sushi chefs, preparing his rice with red vinegar in the "Edomae" way, a style dating back to the Edo period. The fish is of an exemplary standard, the chef sourcing most of it directly rather than using the main market. This is true three Michelin star sushi that ranks Sushi Yoshitake within the best restaurants in Tokyo.
Brown Place 9th floor, 7 Chōme−8−13, Ginza District, Chūō City, Tokyo 104-0061, Japan
Ten Ichi Ginza
The original restaurant of a group that now has several branches, it is hard to argue with the freshness of the ingredients at Ten Ichi Ginza. Prawns are alive moments before being coated with batter and plunged into hot oil, the result delicious. The batter is particularly light, letting the excellent ingredients take the main stage. Currently undergoing renovations, the restaurant is set to reopen in 2022.
6 Chōme-6-5, Ginza District, Chūō City, Tokyo 104-0061, Japan
Yukimura
The chef/owner Jun Yukimura is a charismatic man, sharing jokes with his customers as he prepares their meal in front of them at the counter and demonstrating his impressive knife skills. The kaiseki cooking here uses ultra-seasonal ingredients, such as delicate sweet fish and superbly flavored yam and has been awarded three Michelin stars.
1 Chōme-5-5-3, Azabu-jūban District, Minato City, Tokyo 106-0045, Japan
Contact +81 3 5772 1610 for more information.
Seizan
One of Tokyo's many two Michelin star restaurants, Seizan focuses on the Japanese tradition of using only the best seasonal ingredients meaning the menu is forever changing. On top of a varied menu of traditional Japanese dishes, Seizan also offers guests the chance to try some of the finest desserts available in the capital, including the restaurant's well-known matcha mousse.
2 Chōme-17-29, Mita District, Minato City, Tokyo 108-0073, Japan
Contact +81 3 3451 8320 for more information.
Ginza Kyubey
Set inside a beautiful four storey restaurant, Ginza Kyubey is widely regarded as one of the best sushi restaurants in Tokyo, and despite its owner, Imada, being well into his 70s, the restaurant is still one of the best places to visit on a trip to the Japanese capital, with celebrities such as Steven Spielberg apparently being big fans.
8 Chōme-7-6, Ginza District, Chūō City, Tokyo 104-0061, Japan
L'Effervescence
The food at L'Effervescence shows a playful side to haute cuisine, with one of the restaurants most well-known dishes being a fun take on McDonald's apple pie made from wild boar or sage and matsutake mushrooms. On top of this, it has an excellent French wine list and a delicious dessert menu to boot making it easily one of the best restaurants in Tokyo.
L'Effervescence, 2 Chōme-26-4, Nishi-Azabu District, Minato City, Tokyo 106-0031, Japan
[See also: Hot Stone Review: Authentic Japanese Omakase in London]
Kohaku
Hidden away down an alley in the bustling Kagurazaka district of Tokyo, this stylish eatery scooped its third Michelin star in 2016. Here, talented head chef Koji Koizumi gives classic Japanese kaiseki a modern twist by incorporating Western ingredients. Highlights from the eclectic menu include caviar paired with chilled corn agar jelly and deep-fried ayu drizzled with a decadent truffle sauce. As you would expect, there's also an impeccable wine list with an impressive selection of sake.
3-4 Kagurazaka, Shinjuku-ku, Tokyo, 162-0825, Japan