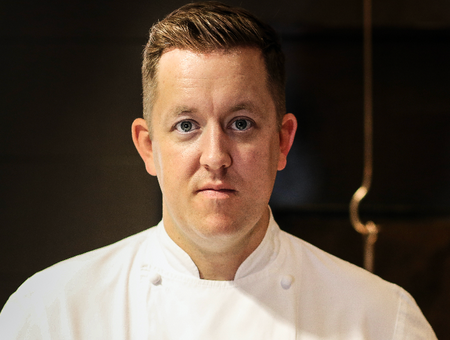 On a dreary Monday afternoon in London's Knightsbridge, we visited Dinner by Heston Blumenthal and found our afternoon considerably brightened thanks to a divine four-course lunch (including the famous 'tipsy cake'). We sat down to speak with the restaurant's affable head chef, Ashley Palmer-Watts, about how he's giving away meals worth hundreds of dollars, and about Dinner's exciting new opening.
Why do you think people are so loyal to Dinner and The Fat Duck? Apart from wanting to serve great food in a great location with great service, and trying to get that mixture exactly right every time, our approach is to create a story. I think we've got layers of stories and backstories and, whilst it might not be for everyone, I think there's so much to discover. It's not just a load of ingredients thrown together because we think it will look or taste great, it has a purpose and has come from somewhere.
What's the main inspiration for Dinner? The British history of food — looking back to go forward is key to our inspirational process. It's not a re-creation; it is using an initial idea, like a singer/songwriter. They use life experiences and observations and then create a song. Our process is similar in many ways — we look back and spark off a flavor combination that might lead us down another path. It could be that we start looking into a certain historical period and discover a whole new area that we never knew existed. British history is very close to us. We're very patriotic.
How does this historical influence match the decor? We have the Tudor-rose chandeliers and the historical jelly mold light sconces — they were custom made; it was a nightmare! We first had them made for our restaurant in Melbourne, and it cost an arm and a leg. We also have the ice-cream cart that was inspired by Agnes Marshall. We thought it would be great if we could have a machine that would go around to make ice cream at the table, and I just thought, where do you start looking for that?! It's not on Amazon! We asked so many designers and told them it looks like a sewing machine, and they brought a wooden one. We saw it for the first time and just loved it.
Tell us about the Inspiration Lunch. Well, a few years ago, we'd have waiters and young chefs dining in our restaurant. But now, the way the industry has evolved, it is expensive. You're looking at £450 [around $625] a head at The Fat Duck. We've seen a decline in people from our industry being able to visit us, which is a real shame, especially for the younger generations. We thought it would be amazing to do something nonprofit, not tied to a publication, or sponsorship — just us doing something good for our peers. It turned out to be a big job! We just wanted to put names in a hat, draw them out at random and invite them for an incredible experience. There was a lot of red tape. But, we did it; we had over 800 entries. The winners will come to The Hind's Head for welcome drinks to meet their dining companions, they'll meet their storyteller, and then be taken through the whole journey. There's no catch, no ulterior motive, we're just trying to do something positive that we can control. Hopefully some other chefs will jump on board. Tom Kerridge [British celebrity chef] was saying he'd love to do something similar.
Which restaurants are on your wish list to visit? Fäviken in Sweden and Boragó in Chile. A former colleague [Kyle Connaughton] has opened Single Thread Farms in California [a new entry at number 86 on this year's Top 100 Restaurants] — it looks amazing. They have two florists in the kitchen full time. Cold larder, hot larder, florist! It's so cool. I'd love to go and see Kyle out there.
What are your plans for the future? We have just announced Dinner by Heston Blumenthal will be opening in 2019 at The Royal Atlantis Resort & Residences Dubai. The restaurant will have an incredible view of the Dubai skyline and, for the first time, we will have an outside terrace. We are really excited to be opening in in this iconic city, and will have a couple of additions that will create a unique experience to Dinner Dubai.