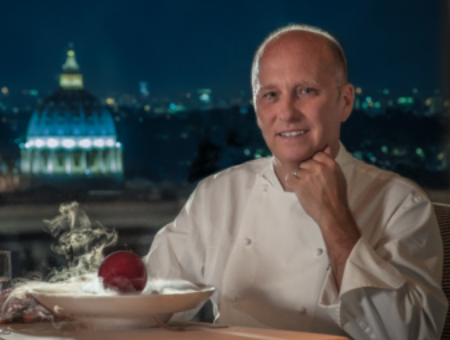 La Pergola is the first and only three-Michelin-starred restaurant in Rome, and a regular entry in our Top 100 Restaurants. Chef Heinz Beck tell us about his favorite food markets in Rome and what his last meal on earth would be.
What influences your creativity?
Art, nature and the reality that surrounds me.
What is your signature dish?
Fagottelli La Pergola [an unconventional carbonara pasta stuffed with sauce] as well as deep-fried zucchini flower with caviar on shellfish and saffron consommé.
What is your favorite dish to cook for your friends and family?
Spaghetti ­— my favorite brand is De Cecco — with fresh tomato sauce and basil.
Where do you consider to be the gastronomic capital of the world to be?
Once, Paris was considered the gastronomic capital. Now, things are different. We live in a globalized world, so I do not think there is only one gastronomic capital, but I think that each one, in its own way, has its own peculiarities and is influenced by the other capitals, with the result being different styles and innovative recipes.
What do you do with your free time (if you have any!)?
Oh, if only! I rarely have free time… when it happens, I spend it with my wife, and in this way I recharge my batteries.
What would your last meal on earth be?
Sicilian baked anelletti, cooked by my mother-in-law.
Are there any foods that you would ban if you could?
I'm a supporter of a Mediterranean diet, so I focus on healthy food and excellent and genuine ingredients. So I would ban preservatives.
You were one of the first chefs to champion healthy food and cooking. How important do you think food education is in relation to our overall health?
I think it's important to get children used to a healthy and balanced diet from an early age. I am not a doctor, but, as a chef, my suggestion is to bring children to do the shopping and encourage them to know the raw materials, giving importance, among others, to fruits and vegetables, ingredients that children often do not favor, but that are very important for their growth. Some years ago I took part in an important project related to childhood obesity promoted by FIMP, the Italian Federation of Pediatricians. I wrote a book, Tips and Recipes for Young Gourmets, with recipes suitable for children that were easy to replicate at home.
Where do you source your produce? Where are the best food markets in Rome?
I personally select new suppliers, and I have several trusted suppliers with whom I have been collaborating for years. I am very satisfied with them. Sometimes, more and more rarely, unfortunately, I still have the chance to go to Campo de'Fiori — in my opinion, one of the best food markets in Rome.
Where is your favorite place to dine in Rome?
At home, with my wife.
Do you have any plans to open any other restaurants, or
pop-ups?
In the words of Queen, don't stop me now!