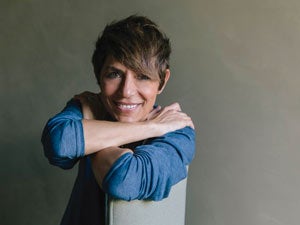 By Lauren Jade Hill
Owing to the success of her two-Michelin starred, San Francisco-based restaurant Atelier Crenn, French chef Dominique Crenn has risen to culinary prominence, garnering prestigious awards for the accomplished cuisine she's become known for. But for the celebrated chef, food is about more than just taste; it's about a deeper connection with emotion. As Crenn is named Rising Star of 2017, we talk to the chef about the culinary approach people are responding so well to.
What does winning this reader-voted award mean to you?
It's always very heartfelt for me to receive such an accolade and I'm thankful that I am able to have a platform to continue connecting with my audience. It means I can have a voice, and that people are listening. I just want a dialogue with others, so I hope people will keep welcoming my ideas.
Why do you think people respond so well to your food?
Well, the idea was not for me to just open a restaurant; the idea was for me to express the authenticity and integrity of who we are, and the emotion. It's very much a place that connects with people, not just through food but also through understanding. I think we speak to people in a way that's not just to the tummy, but also to the heart and brain. What's interesting is that a lot of people haven't eaten at my restaurant but they might have seen an article or a documentary on the restaurant, and they somehow feel connected to it. The antiquity, emotion and truth of what we want to tell is something a lot of people relate to. At the restaurant we don't just put food on a plate; there's a lot of emotion and compassion.
What experience can people expect to have when they eat at Atelier Crenn?
People want to experience something they've never experienced before, so they come here and allow me to cook for them. That is something quite beautiful.
How would you describe your food? Do you have any signature dishes?
I describe it as poetic culinaria. It's how I look at life and how I feel. It's about emotion, experiences, dreams and happiness. I have many dishes that I'm proud of — I don't want to upset any of them by choosing a favorite — but Grain and Seed, Walk in the Forest, and The Sea are among the dishes I love to revisit.
Do you source ingredients locally?
The produce is from the area around San Francisco. We work with a farm that's close by and most of the seafood comes from the coast here in California, such as abalone, which I get from Monterey. I want the best ingredients I can get though, so I try to understand how and where products were made and the artisans who made them. If I know someone who makes the best olive oil in a little village in Spain, I will buy my olive oil there. This is also a way of welcoming other cultures in with our cooking.
Other than the restaurant, what plans do you have in the pipeline?
I'm working on writing my memoir, and I'm looking at ways of getting involved in children's education through food. I'm trying to use this platform to give back, be educated and educate others.