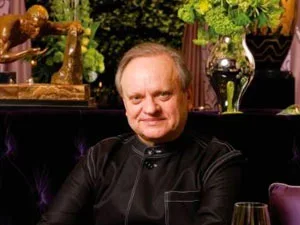 From humble beginnings peeling potatoes with nuns in a French seminary to becoming an esteemed chef with the most Michelin stars in the world, Joël Robuchon is more than deserving of Elite Traveler's Lifetime Achievement award. Applying this discipline to his craft, Robuchon is recognized as being the pioneer of post-nouvelle cuisine and is known for his tireless pursuit of perfection — even when it comes to mashed potatoes. His renowned restaurants are spread across the globe, and are celebrated not only for the exceptional cuisine, but also the striking architecture and outstanding service. Robuchon took time out of his busy schedule to tell us how it feels to be acknowledged in this way by his diners, where his favorite city is, how his upbringing in post-World War II France has shaped his illustrious career — and shares his exciting future plans for budding chefs.
You've been awarded Elite Traveler's Lifetime Achievement award, as voted for by our readers. How does it feel to win an award that is voted for by diners?
The best accolade I can ever receive is to have someone who just finished dining in one of my restaurants come up to me and thank me for an experience that they loved — and then make another reservation! The best awards are those given by the guests — not just the critics, the food writers or others in the industry. We work in this industry with the aim to please the people who come to dine in our venues, so it is really the guests and the consumers that matter most. The critics write reviews and give awards so that consumers can make better judgments, but an award given by the consumers — that is truly special.
You've had a long and successful career. What achievements have you been most proud of over the years?
There are many awards that I have been fortunate to receive, but the first time I received a Michelin star, with Jamin in Paris, that was very important and an incredible feeling. Michelin back then, more than 30 years ago, was really the one guide, the one measure of excellence; now we have so many other guidebooks, so many other ratings systems that Michelin is still important, but it is no longer the only one that mattered. So, I would say that receiving that first Michelin star is something I still cherish.
What was your first venture into the culinary world?
When I was very young, I wanted to go into the seminary. I actually began cooking — if it can be called cooking, I was peeling potatoes for the most part — working with nuns. It was then that I began to find the passion for the job. But when I started, it had nothing to do with a love of cooking!
How has your upbringing inspired your career?
I was born into post-World War II France in the region of Poitiers. There was a lot of poverty; my parents actually told me that if I wanted to make sure I never went hungry, I should work in a kitchen. That really was the start. After that, I began to bring that love of people that drove me to the seminary into the kitchen, and I was fortunate that my career went the way it did.
What inspired L'Atelier de Joël Robuchon?
L'Atelier was a concept that was created with a number of very close collaborators. We wanted to set out and prove that food could be great without being stuck-up; that you could pull the "snooty" sommelier and the traditional maître'd together and make great food into a fun, convivial experience. Because of this, we came up with the counter seating, the live kitchen, and it has been a concept that has really resonated with not only one type of culture but across the world, so I think it was a good idea!
Where is your favorite place?
That is a difficult question — every city offers so many different cultures. I love having a restaurant in Las Vegas at MGM Grand because it is such an enjoyable city for people to dine in — they are all laid back, with not much stress because they don't have to go back to work the next day; I love New York because, to me, it truly is the best city to have a restaurant in the world; Japan is an amazing country as well, I have so much respect to their produce and the art that goes into preparing food. I have a home in Spain, and of course there is France. Can I have multiple favorites?
Which city do you think is the ultimate gastronomic capital?
I think New York. There is no other city like it in the world. Tokyo is close, and Paris obviously has beautiful restaurants, but no city is like New York.
What is your favorite restaurant in the world?
Any secret spots you can share with us? That would be Masa in New York. I went very recently and chef Masa was there — he personally cooked for me. It was an incredible dinner and experience to be taken care of by such an artist.
What is your favorite dish to cook, and to eat?
You know, I eat very simply. Something as easy as avocados and tomatoes, neatly cut and seasoned with fleur de sel and the right size grain of pepper, and I am pleased.
What is the most difficult dish to prepare?
I've said this throughout my career and I truly believe it — I think that the hardest items to prepare are the simplest, because anyone has access to them. How do you take something that everyone can make, such as mashed potatoes, and make them memorable, exceptional? That is most difficult!
What is your dining philosophy, what makes a perfect dining experience?
Each person has a different perfect experience. I think quite simply that it comes down to good food, good drink and the right company that ties it all together.
What are your plans for the future?
My next project, and a very exciting one, is the Institut Joël Robuchon; this will be a school that focuses not just on the theoretical, but the application of the knowledge that we will be able to impart. Not only culinary, but sommelier training and service training — I think that the art of the true maître d'hotel has been lost. I hope to bring some of the best professionals in the industry to the Institut Joël Robuchon to not only teach but lead. We will have a full service hotel, multiple restaurants, lounges, all open to the public and manned by the students learning the trade.