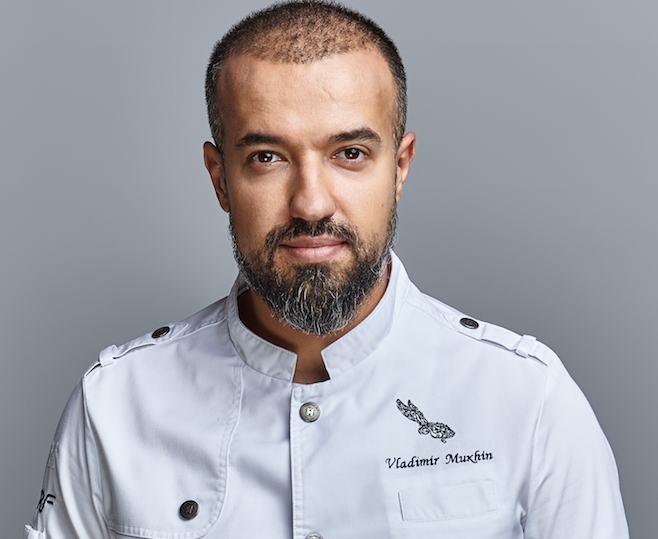 Forget all you know (or think you know) about Russian cuisine. Chef Vladimir Mukhin, named Elite Traveler's Rising Star, aims to tell a different story of his country through food, one that celebrates Russia's cooking traditions from the pre-Soviet era.
Mukhin's journey in the kitchen started at a young age: His mother, father, grandmother and grandfather were chefs, and he would cook with them after school. During the Soviet period, it was illegal to cook from anything other than the Stalin-approved 1939 cookbook, The Book of Tasty and Healthy Food.
"When the wall broke, my father rebuilt a restaurant with his hands, and it was the first restaurant in the city [after the Soviet Union dissolved]." He recalls his father telling him, "Forget about money, forget about being rich, just try to combine ingredients."
With his father's advice, 19-year-old Mukhin began working in Moscow restaurants with international chefs to see how they used Russian ingredients in different ways. This inspired him to go to France, where he worked under legendary chef Joël Robuchon before returning to Moscow to "start the reconstruction of Russian cuisine."
In 2012, Mukhin was hired as executive chef of White Rabbit — a fine-dining restaurant founded by restaurateur Boris Zarkov, located in a glass atrium on the 16th floor of Moscow's Smolensky Passage. White Rabbit is the country's only restaurant to make it on to the world's most prestigious restaurant lists, attracting guests from around the globe.
Inside, its luxurious, dark interiors with eccentric decor (think: paintings and statues of white rabbits in medieval garb and plush velvet purple and brown chairs) captivate guests. The restaurant is a peculiar fusion of ancient techniques, modern food and unique presentations.
The menu features classic Russian dishes such as borscht, rabbit pâté and kidneys, sterlet soup with milt and black bread. But by using unexpected ingredients (such as cherry tree, birch tree, dandelion and beer) and creative plating — Mukhin serves his food on anything from seashells to stone slabs — he adds a modern twist to each dish.
"We're cooking in modern style, but when you close your eyes, it's like eating your grandma's cooking. We're innovating old recipes and making the contrast [between] art and Russian taste unite."
Every ingredient hails from Russia — it was part of the restaurant's ethos even before the country's embargo on foreign goods. When Mukhin joined White Rabbit, he started a farm in South Russia to grow food for the restaurant. Mukhin was ready — lucky even — after the embargo, as he was already sourcing ingredients from Russia; more than 300 restaurants were forced to close because their purveyors were suddenly banned.
However, the success of Mukhin's farms wasn't an overnight process. "It took me two-and-a-half years to grow the perfect organic tomatoes," he says.
At the farms (today, there are 12), he grows everything from leafy greens to root vegetables to fruit, and they even make cheese from their own livestock (Mukhin emphasizes that it is good cheese). Recently, the restaurant started growing its own grapes to produce Pinot Noir, Cabernet and Chardonnay — and even a moonshine — all called White Rabbit, exclusively for the restaurant.
Mukhin's commitment to his country's heritage doesn't end in his kitchen: He takes young and ambitious Russian chefs to Estosadok, a rural village, to meet with elders who teach them ancient cooking techniques.
"This is the dream for young cooks — it's a master class for Russian chefs because there's no good school for cooking," he says. He has also brought esteemed chefs Massimo Bottura and Joan Roca here to help shatter the misconceptions about Russian cuisine.
"Russia is a big country — 50 percent European, 50 percent Asian. We mix cultural ingredients and we have a lot of influence from the south and Siberia," he says. "Everyone thinks about mayonnaise, but that's not Russian cuisine."
Impressively, at just 35, Mukhin heads 24 additional restaurants under the White Rabbit Group, and through these he hopes to bring Russian people back to their culture.
"Never forget about the taste or your roots. Every culture must look at older cultures and bring that to the people," he says, adding it's important to him to attract an international clientele despite the current political state. "Food without politics is important for me. Food can unite us all."