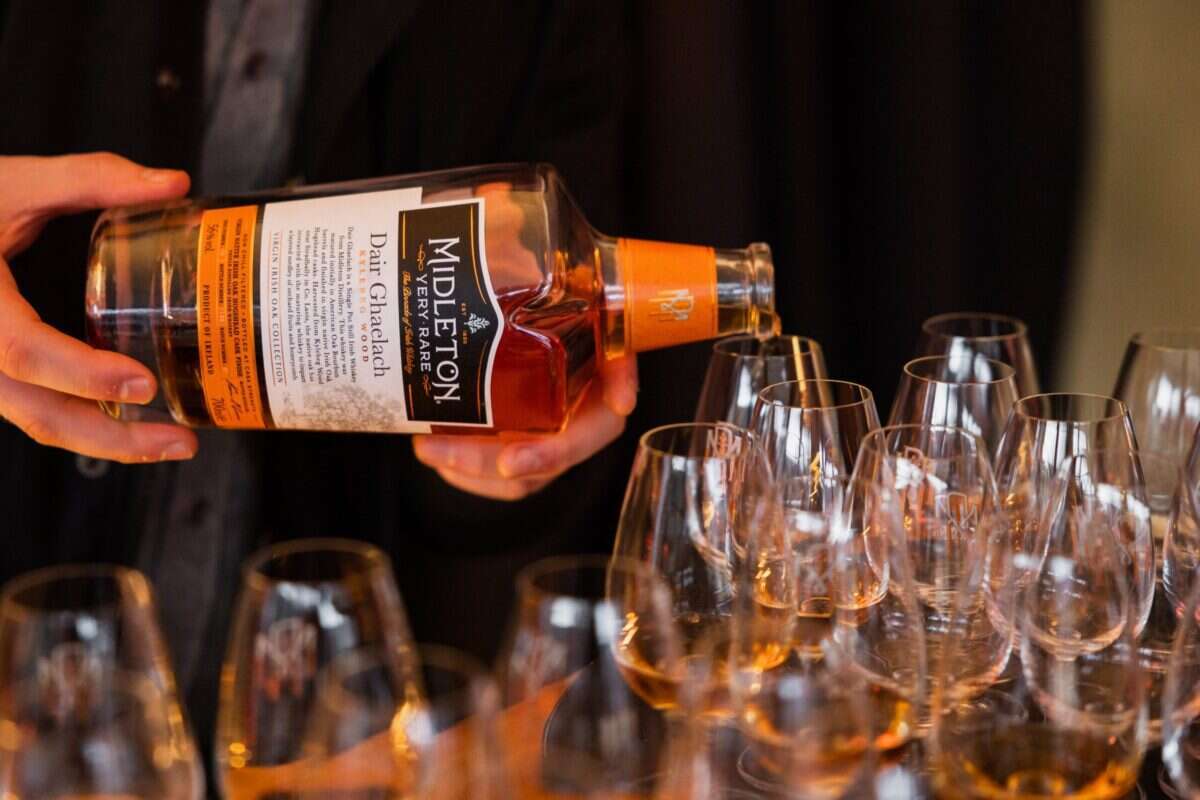 If oak trees could talk, what would they say? They endure for centuries, weather generational storms, survive world wars and now play witness to unprecedented environmental change. It's no wonder we see them as storytellers. But the great oak trees of Ireland once told a very different story, not through their presence, but a lack of it.
First, the Vikings and then the British, Irish oak was a go-to for war-mongering seafarers. By the time the Irish state came into being in 1919, it was nearly all gone. Now, thanks in small part to Irish Distillers and its Midleton Very Rare Dair Ghaelach series, Irish oak is making a comeback.
Translating simply as 'Irish Oak', the Dair Ghaelach series has brought sustainability and conservation into the heart of whiskey production. For its fourth installment, Kylebeg Wood, Irish Distillers went to its greatest length yet to ensure the forest not just survives but thrives as a result of the process. Seven native Irish oak trees were carefully selected and turned into the finest virgin hogsheads in which to mature an already-fine-aged whiskey. Trees were not just selected for their cask-making potential, but for the benefits their felling would bring to the surrounding land.
[See also: Sustainable Spirits for Eco-Conscious Drinkers]
Once the trees were felled, work immediately began to ensure there was a net benefit to the flora and fauna. It was not just about replacing like for like, but taking the chance to improve the forest's biodiversity. As a tree was felled, sunlight reached where it once could not. This gave an opportunity for saplings of several tree species to be planted.
The Walsh-Kemmis family – owners of the Ballykilcavan Estate where the trees were identified for 13 generations – were as in tune with forest conservation in 1820 as they are today. The seven trees were planted around that time to replace those taken for shipbuilding during the Napoleonic Wars. The family's stewardship of this land over the centuries has already paid dividends. They have directly contributed to the reappearance of the pine marten to this area of Ireland, which in turn has kept grey squirrel numbers down. The invasive grey squirrel not only destroys Irish oak tree saplings but is also a major cause of the devastating decline of the native red squirrel.
[See also: Midleton Very Rare Reveals Silent Distillery Chapter Two]
Once the Dair Ghaelach trees were in possession of Midleton Very Rare, a 15-month process to turn them into fine casks began. The oak logs were separately packed and shipped to Spain to be cut into staves and then left to dry naturally in the Jerez sunshine. Fifteen months later, the 42 casks were ready to be toasted and filled with single pot still whiskey carefully crafted by master distiller Kevin O'Gorman.
Virgin casks are renowned for their activity, meaning they can have a big influence on the whiskey in a short space of time. O'Gorman had to keep a close eye on the liquid, tasting each cask every month for a further 15 months until the perfect balance had been struck. The casks instilled a unique taste of Ireland and each tree imparted a different character into the liquid. Drinking all seven invites you to identify the subtleties brought about by each tree's unique story.
To tell those stories, Midleton Very Rare had to bring the highest levels of traceability to the process. Working with the forest managers, the distillery noted the exact location of every tree taken for the fourth series.
Each bottling is traced back to that location and the tree number is noted on the decanter. It invites you to imagine what might have made Tree 1 unique from Tree 2 and highlights how the slightest tweaks in whiskey maturation can change the finished product. Each tree has its own cask strength ranging from 55.4%-56.1% ABV and its own characteristics, but there is an underlying familiarity to all of them.
O'Gorman said: "Irish Distillers' partnership with Kylebeg Wood is the ultimate example of how we are collaborating with Ireland's forestry custodians to marry sustainable Irish oak and the highest standards in forestry practice and conservation with some of the finest craftsmanship to be found anywhere in the world of whiskey.
"The first single pot still Irish whiskey to be matured in Irish oak from County Laois, Midleton Very Rare Kylebeg Wood is as individual as it is irresistible, and a whiskey that is as satisfyingly Irish as it is undeniably elegant."
[See also: Whisky's Carbon Problem: Can it Become Sustainable?]
Tasting Notes
Nose: There is a familiar base that runs through all seven of the whiskeys. Fragrant woodland spices with a subtle sweetness. The pot still spices are in harmony with citrus fruit. There is a sweet and savory nature, akin to mince pies, that fills you with warmth, especially at this festive time of year. Tree 5 delivers more sweetness than the rest. Aromas of creme brulee fill the glass. The liquid of Tree 5 is noticeably darker as well.
Taste: The virgin Irish oak is present throughout all seven. The active cask has heightened this intensity of a whiskey already renowned for its wooded spice character and velvety texture. A touch of water brings out the sweet notes with baked fruit and honeycomb coming to the fore. The flavors evolve to something smoother, like vanilla fudge with a hint of orange oil.
Finish: True to form, the Irish oak-influenced tannins make a comeback in what is a long and evolving finish. As the fruits fade, it is the wooded spices that linger.
Midleton Very Rare Dair Ghaelach Kylebeg Wood is available for €310 ($352). Tree 1 has sold out. Tree 2 will be available globally from mid-December. Trees 3-7 will be available in 2022. midletonveryrare.com