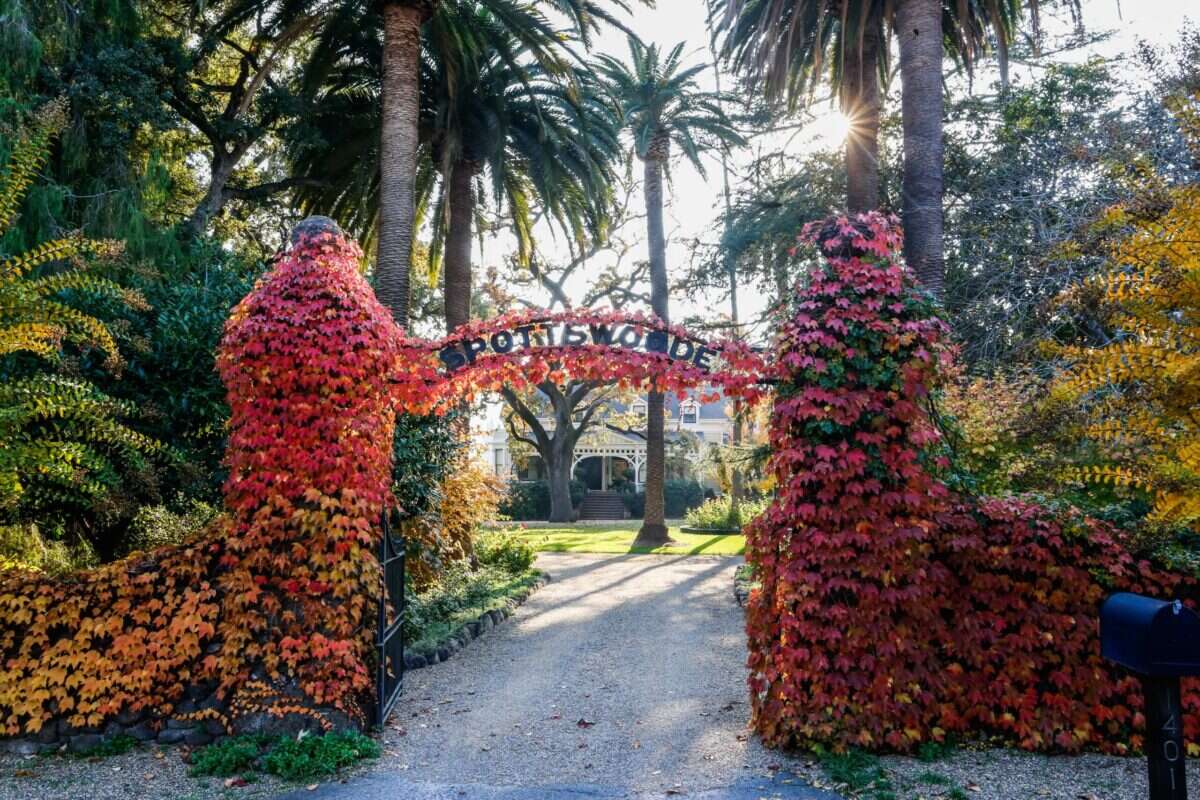 Sustainability and environmental protection have become increasingly important to all luxury brands in recent years. But nowhere in the luxury world is the impact of our changing world being felt more acutely than in agriculture-based companies — namely, the production of wine and spirits. Record-breaking heat waves, heavy rain, hailstorms, and frequent fires have impacted wineries worldwide, destroying vintages, permanently changing the landscape, and opening up new regions to the production of wine (English sparkling wine, anyone?).
Spottswoode, a Napa Valley winery known for its elegant Cabernet Sauvignon wines, is at the forefront of sustainability in wine. Not only was it one of the first vineyards to introduce organic farming back in 1985, but its One Earth policy sets an extremely high standard for itself, and hopefully for other wineries, too.
The winery's list of accolades and goals under this policy is quite impressive. Spottswoode recently became the first Napa Valley winery to become a certified B Corporation; it practices organic and biodynamic farming; it is a member of 1% for the Planet; it is almost entirely solar-powered; and it is a member of several organizations around the world dedicated to improving sustainability in wine, including International Wineries for Climate Action, Napa Green, and the Porto Protocol.
[See also: A Luxury Guide to a Long Weekend in Napa]
Innovation and organic farming have always been important to Spottswoode — it first introduced organic farming in 1985, back when it was on the fringes of winemaking. Today, the vineyard is certified organic and biodynamic. The driving force behind the new One Earth policy and the company's ambitious goals is its president and CEO, Beth Novak Milliken, daughter of its founder Mary Novak.
In a phone interview from the vineyard, she speaks to Elite Traveler about the confluence between luxury and sustainability, what she hopes other Napa Valley vineyards will do to improve their business practices, and how crucial the next decade will be in the fight against climate change.
"We're trying to inspire change," Milliken says. "We believe in effective, meaningful change through nurturing our vineyards, communities, and planet." Under her leadership, the company developed the One Earth policy — a formalization of its history, mission, vision, values, and goals. She found that creating this goal and having an official policy served as a strong call to action for Spottswoode to do even more.
They pursued B Corp certification, and, based on its long history of activism and environmental awareness, Spottswoode achieved it on the first try, which is unusual. Never content to rest on its laurels, the company has continued to progress and aims to improve its scores when it recertifies in 2022. How? "You can just keep finding new ways to be better stewards of the environment," she says. The next goal is zero-waste certification and to become fully carbon neutral. "I don't want to be buying offsets even because buying offsets means that you're producing," she says. "I want to be neutral and then keep going."
Milliken understands the importance of leading by example — she is continually inspired by Yvon Chouinard founder of US outdoor clothing company, Patagonia, whom she calls one of her primary sources of inspiration for using business as a force for good. "I really admire what he has done with his company. It's a company that cares about its employees, its community," she says. "We will never be as big — we will never be even as close to as big — but I aspire to have that sort of a voice. I think that we need to. I want to be able to look at everybody on this planet — not only my children, but everybody — and say I did everything I could."
To that end, she hopes Spottswoode will be a model for other wineries and will prove that luxury and sustainability aren't mutually exclusive. In fact, she believes they are deeply intertwined. When asked if it's challenging to balance sustainability and luxury, she adamantly replies no. "We're proof that you can," she says.
Natural and organic wines are all the rage among a particular group of consumers, but many wine lovers have been turned off by funky, unfiltered natural wines. They mistakenly assume that all organic wines are like this. Of course, that's not the case at Spottswoode, whose wines have won nearly every prestigious award, including the coveted 100-point rating from Robert Parker.
"Spottswoode is proof that being organic is compatible with the very highest quality and with luxury," says Milliken. "If you're willing to take the care, the time, and effort that it takes to farm organically, your attention to detail is extremely high and that will follow in the wines."
Napa Valley wines are renowned worldwide, and Milliken would like the region's wineries to use their stellar reputation to affect change on a large scale. "There's a strong cognizance that we have this decade to make, but also hopefully mostly to inspire change, not only in individuals but politically and with policy," she says. "We are a part of driving that. That's a moral responsibility that I feel strongly about. I would like to see Napa Valley take a leadership role in addressing climate change. That would mean no deforestation, incentivizing electric vehicles and working toward no-burn solutions."
Although it can take years to convert to an organic farming system, there are plenty of ways for wineries to take immediate action., including some out-of-the-box ideas. Spottswoode is constantly looking for ways to reduce its impact on the environment while maintaining quality. Right now, Milliken is looking into how they ship barrels. The best oak barrels for aging wine come from France, and they are trying to see if it is possible to send the oak staves instead of completed barrels, which would save space. It's an unusual notion, but it shows Spottswoode's absolute dedication to examining every single aspect of wine production rigorously.
Milliken also thinks that wineries should rethink their bottles, perhaps even adopting a single bottle shape for all Napa Valley wineries, similar to the Southern Rhône. Many wineries equate heavy bottles with luxury, but the truth is, heavy bottles are a burden on the environment and wholly unnecessary. "It's insanity," she says. Lightweight bottles use fewer materials in production, have a smaller carbon footprint in shipping them to the winery and the consumer, and there is less glass to recycle ultimately. "We can do better," she says. "Our bottles are actually quite reasonable already."
She is inviting other Napa Valley wineries to join her on her quest. While these business practices are appealing to other environmentalists, she recognizes that some people need more financial incentives. To convince those who are on the fence, she says she brings it back to business. The effects of climate change in Napa Valley have been visible for decades in the relentless heat, now-yearly fires, and never-ending drought.
"The greatest challenge to the continuation of this family business is climate change," she says. "We had less than 12 inches of rain last year," she says. "That's downright frightening." Climate change will affect every single agriculturally based business in the region, so it's in the interests of these wineries to band together to make significant changes.
On a personal note, she wants to ensure that Spottswoode will exist so she can pass the company down to future generations and be able to produce the same incredible wine in the same beautiful place. Spottswoode is known for its fresh Cabernet Sauvignons, which stand out from the overripe, bold Cabs that Napa is frequently associated with. "We're always looking for balance, for elegance, for freshness," she says. "We're looking for that point of ripeness where you still have that wonderful acidity and sugar, and making wines that show all of that." If the temperature continues to rise, it will become more difficult to produce and achieve this fresh elegance.
We can only hope that more wineries will be inspired by Spottswoode's dedication to the environment and to producing incredible wine. Together, they have the potential to make a tremendous difference in the world.
[See also: Whisky's Carbon Problem: Can it Become Sustainable?]