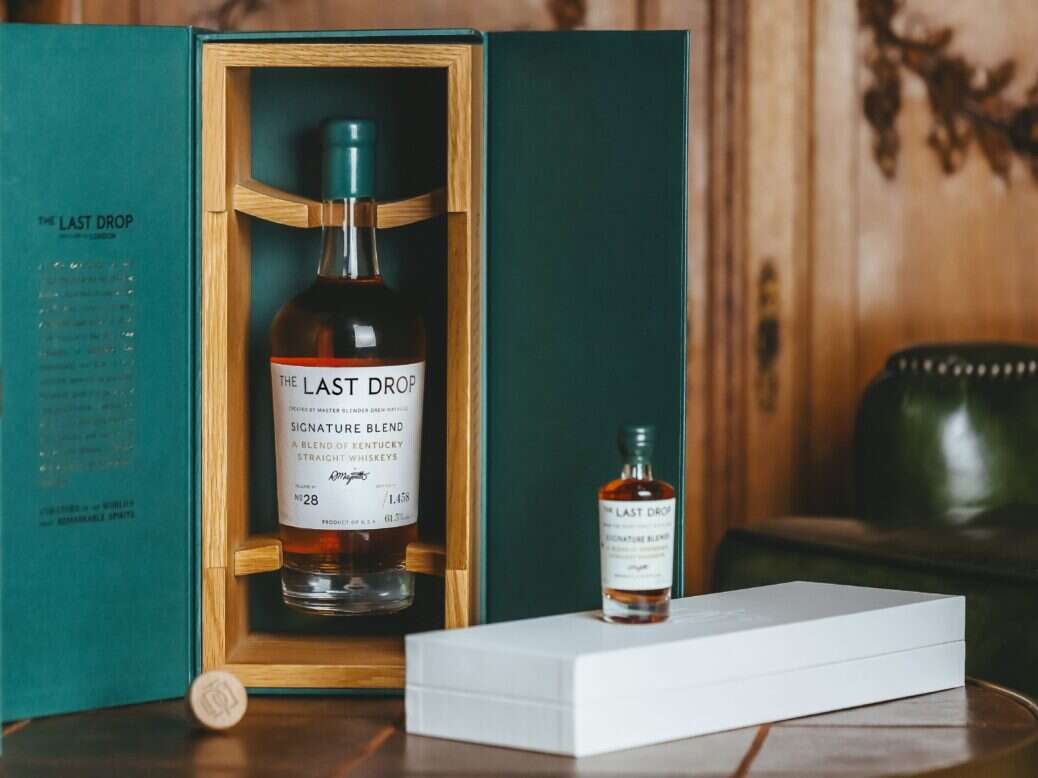 Last Drop Distillers has taken another step away from curation and towards creation with Release No. 28: a unique concoction of vintage Kentucky straight whiskeys created by one of the industry's leading blenders, Drew Mayville.
The self-described spirit hunters are best known for finding exceptional parcels of Scotch whisky, rums and cognacs from all four corners of the globe. Usually limited to one or a handful or casks, all contain, quite literally, the last drop.
Many of the releases can be described as misfits, such as the Glenturret 44 Year Old that had made its way around cask traders for decades unbeknownst to the distillery, or the 1925 cask of cognac that was discovered behind a cellar wall, where it hid from invading German forces during WWII. Last Drop Distillers offers a platform to liquids that would have otherwise been lost.
[See also: Finn Thomson is Telling Whisky's Untold Story]
There has also been a sense that Last Drop Distillers were happy to bide their time with releases. Just 27 have made it to market since the company's inception in 2008. Change does, however, appear to be underway. Release No. 28 is their fourth of the year and their second Signature Blend. Along with a revamped bottle design, Last Drop Distillers are becoming more active.
A 2016 takeover by Sazerac afforded them access to a huge portfolio of liquid, not to mention expertise. They are no longer limited to hunting incredible expressions, they can create them in-house.
Release No. 28 is the first example of Last Drop combining directly with another Sazerac brand to create something new. Mayville has worked in the revered Buffalo Trace distillery in Kentucky, US, for almost 20 years and is now the group's master blender and director of quality. During his time at Buffalo Trace, it has become one of the most sought-after bourbons in the US.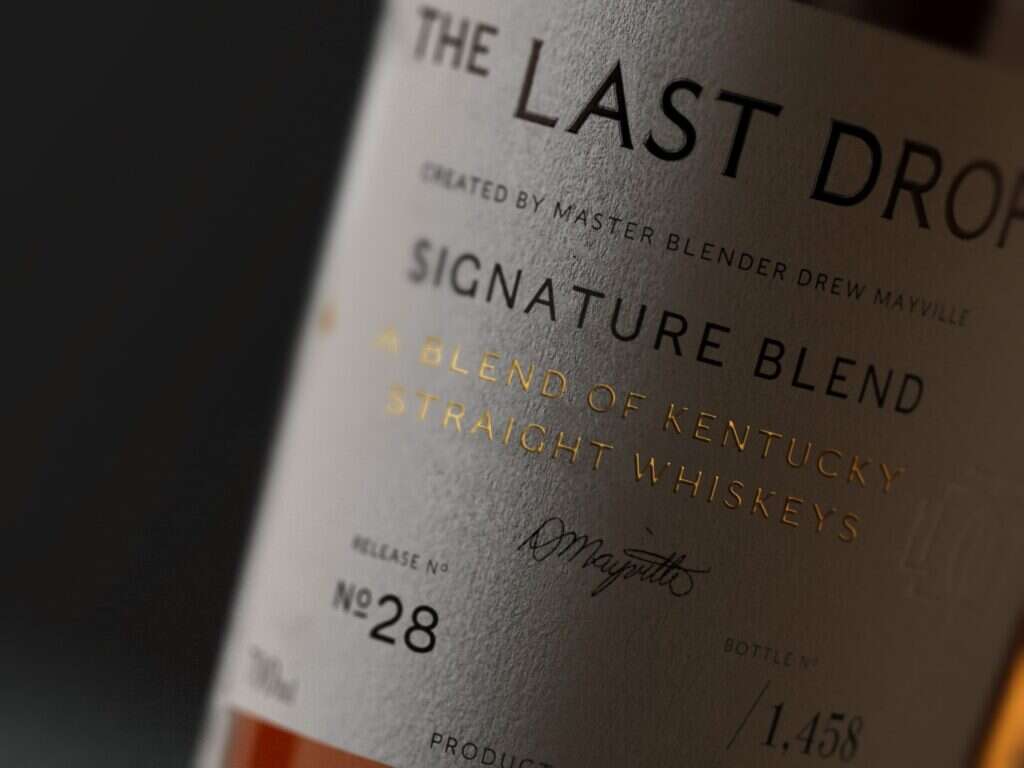 Even so, The Last Drop calls for something not only of outstanding quality but with a fascinating story to tell. Luckily for them, Mayville had been writing one since his first days at Buffalo Trace.
"Over the last 20 years, my vision has always, always, always been to blend something unique and remarkable," he tells Elite Traveler. "I was very fortunate, because of our culture, to have been able to put away whiskeys that I liked with the aim of doing something in the future because there was no Last Drop then. But I knew there would come a day that we would have a company to be able to create something."
When Sazerac bought Last Drop, Mayville found an appropriate vessel to create the pinnacle of blended whiskey, something that turns individual components of outstanding quality into something even greater than the sum of its parts.
[See also: Tasting Notes: The Rediscovered Shirakawa 1958 Japanese Whisky]
"We have a lot of bourbons that we win a lot of awards for," Mayville says. "If you take the best of the best and make something like this, you can create something so rare that you'll never taste it again.
"I didn't want it to just be a bourbon. It had to be unique so I picked 14 different casks and then it was all about balance: the quality, age and the locations where they were aged. It took a lot of work. That's where the art is. It's a lot of trial and error and then you have to decide whether it meets what you envisioned for the final product."
While Mayville understandably keeps the finer details of his secret stash to himself, he said that some of those 14 casks were exhausted by the process, meaning this blend is impossible to recreate. So, as always, Release No. 28 contains all the liquid that will ever exist, including the last drop.
There was enough for 1,458 bottles (each accompanied by a 50ml sample) presented at an uncut and unfiltered strength of 60.7% ABV. That is punchy by anyone's standards, but it was crucial that Mayville's final blend was left completely untouched, a standard practice for Last Drop Distillers.
The perfect blend
Mayville's ambition was to create a greatest hits of bourbon profiles, combining the vibrant fruit notes of a young liquid with the depth of an aged one. Consequently, the whiskey has been presented without an age statement. Non-age statements are commonplace in the US, but less so in other markets.
"I think a lot of people do get hung up with age", he says. "A lot of it stems back from the Scotch industry, where it needs to be aged a long time. There are a lot of reasons why you don't need age statements, especially in bourbon. It can only be aged in a new barrel and it's warm in Kentucky compared to other parts of the world. If you aged a bourbon for 30 years, it would taste like a barrel.
"In blending, you want to make the sum better than the individual parts and sometimes you need the characteristics of a younger liquid. You don't limit it based on age. It's all about the taste for a blender.
"This is 14 different whiskeys", he emphasizes. "To me, that elevates everything. Not only do you have vintage whiskeys, but you also have the different tastes that you'll never get with a single malt. This is another level.
"Not only do you taste the history and the oak and the tradition, but you also have that vibrancy of flavor. And when it is uncut and unfiltered it makes a big difference too because it gives you an extra mouthfeel. The flavors are amplified."
Tasting Notes: The Last Drop Distillers Release No. 28, Blend of Kentucky Straight Whiskeys
Nose: A remarkable lack of ethanol when considering the strength. It's immediately accessible from the bottle. Butterscotch, vanilla and rum-soaked raisins. Some fruitier notes: mango, braised pineapple and orange zest. There is some spiciness, but it never plays a major role. It sits in the background, hinting at maturity but never shouting about it.
Palate: Candied fruit and orange zest at first. All the hallmarks of a terrific young bourbon. But then the aged blends take over. Worn leather and fine oak spice. It starts to taste the way you'd expect a Last Drop Distillers release should: mature, old and complex.
Finish: Remarkably, no sweetness remains on the palate. A complete transformation as you are left with dark chocolate.
Rating: This blend goes beyond a mark out of 10. It's a masterpiece 40 years in the making – a reflection of Mayville's passion and talent. Is this the pinnacle of his achievements? "You'd never say you're there, because you never get there," he says. "But this is definitely in that direction."
The Last Drop Distillers Release No. 28 is available worldwide for an SRP of $3,999, lastdropdistillers.com
[See also: GlenAllachie 50th Anniversary: The Whisky Behind the Hype]