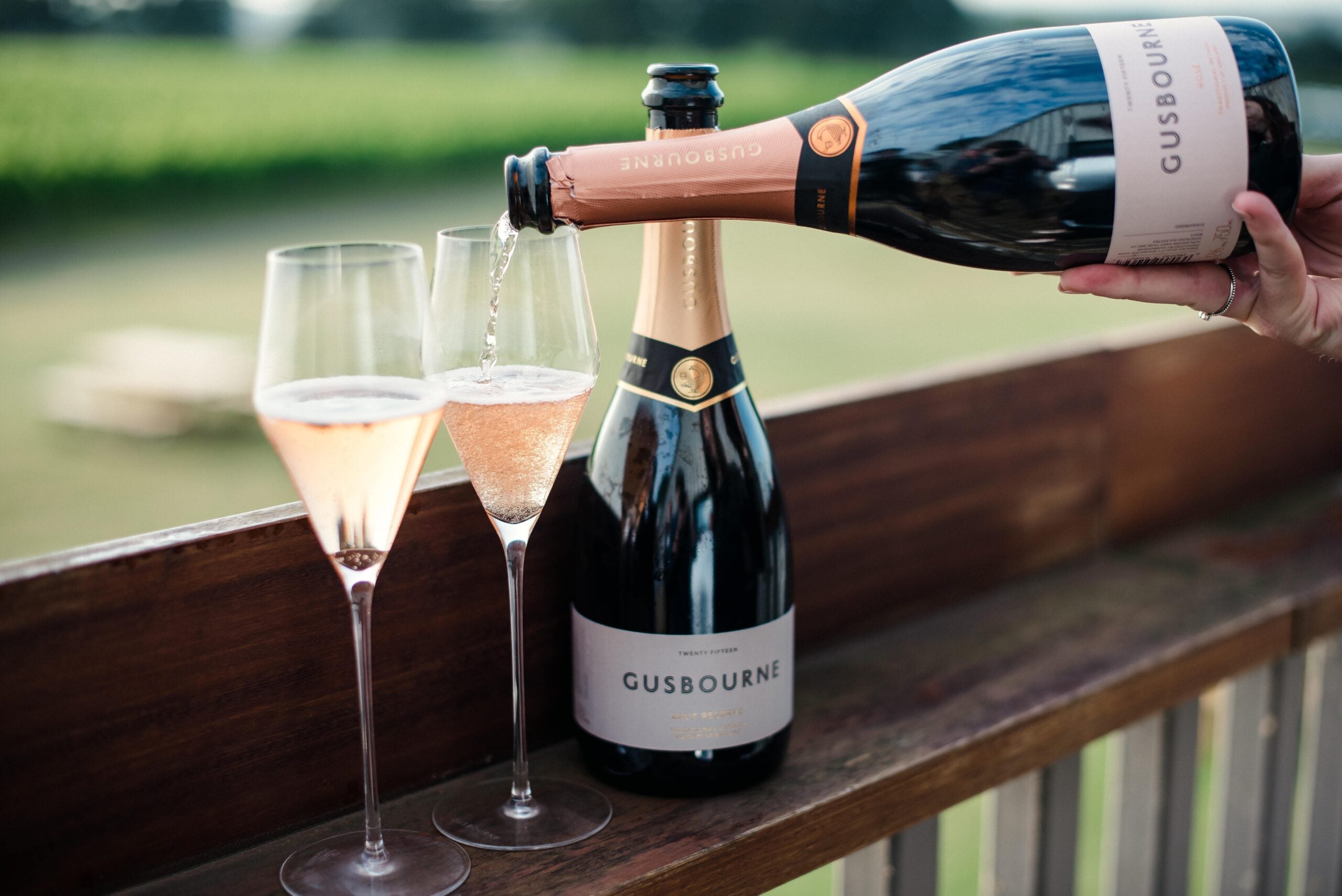 The world of English wine is going from strength to strength, with more varieties of impossibly high-quality bottles hitting the market each year. And helping to establish English wine as a leader on the world stage is Gusbourne, an award-winning estate tucked into the gently rolling hills of the Kent countryside. So, with a bumper year behind it, what's new at Gusbourne for 2022?
As we gear up into spring, the wine estate has a packed calendar of special events, including a series of exclusive collaborations with some of the country's leading Michelin-starred restaurants, in which top chefs are invited to Gusbourne's kitchens to showcase their talents.
Each dining event will kick off with a tour through the vines before guests are invited to sit down for a specially prepared meal in the intimate garden room overlooking the vineyards, accompanied by the finest Gusbourne wines. Confirmed for this year's guest chef series are Adam Byatt's Trinity, Tom Seller's Restaurant Story and Tom Kerridge's The Hand and Flowers, as well as The Fordwich Arms.
[See also: Michelin Reveals Great Britain and Ireland Guide 2022]
Joining the guest chef events are a number of experiences hosted by Gusbourne's very own team of wine experts, including global brand ambassador and master sommelier Laura Rhys, head winemaker Charlie Holland, and winemaker Alastair Benham. Included in the 2022 calendar are wine blending masterclasses, late disgorged wine tasting events and behind the scenes looks at Gusbourne's sustainable, low-intervention winemaking process.
As well as Gusbourne's full program of special premium events, wine experts and novices alike are invited to visit throughout the year to enjoy one of its three types of tours. For an entry-level look at Gusbourne's estate, book the Vineyard Tour, which takes guests on a guided walk through the vines, followed by a tutored wine tasting.
For a more immersive insight into Gusbourne's wines and its processes, however, look no further than the Discovery and Estate Tours, which both offer an extended guided trip through the biodiverse vineyards and the neighboring winery, as well as an indulgent lunch of local seasonal delights and the chance to try some of Gusbourne's more premium wines.
And, when the English summer finally makes her much anticipated appearance, Gusbourne gives visitors a chance to make the most of the sunshine with a picnic overlooking the vineyards. Each picnic hamper is crammed full with specially selected goodies showcasing the best of Kent and Sussex produce, including artisan cheeses, homemade bread and local fruit, as well as a bottle of the golden Gusbourne Brut Reserve, which the estate proudly hails as the backbone of its sparkling wine selection. Team your picnic with a vineyard tour for a perfect day out in the British countryside.
Naturally, there's plenty of newness on the cards for Gusbourne's wines themselves, too. Joining the existing rosters of bottles will be four all-new single-vineyard wines, each of which will be made exclusively with grapes from just one of Gusbourne's four vineyards, in order to showcase the diverse terroirs of the English south coast.
[See also: Responsible Wineries Creating Sustainable Fine Wine]
To give Elite Traveler readers the opportunity to experience Gusbourne for themselves, we're offering the chance to enter our prize draw to win an immersive Discovery Tour, which includes tasting and lunch at Gusbourne Wine Estate, and a bottle of its flagship Blanc de Blanc sparkling wine. To enter, simply complete the short survey below.