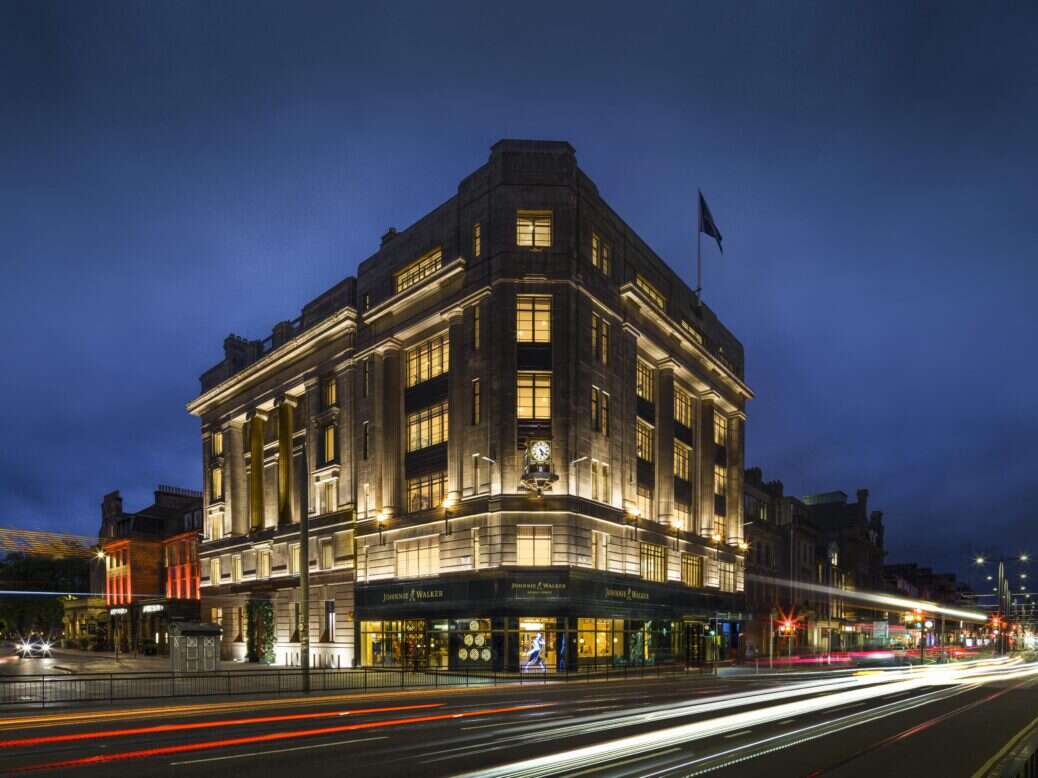 Beloved as the spirit is, there is no denying that whisky has something of a reputation as a serious drink, only to be enjoyed by those in the know in remote distilleries or dark bars. However, with the opening of its sparkling new flagship destination on Edinburgh's Princes Street last year, Johnnie Walker has ripped up the unspoken whisky rulebook.
The addition of Johnnie Walker Princes Street came at just the right time for Edinburgh. At a total cost of approximately $215m, the destination is the most expensive single investment in Scotch whisky tourism, joining the city's number of other tourist investments. Just across town, there is the shiny, newly refurbished St James' Quarter, complete with luxury shops, hotels and residential developments; down the road, the hotly anticipated Gleneagles Townhouse just opened its doors. While the city has always, and will always, draw visitors from around the globe, it's clear that it's not resting on its laurels when it comes to new ways to delight travelers.
Occupying the former Victorian bank in the very heart of Edinburgh and spanning eight floors, the sleekly-finished Johnnie Walker Princes Street (which proudly boasts a Green Tourism Gold Award aka the highest sustainability accolade for a tourist attraction) is a beacon of all things Scotch whisky. Down on the ground floor, you'll find the straightforward retail experience, drawing passersby in to shop the extensive Johnnie Walker range; up on the top floor is the stunning 1820 Rooftop Bar, where locals and tourists alike can be found sipping whisky cocktails with unrivaled city views, as well as the neighboring Explorers' Bothy bar.
Sandwiched in between are the experiences spaces, which host a number of different tours and tastings. Starting at £28 ($34) for the immersive 90-minute Journey of Flavor experience, the experiences are impressively good value and clearly designed to welcome people with little to no whisky knowledge – a feat that the industry has historically been quite bad at.
[See also: The Most Exclusive Scotch Whisky Experiences]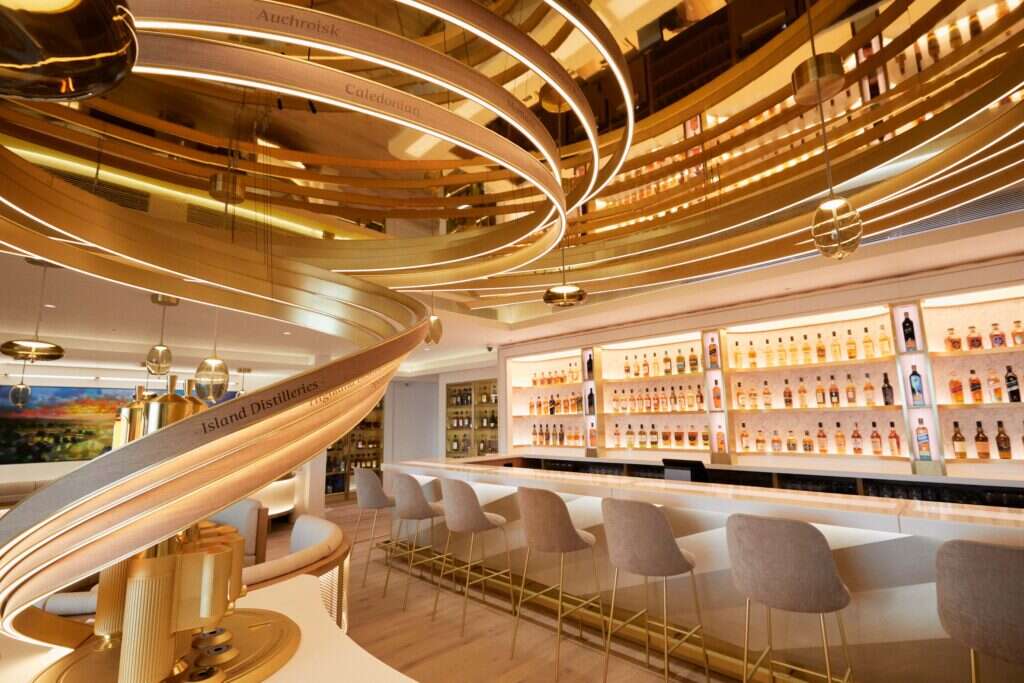 At the top end of the bookable experiences is the Whisky Makers' Cellar – an exclusive cask-to-glass tasting hosted in the private cask area, surrounded by casks of exclusive Johnnie Walker expressions. The experience guides guests through a tasting of some of the finest liquids in the building, before putting together a bespoke blend. Even this, though, is clearly open to all, with the master maker host adept at making each tasting inclusive to all levels, be it novice or connoisseur.
But, as well as the publicized experiences open to public booking, Johnnie Walker Princes Street also has some seriously luxurious secrets lurking up its sleeves. Hidden away behind an unmarked door in a far corner of the building is what is known as The Apartment – a highly exclusive residential-style space, specifically designed for hosting Johnnie Walker's most prestigious clients.
An entirely multifunctional area, The Apartment's use is at the will of its guests, whether they're looking for a secluded spot to make a serious whisky investment or a discrete location to host client meetings.
"The private client experience is completely different to distillery tours, offering a new type of whisky journey for both connoisseurs and those who are new to the subject," explains head of luxury at Diageo Scotland Brand Homes, Shirine Modad. "It's been great to see those who are new to the drink respond to the experience with so much intrigue and discover that there actually is a whisky for everyone."
[See also: Sustainble Spirits for Eco-Conscious Drinkers]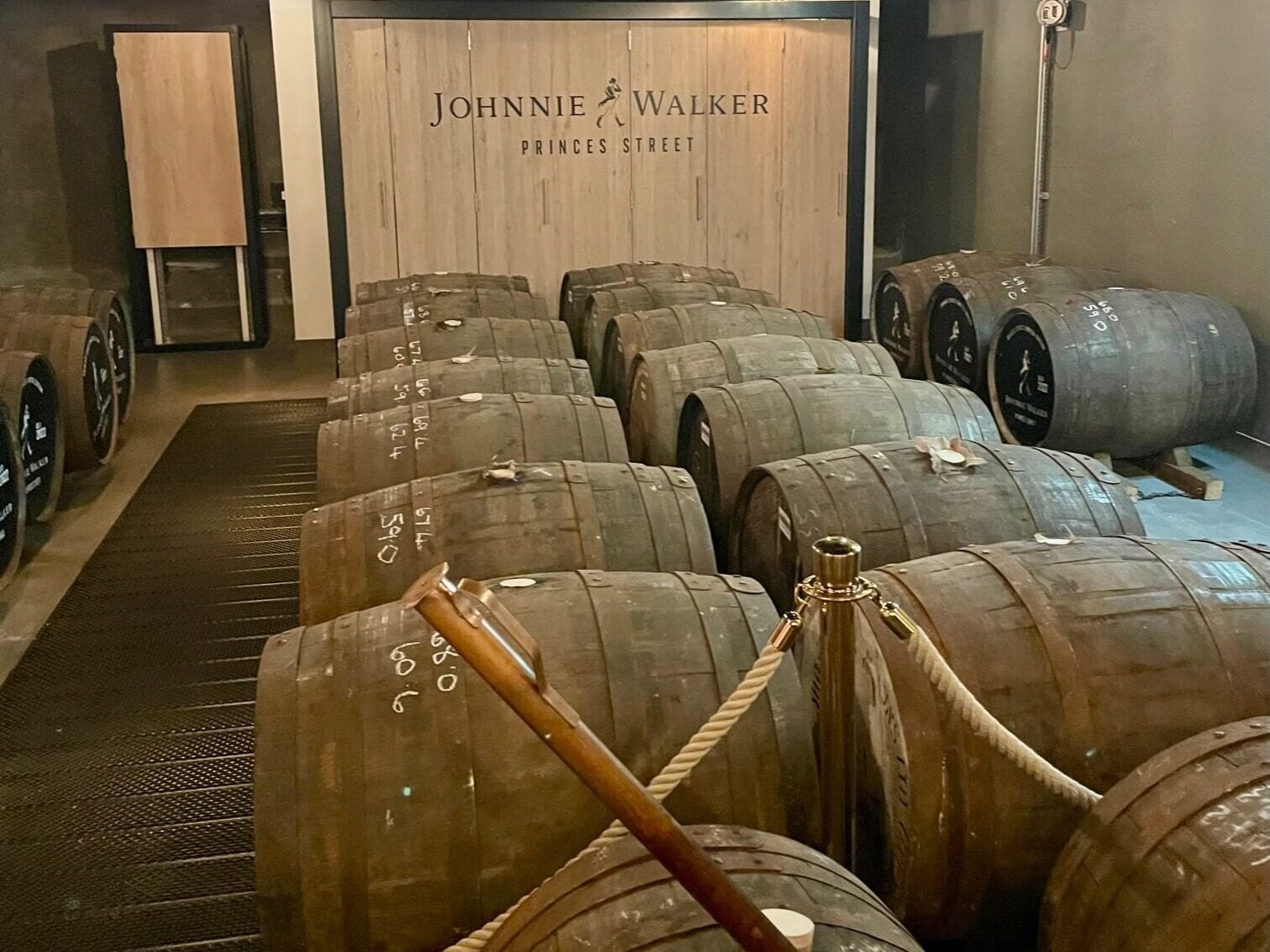 The excitement continues in the second of Johnnie Walker Princes Street's private spaces – an underground whisky vault (complete with original cast iron doors) that used to form part of the old bank's original vaults. No photos are allowed here, but lining the walls like bottles in a perfumery are some 500 rare cask-sample whiskies – most so rare that the only other place you could try them is in the blending lab.
Clients will be surprised to find that among the rarest samples within the vault is actually a Three Year Old from a little-known distillery called Leven. Acting as Diageo's experimental facility, the distillery is housed inside a bottling facility and tries everything from revolutionary sustainable practices to playing with barley varieties, before the changes are potentially scaled up and rolled out to other sites in the network. The vault at Johnnie Walker Princes Street is just about the only place a dram of Leven can be sipped outside the distillery itself.
However, the vault is purely experiential meaning none of the bottles on display are for sale – in fact, despite the rarity of the whiskies on display, the collective value is virtually nil. Hosted by Diageo's private client advisor and fountain of whisky knowledge, Dr Christopher White, tastings here are highly bespoke.
[See also: The Most Expensive Whisky Ever Sold at Auction]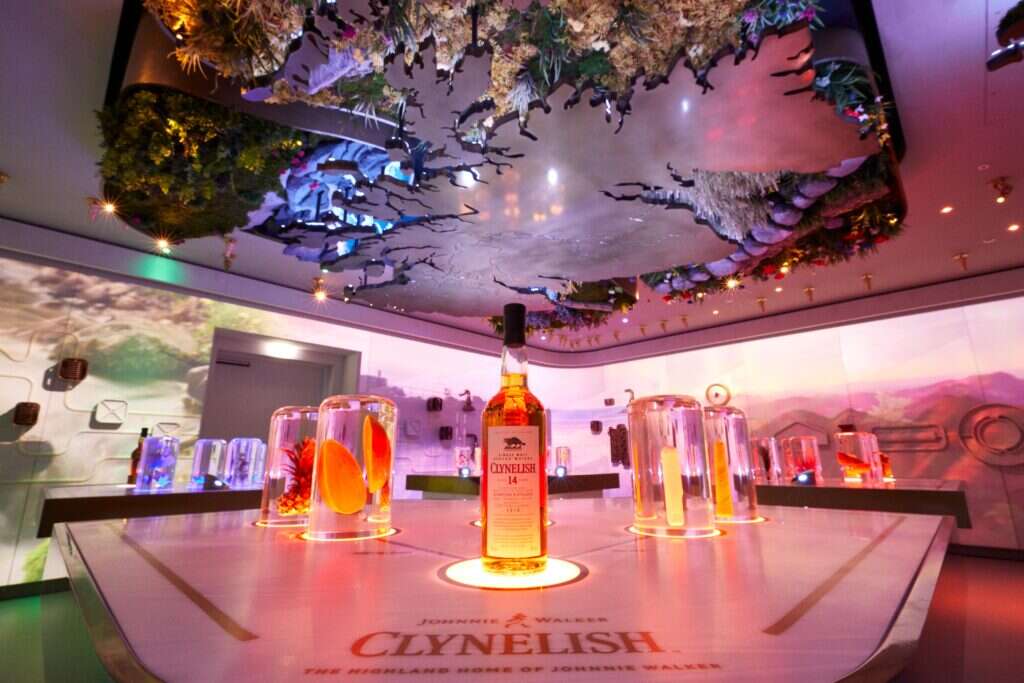 Following a pre-arrival brief on your whisky preferences and knowledge, White will be armed to introduce you to a new favorite – whether you're just beginning your whisky journey or a bona fide expert, his enthusiasm for Scotland's finest export is impossible not to pick up.
Given the highly exclusive nature of Johnnie Walker Princes Street's private spaces, the events and guests they host are carefully cherry picked. "There are a few special moments I could speak about," Modad says, "but one that really resonated with me was the tasting we held for the global launch of the Johnnie Walker Masters of Flavour 48-Year-Old with now retired master blender Dr Jim Beveridge OBE.
"This was the last tasting held before he retired, we saw him bring The Whisky Vault to life, speaking about what it takes to create such an extraordinary blend which was then followed by a spectacular dinner by chef Mark Moriarty overlooking Edinburgh Castle," she says.
[See also: Katy Fennema on Scotch Whisky's Bright Future]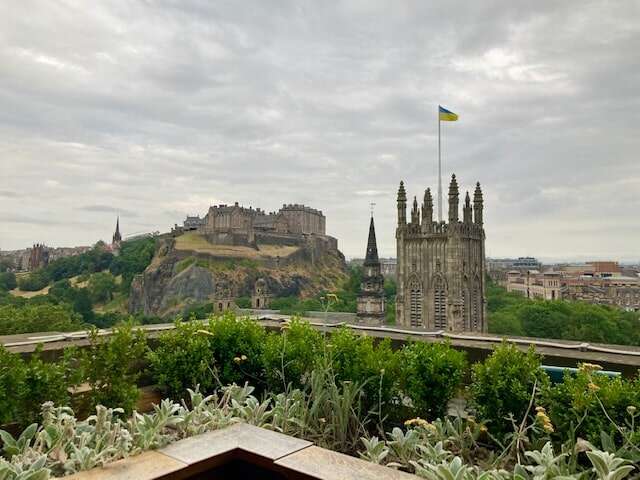 And for those prestigious visitors who really know their whisky, Johnnie Walker Princes Street can act as just the starting point for a Scotch experience that spans the whole country. "In reality, Johnnie Walker Princes Street is just the beginning," explains Modad. "It is a launchpad to the luxury spaces in some of our brand homes across Scotland which represent the very pinnacle of Diageo's luxury experience offering."
For such experiences, the Johnnie Walker team can collaborate with the wider Diageo portfolio and arrange exclusive and fully personalized tours across the best distilleries in Scotland, all with Edinburgh as your base. Speyside drams your thing? Diageo will take you up to Scotch's heartland. Have a love for the peppery saline notes of Talisker? A helicopter journey over to Skye to experience the new distillery can be arranged.
And, despite this seemingly unlimited arsenal of experiences catered to the very upper echelons of the whisky community, Johnnie Walker Princes Street refreshingly has its feet firmly on the ground. Every experience it offers has a real sense of fun at its core, with the team's efforts to ensure the destination is open to whisky lovers of every level making this city-center spot a must on any trip to Edinburgh.