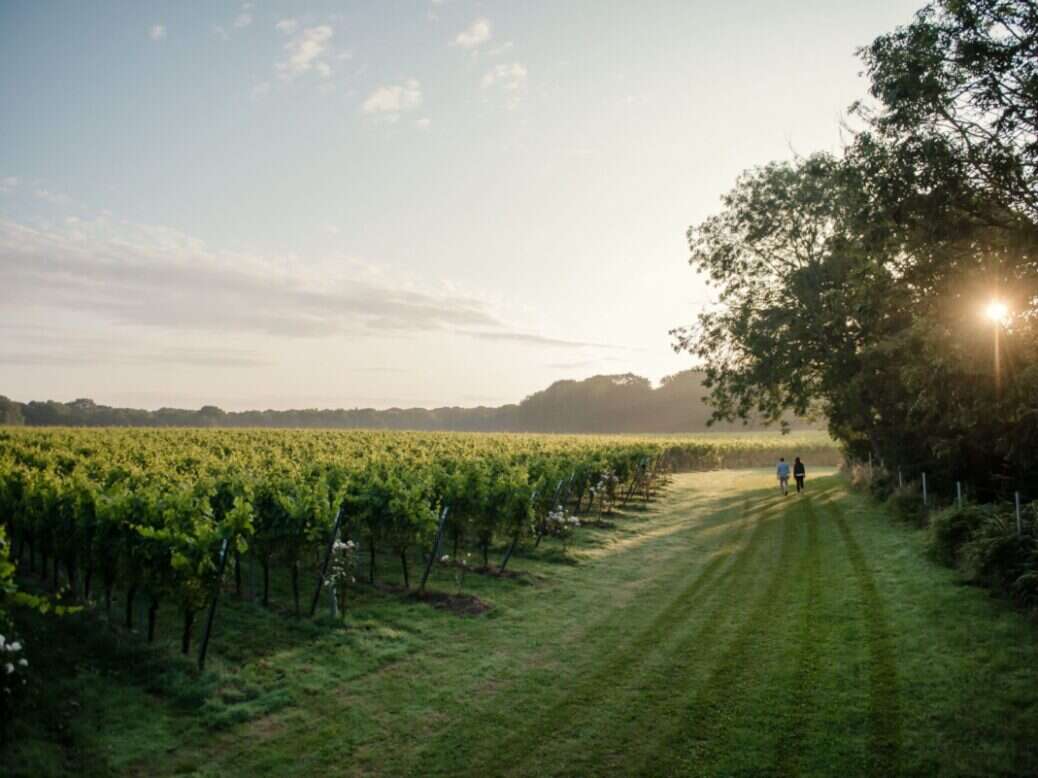 For wine lovers, it can be hard to resist the allure of Napa Valley or Bordeaux. But if you've already visited the heavyweights, we'll let you in on a secret: English vineyards are producing some surprisingly good wine.
The first rumblings that English wines should be taken seriously began in 2006 when a Nyetimber Classic Cuvee made in West Sussex was crowned the best sparkling wine at the International Wine Competition.
Since then, demand for English wine has soared. According to Decanter, Great Britain now boasts 943 vineyards, with sparkling wine accounting for 68% of all production. In the last five years alone, the total land under vine in the UK has increased by 74%.
[See also: The 16 Best Wine Hotels in the World]
And, while heat waves and droughts brought on by climate change have been wreaking havoc on vineyards in Europe's south and the US, the warmer weather is giving a boost to UK wine production.
Winemakers in Sussex – England's largest wine-producing region – even celebrated being awarded a Champagne-style status in 2022 when the government appointed it with a Protected Designation Origin (much to the anger of Kentish winegrowers).
With so many choices, we've compiled a guide to the most beautiful English vineyards to help you plan your next wine vacation. From a Michelin-starred restaurant and winery overlooking the Exe Estuary in Devon to a family-run hotel and vineyard nestled in the rolling Yorkshire Wolds, these are our top picks.
Rathfinny, Sussex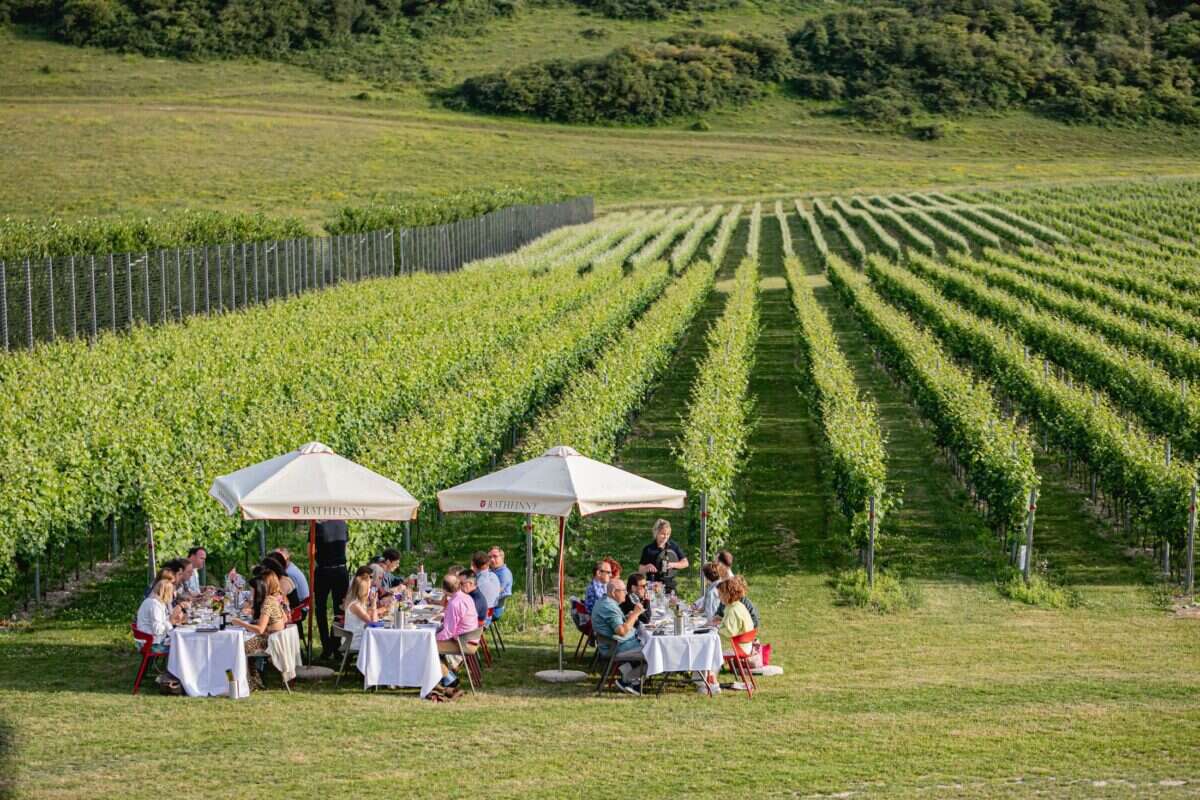 Our guide to the most beautiful English vineyards kicks off in East Sussex at Rathfinny. Set up by husband-and-wife owners Mark and Sarah Driver back in 2010, the winery is set in the picturesque South Downs less than three miles from the coast.
Sparkling wine is very much the star of the show here; the Drivers started off with 50 acres of vines planted with three principal grape varieties (Pinot Noir, Chardonnay, and Pinot Meunier) – they're in the process of growing their estate to 350 acres.
Rathfinny is ideal if you're looking for somewhere you can stay for the weekend; the winery is home to a charming B&B at the western end of the estate, set across a collection of meticulously restored historic barns. There's also a lovely restaurant – the Tasting Room – overlooking the vineyards, as well as a more relaxed dining room at the B&B.
Tours and tastings run from May through September, and it's worth keeping an eye out for their 'Dine in the Vine' events (the next one is a four-course BBQ taking place in August).
[See also: South Lodge: The Ultimate English Wellness Break]
Gusbourne, Kent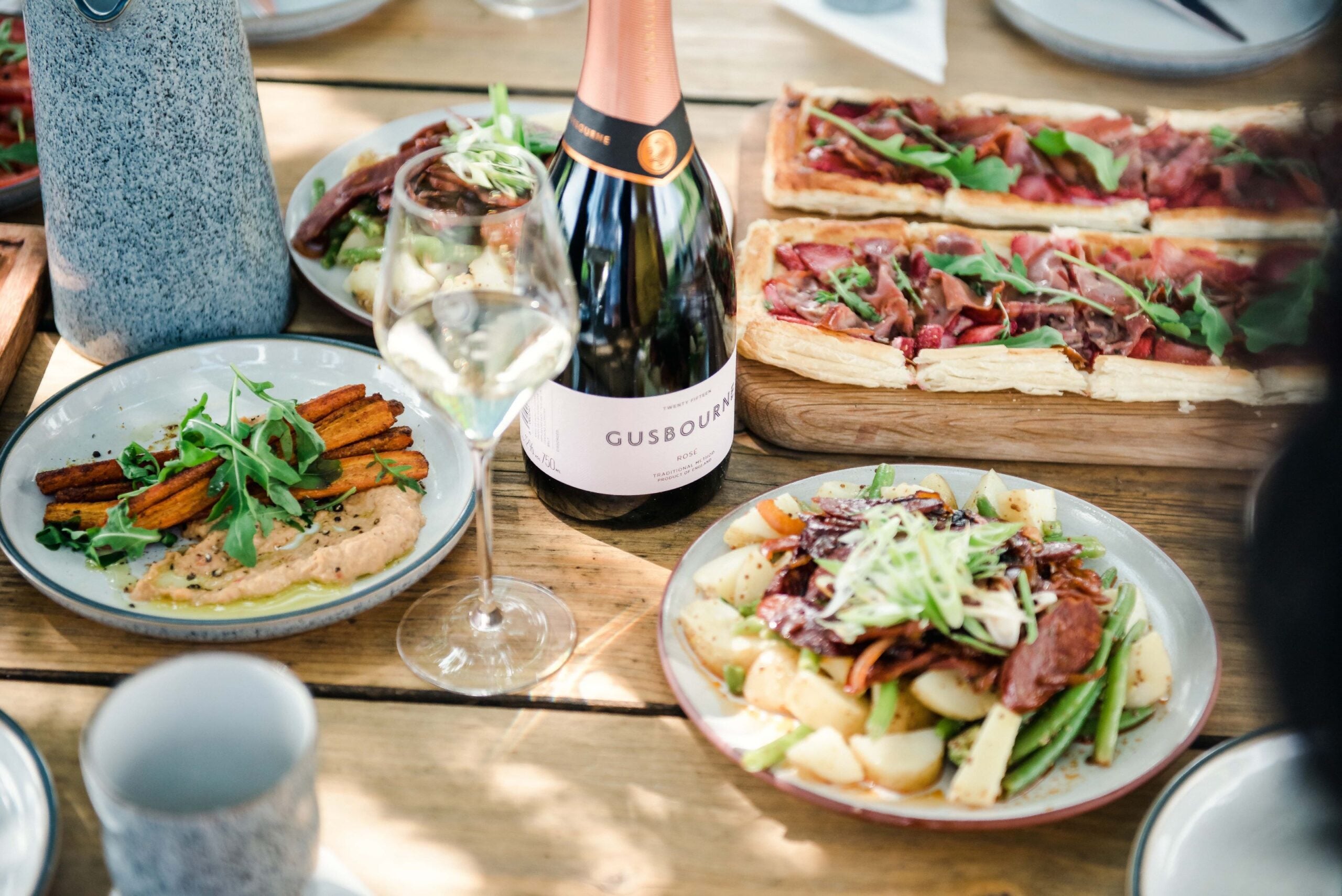 Another producer set on putting English sparkling wines on the world stage is Gusbourne. Located in Ashford, Kent, the boutique winery planted its first vines in 2004 with its debut vintages – the Brut Reserve 2006 and Blanc de Blanc 2006 – receiving rave reviews from critics.
Chief vineyard manager Jon Pollard takes a low-intervention, sustainable approach to viticulture ensuring only the very best fruit is harvested, while chief winemaker Charlie Holland oversees each and every stage of the winemaking process to ensure his exacting standards are met.
There's a range of tours and tastings available at Gusbourne: we recommend the Estate Tour which includes a three-course lunch expertly paired with a selection of limited-edition wines.  
Giffords Hall, Suffolk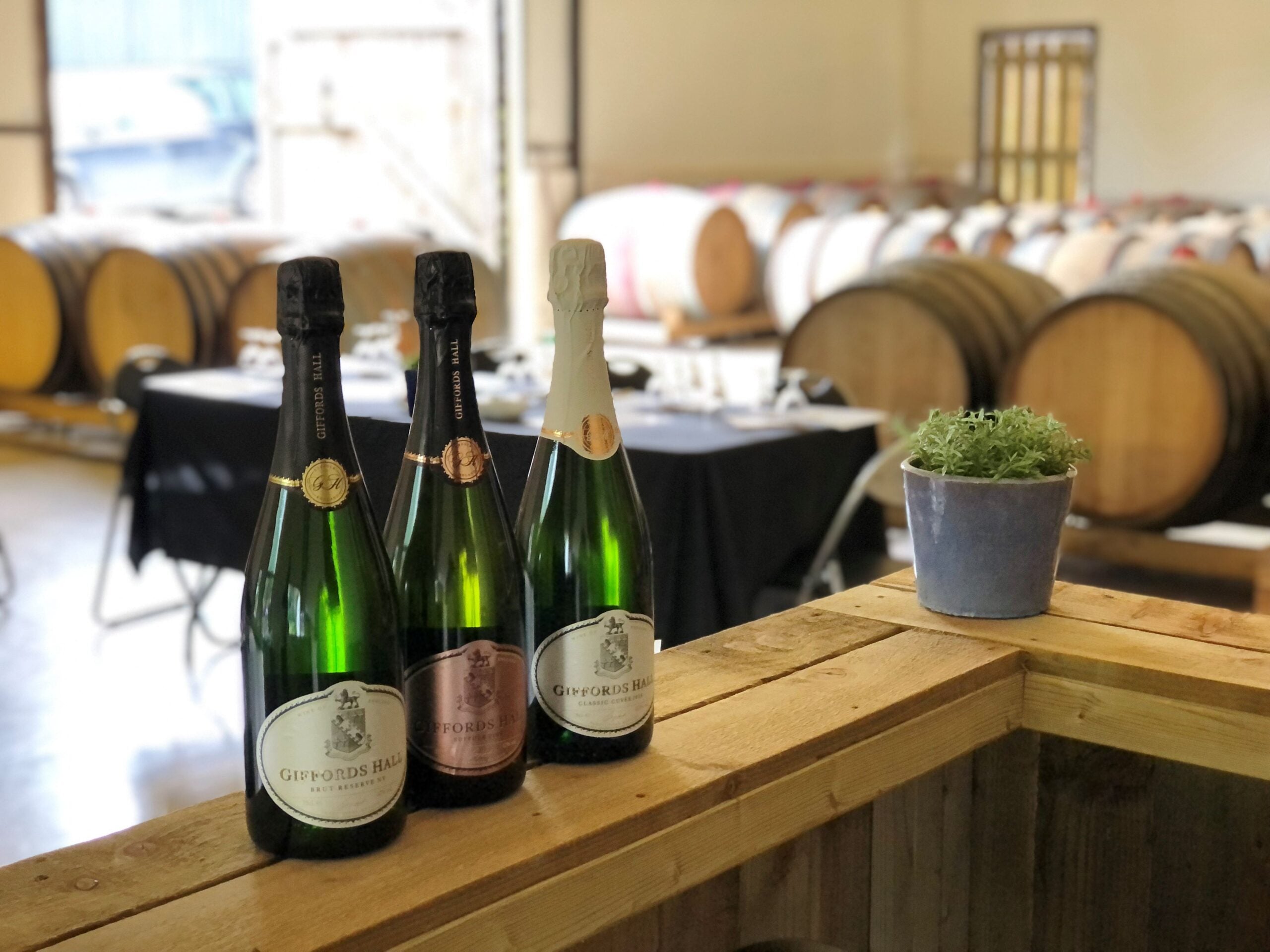 Next, we head to Suffolk, where Giffords Hall has been producing English wine for over two decades. Set on the site of an ancient glacial riverbed near Bury St Edmunds, the family-owned winery makes an excellent selection of sparkling wines – we love the Giffords Hall Sparkling Suffolk Pink NV.
If you're traveling in a small group, consider booking a private vineyard tour – you'll be taken out to the vineyards to see the grapes, before being treated to a visit to the winery and guided tasting. As for accommodation, the winery has a gorgeous two-bedroom cottage (formerly the old dairy) right by the vineyard.
Hambledon Vineyard, Hampshire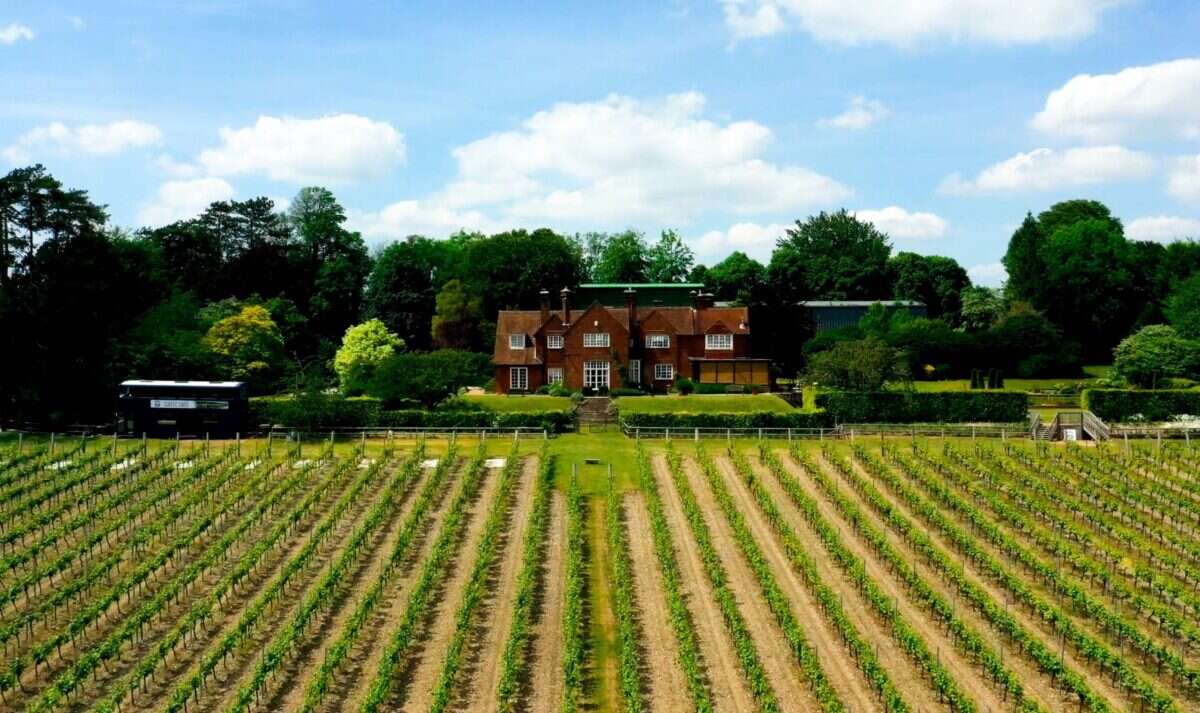 Our guide to the best English vineyards would not be complete without mentioning Hambeldon. The winery was established in 1952 by Major General Sir Guy Sailsbury-Jones and has been making outstanding fizz ever since.
Spanning 200 acres, the Hampshire-based vineyard boasts the same chalky soil as that found in the esteemed Côte des Blancs area in Champagne.
It's easy to while away an afternoon at Hambledon. Tours include a walk through the historic vineyards, a chance to explore the underground cellars and a guided tasting of their best sparkling wines (you can add a cheeseboard, too).
Camel Valley, Cornwall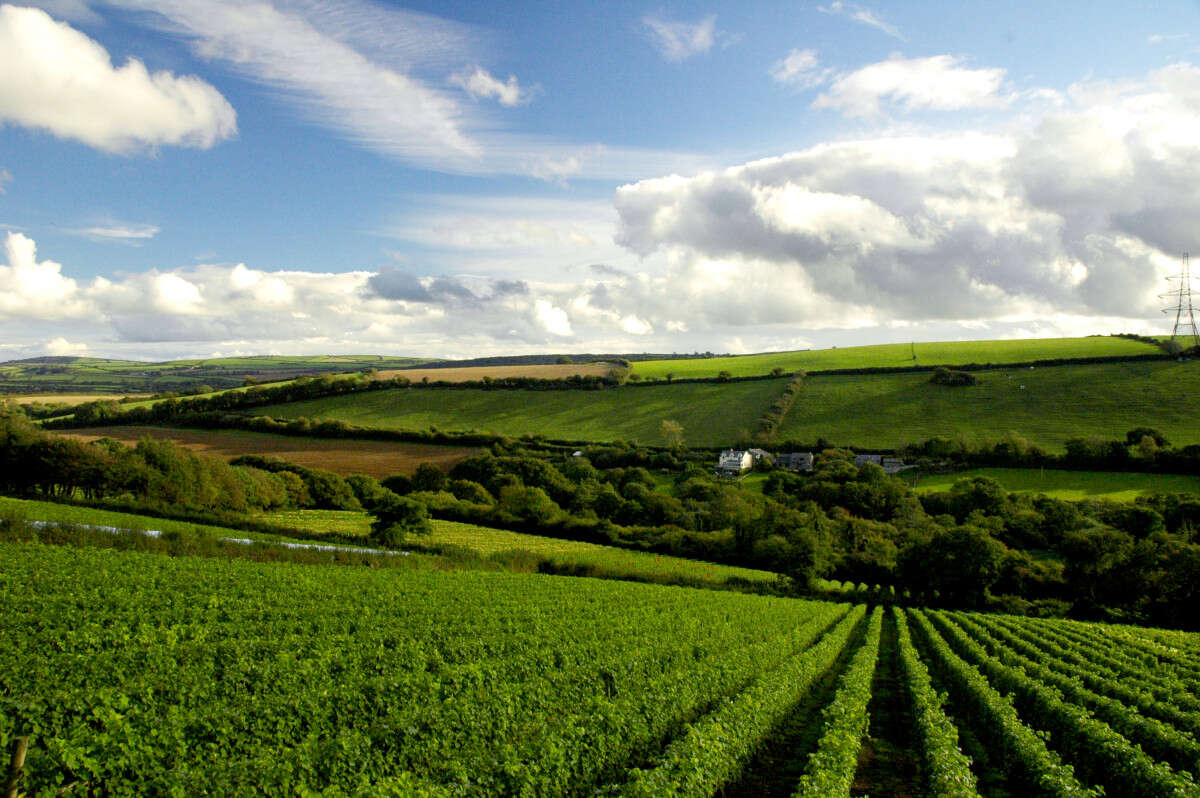 England's south west coast is also home to some incredible wineries. Just outside Padstow in the Cornish countryside, you'll find Camel Valley – an organic vineyard that's been producing award-winning wines since 1989.
The vineyard is helmed by ex-RAF pilot Bob Lindo and his wife Annie; they initially farmed sheep and cattle before turning their hand to wine with spectacular results.
It's well worth booking a guided tour of the vineyard or simply stopping by for a glass of fizz on the sunny outdoor terrace.
[See also: Experience the Rugged Beauty of Cornwall's North Coast at Scarlet]
Lympstone Manor, Devon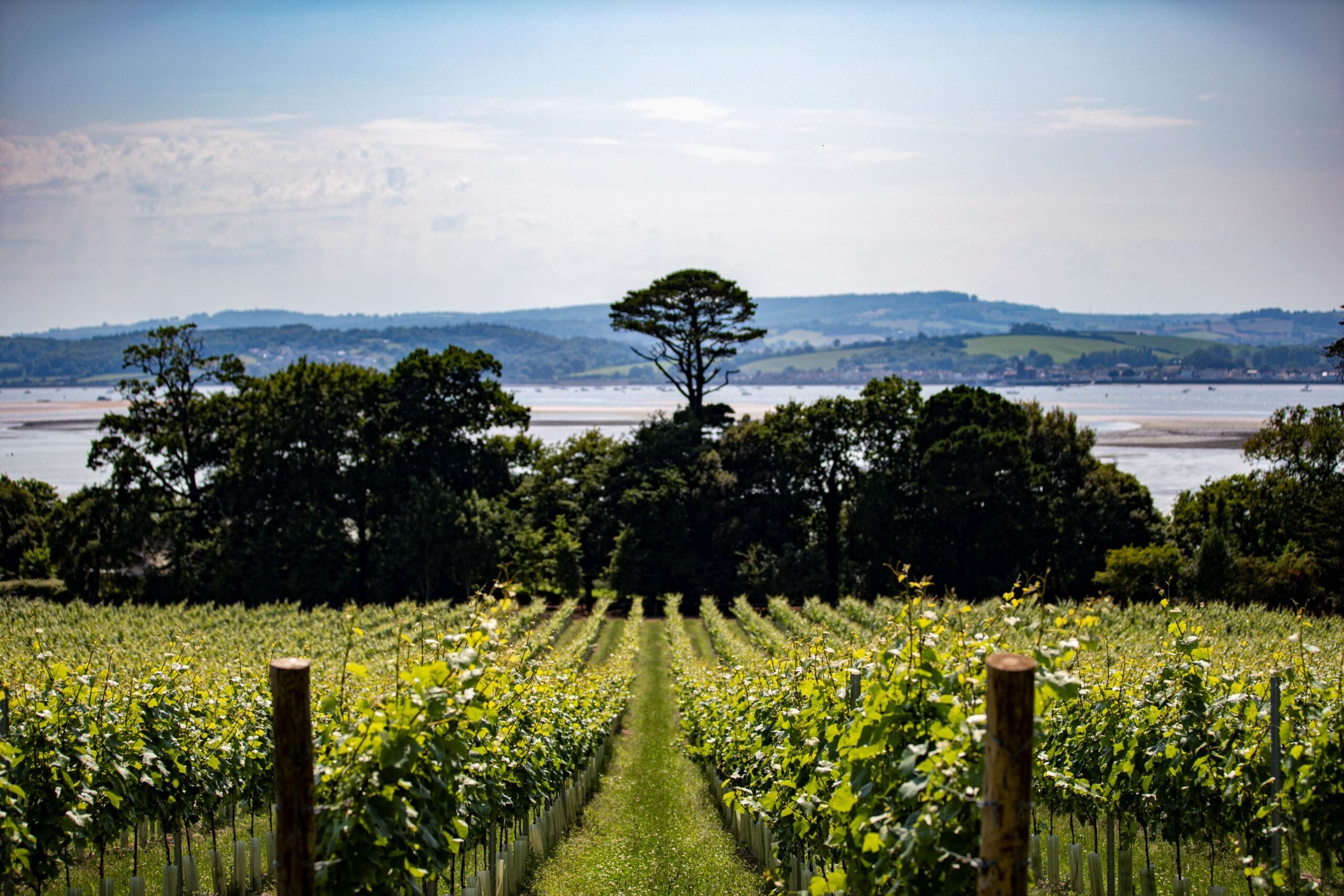 If it's a full weekend of wining and dining you're after, Lympstone Manor is your place. Helmed by talented chef Michael Caines, the boutique hotel and restaurant is located close to where he grew up on the south coast of Devon overlooking the picturesque Exe Estuary.
The mild climate and sloping grounds of the estate proved to be the perfect setting for winemaking and Caines planted a 10-acre vineyard soon after he arrived – we were lucky enough to try the first wine produced at Lympstone Manor – the Triassic Pinot Noir 2020 – when we visited the hotel earlier this year. Keep an eye out for Caines's first sparkling wine which is set to be released in August 2023.
Vineyard tours run every Wednesday from May through September and you can opt to say for a four-course lunch at Caines's Michelin-starred restaurant.
Ryedale, North Yorkshire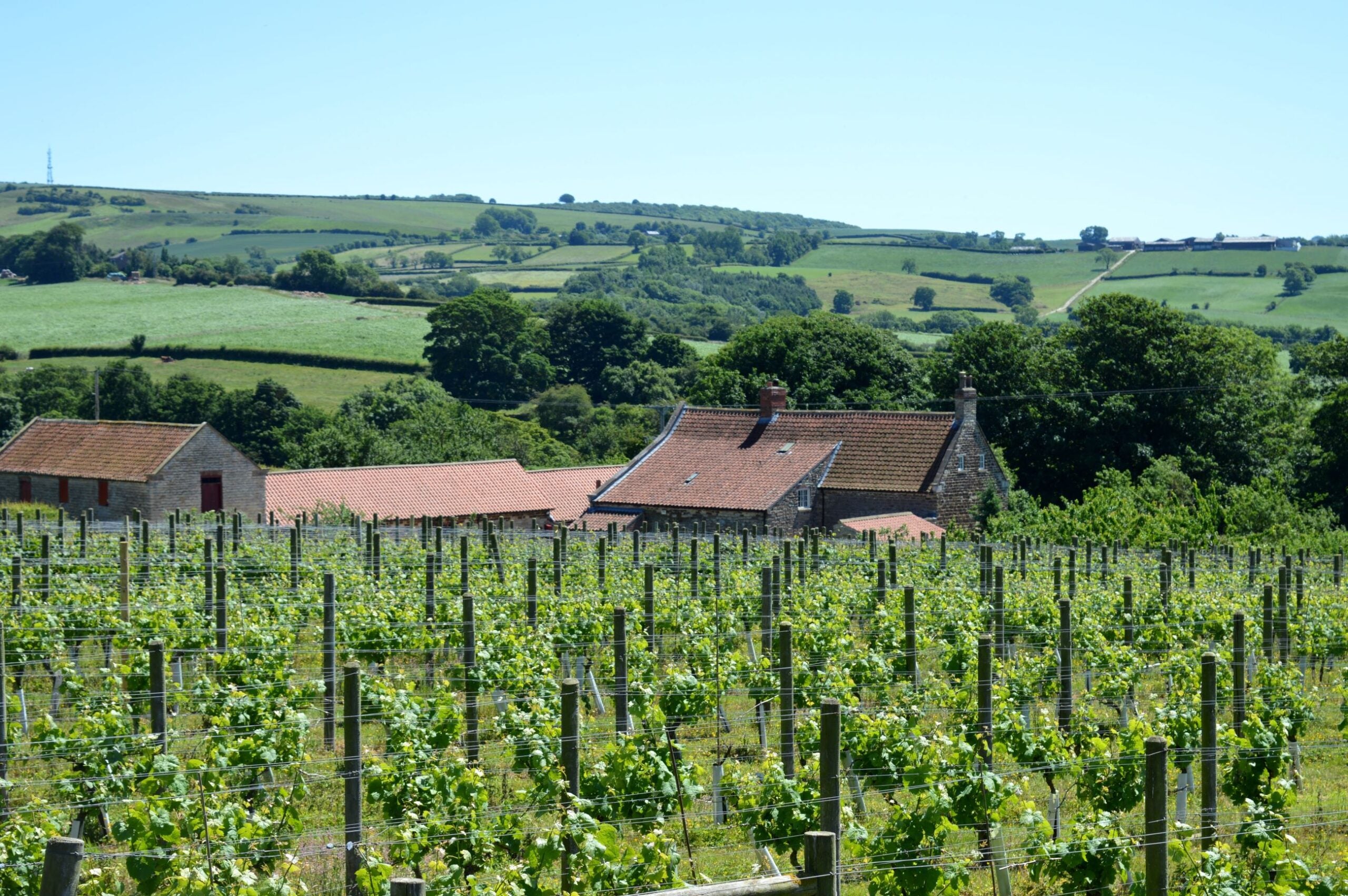 For our final pick of the most beautiful English vineyards, we head to Rydale at the foot of the Yorkshire Wolds in North Yorkshire. This small, family-run winery grows 18 different grape varieties across its 12-acre vineyard, producing around 8,000 bottles of wine a year (they make their own cider, too).
Tours – which end with a cheese and wine tasting – run from Easter through to the end of harvest in late October. You can also opt to stay at the cozy B&B in the vineyard farmhouse but you'll have to move quickly – rooms are already fully booked for 2023 with Ryedale already taking bookings for 2024.
[See also: The Best Champagne Brands to Try This Year]