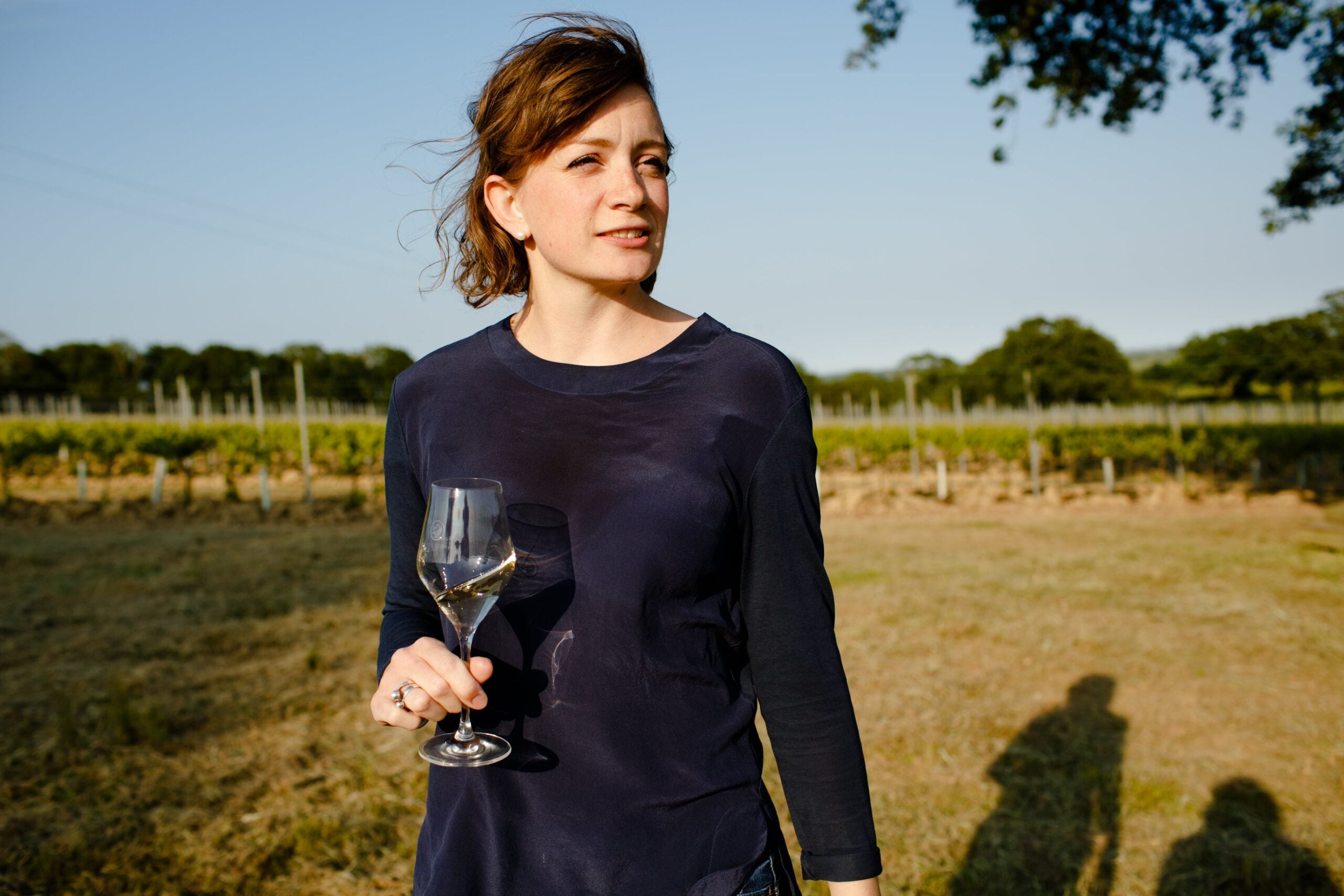 While Champagne has been ruling the roost for centuries when it comes to sparkling wines, English sparkling has rapidly been ascending the ranks as a worthy competitor to its French counterpart. And as the quality of this previously lesser-drunk wine continues to go from strength to strength, naturally, so do the sales. To find out more about putting English wines on the world stage, we spoke to Gusbourne's global brand ambassador, Laura Rhys.
Since planting its first vines in 2004, Gusbourne has been on a mission to create exceptional wines using only its own grapes. And from the get-go, it was successful in its mission, with its first vintages released to critical and commercial acclaim. Now, Gusbourne operates 16 vineyards across the south English counties of Kent and West Sussex and has retained its commitment to only using its own grapes in every vintage.
It was as a sommelier at London's La Trompette restaurant that Laura, who is one of just 34 female master sommeliers in the world, first discovered Gusbourne, having spent years pushing for other varieties of English sparkling wine to be offered by the glass next to Champagne on wine menus.
[See also: Responsible Wineries Creating Sustainable Fine Wine]
"When I first tasted Gusbourne, I loved it," she says. "I felt that that stylistically they pushed a lot of boundaries and then I was lucky enough to come down to the winery and meet the team and I loved the ethos of what they were trying to create, which is about creating a vision of quality and luxury."
After spending many years in hospitality as a sommelier, Laura was so taken by the wine that Gusbourne was producing that in 2015 she made the leap to join the team as the global brand ambassador.
"When a job opportunity came up, it was too good to miss," she says. "At the time I was sad to leave the restaurant floor and the amazing camaraderie between teams in restaurants, but I was so excited to be a part of something really new and something which has amazing potential in terms of the English wine industry."
As part of her role, it is Laura's job to put Gusbourne on the world stage: "I spend a fair bit of time [traveling] to different markets and getting the message out not just about Gusbourne but also English wine as a whole," she says. "It's about helping people to understand that exceptional quality sparkling wine can be produced in England."
"Once you get the wine into somebody's glass, they understand the style and quality and then it becomes a lot easier," she explains. "People are really excited to discover something new and I would say that it's been a long time since there's been a new wine region producing wines of this style and of this quality."
[See also: Coravin Debuts Its First-Ever Wine Bar in London]
And it is this encouragement of getting people to branch out with their wine tastes that Laura thinks will see English wine continue to grow: "We need to empower wine drinkers," she says.
"I want to empower people to use the services of a sommelier, for example, or be bold on a wine list, or be adventurous and try something different," she continues. "Wine lists are often much more consumer-friendly now, so you might find them broken up into different styles instead of a long list of countries and regions that might not mean a lot to people who have no idea what the grape variety is. It's a combination of empowerment and education that is key."
And, by diverting away from their usual Champagne order, wine drinkers will be well rewarded. As it is produced in the exact same way as Champagne (i.e., an initial fermentation in the tank, followed by a second in the bottle) and uses primarily the same grape varieties, newbies to English sparkling will be pleased to find that broadly, the taste isn't dissimilar – although English varieties often tend to be a little fresher and more acidic.
But of course, while people like Laura are out spreading the word on the unbelievable quality of English sparkling wine, the elephant in the room is the looming impact of the climate crisis on an industry that so heavily depends on precise environmental conditions.
However, while Gusbourne's wine-making cousins across the Channel may be in for tricky times as the effects of the climate crisis makes itself ever more apparent, with hotter summers impacting vintages, thanks to its country's temperamental weather conditions the English industry is perhaps a little better prepared.
"Our location in Sussex and Kent has meant that we've been quite well protected from some of the extremes of weather we've seen over the last few years," Laura explains, "but we also invested heavily in frost protection."
"But equally, the UK is a marginal climate," she says. "We're technically [just outside of] what perceived wisdom has always said is ideal for grape growing… and so we have always faced challenges and are prepared."
One of the main ways Gusbourne has future-proofed against these challenges is by ensuring that it owns 100 percent of its vineyards. This way, Laura explains, it retains complete control over all of its grapes. "That's really important in every year, but especially in the more difficult years because it means we can be so precise and give [individual] care to all the different parts of the vineyard."
Gusbourne also takes this preciseness one step further, by using clones of three different grape varieties. "We've got about forty clones of Chardonnay, Pinot Noir and Pinot Meunier planted within our vineyards," Laura says. Each clone will react differently, with some offering a smaller yield but a more powerful fruit.
"And because they're planted in different areas and at different points, it creates a patchwork quilt," she says. We can then pick each block separately and vinify them separately, so we're left with 200 – 300 different base wines to blend each year."
[See also: Fine Wine and Watches Lead Luxury Investment Growth]
While this verges into jargon, the long and short of it is that Gusbourne gives itself room to breathe. Weather may increasingly be an issue but having this reliable supply of base wines gives the winemaking team, led by head winemaker Charlie Holland, the best chance at creating a great wine in tricky years, and an opportunity to experiment in years when the yield is better. It's a win-win.
But what about limiting its own environmental footprint to help prevent the effects of climate change worsening? Gusbourne has that covered too. As a founding member of Sustainable Wines of Great Britain, the team is focused on working with the land to encourage a biodiverse growing environment with a low-intervention approach to winemaking.
"Our vineyard manager Jon Pollard has always been focused on the long-term health of the vine and always been very holistic in his approach," Laura says. "It's about creating healthy vines for themselves and so much of that comes from biodiversity. So, we work a lot with wildflower meadows that help to increase biodiversity within the vineyard."
"We also work with cover crops between the vines which helps not only increase biodiversity but also helps manage the nutrient level of the soil naturally without the need for products," she adds. "It's all about vineyard sustainability for us."
Regardless of the challenges facing both Gusbourne and the wider wine industry, Laura is unfalteringly optimistic: "We're such a young industry, and this gives us the ability to mold and innovate and be creative. I'm really excited to see how we can build in terms of quality and quantity."
To give Elite Traveler readers the opportunity to experience Gusbourne for themselves, we're offering the chance to enter our prize draw to win an immersive Discovery Tour, which includes tasting and lunch at Gusbourne Wine Estate, and a bottle of its flagship Blanc de Blanc sparkling wine. To enter, simply complete the short survey below.