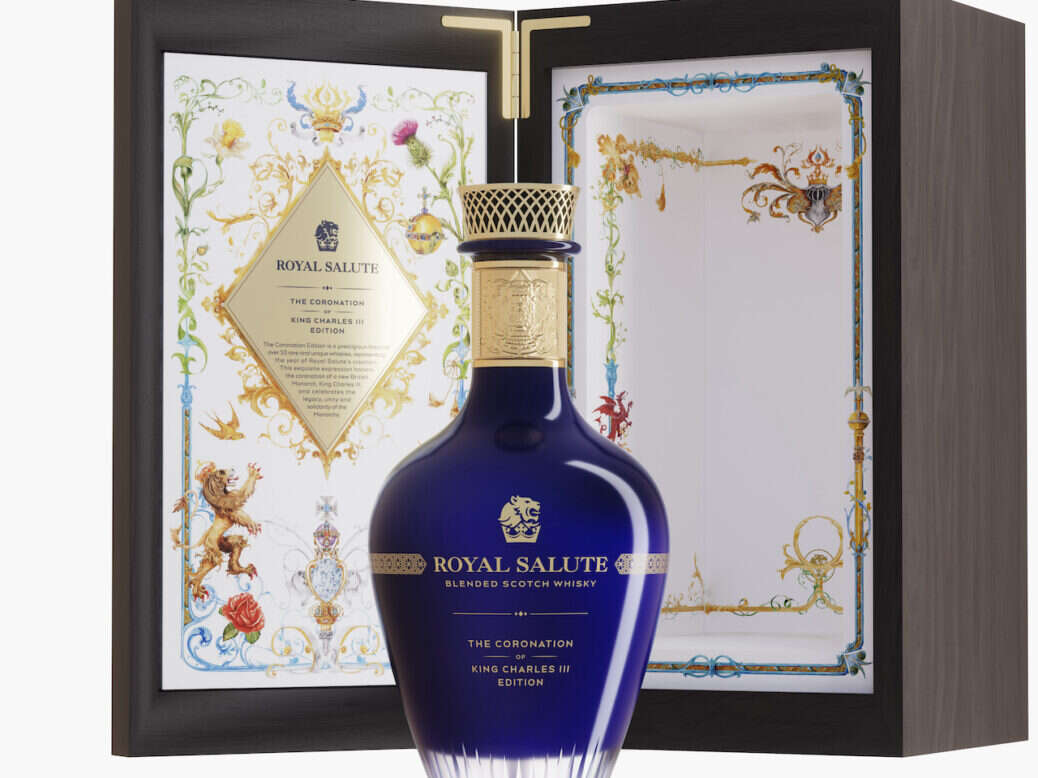 When King Charles III is coronated on May 6, it will bring an end to a seismic year for the British royal family. The once-in-a-generation event will celebrate the late Queen Elizabeth II's life and look ahead to his reign. He won't find a better way to mark the occasion than with a glass of his very own Royal Salute whisky.
Royal Salute has an inextricable link with the royal family. The blended Scotch whisky brand released its first expression to mark Queen Elizabeth II's coronation in 1953 and continues to build its brand around the Windsors. That expression, the Royal Salute 21 Year Old, is still available today for under $200 a bottle. What they've done for King Charles III, however, will cost you slightly more, $25,000 to be exact.
The Royal Salute Coronation of King Charles III Edition is an indicator of where today's whisky market sits compared to 70 years ago. It is an ultra-luxury product, limited to 500 decanters, and only available to the super-rich. Very few of the would-be buyers will intend on drinking it. It is an investment whisky, one that is likely to increase in value as the whisky market grows and King Charles III's reign moves forward.
But for those that do open it, here's what they'll find inside: the best expression of Royal Salute we have ever tasted (and we have tried a lot). Speaking to master blender Sandy Hyslop on the night of the whisky's launch, he described it as something of a free hit. The Coronation of King Charles III Edition is a non-age statement, meaning Hyslop could use whatever he thought was best for the blend, whether very old or relatively young.
If you knew the age statement (the youngest whisky in the blend), the $25,000 price tag wouldn't make sense. Once you try it, however, it all comes together. This is a special whisky, made by an experienced hand.
[See also: The Most Exclusive Scotch Whisky Experiences]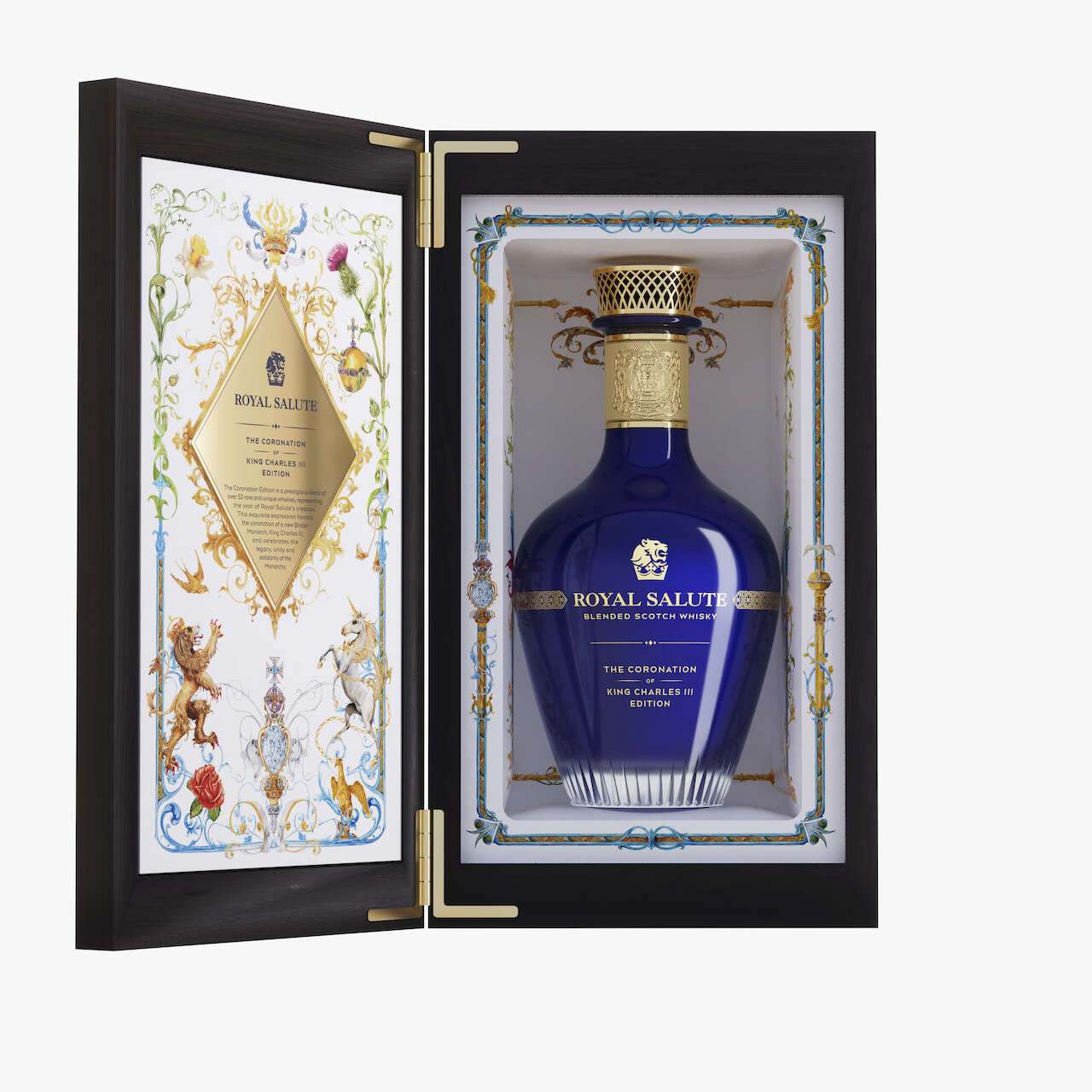 Hyslop used over 53 grain and malt whiskies in the blend and married them in rare sherry-seasoned Spanish oak casks for two years. Those casks injected spice into the whisky, making it whizz and pop on the palate. Bottled at a cask strength of 52.3%, it packs a punch as well.
There is very little wood influence, suggesting the bulk of the blend is made up of the younger liquids in Royal Salute's inventory. It is a vibrant whisky, one that embodies the very best characteristics of malt and grain. There are tropical fruits, redcurrants, fresh ginger and nuts. Think of a Florentine: sweet caramel, almonds and chili-seasoned dark chocolate.
Dartington Crystal designed the decanters to match the liquid's exclusivity. Its deep sapphire blue hue is reminiscent of the precious stones set within the Imperial State Crown and is similar to the 21 Year Old's color. The decanter sits inside a wooden box inspired by Westminster Abbey, venue of the upcoming coronation, with its stunning details chiseled into the wood.
[See also: The Difference Between Irish Whiskey and Scotch Explained]
Hyslop said: "This expression is a momentous tribute to both the British Monarchy and Royal Salute's unique origin story. I wanted to mark this memorable occasion with a blend that was as iconic and special as the original Royal Salute 21 Year Old Signature Blend that was created in honor of Her Majesty Queen Elizabeth II in 1953.
"Crafting this blend has been the perfect occasion to reflect on the innovative approach we've taken to blending whisky for the past 70 years, and a moment to look forward to what can be achieved in years to come."
Only 500 precious bottles of the Royal Salute Coronation of King Charles III Edition will be available from April 2023, at selected specialist retailers for $25,000. For more information, visit royalsalute.com