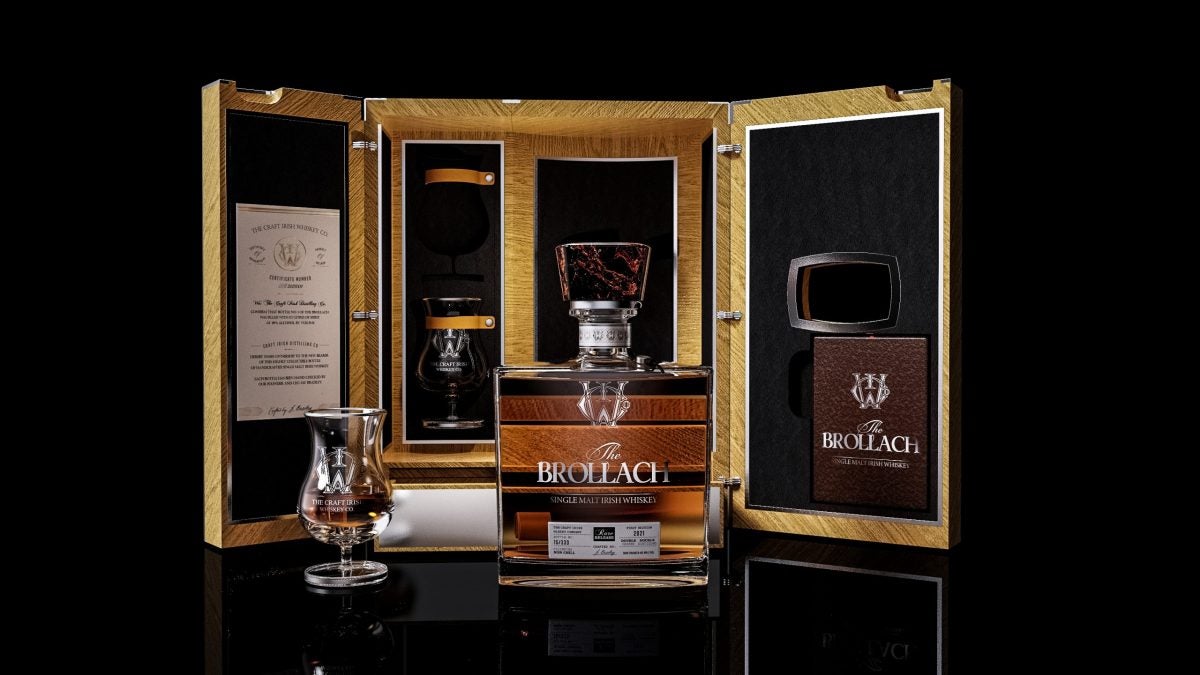 The Craft Irish Whiskey Co has had a spectacular start to life. Its first release, The Devil's Keep, became the most expensive debut release in history when a single bottle sold for $60,000. Its second, The Emerald Isle, made headlines when the first of seven sets, accompanied by a stunning Faberge egg and watch, sold for $2m at auction (of which the profit went to charity). Needless to say, its third, The Brollach, has a lot to live up to.
At around $6,500 per bottle and with 661 available, The Brollach is cheaper and not as finite as its older siblings. There are also no one-of-a-kind timepieces or treasured jewels accompanying it in the box, so it won't be following them into the whiskey record books. What it will do, however, is provide further evidence of the company's ability to bring exceptional whiskey to market at a disconcerting rate of knots.
This latest release is a non-age-statement double-distilled whiskey matured in 200-liter ex-bourbon casks and finished in rare French oak Madeira barrels. The result is a rich and sweet liquid offering flavors of baked banana and caramel. The palate brings through subtle sour notes of freshly picked blackberries and cacao. Although officially a non-age-statement whiskey, the complexity and depth of flavor suggest decades of maturation.
[See also: The Difference Between Irish Whiskey and Scotch Explained]
While the first two releases will have been largely bought by investors, The Brollach feels like a whiskey to be opened and enjoyed. That is evident from the narrative that has been built around the release by founder Jay Bradley. Officially unveiled on Father's Day, The Brollach was made in honor of Bradley's late father, who inspired his passion for whiskey and lead him to The Craft Irish Whiskey Co. His lifelong friendship with his father also inspired Bradley to release a uniquely double-distilled Irish whiskey (Irish whiskey is traditionally triple-distilled), to represent the pair as kindred spirits.
[See also: Midleton Very Rare Reveals Silent Distillery Chapter Two]
Bradley said: "The Brollach is unique as it has an intense and potent profile, which I feel really reflects my father's character, and it is also pushing the boundaries of Irish whiskey craftsmanship as it is a double-distilled, single-malt whiskey matured for over two decades. As double-distilled whiskey ages, it becomes more complex and spicier, only released when the flavor of the whiskey is at its best. Traditionally Irish whiskey is triple-distilled and we are very proud to have created a product that ensures luxury Irish whiskey is being represented in the double-distilled space."
Bradley left school at 14 to work as a furniture craftsman with his father, so it is natural that The Brollach decanter is beautifully presented in a meticulously designed wooden box. Crafted from raw Nordic oak and brushed with stainless steel, the box was designed to celebrate Irish craftsmanship and pay homage to the Bradley family's Celtic heritage. The bottle sits alongside two handcrafted glasses, four obsidian whiskey stones and a pipette. The presentation box also has two vials, one filled with a taster of the whiskey (so even investors can experience the flavor) and another filled with fine Irish spring water.
The Brollach is available for €5,500 ($6,512), not including tax.