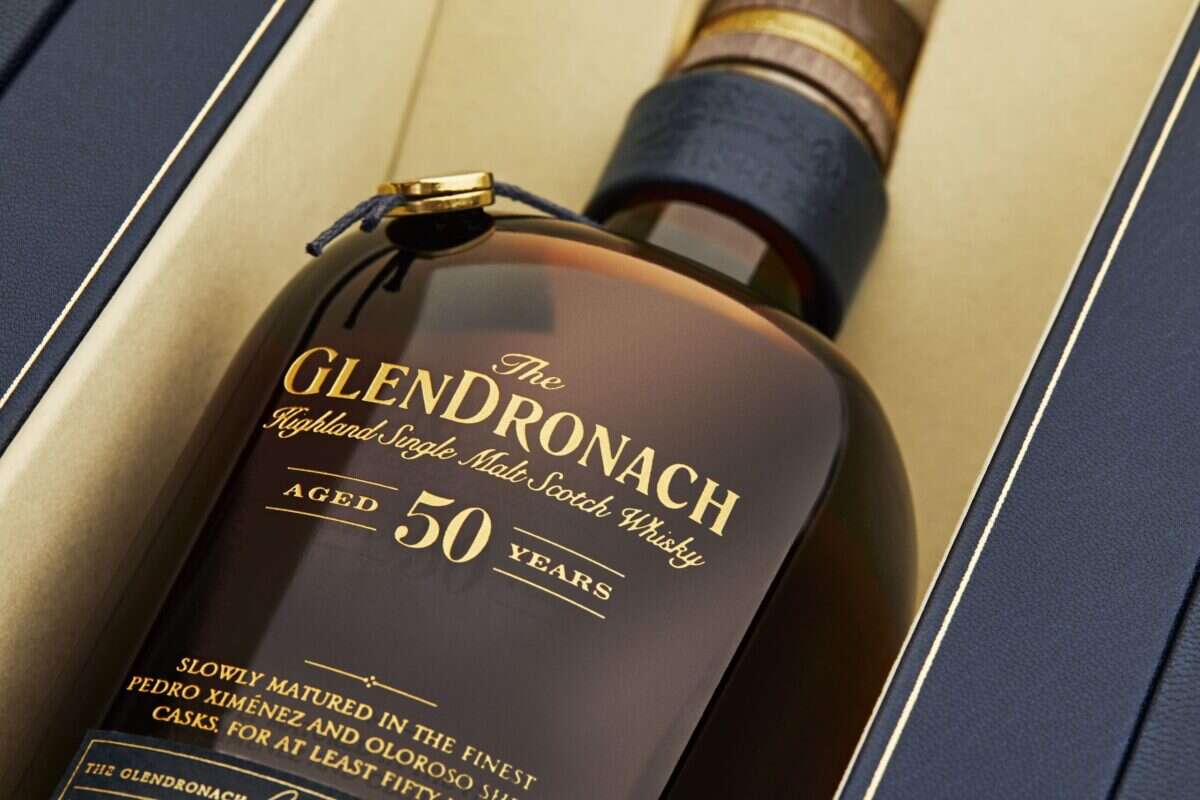 The GlenDronach has joined the half century club among Scotch whisky distilleries with the release of its oldest single malt to date, a 50 Year Old. With almost 200 years of often tumultuous history, the release marks a significant milestone for the Highland distillery.
Despite operating since 1826, The GlenDronach has resisted entering the heavily-aged market until now. Its absence in the 50 Year Old+ category was all the more curious because of its dedication to almost exclusively aging whisky in sherry casks – known for their suitability for long maturation.
But The GlenDronach Aged 50 Years could not have arrived at a better time. More people than ever are looking to collect heavily-aged whiskies for both joy and investment. With just 198 bottles made available, demand is likely to outstrip supply (even with an asking price of $25,000).
[See also: The Finest Rare Whisky and Spirit Releases of 2021]
Those 198 bottles were all that was left from two casks that had slumbered in the distillery's dunnage warehouses since 1971. One Pedro Ximénez and one Oloroso sherry cask were left to their own devices for almost 50 years before master blender Rachel Barrie married them together in a single PX cask.
Remarkably, the story of this liquid almost came to an abrupt end on a stormy night in 1996 when the Dronac burn burst its banks and flooded the warehouse where both casks lay. It was only through swift action from the distillery foreman that the casks were saved and given another 25 years to reach their peak.
What impact that flood had on the liquid, we will never know, but what is certain is that the PX and Olorosso Spanish oak casks have had a decisive influence. The resulting liquid is strikingly rich, both in appearance and flavor.
[See also: Course of a Feast: The Singleton's New Epicurean Odyssey]
In the glass, the whisky is exceptionally dark, akin to antique mahogany. On the nose and the palette, it has a remarkable likeness to luxurious dark chocolate with notes of crystalized orange and dried cranberries. The mouthfeel is silky and there is not a hint of ethanol despite being bottled at a cask strength of 43.8% ABV. It is a flavor profile befitting a whisky as rare as this one.
Each of the 198 bottles is hand-numbered and presented in a leather case with an embossed leather booklet detailing the distillery history, tasting notes, and unique craft. The bottle's design enhances the whisky's striking color, aimed at adding a new contrast to even the most eclectic of collections. Bottle No 1, however, is already spoken for. The decanter was donated to the recent One of One whisky auction where it sold for $54,500 in support of Scottish charities.
The remaining 197 bottles of GlenDronach Aged 50 Years will be available to purchase from selected specialist retailers worldwide from January 2022 for $25,000. For more information, visit glendronachdistillery.com
Glendronach Aged 50 Years tasting notes
Appearance: Dark mahogany wood
Nose: Old leather mixed with dark berries, black cherry and cranberries. Cacao nibs and cranberries.
Palate: A silky texture, luxurious dark chocolate making way for sweeter notes of crystalized orange and dried cranberries.
Finish: A medium finish evolving into notes of fresh espresso and dark cherry.
[See also: Sustainable Whisky and Spirits for Eco-Conscious Drinkers]