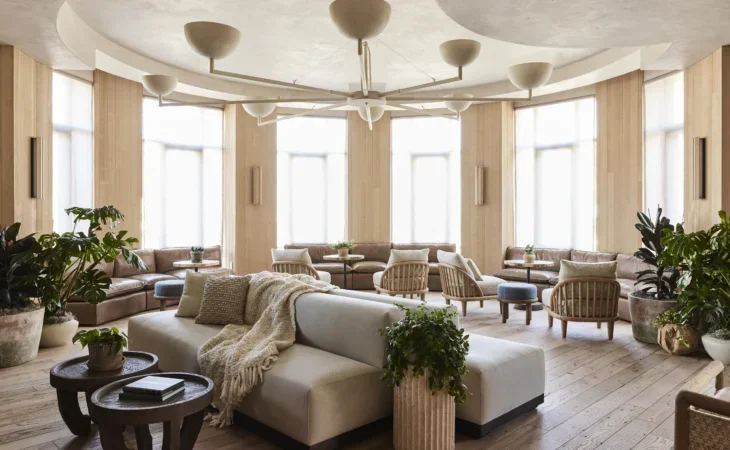 With dedication and appreciation for its striking natural beauty, Northern California makes for a fitting home for the newest 1 Hotel, the seventh property by the sustainable-luxury brand that goes above and beyond greenwashing with serious eco cred, while also laying claim to a zeitgeisty, earth-goddess aesthetic.
Opening in early June 2022 with 200 keys, 1 Hotel San Francisco has added a splash of mindful coolness to the city's waterfront Embarcadero area—a buzzy stretch of ports, piers, and tourist attractions that runs along the eastern shore—and is already proving popular with the locals. (It doesn't hurt that the brand already has a solid presence in California with the popular 1 Hotel West Hollywood in Los Angeles.)
All 1 Hotels strive to be a source of well-presented wellness for guests, the local community, and the planet—and here is no exception. Expect exteriors outfitted in high-performance insulation and heat-reflecting roofing; interiors of upcycled wood and native greenery; a restaurant of famously fresh Californian ingredients sourced from within a 100-mile radius; and plenty of little indulgences—like fully electric house cars (the swish Audi e-tron) and organic jersey knit robes (with hoods!) that are as cozy as your favorite sweatshirt.
[See also: Back to Nature: Inside 1 Hotel Toronto]
Stay
1 Hotel San Francisco has a prime location overlooking the glittery Bay Bridge; the historic Ferry Building, dating back to 1898; and the bustling San Francisco Bay, teeming with commuter ferries, behemoth container ships, and flocks of brown pelicans.
Enter the property and the first thing to hit is the custom scent: an uplifting, forest-fresh mist of tree moss, eucalyptus leaves, cedar, and oakwood manages to permeate the hotel's spacious ground floor without being overwhelming. Public spaces (by brand management company SH Hotels & Resorts and San Francisco-based interior design studio NICOLEHOLLIS) are Instagram-worthy while retaining an environmentally conscious backstory.
The floor of the lobby is made up of over 7,000 square feet of reclaimed barn wood, which is in line with San Francisco's Environment Code Chapter 8, banning the use of tropical wood and virgin redwood; while gorgeous, salvaged redwood from the original San Francisco Bay Bridge ornaments hallways and elevator landings. Handloomed rugs are made with recycled wool and plant fibers, and original wall art is crafted from sun-bleached driftwood. There are no fake plants permitted at any 1 Hotel, so the greenery on site is either alive or preserved moss and foliage, which require less water and light.
Spend one night at the 1 Hotel, and you'll leave convinced that all this environmentalism doesn't have to come at the expense of comfort. There are 186 rooms and 14 suites, the top options being the terrace suites with around 1,000 square feet of indoor and outdoor space. (Of the terrace suites, the Ferry House Suite boasts the best views.) The room design—care of Seattle-based Dawson Design Associates and SH Hotels & Resorts—is clean and minimal; earthy but approachable, with low-flow water fixtures, energy-saving thermostats, and even shower timers to bring awareness to water waste.
There is almost no paper or plastic: a chalkboard replaces the phone-side notepad; hangers are made from paper, and geranium-scented Bamford bath products come in full-sized refillable bottles. The mini bars are filled to the brim with Bay Area and artisan goodies like craft-brewed Marin Kombucha, 9th & Larkin bean-to-bar chocolate, and recyclable pods of Bluestone Lane coffee (at least 30% of the snacks are local to reduce emissions). Upcycled wine bottles are transformed into chic emerald-green water carafes, which may be refilled at a filtered water fountain, located in the hallways of each floor.
Dine
With 216 covers, indoor/outdoor locavore-slanted restaurant Terrene serves a casual breakfast and lunch of cutesy-named smoothies and crunchy Cali-salads (order at the counter) and a slightly less-casual seated dinner of sharing plates.
The cool and creative cocktail menu showcases 50 Mile Highlights (tipples created with spirits and ingredients made or grown within a 50-mile radius of the Bay Area), as well as Zero-Waste Cocktails (a collaboration with bartending consulting and educational resource, Trash Collective).
On the food front, local farms and small producers are called out by name, and dishes of dips, hearth-oven flatbreads, and meat and seafood skewers are fresh, colorful, and light. Go for the beet muhammara sprinkled with orange zest; the mushrooms glazed in sticky fig balsamic; and the pitch-perfect cheesecake. Some of the bounty can even be traced back to the rooftop garden, growing mint, laurel, makrut lime, and lemon verbena; plus, there are several beehives.
Relax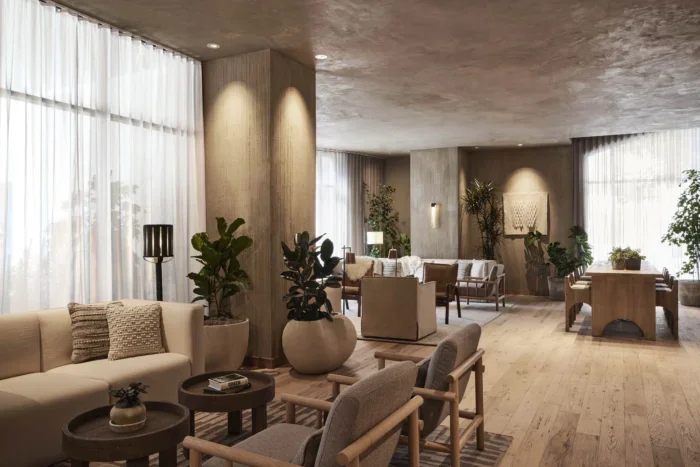 1 Hotel San Francisco has a compact Bamford Wellness spa with three treatment rooms, as well as two al fresco soaking tubs for pre- or post-treatment relaxation. The gym, called The Field House, is clad in 80% recycled ECOmax rubber flooring and offers the latest equipment, including Pelotons and 1 Hotel-branded dumbbells. On the outdoor deck of the hotel's eighth floor, rooftop yoga and HIIT classes are offered, hosted by local favorites, Love Story Yoga and LuxFit SF respectively. Eight e-bikes, care of Rad Power Bikes, are also available for neighborhood bike rides.
Explore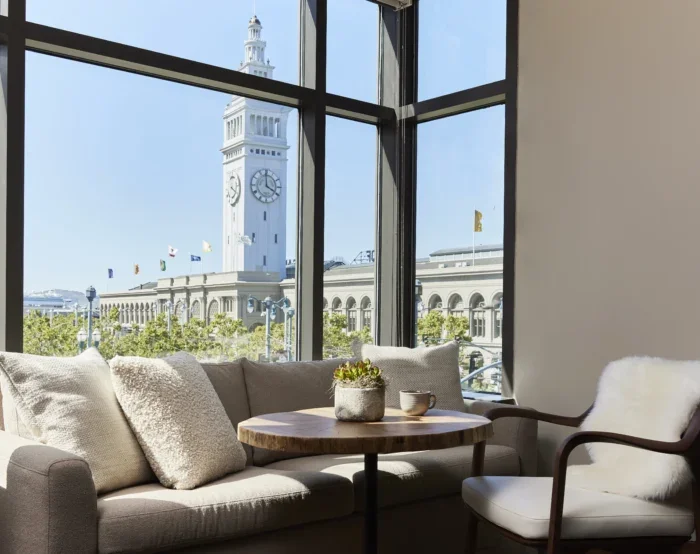 Stationed on the Embarcadero, 1 Hotel San Francisco is within easy reach of many of the city's iconic neighborhoods including SoMa, Chinatown, North Beach, Oracle Park, and the up-and-coming Thrive City. San Francisco is a city for foodies, and some new hotspots include modern-classic American steakhouse Miller & Lux at the Chase Center in Thrive City; hip-and-haute Empress by Boom in Chinatown; and creative Korean barbeque at San Ho Wan in the Mission.
There's also a 1 Hotel San Francisco app, which highlights all the city's top attractions, experiences, and landmarks (e.g. cable cars, Palace of Fine Art, Haight & Ashbury); as well as galleries, restaurants, and stores that align with the brand's ethos (e.g. Minnesota Street Project art center; sustainable footwear Allbirds; small-batch jewelry designer Fiat Lux on Filmore Street; 100% plant-based Nourish Café).
[See also: 1 Hotel Chef Denevin Miranda on Making Dining Sustainable]