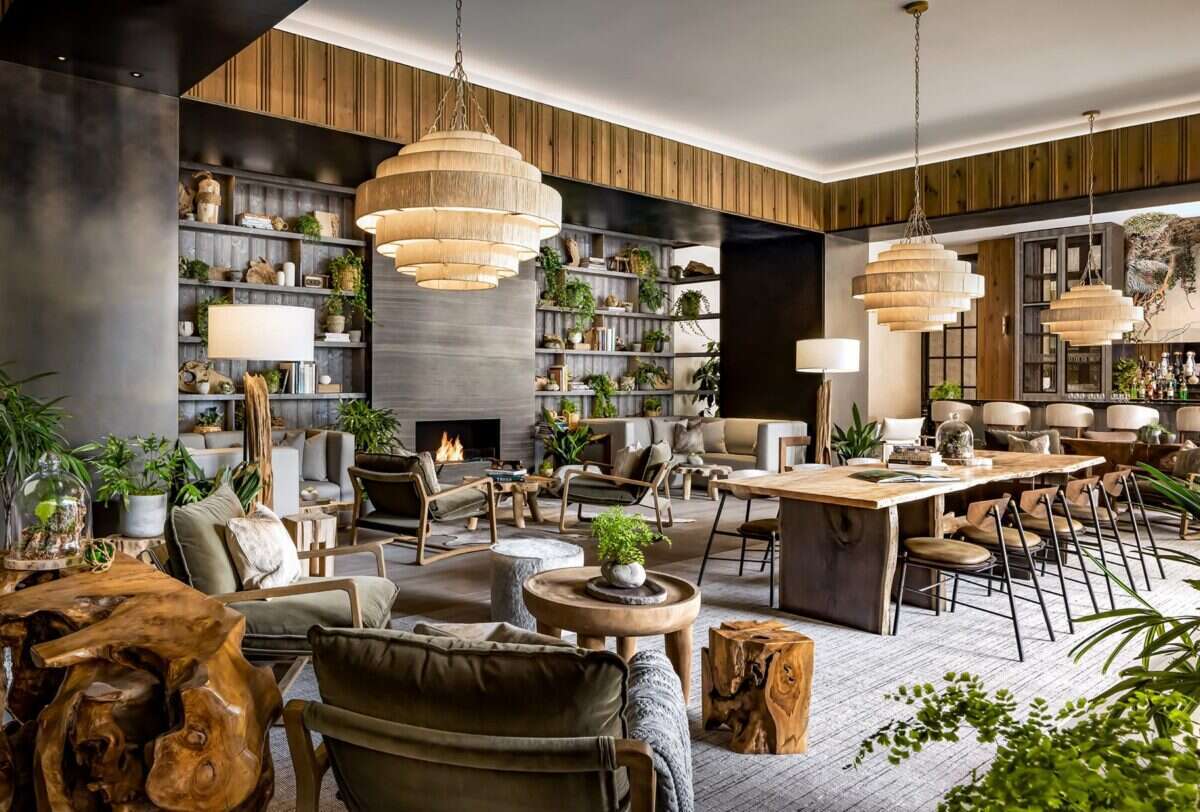 A bustling metropolis famed for its towering skyscrapers and vibrant arts scene, Toronto never slows down. But step foot inside the bright, airy lobby of 1 Hotels' newest outpost and you leave the city behind. Nature is the star of the show here.
Behind the reception desk, the wall is carved using stone from the Eramosa river in southwest Ontario. The tasteful wooden furnishings are handcrafted out of native fallen trees by a local woodworking studio, and the floors are made entirely from Elmwood salvaged from a dismantled barn in Blyth. Wherever you look, lush green plants spring from every corner.
As is the case with its entire portfolio of properties, this striking interior design is just one of many ways 1 Hotels demonstrates its unwavering commitment to the environment. It is fitting that Toronto was chosen for the eco-luxury brand's first Canadian outpost, given the city's array of ambitious sustainability programs. In May 2022, for example, the Toronto 'Green Standard' is set to come into effect, making sustainable design requirements mandatory for all new planning applications.
For 1 Hotels' latest project, Mohari Hospitality was enlisted to acquire and redevelop the building situated in Toronto's stylish King Street West neighborhood, while the design itself was carried out in collaboration with the renowned architecture and design practice, Rockwell Group.
"We have long admired 1 Hotels' sustainable and eco-friendly ethos and we are thrilled to have been given the opportunity to design the new 1 Hotel Toronto with a biophilic emphasis," said David Rockwell, founder and president of the Rockwell Group. "Our vision for the hotel invites guests to celebrate Toronto's ecology through materiality and locally-made artwork."
[See also: 1 Hotels CEO Arash Azarbarzin on Putting Nature First]
Stay
The brand new hotel has 112 elegant rooms and 21 suites, with stunning views of the iconic city skyline. Taking inspiration from Ontario's beautiful lakes and forests, an earthy color palette features throughout, while the interiors make full use of regionally sourced materials including reclaimed timber, driftwood and limestone from local quarries.
As you would expect if you've stayed at any of the luxury brand's exclusive properties (including Miami, West Hollywood and Brooklyn), 1 Hotel Toronto is quite literally bursting with greenery. Rockwell Group worked with a local company, International Landscaping, to cultivate over 3,000 plants throughout the hotel.
Upstairs, the hotel's corridor carpets are reminiscent of Ontario's many sandy beaches. The idyllic bedrooms are simple yet chic, with floor-to-ceiling windows bathing the interiors in light. After a long day exploring the city, organic cotton robes and slippers await for a cozy evening in.
The beds are extra comfy, topped with (you guessed it) organic cotton linens to have you drifting off in no time. In the morning, you can enjoy a relaxing yoga session while watching the sunrise using the in-room yoga mats. And if you can bring yourself to leave your room, head up to the rooftop for a dip in the pool or to the gym for a one-on-one personal training session.
Dine
When it comes to culinary offerings at 1 Hotel Toronto, guests are spoilt for choice with five distinct dining experiences. Tying them all together is a focus on elevating seasonal, locally sourced ingredients to new heights and developing relationships with farmers and producers from the surrounding area. The Garden Pavilion is the hotel's on-site organic garden, providing all of the kitchens with an array of home-grown fruits, vegetables and herbs (there's also space to sit outside and soak up the sun).
1 Kitchen Toronto is the perfect spot for a casual weekend brunch, serving cold-pressed juices, plant-based dishes and sustainably harvested fish and meat with lots of pickling, smoking and fermenting. Guests can also enjoy a light bite to eat at Flora – the hotel's cozy bar in the lobby (think delicious Ontario cheeses, cured meats and crostini).
For something a bit fancier, the soon-to-open Casa Madera will be serving a vibrant menu that celebrates the best of Mexican and Mediterranean cuisine, with DJs and talented local artists performing here in the evenings. And last but by no means least is Harriet's – the hotel's rooftop bar which serves cocktails, sushi, and late night snacks (the lobster tacos are not to be missed).
Preserve
1 Hotels prides itself on its sustainable philosophy and the newest Toronto property is no exception. Recognizing that its commitments must go beyond eco-friendly interior design, the hotel has a number of initiatives in place to minimize its carbon footprint.
These include aims to divert 85% of waste from landfills, purchasing carbon offsets, energy-efficient heating and cooling systems, and on-site composting to reduce the amount of organic waste produced each month (the remainder of which is turned into reusable soil for the hotel's many plants). Perhaps most impressive is the 'Bee Hotel': a specially designed habitat in the Garden Pavilion to attract bees and pollinators.
In an effort to support the community, the new hotel has also fostered several partnerships with local sustainable companies such as Green for Life to recycle all paper, plastic and glass; Green Planet to convert all leftover kitchen oil and grease into biofuel, and Kloth Studio to create bespoke uniforms for staff using recycled materials. In a thoughtful touch, the hotel planted 2021 trees throughout Toronto to celebrate the opening of its Canadian outpost this summer.
[See also: Twenty for 20: The Most Iconic Hotels of the 21st Century]