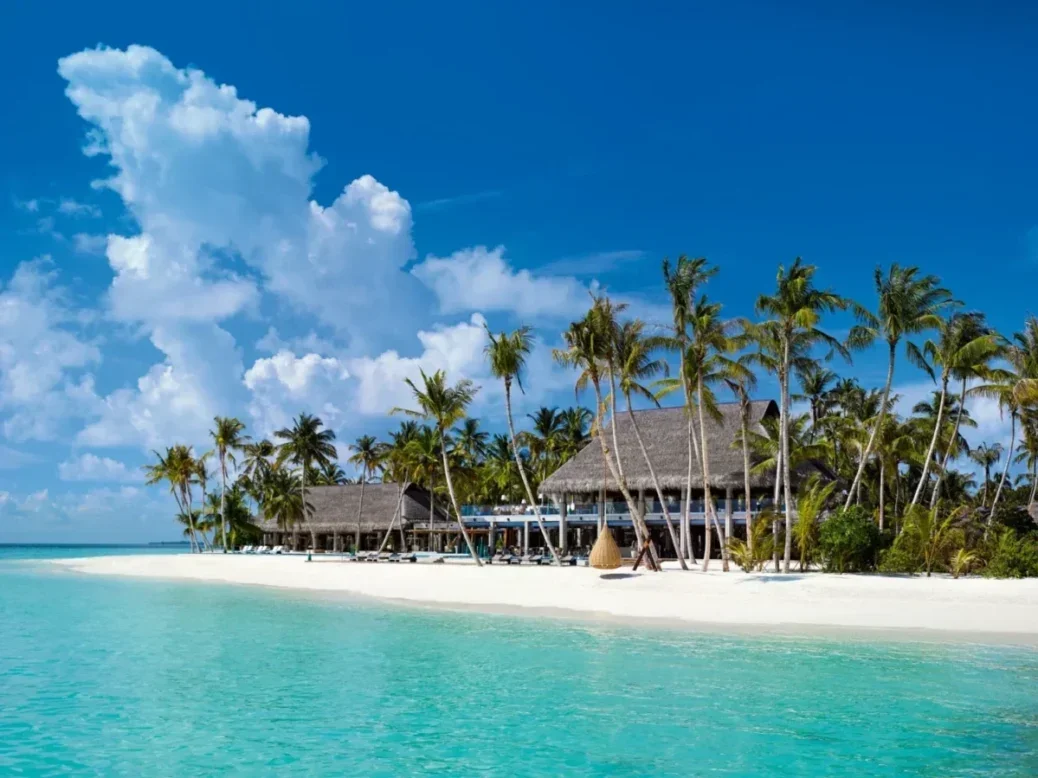 Look at the resume of Wayne Milgate, the general manager at Velaa Private Island, and you'll be taken on a journey around the globe. His career has spanned some of the world's most exclusive resorts – Iniala Beach House in Thailand, North Island in the Seychelles, VOMO Island in Fiji – rubbing shoulders with the upper echelons of society.
But when he was imagining what his life would look like, he never pictured himself in the Maldives. "I never intended to be working here at this stage in my career," he told Elite Traveler. "My wife and I thought we'd like to work in the Maldives together but life happens and we had kids and you get older and you think that ship's sailed. I was never attracted to working in the Maldives until I found Velaa."
In fact, Australian-born Milgate turned down the opportunity not once, but twice. It was only after months of back and forth between Milgate and the owner, followed by a stay at the property, that he changed his mind.
He said: "The sense of belonging and the way that staff interacted with you was something different. I felt this soul in Velaa, this genuine sense that people wanted to belong."
Joining Velaa, which he describes as like a small town, in 2021, Milgate had his work cut out for him. While he came armed with a wealth of experience in luxury hotels and resorts, the pandemic was something that no one had prepared for.
Impressively, though, Velaa never closed its doors. Discussing the appeal of the resort, Milgate describes how it acted as a "safe haven" for guests. Staff were given supplies of testing equipment, staying on the island for extended periods of time to limit contact with outsiders. He said: "Guests knew that when they came here it was almost like a pre-Covid existence and they were able to enjoy the luxury of Velaa with the confidence that they were safe."
[See also: Fairmont's Andrew Steele: 'Sustainability is Not a Choice']
Nestled within an archipelago of islands that form the Noonu Atoll in the Maldives, Velaa Private Island takes exclusivity to another level. A harmonious marriage of Maldivian culture with contemporary luxury, the island is a boutique hideaway for the elite.
Comprising 47 private villas, houses and exclusive residences, the island escape garners its name from the local language ('velaa' means 'turtle') as generations of sea turtles flock to the island to nest and hatch.
It is that connection to nature and the environment that has spurred on Milgate's latest impressive project. As well as doing the basics like reducing fossil fuels, water consumption and plastic use (as everyone in hospitality should), the team at Velaa Private Island are turning their attention to the Maldives at large.
"We've developed a CSR program and we're working with all the islands in our Atoll to try to educate them," he said. "We're starting with the kids and educating them at school about waste management and the environment, and then we're looking at better quality drinking water, waste management advice and waste management systems."
But what does that actually look like, you might wonder? So far Velaa has offered the island's recyclable bags and stainless steel straws alongside educational programs. Over the coming years, their aim is to connect local communities to experts to ensure that the majority of the Atoll – not just Velaa – is actively engaging in sustainable practices. An admirable ambition.
With one of the most well-stamped passports you'll come across, the GM's career has taken him all over the world (with his family never far behind). He said: "I remember flying back into Phuket [Milgate lived in Thailand before taking on his current role at Velaa] with my kids and we were just counting the countries they'd been in. I think my son at that stage had visited 42 and my daughter about 36.
With such a wealth of travel experience, it would be remiss of us not to ask him about his most memorable experiences abroad. Reminiscing, Milgate didn't hesitate to say Africa: "We were there for over a month and going into some amazing game parks. My daughter at the time was about six, with very long white-blond hair. She was the flavor of the month with all these African kids. She thought she was so popular."
And it is drawing on this vast travel history where Milgate finds inspiration in his career. "I think if you've never traveled it would make it difficult to manage hospitality," he explained. "We all have to remind ourselves that some of the guests have traveled for hours and taken a seaplane for 45 minutes, and had interruptions at airports. When you greet them the first impression is so important because it hasn't been easy for them to get here."
[See also: Owning and Living on Your Own Private Island]
And it's this attention to detail, this "soul", which makes Velaa so special. "Luxury isn't about the best room, it's more than that," he explains. "At this level of luxury it's very hard to impress guests with physical things. I can guarantee you that they have a nicer house, and probably have multiple homes. That's not the reason why people come back. It's about the feeling people have when they're on the island, and that's created by the group of people that we have living and working together here."
It's not just the atmosphere that makes Velaa so special. The island's owner, Czech financier Jirí Smejc, gives Milgate and his team a large amount of freedom. A passion project for Smejc, while he doesn't get a financial return on his investment (the largest one in the Maldives), his emotional reward is vast.
Milgate said: "He feels as though he's providing a livelihood for the 500-plus people we have on the island, and that will affect 10 or so people, so he's providing for up to 6,000 people. The only thing he likes us to do is work within the framework of Velaa, in terms of creating the service culture and the soul and making sure the staff are well looked after – that's one of his biggest priorities."
Currently, the island is closed for a four-month period as construction gets underway on a new wellbeing village. With a focus on eastern medicine and alternative therapies, the new pavilion will be a welcome addition to the already extensive list of amenities. Milgate said: "The wellbeing focus isn't new, but we've taken a different approach. It's not just going to be a spa, it's going to be more than that," Milgate explains. And, if their existing spa is anything to go by, it's going to be extraordinary."