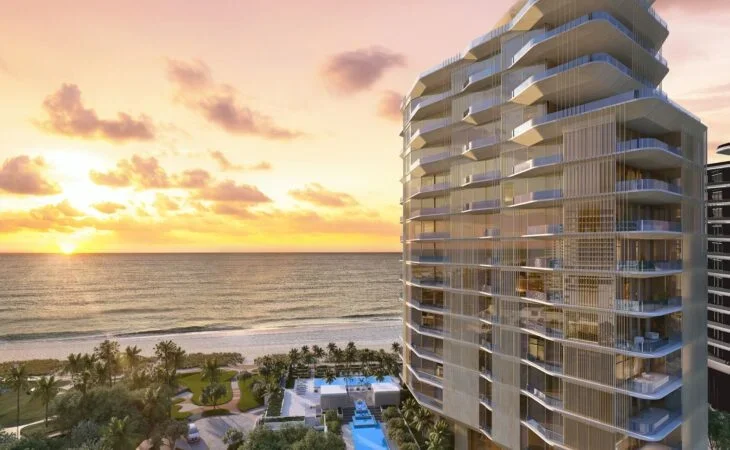 This article contains affiliate links. See our Privacy Policy for more information.
Miami Beach's hottest scene – the thrilling, glitzy Faena District – will welcome in yet another jewel to their luxury hotel and residences collection with the opening of Aman Miami Beach Residences in 2024.
International hotel group Aman's second urban location in the United States – and their fourth in the country in total – Miami Beach follows in the footsteps of Aman New York in bringing the brand's ethos of luxurious serenity right to the heart of a buzzing metropolis. Located upon the city's iconic Collins Avenue, the launching of ocean-facing, beach-touching Aman Miami Beach promises to only further the already sizzling vibrancy of mid-town South Beach.
Designed by the internationally celebrated practice Kengo Kuma and Associates, the residences rise up 18 stories in what will be a skyline-defining piece of architecture that will compliment Miami's Art Deco heritage whilst also paying homage to the subtle yet striking aesthetic of the architects.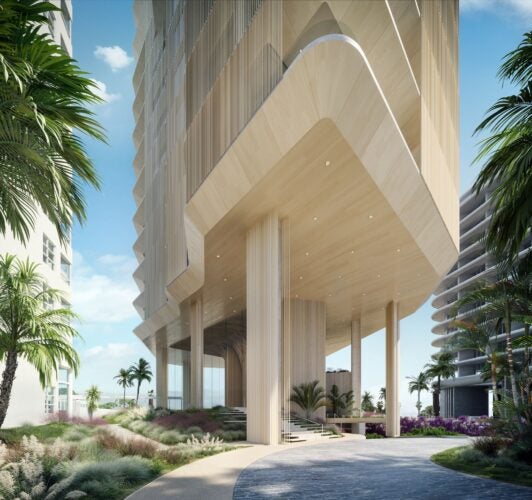 [See also: Aman COO Roland Fasel on How Covid-19 Has Changed Travel]
Merging futuristic minimalism with the clear influences of Miami's gold and azure ocean character, the end result will feature wraparound terraces, floor-to-ceiling windows, and floating timber canopies framing ocean views.
Numbering just 23 fully serviced private homes, Kengo Kuma – who have previously designed projects including the Japan National Stadium and the V&A Dundee – have weaved the Japanese philosophy of wabi-sabi, meaning wisdom found in natural simplicity, into their work.
Looking both revolutionary and yet wholly appealing, Aman Miami Beach will unite that blissful and yet all too rare union of luxury and minimalism, decadence and understatement.
"Aman Miami Beach Residences feature a masterful execution of angular yet soft minimalism through undulating floors that taper gracefully towards the top, allowing for an elegant facade and interior program that communicates through movement and light, highlighting the interplay of luxurious Japanese-inspired materials, while blurring the boundaries between the external and the internal," the Kengo Kuma press office told Elite Traveler.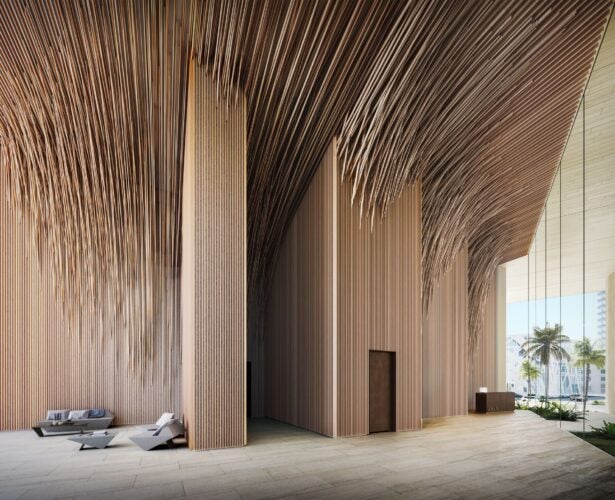 "Kuma's signature approach of "sensitivity to place" is visible throughout the project… Each level's knife-edge slab conveys an illusion of movement and rhythm, mimicking both the natural surroundings and rich urban environment, to marry Miami's vibrant and undulating skyline with traditional Japanese principles, simultaneously creating wraparound terraces and partially sheltering the floor-to-ceiling windows from Miami's permeating sunshine."
Upon walking through the main entrance, residents will be greeted by a parametrically designed, fragmented timber canopy – a 'flying tree', as Kengo Kuma have named it – formed of custom wood lattice work that spins and arches overhead, appearing to float above the light-soaked glass atrium lobby.
Each individual space will feature custom wall treatments, Japanese paper washi screens, and subdued and integrated indirect lighting that will render each home an unparalleled living experience of both beauty and serenity; right in the heart of the fabulous South Beach.
[See also: Introducing Project Sama: The First Aman Superyacht]