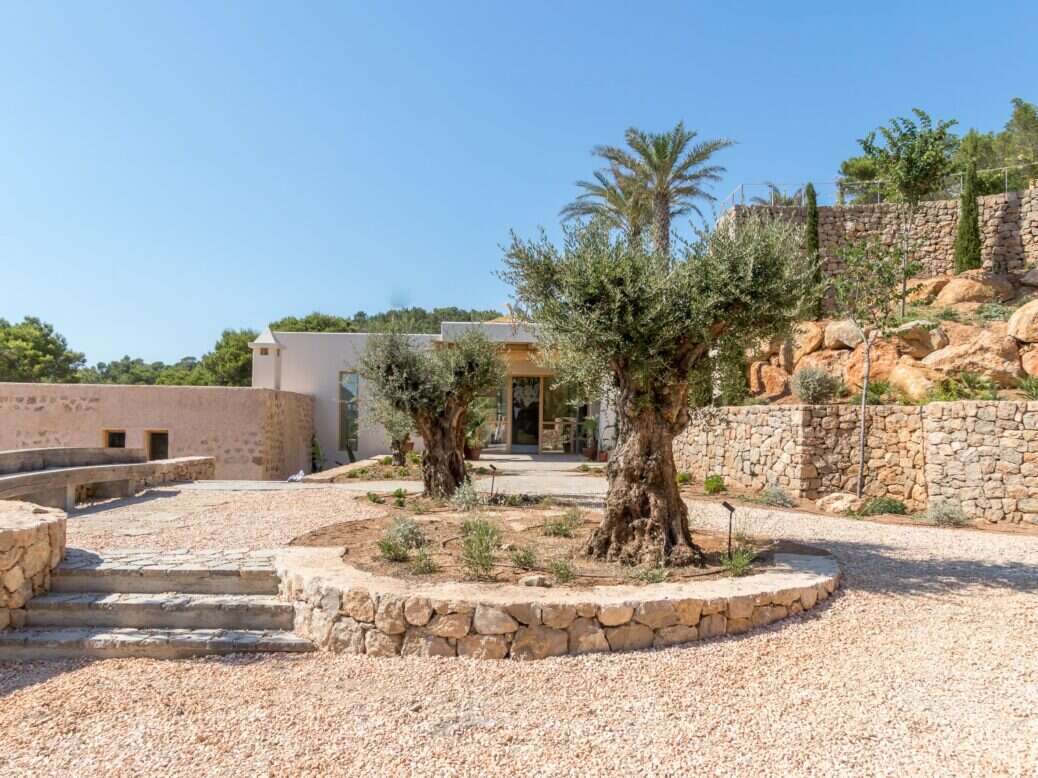 Ibiza has carved out an unrivaled reputation in Europe for its dusk-til-dawn nightlife and star-studded beach parties. But look beyond the bright lights of the city and you'll find the White Isle has another side; one of sleepy coastal villages, yoga retreats and laid-back boho living. Enter Ses Calas.
Nestled in the hills above Santa Eulalia on the island's eastern coast, the sprawling estate is the latest project from Ibizaliving – a local architectural practice founded by Bernhard Rustige. The German designer moved to Ibiza in the 80s with his family to set up the firm and quickly garnered attention with his bold, minimalist design ethos inspired by traditional Ibizan buildings.
Above all, his work follows the principles of sacred geometry – something he describes as 'the blueprint of creation and origin of all form'. By following geometric patterns found in nature and sourcing only the highest quality local materials, Rustige ensures his buildings blend in with their surroundings.
[See also: Six Senses Ibiza Debuts New Collection of Residences]
Ses Calas is no exception. The gravelly winding drive leads up past Frida – a Mexican hacienda-style four-bedroom guest house named after the artist Frida Kahlo. From here, you'll catch your first glimpse of the main house, Diego, which takes its name from Frida's husband, Diego Rivera.  
Surrounded by gently swaying olive and palm trees, the whitewashed property is an oasis of calm. Floor-to-ceiling windows bathe the interiors in sunlight throughout the day and reveal sweeping vistas of the forested slopes below. Décor has been kept to a minimum; simple woven rugs and bespoke wooden furnishings let the views take center stage.
With nine spacious bedrooms, the property is the ideal home-away-from-home to host family gatherings. The kitchen – which opens out onto a terrace – features an original European solid oak table with space for 10 guests.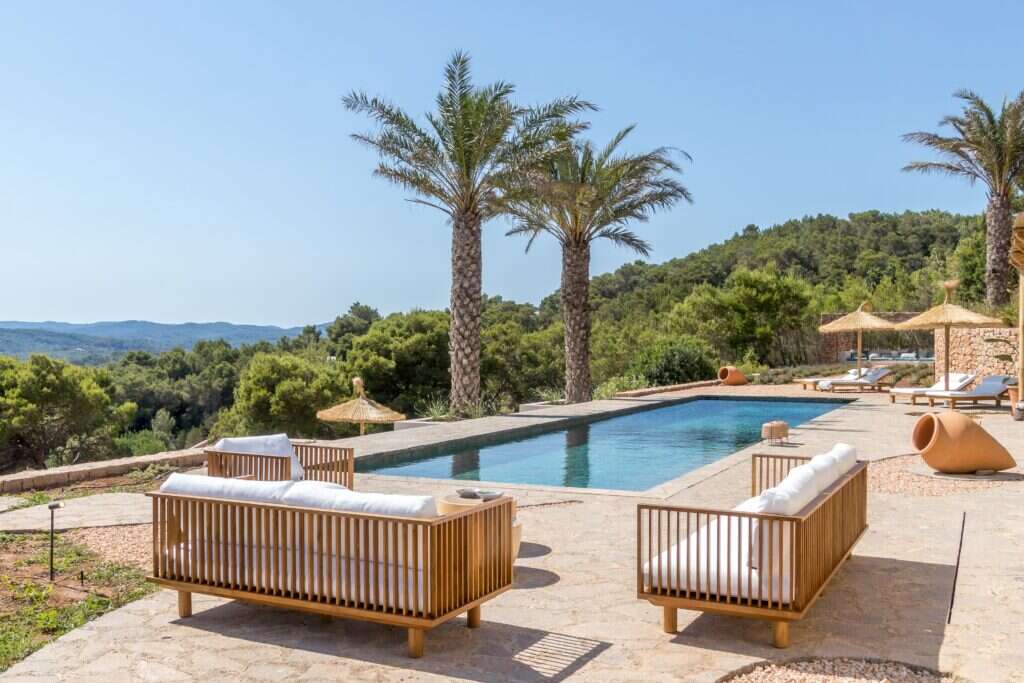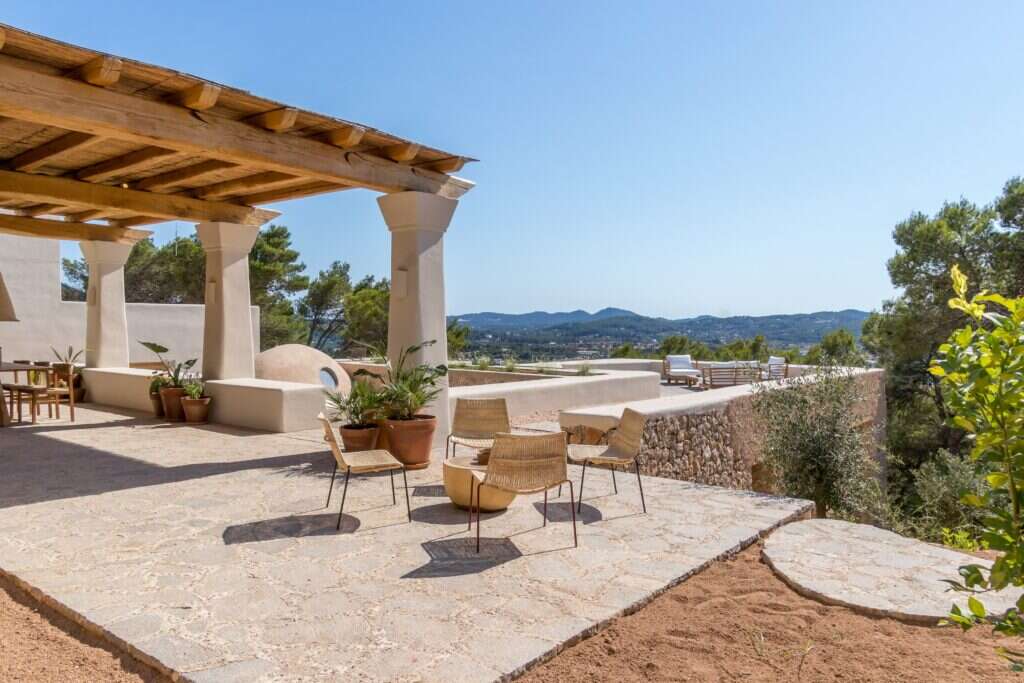 But it is the outdoor spaces that really set this property apart. At the heart of Ses Calas you'll find a beautiful walled courtyard complete with an ancient fountain and stone sundial.
The estate also features four terraces – each boasting stunning views of the mountains and Mediterranean Sea – and a 59-ft rust-green swimming pool dotted with loungers and straw sunshades. Elsewhere, a private footpath leads up the mountain to a yoga deck and hammock – the perfect setting to watch the sun rise over the coast.
"The true magic of the property can be felt more than it can be seen, as every material was sourced intentionally with style and sustainability in mind," says Charlie Hill of Charles Marlow.
"Everything from the orientation to the build dimension has been planned in alignment with universal laws and sacred geometry and you really do feel it as soon as you enter. Ses Calas is a true sanctuary in an unrivaled setting."
Boasting 12,421 sq ft of indoor space set within an enormous 263,209-sq-ft plot of land, you would be forgiven for rarely stepping foot outside Ses Calas. When you do, however, the estate is located close to Santa Eulalia – a laid-back town with an array of gourmet eateries, galleries and artisan shops.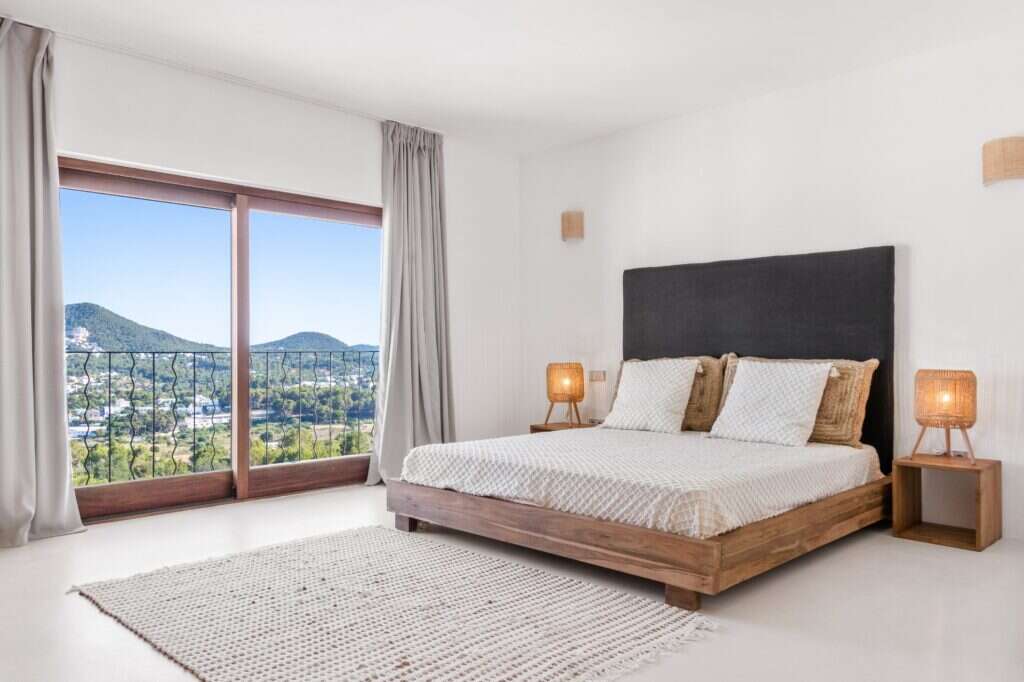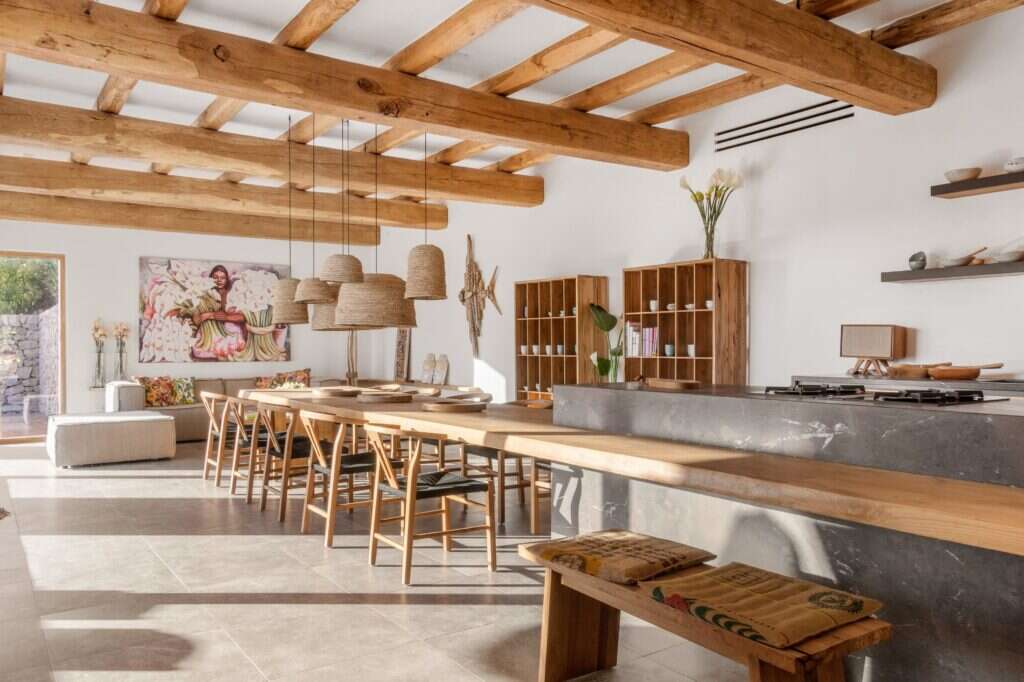 Ses Calas is on the market for €10.8m (approx. $10.6m) at charlesmarlowibiza.com
[See also: The 5 Best Restaurants in Ibiza]