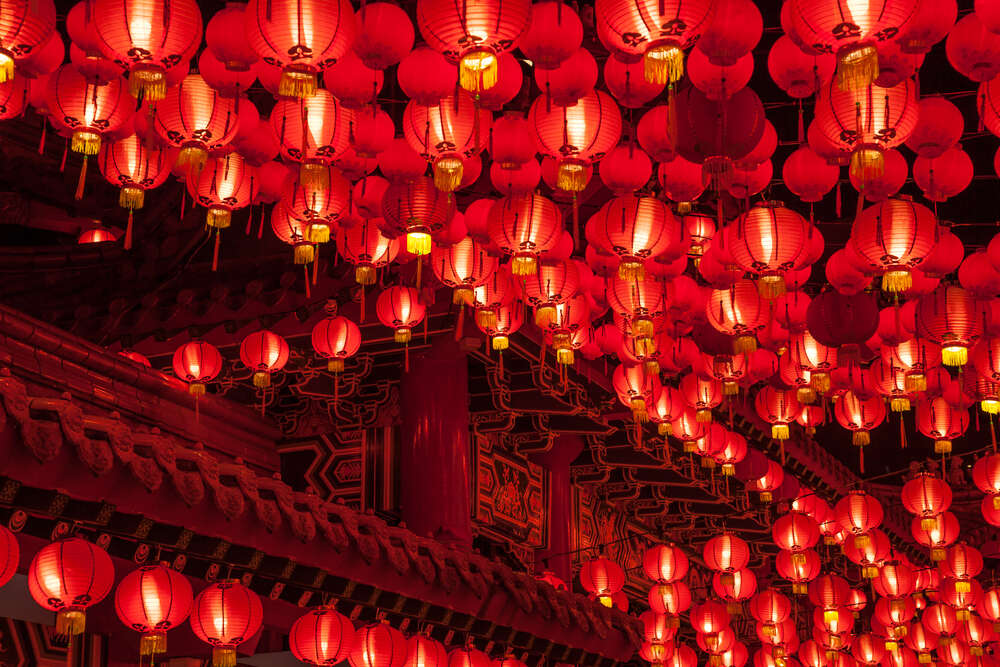 As a new moon appears in the sky on February 12, 2021, an estimated 1.5 billion people will be welcoming the Lunar New Year, ushering in the Year of the Ox. And there are countless Lunar New Year customs and traditions associated with the holiday.
Despite being most commonly known as Chinese New Year, traditional Lunar New Year celebrations do not just take place in China but in fact across much of Southeast Asia, including Brunei, Malaysia, North and South Korea, Taiwan and Vietnam, all of which observe the start of the new lunar calendar with a public holiday. Countries with a large Southeast Asian diaspora such as the UK, US and Australia also mark the Lunar New Year with large-scale celebrations. Festivities last around 15 days or until the full moon; for 2021, this will be February 26.
Even though celebrations, rituals and customs vary from country to country, this annual holiday will typically see friends and family get together with gift-giving, food and drink all playing important roles. Here, we take a look at some of the traditions associated with Lunar New Year.
[See also: Lunar New Year Traditions Around the World]
Reunion dinner
One of the most treasured Lunar New Year traditions is the reunion dinner, which is celebrated throughout China and Vietnam. Held on New Year's Eve (this year it will be February 11), the most important meal of the year sees family members young and old gather together and enjoy a delicious feast. The table is usually packed full of multiple delights, with pork, chicken and fish all typical. Much of the food served is steeped in symbolism. For example, in China, dumplings are eaten to bring wealth and long noodles for long life, whereas in northern Vietnam, no table is without banh chung, a sticky rice cake containing pork, the making of which is seen as a way to express gratitude to ancestors.
Red envelopes
Giving a red envelope containing money, known as hóngbāo in Mandarin or lai see in Cantonese, is a Chinese tradition of Lunar New Year that is also common practice among Chinese communities across Southeast Asia. Every Lunar New Year, children and younger unmarried adults are gifted red envelopes containing "lucky money" by their parents and older relatives. These red packets are often decorated with gold and intend to represent good wishes for the year ahead (red symbolizes happiness and luck in Chinese culture). While this ancient tradition tends to center on children, it is customary to give red envelopes to friends, colleagues and other family members.
There are multiple legends surrounding the origins of the Lunar New Year tradition, but the most popular is probably that of an evil spirit called Sui, who was said to appear on New Year's Eve to harm children as they slept. As a result, parents would encourage their children to stay up all night. One new year, it is thought a child was given eight coins to play with by his parents to help him stay awake, but when he eventually fell asleep, his parents wrapped the coins in red paper and placed them on his pillow. When Sui appeared at the child's bedside, the coins radiated a strong light that drove the evil spirit away. The Lunar New Year red envelope is said to be an evolution of this and is sometimes referred to as yasui qian or "suppressing ghosts money."
Fireworks
The Lunar New Year has become synonymous with firework displays of epic proportionst, and this tradition also originates from Chinese mythology. It is thought a ferocious beast called Nian who lived underwater would come ashore on the last day of the lunar year and terrorize the local population. However, Nian was scared of loud noises, and villagers were able to scare him off by setting off firecrackers. Today, spectacular firework shows are a Lunar New Year tradition and can be found across China and the whole of Southeast Asia, with Singapore and Hong Kong offering particularly dazzling displays.
[See also: Lunar New Year: Year of the Ox Gift Guide]
Lantern festival
Usually celebrated on the 15th day, the lantern festival is known as Yuan Xiao Festival in China or Chap Goh Meh in Malaysia, Singapore and Indonesia. The festival marks the end of Lunar New Year celebrations and the first full moon of the first month. It was thought to have originated over 2,000 years ago during the Chinese Han dynasty, when Buddhist monks lit lanterns to honor Buddha. This Lunar New Year tradition is a feast for the eyes, as houses and streets become adorned with lanterns in all different shapes and colors as well as huge displays taking place across the region and beyond. The Taiwanese lantern festival is big news, with the country's tourist board hosting the official display in a different city each year. Creatively shaped lanterns, lights and lasers fill the sky, with one huge bamboo lantern based on the year's zodiac taking center stage. In Hoi An in Vietnam, this traditional Lunar New Year festival takes place on the 14th day, with colorful lanterns released onto the Hoi river, creating beautiful reflections on the water.
Tea Ceremony
For centuries, tea has played a central role in cultures across Southeast Asia, with each country possessing its own unique tea culture, including various rituals for preparing, presenting and consuming it. During Lunar New Year, tea ceremonies are widely practiced with family and friends and can be a way to symbolize connection or to offer respect and gratitude. In China, the tea rituals traditionally begin on the first morning of the first day of the Lunar New Year, when younger family members serve their older relatives a blend of sweet tea and offer new year's well wishes. Less formal tea ceremonies are also enjoyed among family and friends throughout the 15-day period.
To celebrate the Year of the Ox, Rémy Martin is blending two fine cultural traditions with the release of its XO High Tea Set. The beautiful red and gold wooden coffret contains a luxury glass tea set, which is perfect for serving tea to family and friends during Lunar New Year celebrations. The set also invites you to try new ways of infusing these two cultures with a bottle of Rémy Martin's XO Cognac Fine Champagne.
One activity that is common during Lunar New Year is to visit markets or temple fairs – similar to the Western tradition of Christmas markets – and pick up prayer scrolls, incense and a sweet treat: a sugar-work animal from the Chinese zodiac. To extend the celebrations, Rémy Martin has teamed up with the renowned sugar painter Yajun Sui and Elizabeth Hodes, a self-taught sugar artist, to create a stunning diorama of tea and Rémy Martin Cognac-flavored motifs, inspired by the Lunar New Year tradition of sharing sweet treats. A short film titled Sweet Art, presented by Rémy Martin and produced by creative boutique agency Fred & Farid, details the intricate process. Through the artist's creative journey, the juxtaposition of Chinese and French elegance is merged into over 60 pieces of rich, amber-colored sugar designs. You can view the film below.
Tea for Yu
You can also celebrate the Lunar New Year with a luxurious tea-inspired cocktail. The Tea for Yu cocktail with Rémy Martin XO is bursting with two vibrant citrus flavors in the form of bergamot from Earl Grey tea and yuzu, a fragrant fruit cultivated in East Asia.
Ingredients:
1½ oz Rémy Martin XO
⅓ oz Yuzu juice
¾ oz simple syrup
Squeezed lemon wedge
1¾ oz cooled Earl Grey tea
Splash of ginger ale
Method:
Churn Rémy Martin XO, yuzu juice and sugar syrup in a glass teacup over crushed ice before adding additional crushed ice. Squeeze in the juice of one lemon wedge (and discard) and top with ginger ale.