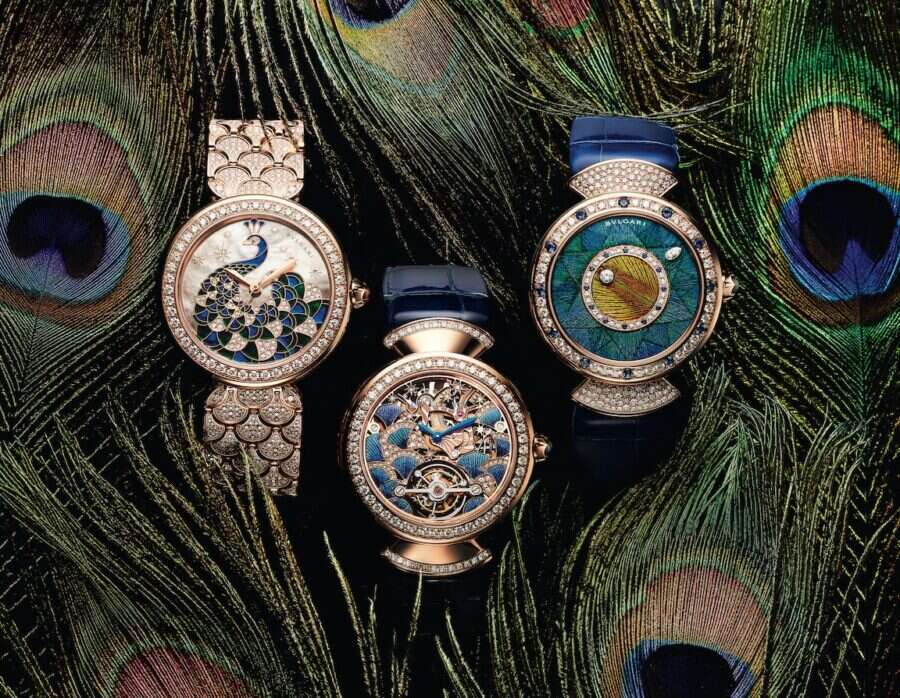 Long forgotten when it comes to mechanics and function, iconic women's watches are getting a grand facelift as more brands pay attention to the demands of today's discerning women. Here we examine the top brands that are trailblazing the way for women's watches. In a world once dominated by men, watch collecting is witnessing a fair share of female watch lovers and connoisseurs joining the ranks.
During the 20th century, most watch brands catered to women by offering dainty diamond-adorned watches or, in the latter half of the century, by creating high-designed gold jewelry watches. Other than that, most of the women's watches on the market were 'shrink it and pink it' versions of the best-selling men's collections.
As the 21st century dawned, several factors — such as the rise of women in important positions in the workplace and the prevalence of the internet for self-education — led to an increase in women watch buyers. They began attending watch seminars and joining collector groups. Granted, the number of women collectors today is still dwarfed in comparison to the number of men, but the point is, women are buying more watches than ever before. They are willing to plunk down their hard-earned thousands of dollars for the right watch — one that offers both brains and beauty.
Another driving force behind the push to create iconic women's watches is the fact that women were double dipping. They could buy the traditional women's watch, but if they didn't find what they liked, they would move over to a 'man's' watch with all the bells and whistles. Savvy brands witnessed this trend and began offering mechanical watches designed expressly for women and introducing complicated watches. Now, as we head into the next decade, certain brands are also pioneering the way in the call for gender-neutral watches, ethically sourced diamonds and women's equality.
[See also: Alexander Schmiedt on Turning Challenge into Opportunity]
Witnessing the evolution of women's watches over the past two decades is an interesting journey. The concept of catering to women in the early 2000s began with high jewelry and designer brands. These houses took jewelry expertise and a passion for working with gold and gemstones, and began shaping women's watches to complement their collections, often turning to quartz movement to enable smaller and thinner watches. And as the jewelry and design houses were snapping up their fair share of female customers, they became more in tune with what women wanted. While brand name and the design of the watches were the first draw for women, mechanics and function also became important aspects. Simply put, women wanted more.
Chanel was one of the first houses to begin creating watches with a perspective other than jewelry for women. It focused not only on the aesthetics, but also on what was inside the watch. On the cusp of the new millennium, in 1999, Chanel introduced its J12 line of 'unisex' Swiss-made watches in high-tech scratch-resistant ceramic. It was a big deviation from the brand's Première cocktail watch, and was the piece that put the jewelry brand on the watchmaking list. Chanel went on to create J12 mechanical watches (working with Audemars Piguet) and even added small complications to the line. By 2013, the J12 was already well-established and, today, the line features Chanel mechanical movements and versions that include chronographs and moonphase complications.
[See also: Only Watch Auction 2021 Raises Over $30m for Charity]
The House of Dior also made strides with women's mechanical watches, and in 2011 surprised everyone with its inverse rotor concept, whereby the rotor (the oscillating weight) of the self-winding movement is placed on the front of the dial instead of in its traditional space on the back of the movement. That way, the Dior artisans could further embellish it with artistic flair while simultaneously showcasing their mechanical prowess. The buzz about how the designer and jewelry brands were winning hearts with their women's mechanical watches took hold.
While brands like Rolex and Blancpain had stayed true to offering mechanical watches, many other brands had embraced the quartz movements of the 1980s — believing that women would not want mechanical watches. They did a rethink and began offering collections that were not miniaturized men's watches, but instead were dedicated solely to women and often housed manual or self-winding movements.
Trailblazers included Jaeger-LeCoultre, which unveiled its first dedicated watch collection, Rendez-Vous, in 2012. The brand focused on good looks and small complications initially, and has since rounded out the collection with high-complications that include perpetual calendars and even astronomical functions. Just a few years ago, venerable watch brand Vacheron Constantin released its Egerie collection for women. The line had been several years in the making, and the brand even turned to an outside team of women designers for creative input. The result was a pleated-looking dial with simple complications such as date or moonphase indications.
Chanel
Chanel J12 Paradoxe watch is crafted in white and black high-tech ceramic and stainless steel. It is powered by the self-winding mechanical movement, caliber 12.1 with hours, minutes, seconds and date indication.
$9,100, chanel.com
Dior
Dior's Grand Bal Parure Tropicale watch uses the inverse rotor of the self-winding movement for elaborate Métiers d'Arts decoration using gold, diamonds, sapphires, emeralds, amethysts, lapis lazuli and more.
Price on request, dior.com
Women's watches of today
Today, we continue to witness the emergence of more serious watches. Many brands are propelling collections forward by adding complications and other features to attract women. Some, like Piaget, work tirelessly on ultra-thin watches, while Cartier, Van Cleef & Arpels and Bulgari released watches with astronomical complications. This year alone, we have seen women's watches with evolved high complications including automatons (watches with figures on the dial that move), tourbillon escapements (that compensate for errors in timekeeping due to the effects of gravity on the wrist), repeaters (that chime the time on demand), perpetual calendars and so much more.
Even Breguet, which released the world's first women's watch in 1812 for the Queen of Naples, unveiled a special timepiece called Reine de Naples Coeur, that boasts a heart motif on the dial that is actually hands that shrink and extend as they revolve around the oval watch to indicate the time. Other brands focus on creating innovative, almost mesmerizing dials using not only diamond- and gem-set dials, but also hand-painting, lacquering, marquetry techniques and more. The concept of Métiers d'Arts watches for women has taken hold and for some brands, the sky's the limit when it comes to the dial as canvas.
In short, brands are becoming more innovative and visionary than ever before in their efforts to give women a mechanical marvel inside and appropriate craftsmanship and functions on the outside.
Bulgari
The Bulgari Diva's Dream Peacock Tourbillon Lumiere deftly demonstrates the brand's technical and artistic prowess. The skeletonized manual-winding mechanical watch is equipped with a tourbillon escapement. The dial is set with natural peacock feather marquetry and diamonds. Just 10 pieces will be made.
$151,000, bulgari.com
Vacheron Constantin
Vacheron Constantin Historiques American 1921 watch celebrates the 100th anniversary of this icon. With 40mm cushion-shaped case and off-center crown, the watch is crafted in platinum and is powered by a mechanical manual-wind movement.
$49,700, vacheron-constantin.com
Piaget
Piaget has long been a master at creating ultra-thin watches, and the new Altiplano Tourbillon Aventurine is a superb example of an ultra-thin watch with tourbillon escapement taking center stage at 2 o'clock on the gorgeous aventurine dial — opposite the off-center time indication at 8 o'clock on the dial.
$153,000, piaget.com
Breguet
Breguet's new Reine de Naples Coeur Eternal Love watch boasts an advanced, patented technical system for the mechanical time display. The large heart in the center of the dial is actually a two-pronged hand that expands and contracts as it moves around the oval watch to indicate the minutes.
$41,600, breguet.com
Sustainability
While growth in the women's watch segment over the past two decades has been immense, there is still more work to be done. The future lies in the abilities of the brands to deliver what today's customers want — not only in products, but also with a clean, traceable line of resources that also help empower women.
One of the issues facing the watch world today comes in the form of labeling watches. Assigning gender to a timepiece is becoming increasingly old and outdated. This is especially true for the entire LGBTQIA community that doesn't want to be categorized or labeled. Now, brands have to transition away from the use of terms like 'men's' and 'women's' and promote watches as gender-neutral or unisex.
Another important issue is complying with ethical sourcing for gold, diamonds and gemstones. Many brands have already begun adopting the Responsible Jewellery Council's (RJC) policies and the Kimberley Process — certifying that the stones are ethically sourced. But some brands are going above and beyond certifying the diamonds and are looking to have a transparent trail of the gold and other metals used in watches. Brands are also looking to improve their carbon footprint, and many are working on recyclable packaging and displays.
Inclusivity and equality
Some companies are promoting gender equality and empowerment for women by highlighting well-known women who work to support inclusivity and women's rights. Last year, Breitling, which has a 'squad' concept for its marketing efforts, introduced its Spotlight Squad. It consists of three women chosen for being at the top of their fields and for using their status to back important causes.
Actress Charlize Theron, a UN Messenger of Peace, is all about promoting women's rights and LGBTQIA rights. The Charlize Theron Africa Outreach Project supports African youths in the fight against HIV/AIDS, and her newly formed Together for Her raises awareness of domestic violence during Covid-19. Also on the Spotlight Squad is American ballerina Misty Copeland, who fights for inclusion, equality and diversity, and Chinese actress Yao Chen, who works to help raise awareness of the plights of women and children globally.
On a similar mission, Zenith unveiled its Dreamhers campaign in 2020 that honors women from around the world for accomplishing their goals and for trying to be role models. The campaign features different women from all walks of life who have overcome obstacles to follow their passions. Among them: Laetitia Guarino (a former Miss Switzerland who is now a medical doctor), American ballet dancer Precious Adams (who champions diversity and inclusiveness) and Amandine Chaignot (a famous French chef).
[See also: Beautiful Women's Watches Featuring High-Tech Gold]
Cartier established the Cartier Women's Initiative in 2006 with the goal of "driving change by empowering impact-driven women entrepreneurs." The Initiative is an international program designed to help women-run and women-owned businesses that have a strong sustainability or environmental impact. Every year, the program selects 24 fellows and provides them with financial, social and other support to develop their business and leadership potential. There are several different types of awards, including Regional Awards. The theme for 2021 was focused on scientific and technological innovation.
Bulgari has long supported women's rights, artistic programs for children and a host of cultural efforts. Recently, the brand worked to create the Bulgari Women & Science Fund to Accelerate Covid-19 Research at Rockefeller University. The fund will help subsidize the university's research initiatives over the coming three years as they pertain to the virus. Part of the initiative also establishes Bulgari Women & Science Fellowships for women graduate students.
These are just a handful of brands that support these efforts. While there are more, they are few and far between. As others step up to the plate and make a concerted effort on this front, the hope is that the number will increase tenfold over the coming decade.
Cartier
New from Cartier, the Rotonde de Cartier Astromysterious watch combines a skeletonized manual-wind movement with tourbillon escapement that appears to be floating in space. The platinum watch is finished with an aquamarine cabochon crown and matching blue alligator strap. Just five pieces will be made.
Price on request, cartier.com
A. Lange & Sohne
A. Lange & Sohne's newest Little Lange 1 Moon Phase watch is crafted in white gold with an aventurine dial and moonphase indication. It is powered by an in-house-made manufacture mechanical movement.
$44,900, alange-soehne.com
Van Cleef & Arpels
Van Cleef & Arpels is a master at complicated women's watches and at Métiers d'Arts. This 18-karat gold mechanical Lady Arpels Soleil Féerique watch with incredible gemstone marquetry and plique-a-jour enamel dial is a fine example.
Price on request, vancleefarpels.com