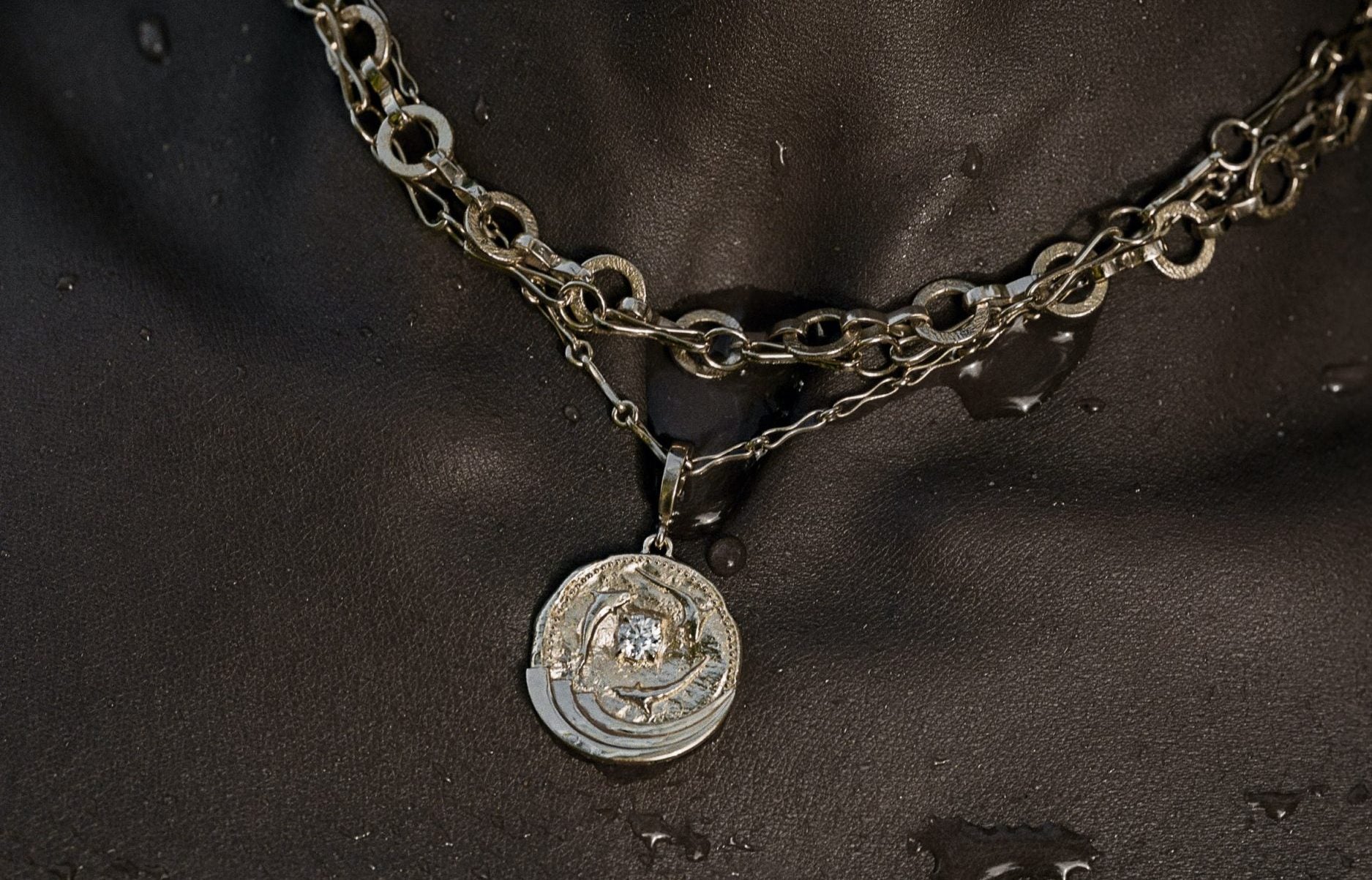 Fine jewelry brand Azlee has partnered with Ocean Diamonds to release a new capsule collection, using only responsibly sourced natural diamonds. The collaboration builds upon Azlee's existing commitment to quality pieces of jewelry that are designed to last, with minimal environmental impact.
Ocean Diamonds are hand-picked from the seabed by professional divers off the shores of Namibia and South Africa. These unique diamonds have been formed across billions of years in the mountains and carried by the torrents of rivers and the currents of the sea, before settling on the ocean floor.
Unlike traditional diamonds, sourcing Ocean Diamonds doesn't require invasive mining techniques. Instead, they can literally be plucked from the seabed with absolutely no impact on the surrounding environment.
Azlee's new collection features GIA certified, VS clarity Ocean Diamonds set in 100% recycled 18k gold and platinum. The sculptural yet wearable pieces take pay homage to the diamonds' ocean home, with distinct curved lines emulating the curve of rolling waves.
[See also: The Sustainable Jewelry Brands You Need to Know]
A portion of proceeds from the collection will be donated directly to Heal the Bay, a non-profit environmental organization dedicated to ensuring the waters in the Greater Los Angeles area are safe, healthy clean for the benefit of the people who use them and the wildlife that inhabits it.
Ocean Diamonds' relatively new method of diamond procurement offers an alternative to lab-grown and mined diamonds, both of which pose significant environmental concerns. While lab-grown gems are undoubtedly more ethical than mined diamonds, as well as causing less damage to the natural world, concerns are growing surrounding the amount of energy consumed in their production.
While Ocean Diamonds isn't the only company sourcing diamonds from the sea, it is the only one that does so with such diligence. While larger organizations may comb through the seabed with intrusive machinery, Ocean Diamonds employs local, professional divers on small boats to handpick the precious gems, with a rigorous documentation process in place for each diamond sourced.
[See also: Behind the Scenes at Anthony Lent's Jewelry Workshop]
Once back on dry land, the diamonds are cut and polished by local craftspeople, which not only ensures a transparent supply chain but also supports the local economy and minimizes the carbon impact of transportation. In order to ensure complete traceability and transparency, each diamond comes with a certificate of origin.
"When I started Azlee I felt a huge responsibility to educate myself on the issues that plague the industry that we are in. It's a steep learning curve, it's ever-evolving and I feel like we are still at the beginning stages, but it's remained a priority for me," says Azlee founder Baylee Zwart.
"Knowing where different resources are coming from and the supply chain of those resources is so important to then be able to figure out ways to support vendors who are conducting their businesses as responsibly as possible. It is a push and pull, however, as at the end of the day we are creating a product and there are impacts of that, but ensuring we are doing what we can to lessen those impacts is the goal," she continues.
The Azlee x Ocean Diamonds capsule collection is available to shop exclusively at matches.com.
[See also: The Most Coveted Sustainable Fashion Labels]