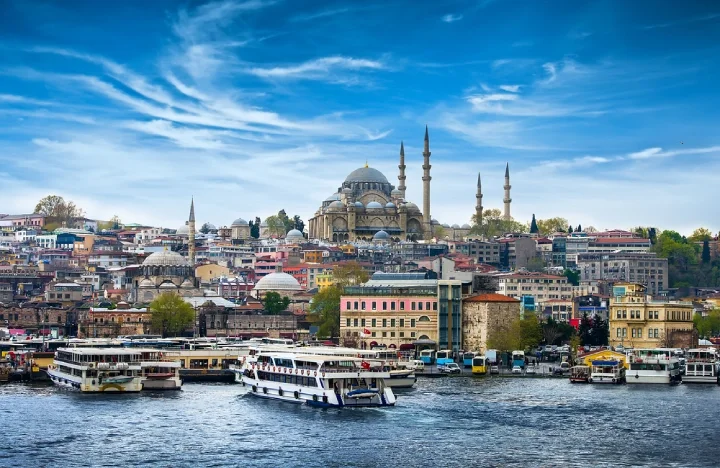 A world of rest, renewal and beauty awaits at the best spas in Istanbul, Turkey. Due to the Byzantine and Roman influences, bathhouses play a significant role in Turkey's rich history. Indeed, over the last 2000 years, spas have been honed into an art form.
Nowadays, tourists can choose from a wide range of renowned spas and massage experts for an experience that feels like peering into the past.
Bathhouses, also called hammams, not only have a long history, but also some rules. In the most traditional ones, men and women have separate sections. However, in smaller hammams with just one bath, men and women need to take turns.
[See also: The best luxury face oils for radiant skin]
Felicity Spa Center
Treatments and facilities: With the aim of alleviating daily stress and fatigue, Felicity Spa offers a range of treatments. From body care programs, to massage therapies and treatments with aromatic oils, there is a vast choice.
The experienced staff comes from countries like Indonesia, where spirituality and a healthy mind-body relationship are worshipped. This is why Felicity Spa also offers physical regeneration and spiritual purification services.
This spa's services include massages, Turkish baths, skin care and facials, an open swimming pool surrounded by greenery, a wooden old-style sauna to relax, a steam room and a relax area, where one can read a book or rest after or before a treatment.
Signature treatments: Felicity Spa offers a unique service in Istanbul, which is includes a Turkish bath, a scrub and foam massage, an aromatic oil massage, coffee and clay massage, sauna, skin care, as well as manicure and pedicure.
Sanitas Spa & Wellness at the Çırağan Palace Kempinski Hotel
Treatments and facilities: Managed by Sanitas, the Çırağan Palace Kempinski spa offers a state-of-the-art wellness centre and personal trainers.
In addition to beautiful massage rooms, the Spa offers an in-room service for hotel guests. There is a whirlpool and a heated outdoor infinity pool which is open all year round with stunning views of the Bosphorus Strait. For outdoor treatments, there are private cabanas by the poolside, where sweet floral scents from the palace gardens intermingle with the massage oils' calming aromas. Located in an Ottoman palace, the spa has a historic Hammam which offers treatments worthy of a sultan.
Signature treatments: Sanitas's Special Turkish Bath Ritual begins with a glass of wine. Hot steam in the Hamam helps loosen the muscles in preparation for an exfoliating and cellulite-reducing scrub. A grapeseed, coffee, brown sugar or honey crystal body peel is followed by an aromatic foam rub. The treatment finishes with a relaxing and luxurious oil massage.
[See also: The 5 best restaurants in Mumbai]
Spa at the Ritz-Carlton
Treatments and facilities: The Spa at the Ritz-Carlton offers a full range of sophisticated beauty and wellness treatments in addition to its special signature therapies.
Guests can relax in the indoor pool, complete with a bar providing light snacks and healthy drinks, and there's a sauna, steam room, and whirlpool. The spa is also equipped with a state-of-the-art fitness center offering a wide range of personal training options.
Signature treatments: This Spa offers an innovative and exclusive massage treatment using South Pacific lava shells. The tiger clam shells, which are naturally self-warming, are gently smoothed over the body with varying pressure and techniques to reach even the deepest aches and pains. Together with hydrating oils, the warming energy of the shells helps to revitalize and rebalance both body and mind.
Hurrem Sultan Hammam
Treatments and facilities: A visit to Istanbul is only complete once you have taken part in the transformative pleasures of a traditional hammam (Turkish bath).
Situated in one of the most beautiful and spiritual locations in Istanbul, between the Hagia Sophia and Blue Mosque, the Ayasofya Hürrem Sultan Hamam has recently been restored to its original grandeur, last seen in the times of the sultans. The Hamam was originally commissioned by Sultan Suleiman the Magnificent for his beloved wife Hürrem Sultan and built by the renowned architect Sinan. You now have the chance to be transported to a more romantic time under the same domes where sultans used to bathe and where today you can rejuvenate your senses and imagination along with your body and mind.
Signature treatment: Elixir of Life – Complete with golden bowls and silk wraps, the Elixir of Life experience is as luxurious as it is historical and romantic. You start by relaxing on the hot marble stone which releases toxins and prepares your skin for the hammam attendant to exfoliate your skin and then soothe and moisturize it with a redbud essence clay body mask. You are then treated to a cleansing wash with scented olive oil soap and redbud essence shampoo and conditioner followed by a relaxing head and neck massage. Afterwards you are massaged into bliss with an aromatherapy massage within the Sultan's Room until finally, you soak up the history and beauty in the resting space with luscious snacks and drinks.
NUSPA
Enjoy magical touches in NUSPA's urban atmosphere
"I listen to my breath as all my senses are indulged. I'm somewhere else, someone else…"
NUSPA, part of Mars Athletic Club (MAC), has been welcoming members and visitors since 2007 with its unique concept in spa therapy. With black, tranquil interiors, NUSPA has a calming yet urban atmosphere and has become famous for its Far Eastern massages and stress-relieving therapies. NUSPA therapies use natural products to ease tense muscles and soothe the aches of daily life, with highlights including the Nu Signature Therapy, Ayurveda Therapy, Hot Stone Therapy and Thai Therapy.
NUSPA offers four types of therapy session using Dr. Murad skin care products:
Pure Vitamin C Antioxidant Skin Care for a healthy glint on your face
Exfoliating Pomegranate Skin Care for a purified, clean face • Exhilarating Intensive Anti-Ageing Care for dry and pale skin
Exfoliating and Invigorating Special Care for men wanting to soften rough skin
Treat your loved ones with the NUSPA gift card…
Let that special someone choose from NUSPA's extensive skin care range with the NUSPA gift card. A day of indulgence will linger long in the memory…