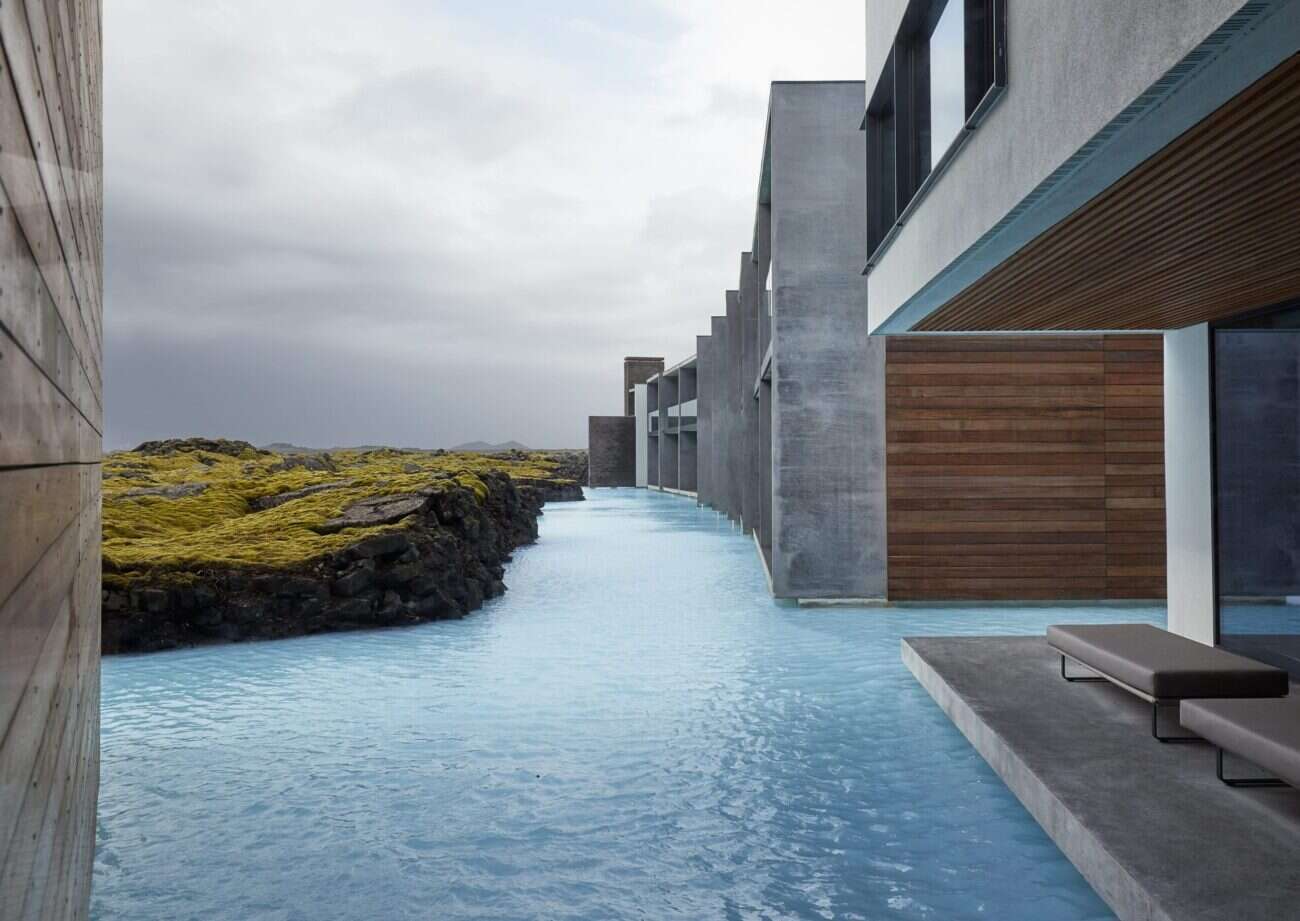 Touch. I'm craving it. Having experienced the first part of a pandemic that hasn't quite expired and having forgone my frequent spa habit for so many months, I'm inclined to agree with the words of chess champion Bobby Fischer who wrote: "Nothing eases suffering like human touch." As the world heals, and the best spas in the world reopen and reimagine themselves, we're all likely to turn to our preferred vitality sanctums with renewed gusto, hoping to have our suffering eased.
What we'll find when we do will be the continuation of an eco-conscious and sustainability trend that had already begun, but has been accelerated by Covid-19's unique circumstances. Susie Ellis, CEO and co-founder of the Global Wellness Institute and Global Wellness Summit, notes that consumers will continue to "demand more sustainable products and offerings from the wellness industry, and wellness companies must walk the walk in their green commitments."
When you're ready for your reboot, these environmentally forward spas care about you, and our world, too.
Retreat at Blue Lagoon, Iceland
Find the cure for almost anything at The Retreat at the Blue Lagoon, a polished eco-haven set amongst centuries-old, moss-covered lava fields surrounded by ancient volcanoes. On the banks of the nation's storied geothermal Blue Lagoon, Iceland's most oft-visited site, The Retreat pampers guests with stylish interiors, private lagoons, locally sourced cuisine and a stunning subterranean spa. Its abundance of nooks, saunas, lairs of quietude and cave-like dens encourage well-being.
[See also: Dive with Humpback Whales in Black Tomato's New Iceland Itinerary]
Enjoy The Ritual, a self-administered treatment in three (slathered-on) phases: house-made lava and mineral-infused salt; algae (specific to the lagoon); and creamy silica for the gift of renewed skin. Or, partake in an in-water massage, as you are suspended blissfully by your therapist in the lagoon.
With sustainability and a minimized environmental impact as the fulcrum of its philosophy, the Blue Lagoon complex harnesses the power of geothermal seawater for 100% of its electricity, heating and hot water. Its lauded products utilize green production methods, as does its heart-quickening architectural design. When not soaking in the milky blue waters (known to improve skin ailments such as psoriasis), join staff for a hike in the surrounding lava fields, for yoga in the window-walled studio, or wine tastings in the romantic wine cellar.
Contact retreatspa@bluelagoon.is, +354 420 8700, bluelagoon.com
The Resort at Paws Up, Montana, USA
In Montana's breathtaking hinterlands, on the boundless, pine-crowded, wildflower speckled, cowboy-intoned luxury guest ranch known as Paws Up, a collection of tents serve as a swanky spa. Known as Spa Town®, this permanent pop-up, a minimal footprint wellness zone, lies in a bucolic meadow. Part of this renowned dude ranch's treasure trove of activity options, Spa Town® uses little power or air-conditioning. In fact, most of the energy expended happens when therapists lift the flap of the tent for you to enter so they can knead your weary muscles from agony to ecstasy.
Many treatments utilize plants picked straight from the ranch's garden; one popular option, Paws Up Signature Body Scrub Bar, proffers an array of indigenous, seasonal products—honey, herbs, flowers, oils and exfoliants — to slough away dead skin cells, finished with a body butter massage.
During your stay, find the wilderness' own medicine when you hike, horseback ride, fly fish or river raft through the rapids. Back at your suite, which might be a glamorous tent by the Blackfoot River; a sequestered, art-filled cabin in the woods; or a contemporary treehouse (brand new at the adults-only 'green o' camp area), tranquility — and an endorphin high — will be the order of your day.
Contact Brittany Bauer, reservations manager, theresort@pawsup.com, +1 866 915 5122, pawsup.com
Six Senses Fiji, Fiji
As a far-reaching wellness brand, with spa resorts around the world from Thailand to Turkey, Six Senses stands out as a pioneer in eco-friendly, sustainable hospitality. Driven to manifest and support the concept of 'sense of place' in the communities they occupy, each hotel looks to its location to assemble the pieces of its environmental programs. As it says on its website: "Sustainability is not something that we do, it is who we are." Indeed, the brand, known for its barefoot-chic ethos, proves that travel can be meaningful even while being opulent.
Free from waste, toxins and plastics (aiming to be plastic free by 2022), each Six Senses resort hires locally, builds renewably and spends funds on local environmental projects. To highlight just one of their stellar hideaways — each with eyebrow-raising accomplishments — leaves so many out of the discussion, because every Six Senses follows a company criterion of world-transforming standards and environment-preserving canons.
Nevertheless, eco-award-winning Six Senses Fiji, an oasis on paradisiacal Malolo Island, reigns for its esteemed green efforts. This includes conserving energy and rainwater to make high-quality drinking water and to grow organic produce. They boast one of the largest off-grid solar installations in the southern hemisphere (using Tesla batteries), which allows the sun to produce 100% of the resort's power, including the on-property desalination plant. In the spa, the Alchemy Bar encapsulates the location's natural gifts with local herbs, flowers, salts and fruit, allowing guests to craft their unique scrubs, masks and unguents.
Contact Frans Westraadt, general manager, reservations-fiji@sixsenses.com, +679 666 5028, sixsenses.com
The Brando, Tetiaroa, French Polynesia
Just as Marlon Brando did, you'll fall in love at first sight with Tetiaroa, the silver screen star's island, home to his eponymous, untrammeled retreat. Seen from the air, it looks like a ring's emerald gem surrounded by sapphires. But, Brando might not like that lofty description. He was most entranced by the atoll's organic largesse and simplicity; he pledged to preserve its pristine beauty and mood. Living a simple life on Tetiaroa, Brando aspired to create a self-sustained refuge replete with Brando-style chill and an authenticity that would soulfully recharge guests just as it had refueled him.
Today a leader in sustainability, the LEED platinum-certified resort exemplifies sustainable technology with state-of-the-art features like Sea Water Air Conditioning, a groundbreaking method that pipes cold water from the ocean's freezing depths to cool the island. Along with its abundant solar panels, The Brando uses coconut oil for its generators and grows a large portion of the food it serves.
At Varua Te Ora Polynesian Spa, clean, Tahitian-grown and -made products, such as Monoï Oil (blended with extra virgin coconut oil and island plants, from tiare flowers to pineapple), rule the roost.
Contact Silvio Bion, general manager, reservation@thebrando.com, +689 408 663 00, thebrando.com
Grand Velas Riviera Maya, Riviera Maya, Mexico
La vida es sueño (life is a dream), wrote Spanish poet Calderón de la Barca. Those words become reality as you surrender to enchantment and sangfroid at Grand Velas, a sustainable, all-inclusive resort nestled among the beaches and jungles of the Yucatán Peninsula. Designed to mimic the landscape's footprint and to preserve and incorporate the stones, streams and plants specific to the area, the resort employs vigorous measures to aid in environmental conservation — such as operating its own self-sufficient Reverse-Osmosis Desalting Plants and Co-generation Electricity Plants to reduce dependency on local energy sources.
[See also: The Most Opulent Hotels and Resorts in Los Cabos]
Its SE Spa by Grand Velas, set below ground level to allow a living rock wall with plants and flowers to thrive, has a 40,000-sq-ft Water Lounge with pools warmed by solar panels. Expect treatments that feature products from the earth, traditional in the Mayan culture: corncobs, honey from the local bees, coffee, cacao, vanilla, organic mud, aloe vera and Mayan jade.
The fabled Grand Velas Riviera Maya Water Ceremony, a guest favorite, guides spa-goers through seven different water experiences, each emblematic of the region. At day's end, relax on your suite's private terrace to the cacophony of local monkeys wrestling among the Yucatán jungle's lush foliage in the Zen section of Grand Velas — just steps from the spa. Watch for coati, the world's cutest raccoons, as they roam beneath palapa-covered pathways.
Contact Rodolfo Gonzalez Munguia, managing director, reservationsrm@velasresorts.com, +52 322 226 8689, rivieramaya.grandvelas.com
Coworth Park, Ascot, UK
Time slows down in the countryside. With grounds made for picnics, a history dating back to 1066 and a mansion that has welcomed a slew of royals (including Prince Harry the night before the royal wedding), Dorchester Collection's Coworth Park could easily be another stuffy retreat stuck in time. Instead, this verdant vastness of secret gardens, lavender plots, wildflower meadows and sun-dappled terraces, replete with a polo field and duck ponds, has chosen to honor the terrain with modern, savvy, country elegant awareness.
Staunchly sustainable, the splendid hotel puts eco-loyalty first throughout. All restaurants and the Mansion House are solar-powered and thermally fitted. Rain and surface water drains into the lake, recycled, to be used for irrigation. Most eco-pertinent, planned as a paragon of green, the hotel's Spa at Coworth Park continues to prove that sustainability can be infinitely luxurious. Built with low energy requirements, the spa reuses hot air to heat water and transforms organic waste into compost. Its placement along the sun's path and its purposefully large windows contribute to reducing electricity usage.
A plant- and herb-brimming living roof filters water and air, eco-helping and contributing to the country-style ambiance. Expect organic brands such as Aromatherapy Associates and ishga, and grounding treatments with evocative names like Forest Therapy.
Contact Zoë Jenkins, general manager, reservations.cpa@dorchestercollection.com, +44 134 483 8160, dorchestercollection.com
Lake Austin Spa Resort, Texas, USA
Deeply respecting its sacred location on the shores of Lake Austin and set amid lush hills, a nature preserve and trees that house heron nests, this award-winning destination spa models its soul on the multitude of lake houses where Texans take flight to recuperate from scorching summer days. With a priority to honor the treasures of the surrounding topography, the retreat religiously follows green protocols. Its exemplar organic garden, sprouting on the lips of the lake, produces an enormous range of products used to prepare the getaways' renowned 'Conscientious Cuisine.'
From its widespread bounty (30 types of tomatoes, six cucumber varieties, 20 diverse peppers and more), the canny chef creates dishes such as guilt-free sweet potato falafel or immune-boosting carrot-turmeric-ginger juice shots. Similarly, the Lake House Spa, the jewel in the retreat's crown with serene treatment rooms and a bamboo deck, forages among the garden's yield for some of its 100-plus treatments.
Disciples of proven scientific studies that show how people enhance their health and well-being when in or around water, Lake Austin Spa Resort plunges guests into H20's curative powers. Their panoply of possibilities include, among others: paddleboarding, SUP yoga, wakeboarding, swimming, kayaking, water meditation and sunset cruises. With benefits equally possible shoreside, some guests prefer to rest languidly in waterside hammocks or simply gaze at the glimmer from their suite's ample terrace.
Contact JoAnn Lenhardt, general manager, +1 512 372 7300, lakeaustin.com
The Spa, Four Seasons Resort Scottsdale, Arizona, USA
Some desert oases occur naturally. Though human-built, Four Seasons Resort Scottsdale manages to read like an organic, earth-born phenomenon waiting to offer sustenance and care. In the shadow of ragged-edged Pinnacle Peak, spread across 40 acres of otherworldly desert blooms in the hinterlands of Scottsdale, it melds with the wild-scape.
Spun around a huge pool (the metaphorical oasis), adobe structures hold suites and common areas, including the thoughtful Spa. There, wellness programs have been designed to draw guests into the environment (guided hikes, for example) outdoors, while indoors, desert-imbued treatments put nature's bounty to use. Case in point, the Nopal Massage utilizes the aloe-like innards of local cactus paddles, known to be rich in antioxidants, minerals and vitamins, for a hydrating, renewing ritual. Post-treatment swill? A prickly pear margarita, of course — or nopal water for the virtuous.
Contact Erin Jette, travel industry sales manager, Erin.jette@fourseasons.com, +1 480 515 5700, fourseasons.com
Rocco Forte Wellness, Verdura Resort, Sicily, Italy
A haven among olive groves and citrus trees, with breezes scented by the herbs that pepper the terrain (lavender, thyme, oregano), this vitality outpost on the sea, near the quaint fishing village of Sciacca, Rocco Forte's Verdura reigns as the brand's flagship spa retreat.
Architecturally composed to fuse with the rugged, plant-mottled landscape, the eco-modern buildings mirror the resort's sustainable attitudes, which manifest via a slew of attributes: solar panels to produce hot water, recycled water programs and a no-car policy on the property, which means guests gleefully pedal bikes (or ride electric bikes) from pool to spas and beyond.
At the spa complex, the heart of the hotel, Sebastian Kneipp thalassotherapy pools, treatments executed with regional, healing herbs and products, and state-of-the-art fitness and health monitoring bells and whistles rule the day.
Contact Flavia Mazzarini, guest relations manager, fmazzarini@roccofortehotels.com, +39 0925 9980 01, roccofortehotels.com
Vida Spa & Lab, UXUA Casa Hotel & Spa, Trancoso, Brazil
The state of Bahia holds charming Trancoso, a tiny, centuries-old town, home to a car-free, Unesco-listed square. There, expect to be wowed by UXUA, where seemingly small details symbolize the resort's commitment to sustainability. Think wastebaskets woven from the river's overgrown weeds and trash bags processed from recycled paper. Steadfastly eco-dedicated, soulful UXUA comprises restored and redesigned "casas" by savvy Wilbert Das, as well as new-built ones, constructed with reclaimed materials and the ingenuity of local artisans.
With green initiatives aplenty, UXUA helped initiate the Trancoso Fisherman's Association, a collective of 10 fishing boats and more than 100 fishermen, committed to traditional net- and pole-free fishing practices, with goals to help preserve the local ecosystem and maintain bygone traditions.
In the spa, a veritable lab uses responsibly sourced ingredients from the rainforest, such as Brazil nuts and cocoa, to create folkloric treatments, inspired by the local Pataxó People.
Contact Luciana Sae, sales director, luciana@uxua.com, +55 11 99763 6997, uxua.com
Gommier Spa, Secret Bay, Dominica
Architectural plans by notable Latin American architect Fruto Vivas, an unspoiled, mountainous Caribbean island, sustainably created, Guyanese-sourced hardwood, and a forest full of healing plants adds up to one of the most back to nature, albeit breathtakingly elegant, resorts on earth.
With just a handful of precipice-edged suites, each enveloped in nature, the Relais & Chateaux, Green Globe-certified Secret Bay strives to keep the island as wild as they found it. Actions such as replacing plastic, supporting local foods and herbs, rebuilding the surrounding coral reef, recycling, and adopting thoughtful conservation measures (including urging guests to embrace natural light and fresh air to reduce greenhouse emissions) make a difference.
In the Gommier Spa, sustainability translates to house-made oils, tinctures and elixirs, which borrow from the island's ancient bush cures and origins. Try the Volcanic Facial, packed with curative volcanic mud sourced from the isle's Valley of Desolation.
Contact Lenita Norris, concierge, lenita@secretbay.dm, +1 767 445 4444, secretbay.dm
Vida Mia Healing Center, The Retreat, Costa Rica
Positioned on a 50-acre, mystical quartz mountain, overlooking the lush Nicoya Peninsula, famed for its salubrious Blue Zone attributes, The Retreat has merely 13 phone and television free rooms, each centered by a selenite crystal to awaken the chakras. With Pacific Ocean views and briny sea air, this sustainable haven leaves few marks on the surrounding territory.
This wild as possible approach ensures that guests can plug into mother earth's natural rainforest cures. A coffee plantation, organic gardens, jungle-scape, a river and saltwater pools are connected by a criss-cross of pathways.
[See also: The Best Wellness Retreats to Visit This Year]
At the 8,000-sq-ft Vida Mia Healing Center & Spa, guests can receive extensive Ayurvedic treatments, crystal healing, farm-to-spa rituals, chromotherapy treatments and watsu — among other therapies. With 80% of the ingredients hailing from the farm, meals nourish guests organically, without sugar, gluten or processed inclusions. Daily yoga and meditation ensures all guests maintain an eco-caring kind of mind.
Contact Bryant Angulo, general manager operations@theretreatcostarica.com, +1 833 760 4242, theretreatcostarica.com
The Lodge at Woodloch, Pennsylvania, USA
Amid the leafy realms of the rural Poconos Mountains, this hideaway espouses the firm belief that nature is the best medicine. Pledging to always do their part ecologically, the bucolic escape — a short drive from urbane New York — incorporates many eco elements into their 58-room, destination spa portfolio.
While such outdoor activities as forest bathing, medicinal herb walks and even painting outside keep nature close, the restorative hotel has a special sustainable weapon most retreats can't boast about: Blackmore Farm. There, the fully organic farm, helmed by the onsite "Farmiscist", Derrick Braun, armed with a variety of biophilic practices, invites guests to learn to compost, a skill they can take home with them to keep the sustainable trend alive away from the spa.
For his part, Braun composts all food waste, as well as that from Woodloch, the neighboring sister resort. Guests receive reusable water bottles at check-in, with filtered water available in every guest room.
Contact Jenifer Manzione, front office manager, jmanzione@thelodgeatwoodloch.com, +1 570 685 8530, thelodgeatwoodloch.com
AyurMa, Four Seasons Maldives Landaa Giraavaru, The Maldives
AyurMa means mother of life. So, the fact that each day at this Indian Ocean-situated Ayurvedic outpost begins with a daily blessing ritual to invoke the healing powers of nature should come as no surprise. Located at FSLG, the Maldives' only Unesco Biosphere Reserve, thatched-roofed AyurMa unfolds across tropical gardens, piers, and cobalt-colored seas.
The vitality center is founded on the philosophy that nothing in the world operates in a vacuum and that a deep connection with the earth can help us heal. The spa acts as FSLG's luxurious, eco-conscious and healthy heartbeat. A resort, which has exemplified conservation for nearly two decades with projects such as the Maldivian Manta Ray Project, FSLG boasts an on-site Marine Discovery center, home to 10 full-time marine biologists.
Having banned plastic years ago and with the largest resort-based solar installation in the Maldives, FSLG's prescient eco-ethos stands as a prototype for retreats around the world. Those with ample time will enjoy AyurMa's acclaimed 14-21 day panchakarma detox and deep-tissue cleansing programs, and its 3-5 day, one-on-one, yoga therapy clinics.
Contact Armando Kraenzlin, regional vice president & general manager, armando.kraenzlin@fourseasons.com, fourseasons.com, +960 66 00 888
Spa, Coquillade Provence Resort & Spa, France
Vineyards, orchards, fields of lavender, craggy rocks, the sea just a scent away: France's Luberon Valley typifies the Provence of your imagination. There, on a century-old estate, flecked with 300-year-old olive groves, cypress tree alleys and old vineyards, stylish Coquillade Provence Resort & Spa, winner of the European Ecolabel for environmental excellence (2012), uses green electricity (including geothermal heating and cooling), grows its produce on-site, collaborates with NOW, a sustainability platform, and partakes of eco-minded agricultural practices in its vineyard.
Drawing oenophiles, epicureans and spa lovers, Coquillade boasts three on-site restaurants, Its 22,000-sq-ft, award-winning spa is the largest in the region and features restorative experiences, such as Kneipp treatments, fitness retreats and vineyard vistas from its whirlpool.
Contact Nathalie Pilot, sales & marketing director, commercial@coquillade.fr, +33 490 74 71 74, coquillade.fr
The Future Leaders
Following in the footsteps of trailblazers, a new set of luxury resorts is taking sustainability to the next level. Here we celebrate the new kids on the block that have put environmental health at the heart of everything they do.
Cube Spa at Boutique Hotel Alhambra, Croatia
The Hapsburgs had a special name for spa vacations: the kur. It meant a getaway to far-flung regions where clean air, healing plant-filled forests and mineral-rich water served as natural medicine. Today, health seekers from Germanic regions still use the term for those longer vacations with a healing theme. A favorite destination for the regal gang of yore was the island of Losinj, the Adriatic's curative gem, still a place where miracles can happen.
With an astonishing micro-climate, abundant Aleppo pines and legions of medicinal plants, the island also benefits from the Adriatic's briny, mineral and plankton-rich mists, an ever-present, vitamin-charged dose of healing. Recently re-envisioned, Cube Spa at the posh Hotel Alhambra, takes full advantage of its location, sharing a deep kinship with the concept of sustainability and with its history as a wellness institution.
Besides the de rigueur partnerships with green brands, zero plastics and waste and reforestation initiatives, the nature-based spa has such healthy-evoking wonders as an Inhalation Bar, where guests can gather to breathe in the salutary island's mists. Try the Herbs de Losinj Four Precious Plants, a melange remedy that draws from the island's bounty.
Contact Francessco Pantalone, general manager, alhambra.spa@jadranka.hr, +385 51 661 111, losinj-hotels.com
Sense, A Rosewood Spa, Rosewood Little Dix Bay, British Virgin Islands
Laurance Rockefeller had an eye for nature. The philanthropist and wilderness lover lived to immerse in the pristine outdoors and to discover untrammeled places few others had seen. It was his mission to pay homage to each slice of stellar terrain, from Hawaii to the Caribbean, by preserving it from somebody else's ill-intentioned development. Ahead of his time, Rockefeller believed in following a gentle, eco-conscious approach. His environmentally-minded legacy lives on at Rosewood Little Dix Bay, which he founded in 1964 on jaw-dropping Virgin Gorda.
Reopened in 2020 after extensive renovations, the retreat upped its sustainable ante with Treehouse Suites and a sustainable farm, which grows a range of products for the restaurant — from pineapples to avocados. At Sense, A Rosewood Spa, hand-picked Caribbean ingredients star in locally-derived treatments, such as Afri-Cure, a two-hour treat fueled by tamarind, jumbie leaves, papaya, sea salt and lemongrass.
Contact Andreas Pade, managing director, littledixbay.reservations@rosewoodhotels.com, +1 284 495 5555, rosewoodhotels.com
Six Senses Spa, Six Senses Ibiza, Spain
Ibiza, the best known of Spain's Balearic Islands, draws jet setters for its hedonistic nightlife. But the scenic island has a meditative side, too, as evinced by Six Senses Ibiza, a BREEAM certified resort. With a variety of sea-facing rooms, including luxurious sea cave suites, the ultra-green hotel uses sustainable and locally sourced materials.
Powered by its own renewable energy source, it has zero waste and gives back to the community in various ways— including its support for an adorable hedgehog preserve. The 12,000-sq-ft Six Senses Spa takes advantage of Ibiza's spiritual environs, proffering a layered approach to wellness, which incorporates the outdoors.
Multi-day "immersions" (each offering packed schedules of activities from yoga to gardening) and customized individual treatments pay homage to the resort's clean ethos. Of note RoseBar, a "longevity lounge", guides guests in nutrition, holistic anti-aging and modern healing activities.
Contact Franco Cassinelli, guest experience manager, reservations-ibiza@sixsenses.com, +34 871 00 56 00, sixsenses.com
Paradero Todos Santos, Baja California, Mexico
Redefining spa to mean participative wellness (rather than passive, as in "receiving" a facial), this sustainable powerhouse in Todos Santos, on the Baja Peninsula, has created a vitality program, which begs for guests to be mindfully and physically engaged. Thus, rather than massages at Paradero Santos, guests can get centered with yoga, raise their heart rate with a hike, become stronger in fitness classes and detox and recalibrate in a traditional Mayan Temazcal ceremony.
Opened in February 2021, the brainchild of two eco-driven Mexican entrepreneurs and financiers, Paradero Todos Santos makes clear that outdoor experiences complement and encourage sustainability, conservation and community development. The resort, an 80% landscape / 20% construction project, celebrates nature and locale by keeping the environs, a farming area, unscathed and by maintaining the hotel as natural and "al fresco" as possible.
Contact Baltazar Gomez, sales and marketing manager, baltazar.gomez@paraderohotels.com, +52 55 700 55 094, paraderohotels.com
Atlantis Spa, Palmaïa – The House of AïA, Mexico
Touted as "a paradise of eco nuances" the unique and powerfully transformative Palmaïa – The House of AïA stands alone in its authentic offerings for guests seeking inner knowledge and pathways to change. Led by "architects" or spiritual guides, the resort provides opportunities for guests to explore life's deeper meaning through exercises of the mind classes (meditation, for example), movement courses (dance, and more), rituals (healing ceremonies) and readings to help redirect and provide understanding (tarot or astrology).
All this happens amid the progressive wellness resort's sumptuous jungle and beachside setting near Playa del Carmen, where worship of the earth is paramount to the retreat's goals and convictions. Powered by 100 percent clean, renewable energy, Palmaïa will reduce its output of carbon emissions by more than 56,000 metric tons to become the largest property in the region to switch fully to renewable energy.
Green initiatives also include plant-based food at all dining outlets and vegan-friendly suites. At the spa, try the grounding, detoxifying Mezcal Body Treatment for indigenously-inspired renewal.
Contact Tania Luna, spa manager, tcarolina@thehouseofaia.com, thehouseofaia.com
And an honorable mention…
Anantara Spa, Anantara The Palm, Dubai
We could not look past Dubai Tourism and its dedication to setting a worldwide gold eco-standard. To wit: they've recently announced a mandate, which requires all hotels to comply with the highest sustainability levels — a move meant to realize the exemplar goal to be the world's most sustainable tourist destination. There's a long way to go, but this is a significant first step.
[See also: The Most Luxurious Hotels in Dubai]
While Anantara Hotels, Resorts & Spa luxury hotel group as a whole long has been eco-conscious, its Dubai-sited Anantara The Palm is an eco paradigm. With the only overwater bungalows in Dubai and prime beachscape, the retreat has been awarded Green Growth Certification by the Green Growth 2050 council.
Moving to cut its power consumption by retrofitting LED lighting throughout the property, as well as reassessing how its chilled water systems operate, plus utilizing high-intensity equipment for fewer hours, Anantara The Palm continues to make strides in reducing plastic. In the lavish Anantara Spa, ecological Phytomer products, rife with marine and vitamin-rich raw ingredients, packed in recyclable materials, re-enforces the trend.
Contact resdubaipalm@anantara.com, +971 4 567 8999, anantara.com