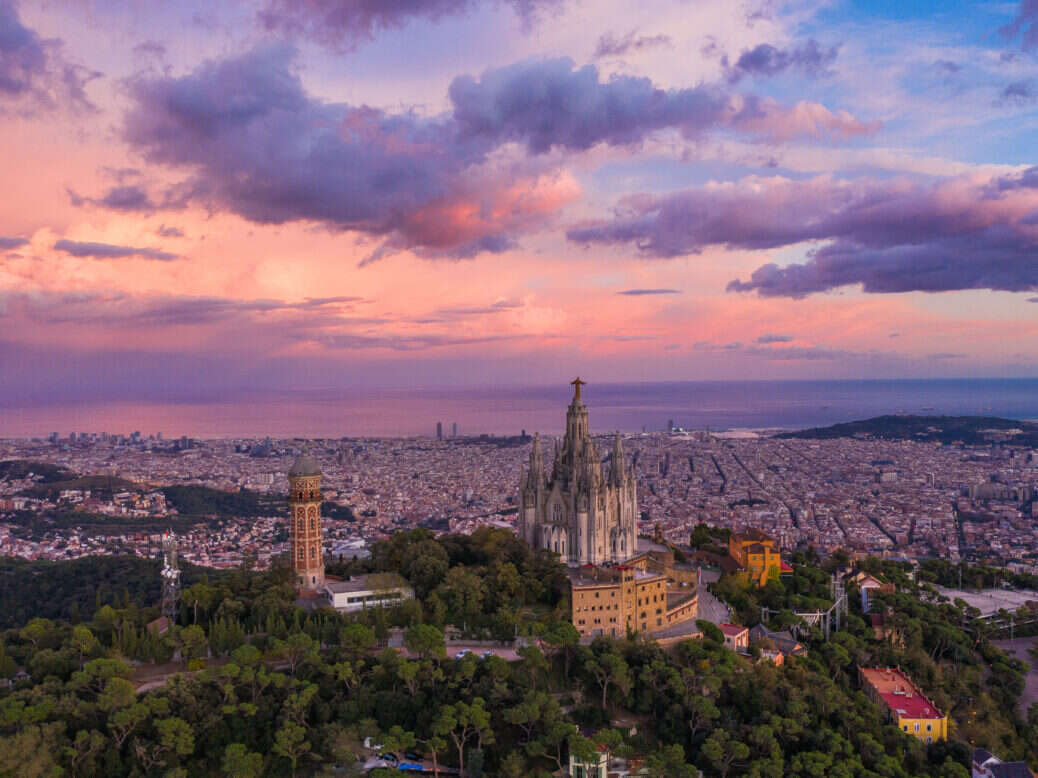 Barcelona, famous for its golden beaches and great nightlife, is also very well-known for its gastronomic scene. From street food on its narrow side roads to renowned Michelin-starred restaurants, visitors can rest assured that there will be no shortage of excellent culinary options.
Barcelona's position on the ocean ensures that the quality and freshness of the produce, especially seafood, remains unmatched – not to mention the breathtaking views of the Mediterranean sea to complement the experience.
All the best restaurants in Barcelona offer a culinary journey, characterized not only by amazing food but also by breathtaking views and interiors.
[See also: A Guide to All Three-Michelin-Star Restaurants in Spain]
Caelis
Under the guidance of head chef Romain Fornell, one Michelin-starred Caelis is driven by a passion for innovation – be it pioneering techniques, abstract flavor combinations or unusual ingredients. As you would expect in a Michelin-starred restaurant, Caelis's plating is immaculate, with bright colors and perfect symmetry combined to create dishes that are nothing short of works of art.
Caelis offers three tasting menus: Land and Sea, Celebration and Vegetarian, all of which can be accompanied by an expertly selected wine pairing. For a truly one-of-a-kind experience, book the Caelis Privé room, where diners can enjoy a bespoke menu served to them by one of the chefs. The exclusive private dining room is dominated by a large screen showing the happenings of the kitchen in real-time, promising an immersive dining experience.
Alkimia
Alkimia proudly showcases the very best of Catalonia's rich culinary traditions, but with a twist. The restaurant's head chef, Jordi Vila, is not afraid to experiment with tradition, and it's this innovation that has won Alkimia a well-deserved Michelin star. Seafood fans will be pleased to hear of chef Vila's affinity with the ocean, which ensures that the eclectic menu is fish and crustacean-heavy.
The restaurant's futuristic décor complements the innovative menu, with the beautifully frescoed ceilings thrown into stark contrast against the modern seating and wall art. But that is the nature of Alkimia: experimental meets traditional. With a name that translates into alchemy – the process of taking something ordinary and making it extraordinary – you would expect nothing less.
[See also: The Most Iconic Restaurants of the Elite Traveler Era]
Cinc Sentits
As is common on Barcelona's fine dining scene, Cinc Sentits is a tasting menu-only restaurant, with a choice between the Tasting Menu or the Light Menu (which, despite what the name suggests, still offers an extensive eight courses). Both menus are coupled with a wine pairing that celebrates Catalan specialties, as well as bottles from the rest of Spain.
Cinc Sentits changes its menu regularly to reflect the ever-changing seasons, with head chef Jordi Artal committed to only working with artisan suppliers who hold the same level of respect for ingredients as he does. It is undoubtedly this level of sensitivity for produce, coupled with the restaurant's ability to offer a dining experience that envelops all five senses, that has earned its two Michelin stars.
Moments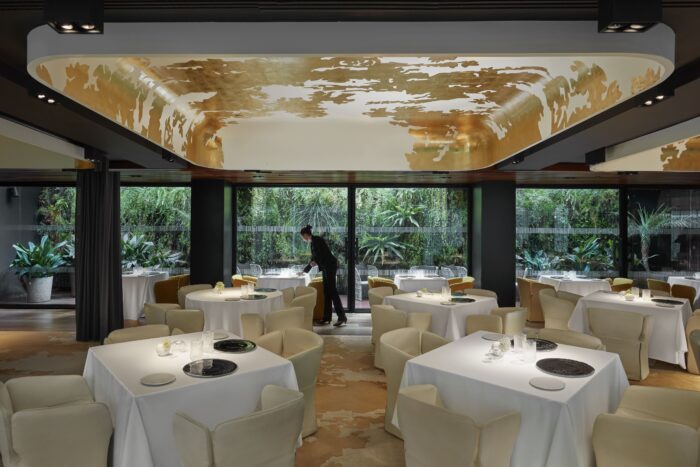 As is expected of any restaurant housed within one of Mandarin Oriental's stunning hotels, Moments is a feast for the eyes. The restaurant's design comes courtesy of Spanish architect Patricia Urquiola, who has created an elevated yet relaxing space through a golden-hued color scheme mixed with dark wood finishes.
However, this isn't to say that the restaurant is style over substance. Headed up by Raül Balam, son of Carme Ruscalleda, Moments has been awarded an impressive two Michelin stars for its imaginative take on Catalan cuisine. Balam successfully strikes the perfect balance between traditional flavors and contemporary techniques, while taking inspiration from global cuisines to create a dining experience that shouldn't be missed. For an elevated gastronomic adventure, book the private Chef's Table, which gives a front-row seat to the kitchen action.
Els Pescadors
Located in a district of Barcelona that is historically associated with fishing, Els Pescadors' menu is seafood heavy – as you would expect of a restaurant whose name is Catalan for 'the fishermen'. Dating back to the late 19th century, Els Pescadors has garnered close relationships with the local 'pescadors', who bring the restaurant the best fish and seafood on offer each day.
The menu is crafted each day depending on what the sea offers, but will always feature specialist rice dishes, as is Catalan tradition. Although not situated in one of Barcelona's trendiest areas, Els Pescadors is well worth the trip to experience some of the finest seafood in the Mediterranean.
Disfrutar
Disfrutar is the brainchild of three senior chefs from the former culinary institution that was El Bulli, which was famed for its pioneering molecular gastronomy. This passion for food science has found its way onto Disfrutar's menu, with all-star guest favorites including crispy egg yolk and liquid salad – although the chefs do recommend that you select a menu without seeing it detailed, as the joy is in the surprise.
A meal at two-Michelin-starred Disfrutar promises to be daring and fun while remaining welcoming and accessible. In English, Disfrutar translates to 'enjoy', and with the choice of four highly inventive tasting menus, diners at Disfrutar will do just that.
[See also: The Chefs with the Most Michelin-Starred Restaurants]
Restaurant Gaig Barcelona
Restaurant Gaig's family history is a long one, dating all the way back to 1869. However, in testament to the Gaig family's culinary skill and commitment to serving excellent dishes, Restaurant Gaig remains one of the best restaurants in Barcelona to this day.
Championing a philosophy that focuses on bringing out the best of every ingredient, Restaurant Gaig hand selects its produce to ensure quality and freshness. Although now running restaurants around the world, chef Carles Gaig is still known to head to market himself to select the day's ingredients to create dishes that still hold true to his family's culinary beginnings.
Restaurante Lasarte
Lasarte is routinely noted as being one of the best restaurants in Barcelona (if not the whole of Spain), and not without good reason. Since opening its doors in 2006, the restaurant has gone from strength to strength, with 2017 seeing it awarded a prestigious third Michelin star.
Led by renowned chef Martin Berasategui, Lasarte's menu is responsive and agile, adapting as when the seasons call. In the chef's own words, "nature knows best and we follow its rules." The result is a gastronomic experience like no other, filled to the brim with culinary delights such as wagyu ravioli and pickled oysters. An à la carte menu is available, but as always, the expertly crafted tasting menu is the best way to navigate this restaurant.
ÁBaC
With an impressive three Michelin stars to its name, you can be sure you're in safe hands at ÁBaC. The menu is the culinary vision of head chef Jordi Cruz, who skillfully marries both traditional and avant-garde techniques – and having received his first Michelin star aged 24, there's no doubt that he does so remarkably well.
Diners have the choice between two extensive tasting menus, but we'd recommend the longer of the two at 19 courses for the full ÁBaC experience. The restaurant's atmosphere is intimate, with space for just 56 diners per serving, with the unfussy service style allowing the food to take center stage. To wash said food down, diners can choose from the ÁBaC's well-stocked wine cellar, boasting nearly 1,000 different bottles.