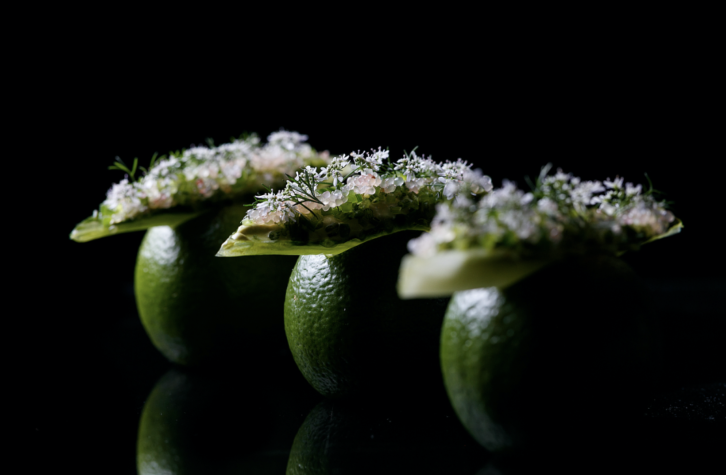 Chicago is brimming with gourmet eateries. The bustling metropolis is home to 23 Michelin-starred restaurants – including four two-star establishments and one with three stars – helmed by some of the planet's most innovative chefs. Diners can expect meticulously presented plates of food that celebrate the city's bounty of locally sourced, seasonal produce, served alongside dramatic skyline views.
With so much choice, however, deciding where to go can be tricky. To help, we've curated a list of the city's best restaurants. Naturally, you'll need to book early to be in with a chance of securing a table at Chicago's hottest culinary destinations.
[See more: The Chefs with the Most Michelin Starred Restaurants]
Alinea
The highest-ranking North American restaurant and the six-time winner of Elite Traveler's Top 100 Restaurants, Alinea's reputation speaks for itself. The annual poll – decided by Elite Traveler's jet-set readership – has consistently seen Grant Achatz's three-Michelin-star restaurant in either first or second place. This remarkable popularity is down to Achatz's hypermodern and emotional approach to dining, which is respected the world over.
The Alinea group now boasts a number of outlets (including Next, another restaurant on this list) but it is at this original outpost that Achatz brings all of his ingenious skills together. The team of creative staff and innovative collaborators produce a forward-thinking, deconstructed cuisine worthy of its three-star status. The Gallery menu, a 16-to-18 course experience is an ingenious journey through cutting-edge molecular gastronomy and classic fine dining.
Guests can also choose to dine out on The Salon Menu. Served in the three salons on the second floor, this 10-to-12 course menu is marketed as a more approachable experience but is no less innovative. Finally, Alinea's newest experience is The Kitchen Table, where guests are treated to the most immersive and intimate gastronomic experiences in the world.
Tel: +1 312 867 0110
Website: alinearestaurant.com
Smyth + The Loyalist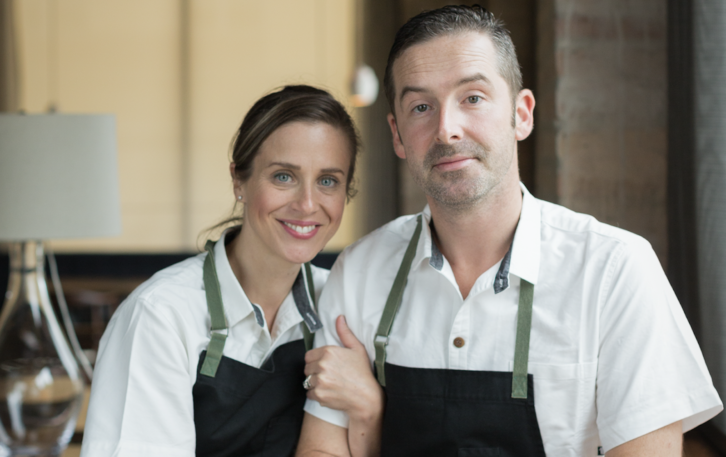 John and Karen Urie Shields cut their culinary teeth on a tour of Chicago's best restaurants, working in the kitchens of Alinea, Tru and Carlie Trotter's. In 2008, they faced a crossroads: open their own Trotter restaurant in Las Vegas or head out to Smyth, a small county in Virginia. As you can probably guess, they chose the latter and spent five years honing their skills with locally grown ingredients. It eventually led to Smyth + The Loyalist, a dual concept serving farm-to-table fine dining on the first floor and a bar just below.
The restaurant itself is housed in an unassuming industrial building, but go up the stairs and you will find a décor that is comfortable and inviting. Although the restaurant has earned two Michelin stars and is unmistakably a fine dining establishment, it remains welcoming while the menu itself is approachable.
Menu items are described in an understated tone, such as the "milk chocolate", which is actually a spectacular umami-bomb. There are three taster menus to choose from, ranging from the entry-level Classic to the luxurious Omaha. The latter is a scarcely-imaginable 19-course journey inspired by the couple's time in Virginia.
Tel: +1 773 913 3774
Website: smythandtheloyalist.com
[See also: The Best Spas in Chicago]
Ever Restaurant
Currently open for dinner service from Tuesday to Saturday each week, Ever is the creative brainchild of renowned chef Curtis Duffy and his business partner, Michael Muser. Having previously helped Avenues at The Peninsula Hotel Chicago and Grace earn two Michelin stars, it came as no surprise when Ever was awarded two Michelin Stars in 2020 after only a few months of service. The restaurant was designed by Lawton Stanley Architects and at full capacity is fairly intimate, seating only 75 guests including up to 10 in the private dining room.
Dining at Ever encompasses a fully immersive experience, with only an 8 to 10-course tasting menu available for diners – the full experience usually lasts up to two and a half hours. The curated menu focuses on seasonality, with both meat and fish dishes as well as fruits and vegetables that are in season. Wine pairings are also available, which have been carefully chosen to complement each dish.
Email: info@ever-restaurant.com
Website: ever-restaurant.com
Oriole
With two Michelin stars to its name, Oriole can rightly claim to be one of the finest dining establishments in the US. But you would be forgiven for not knowing that as you approach its unassuming location down an alley-like street in Chicago's West Loop. Go inside, however, and you are introduced to a world of wonder by Executive Chef and Owner Noah Sandoval.
This intimate restaurant can serve only 28 diners per sitting, which not only ensures the highest standards in the kitchen but also with front-of-house service. The bare-brick walls pay homage to the building's industrial heritage while the open kitchen ensures a surprisingly vibrant atmosphere for a restaurant of this size.
Only a single menu is on offer, a 10-course experience that takes guests on a tour of global cuisine. (Think Scottish langoustines followed by Japanese milk bread). The small kitchen team show a wide range of different techniques to produce arguably the most ambitious menu in the entire city.
Tel: +1 312 877 5339
Email: hospitality@oriolechicago.com
Website: oriolechicago.com
[See also: The Best Things to Do at Night in Chicago]
Spiaggia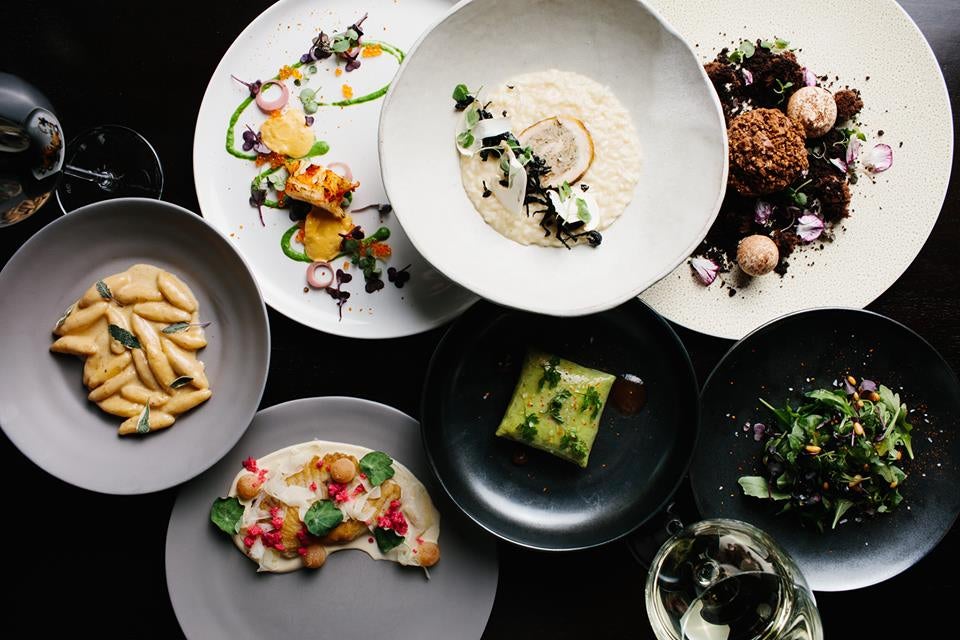 A long-standing gem of Chicago's dining scene, Spiaggia has been a favorite for many of the city's most famous residents including Barack and Michelle Obama, no less. It is arguably the finest Italian restaurant in town with Executive Chef Eric Lees leading a culinary vision that never veers away from Italy's rich history.
Lees traveled extensively through Italy, learning its different customs and honing traditional cooking techniques before bringing them back to Chicago's Mag Mile. The restaurant also has several private dining options for groups of families and friends, with each of its menus being completely customizable depending on the diner's needs or requests.
Spiaggia has recently been awarded its 12th consecutive Michelin Star, and in 2020 was a nominee for the James Beard Award for "Outstanding Wine Program". Wine director Rachael Lowe presiding over an extensive list from up and down Italy's wine regions and one of the restaurant's four sommeliers is always on hand to make sure your wine perfectly complements the meal. There is also a delectable wine pairing for each tasting menu, chosen by Rachael herself.
Tel: +1 312 280 2750
Email: spiaggiareservations@levyrestaurants.com
Website: spiaggiarestaurant.com
Acadia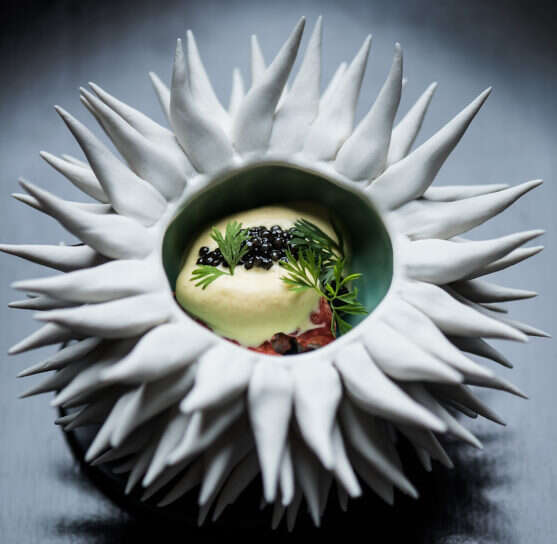 One of the few Chicago restaurants to hold two Michelin stars, Acadia is the brainchild of revolutionary Chef Ryan McCaskey. He fulfilled a lifelong dream of owning his own restaurant when Acadia opened its doors in 2011; he now owns one of the best restaurants in North America. So good was McCaskey's first menu, Acadia earned its first Michelin star just 10 months after opening and achieved two-star status in 2015.
The food draws inspiration from McCaskey's childhood in Maine, drawing on the serenity and abundance that comes with its lush summers. Seafood usually dominates the ever-changing 10-course tasting menu and may include delectable dishes such as 'White anchovy, ramp pesto, ricotta salata, olive brioche feuilletine and allium butter'. The signature dish – Yukon gold potato "risotto" studded with tender leeks, sweet English peas, savory morels and truffle butteris – is worth traveling to the restaurant alone.
Tel: +1 312 360 9500
Website: www.acadiachicago.com
Omakase Yume
Helmed by chef SangTae Park, Omakase Yume is an intimate omakase restaurant situated in Chicago's trendy West Loop. The restaurant is so small, in fact, that it only takes eight diners per seating – and only has two seatings per evening, with guests directed to seats at the restaurant's statement sushi counter bar. It would be wise to book this special location as far in advance as possible.
At Omakase Yume – which translates roughly to 'chef's choice' (Omakase) 'dream' (Yume) – diners can enjoy a 16-course tasting menu prepared and served directly by chef SangTae Park. Customized to suit diner's tastes, the menu mainly focuses on showcasing exquisite sushi and seafood, with the offering changing depending on the season and availability of the best produce.
Chef SangTae Park has a long and decorated history of creating superb Japanese dishes, having previously helped open well-known Chicago sushi restaurant Mirai and causal Japanese restaurant, Izakaya Yume.
Tel: +1 312 265 1610
Email: info@omakaseyume.com
Website: omakaseyume.com
Sepia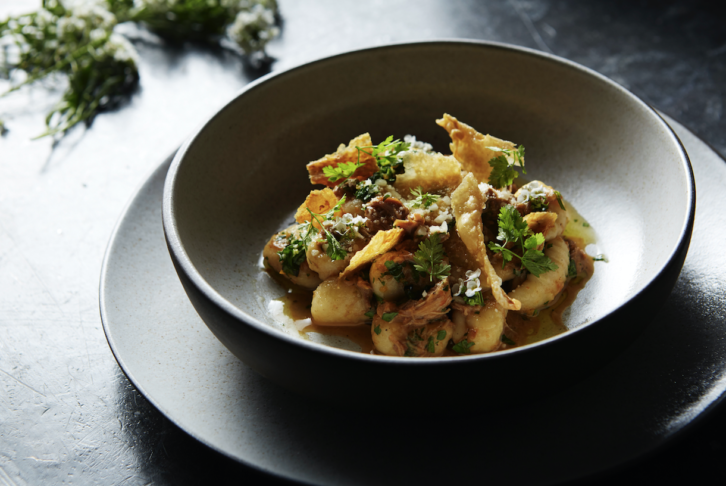 Housed in a former 1890s print shop and echoing bygone eras with relics from Chicago's storied past, the Michelin-starred Sepia serves as an ideal backdrop for Chef Andrew Zimmerman's inventive American cuisine.
The seasonally inspired menu aims to showcase the quality of local ingredients. Zimmerman changes the menu frequently in order to use only the best and freshest produce from local farmers and producers. Alongside the classic American fare are subtle influences from Southeast Asian, Korean and Mediterranean cuisines.
The ingredients are brought to life in dishes that are indicative of innovation and precision; skills that Chef Zimmerman honed during his years of classic French training. Recent delights include 'Rohan duck breast served with foie gras, blueberries and sauce poivrade. Private Dining by Sepia offers guests the chance to experience this Michelin-starred experience on their own terms. A private room featuring deep, neutral tones, stunning Tony Duquette light fixtures and a walnut and pewter bar is the perfect setting for a sophisticated cocktail party or a memorable family event.
Tel: +1 312 441 1920
Email: info@sepiachicago.com
Website: sepiachicago.com
Boka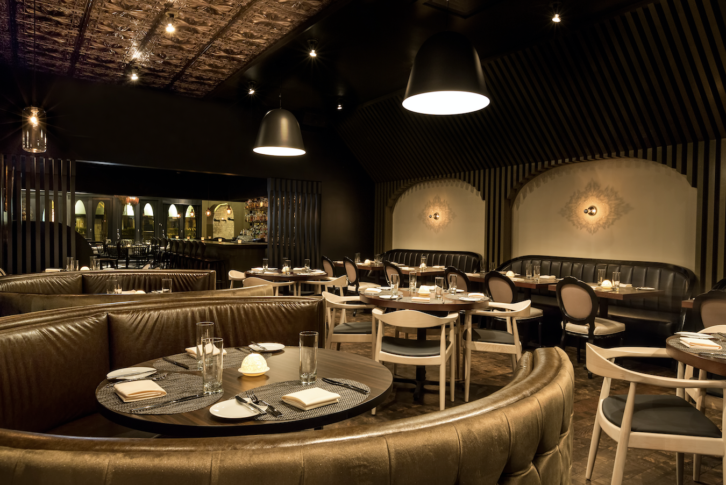 Located in the heart of Lincoln Park, Boka Restaurant has become a part of Chicago's fine dining furniture over the past 15 years. Chef Lee Wolen has been delivering seasonal American cuisine in a contemporary space designed by the renowned Simeone Deary. It was the first site of the Boka Restaurant Group and now stands as its flagship. It is synonymous with excellent standards underlined by its nine consecutive years as a Michelin-starred restaurant (2011-2019).
Diners can sit in any one of three rooms, each containing shimmering mirrored light fixtures and beautiful art. The solarium – a semi-outdoor area – has a living wall of moss and ferns and is quite possibly one of the most Instagrammable restaurant spots in the city.
The appetizers are separated into cold and hot with guests encouraged to choose one from each. A fine example of the cold appetizers is the 'summer cucumbers with sesame, yogurt, yuzu kosho and Thai basil'. A typical diner could follow it up with the 'Ricotta Agnolotti with morel, spring union and smoked buttermilk'.
Entrées read like an all-star list of classic American dishes with a recent example including the 'Roasted Chicken with asparagus and ramps'. An eight-course tasting menu is also available.
Tel: +1 312 337 6070
Website: bokachicago.com
Elske
Established by husband-and-wife David and Anna Posey, Elske successfully delivers a modern and trendsetting interpretation of Michelin-level dining to Chicago's restaurant scene. Meaning 'love' in Danish, the restaurant's name is both a tribute to David's mother and to the city of Copenhagen, where the couple got engaged. The Scandinavian influence goes further than just the name: the restaurant is crisp, minimal and illuminated with soft lighting.
David, Anna and their team of chefs serve food directly to diners on communal tables from their open kitchen. A creative and ambitious menu places great emphasis on seasonal and ethically sourced ingredients.
An evening here will see guests experience a wealth of complex techniques and fine ingredients. Sample dishes from the tasting menu include beautiful dishes such as 'Duck liver tart with salted ramp and buckwheat'. An a la carte menu is also available. Guests can finish the evening in the outdoor area next to an open-air campfire with a post-dinner cocktail under lap furs.
Tel: +1 312 733 1314
Email: info@elskerestaurant.com
Website: elskerestaurant.com
Next Restaurant
Next is one of several Chicago restaurants belonging to the famed Alinea group and, as the name suggests, is constantly developing a new and exciting concept. Its mission from the outset has been to explore the world of cuisine whether that be ancient Rome or classic French cooking. Every four months, Next throws out its prix fixe menu and introduces something completely new.
Situated next to the historic meat pack district, the restaurant is in the center of Chicago's most vibrant and trendy neighborhood. As with Alinea, there is a ticketing system in place so guests must pay for their meal up-front just as you would a theater. Regardless of whether the theme is Paris 1906, Thai, Italian or a menu from a guest chef, tickets are always snapped up quickly.
Despite an ever-changing experience with new chefs and new techniques, Next somehow manages to maintain world-class standards in cooking and has won an unprecedented 19 four-star reviews from the notoriously tough Chicago Tribune.
Email: hospitality@nextrestaurant.com
Website: nextrestaurant.com
Moody Tongue
Last but by no means on our list of the best restaurants in Chicago is Moody Tongue. If you love craft beers, this eatery is well worth a visit. Situated within a working brewery in the city's South Loop neighborhood, the fine dining establishment scooped two Michelin stars in 2021 for its creative menu that perfectly pairs hyper-seasonal dishes with an impressive selection of house-crafted beers.
Helmed by talented executive chef Jared Wentworth and brewmaster Jared Rouben, diners can expect meticulously presented plates of food that are as tasty as they are beautiful. Highlights from the tasting menu include Alaskan halibut wonderfully complemented by marble potatoes, charred spring onion and smoked potato fondant, served with a refreshing orange blossom Belgian blonde beer.
Tel: +1 312-600-5111
Website: moodytongue.com
[See also: The Best Hotels & Suites in Chicago]