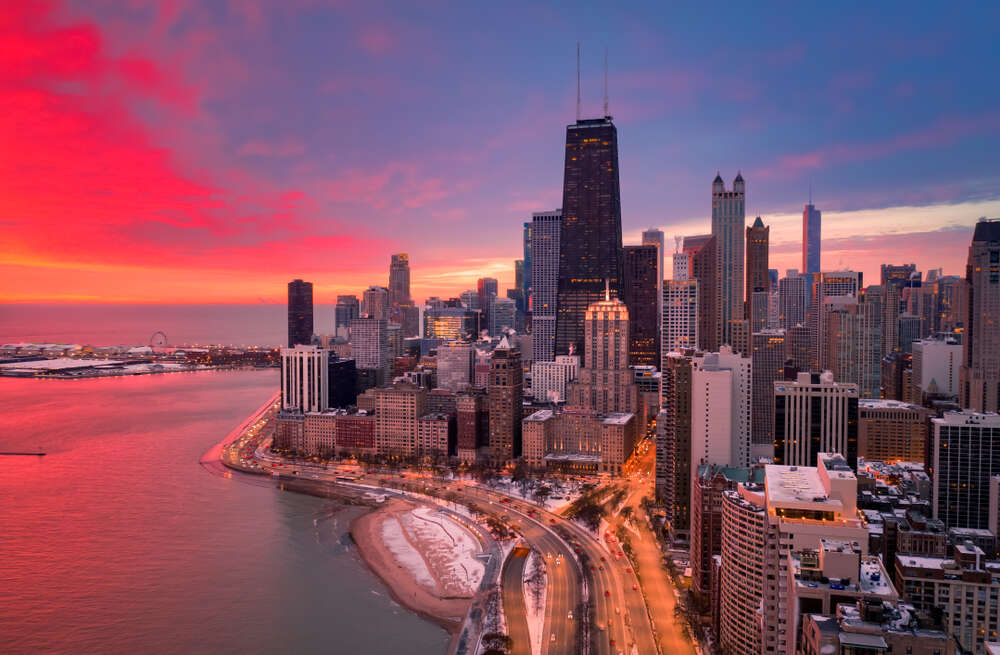 When you think of the Windy City a few things may come to mind: incredible architecture, a vibrant music scene, and, of course, an array of world-renowned eateries. If you're hoping to take things at a slower pace, though, you're in luck. Chicago's best spas have got you covered.
The city is home to a collection of tranquil urban retreats dotted throughout some of the planet's most iconic hotels. From deep tissue massages with expert therapists to specially tailored programs with nutritionists, you'll find everything you need – and more – at the best spas in Chicago.
[See also: A Guide to Chicago]
The Peninsula Spa at Peninsula Hotel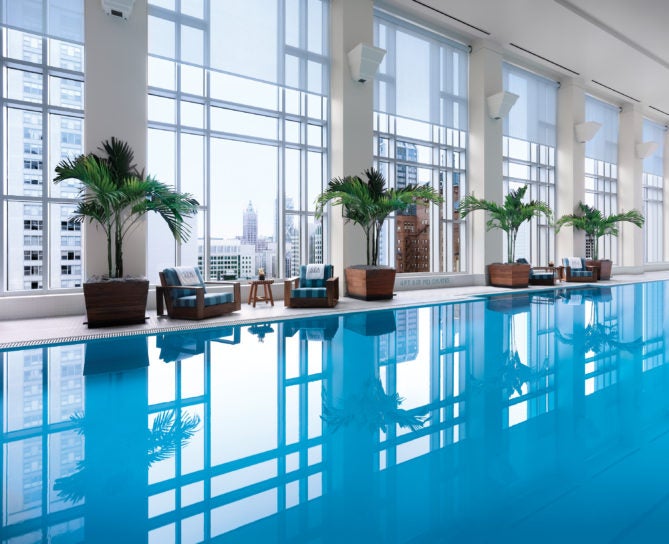 With a strong focus on Asian and Ayurvedic treatments, The Peninsula Spa transports you to a luxe getaway in the East. On the 19th and 20th floors, relax in one of the resplendent treatment rooms with a soothing natural color palette and ambient lighting. When it comes to treatments, you can't go wrong with anything on the menu from the unique Destress Podi Program and Detox and Adrenal Program to holistic facials using Biologique Recherche ingredients.
We love the spa's integration of wellness therapies, like energy-balancing ingredients, results-driven technological therapies (like an electrospun hyaluronic acid serum) and clinical massage techniques from Asia. In addition to the Spa, guests have access to a half Olympic-length pool with floor-to-ceiling windows showcasing perfect views over the Windy City. There's also a relaxation lounge with a fireplace, fitness center and yoga area and sun terrace.
The Spa at Four Seasons Hotel
Serene and intimate, The Spa at Four Seasons Hotel Chicago provides a personal escape to relax and rejuvenate. Experience the spa's traditional and innovative treatments such as a Harmony massage for couples, an Ayurvedic scalp massage or a Perles de Caviar facial to refresh and reinvigorate.
Combining natural ingredients with the nurturing care of expert therapists the spa welcomes you on a journey of beauty and wellbeing. Visitors can also enjoy the 50ft indoor swimming pool, saunas, steams rooms and exercise facilities in the Four Seasons Fitness Club. Choose the Four Seasons Indulgence Custom Package for three 50-minute services and a glass of seasonal champagne.
Chuan Spa at The Langham
Conveniently located downtown at The Langham, Chicago, the Chuan Spa offers an urban sanctuary inspired by Traditional Chinese Medicine. Chuan means flowing water and is reflective of the nourishing and rejuvenating benefits. Before your spa treatment, it is recommended to take part in the Chuan Bathing Ritual, an aromatic and sensory experience.
Next, cool down in the Aromatherapy Shower before you finish the experience in the Eucalyptus Steam Room. The hot and cold stimuli prepare the body for the benefits of the treatment. Enjoy one of the signature Traditional Chinese Medicine Treatments at Chuan, beginning with a private consultation with a Master of Acupuncture and Oriental Medicine practitioner. Request the Chuan Spirit Suite; it includes a private Oriental Steam Room and Healing Liquid Pool where sound and light therapy can be tailored to individual needs.
[See also: The World's Best Trend-setting Spas to Visit]
Cowshed Spa at Soho House
The Cowshed Spa at Soho House Chicago has rustic charm combined with the comfort of a proper English home. Crystal chandeliers and reclaimed wood adorn the walls. All around you will notice nods to the first Soho House Spa in Somerset, England which was built inside of an old cow barn. Enjoy the Ultimate Cowshed Pedicure from a tufted arm chair, topped off with a relaxing scalp and shoulder massage.
The Evening Primrose Body Wrap is also not to be missed. It begins with a dry body brushing followed by a full body scrub. Once your skin is prepared, the aesthetician applies a hydrating Evening Primrose mask. You are then cocooned in a sheet to enjoy a mini-facial, while the mask works its magic. A full body massage completes the treatment. Instead of the classic cucumber spa water, try an Eastern Standard, a refreshing gin based cocktail with cucumber and lime. Sip, relax and unwind at the Cowshed Spa.
Waldorf Astoria Spa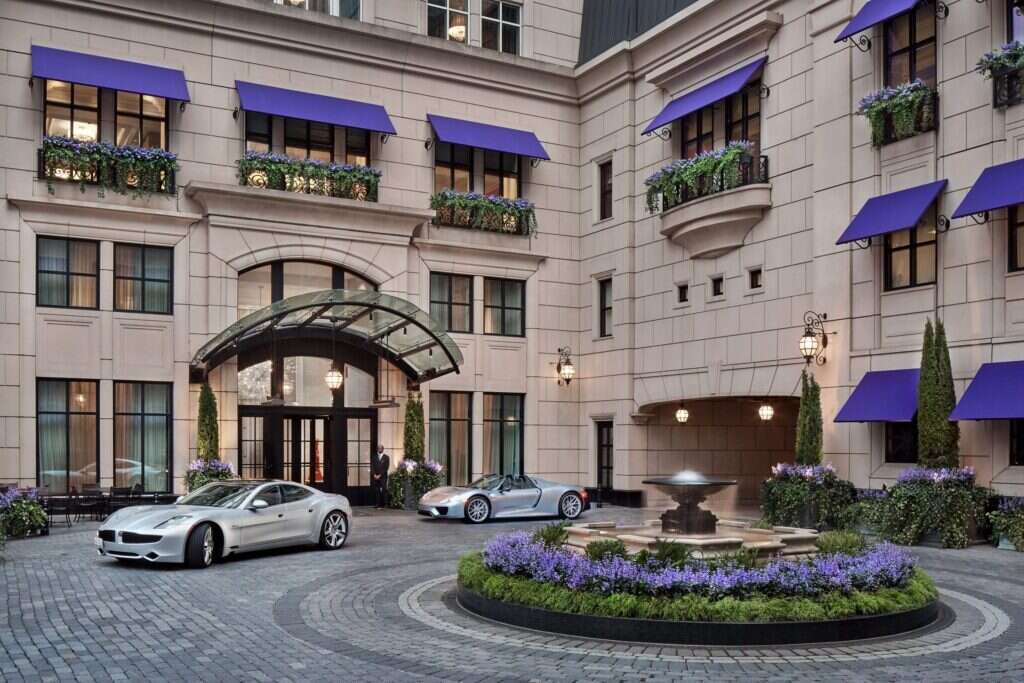 Tucked away above the bustle of State Street in the Gold Coast, the Greek-inspired Spa at Waldorf offers an urban sanctuary with unique facilities, purposeful treatments and a commitment to well-being. A haven of relaxation, the 14,000 sq ft spa has 12 treatment rooms and diverse assortment of offerings such as a DreamDry salon, a lap pool and a full health club to offer an unparalleled experience.
Signature treatments include a five-hour Restore Package, which includes a massage, facial, lunch and pedicure, designed for the elite traveler looking for the ultimate experience. The health club specializes in Pilates and Gyrotonic with masters offering group or one-to-one instruction to help guests hone the techniques. The signature massage is always a favorite as it is personalized for each guest. Choose from various oils based on need: Calming Jivaka, Spirit Energy, Deep Relaxation and Geranium Rose. Following your treatment we suggest sipping tea and letting the rest of your cares slip away as you lay on one of the plush daybeds in the relaxation room.
[See also: The Best Vegan and Vegetarian Restaurants in Chicago]