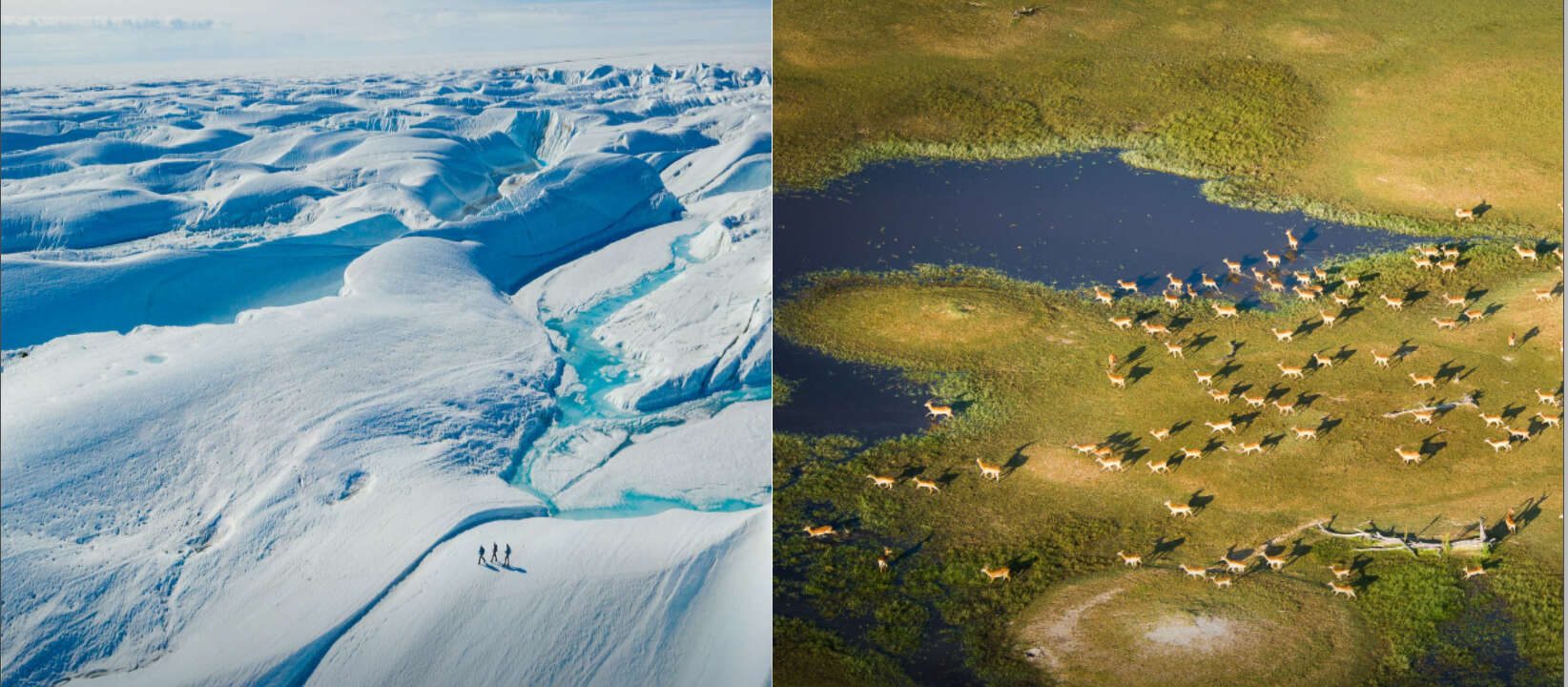 When two of the world's leading eco-minded luxury travel firms come together to create not one almighty itinerary but two, the extraordinary can happen. At least that is the case with Wilderness Safaris and White Desert's new jointly-crafted expert-led getaways. 
Set to offer adventure-starved travelers the chance to experience the best of both Africa and Antarctica, the unique collaboration, which is unveiled today exclusively by Elite Traveler, will see Wilderness Safaris and White Desert guests jet away at the end of the year.  "We are proud to partner with a like-minded conservation tourism company with whom we share enormous passion for luxury hospitality in remote destinations, and the protection of the landscapes and wildlife in which we operate," said Amanda Wilson, Wilderness Safaris vice president of partnerships. 
Indeed both Wilderness Safaris —which has built a collective of low-impact luxury camps across Africa's remote reaches — and White Desert — which offers carbon-neutral luxury Antarctic adventures — have been celebrated for their pioneering approach to sustainable luxury travel. It's this that makes the collaboration the perfect fit, explains Mindy Roberts, White Desert's chief marketing officer: "We believe that the best way to inspire people to care about these incredible wild spaces is through personal experience. To partner with a like-minded pioneering operator and create itineraries full of beautiful contrasts will hopefully motivate guests to support protecting these places for future generations."
[See also: White Desert Announces Next Steps in Climate Crisis Strategy]
And two heads are certainly better than one if the duo's new bucket-list-ticking itineraries are anything to go by. With every little detail taken care of by a joint team of eco-travel experts, guests' biggest worries will be which itinerary to choose and what to pack for a trip that takes in both the frozen frontiers of Antarctica and the desert planes of Africa.
Elite Traveler was given an exclusive first look at the two new trips which will transport a lucky few to some of the world's most undiscovered corners.
Legendary Landscapes: The Antarctic and Okavango Delta
The first Wilderness Safari and White Desert itinerary is a 15-day journey taking place from November 22 to December 6 exploring the best of Cape Town before being transported to Antarctica's pristine wilderness and then finishing up in wildlife-rich Botswana. 
After two nights at the exclusive Cape Grace Hotel, up to 12 guests will depart on a private jet before touching down at White Desert's brand-new Wolf's Fang Camp. During their four-night stay, guests will take a 2.5-hour flight to breathtaking Atka Bay, where they will be the sole spectators of one of nature's least-viewed wildlife events: the birth of emperor penguin chicks.  
There will also be a chance to explore the world's most southerly lands accompanied by highly qualified White Desert guides. Adventures include trekking through ice waves, exploring crystal caves and exploring ice tunnels. 
Guests will then return to Cape Town by private jet for two nights of relaxation before heading to one of Africa's most extraordinary regions: Botswana's Okavango Delta. While in Botswana, guests will experience unforgettable game drives, guided nature walks and a trip down the delta in a traditional canoe.
Accommodation will include three nights at Wilderness Safaris' enchanting Vumbura Plains Camp which borders the famous Moremi Game Reserve, with the adventure drawing to a close at Wilderness Safari's newly rebuilt five-star DumaTau tented camp. 
Wild Desert Adventure: The Antarctic and Namibia
On the 19-day second journey, travelers will experience two of the most remarkably remote destinations on earth as they travel from the world's most southerly point to the distant deserts of Namibia. 
Set to take place from December 27 to January 15, the itinerary follows a similar format (penguins included) to the first, but incorporates a longer six-night stay at Wolf's Fang Camp to enable an overnight excursion to the South Pole, a location visited by fewer than 800 people each year. 
Returning to Cape Town guests will enjoy a sumptuous two-night stay at the city's exclusive One&Only resort before jetting to the heart of the Namib Desert. The dramatic landscapes of the world-renowned Sossusvlei Dunes will greet visitors as they arrive at Wilderness Safaris' newly rebuilt Little Kulala, a luxury oasis situated in the Kulala Wilderness Reserve. 
The next stop is Namibia's remote northwest where the luxury solar-powered Hoanib Skeleton Coast Camp awaits. Guests will have the chance to photograph the unique desert-adapted wildlife of the Hoanib Valley (lion, brown hyaena and more) with an expert guide, finally ending their adventure at the surreally beautiful Serra Cafema located in the 1,160 square-mile Marienfluss Conservancy. 
From $69,435  per person sharing, wilderness-safaris.com/white-desert
[See also: andBeyond Launches 30th Anniversary Eco Itineraries]