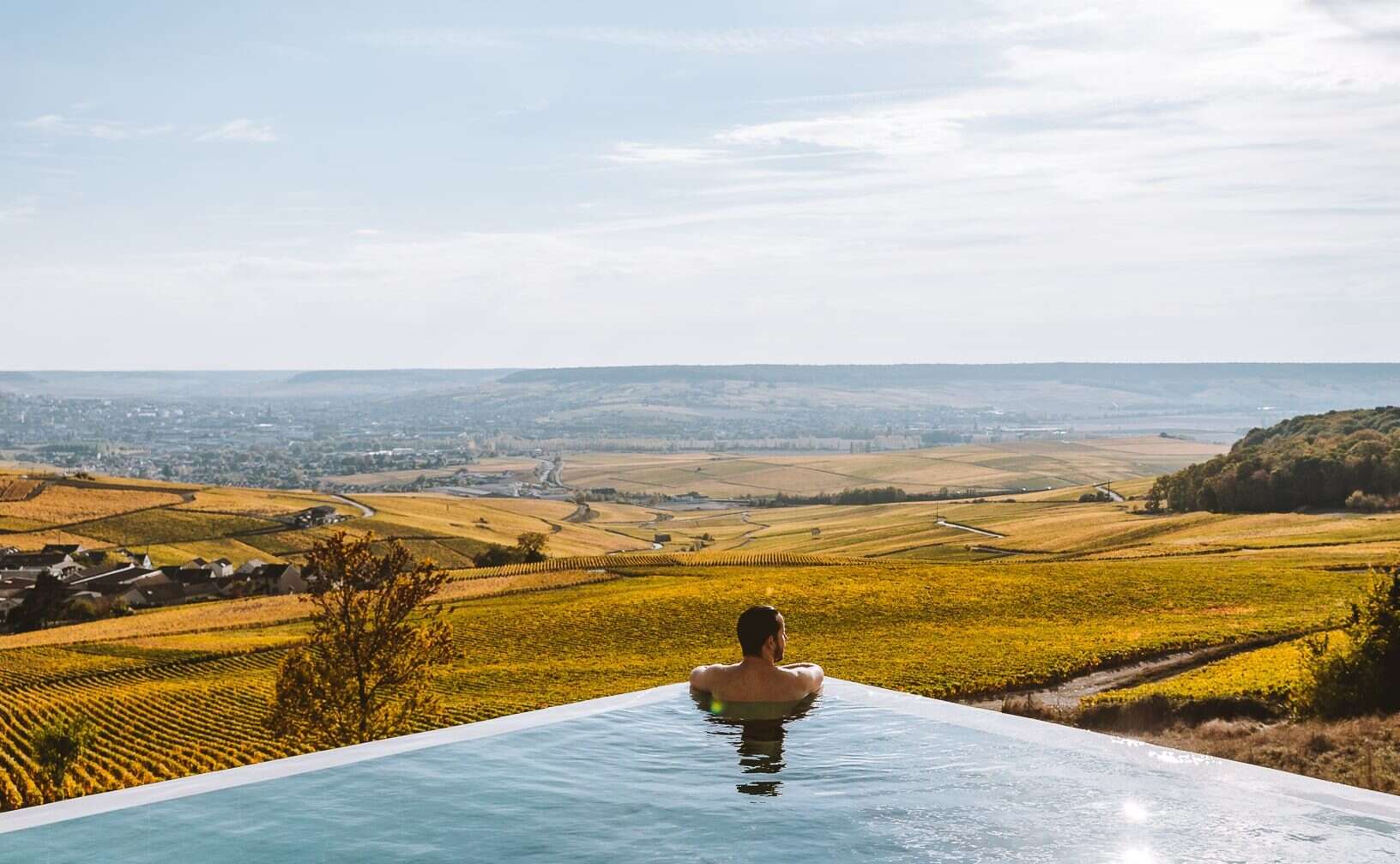 A visit to Champagne in the fall is a no-brainer, but to help travelers see the world-famous region differently this year, Leblanq has partnered with the Royal Champagne Hotel and Spa to launch an ultra-luxe French cycling tour.
With beautiful rolling countryside, mile upon mile of pristine vineyards and champagne houses straight from the pages of a picture book, the region is simply too lovely to pass through on a whistle-stop driving tour. By cycling through Champagne, visitors can fully absorb its beauty in a slower, more considered way. And, with the climate crisis threatening to change champagne as we know it, the allure of emission-free transport is even greater.
Taking place on October 1-3, 2021, the itinerary will begin with a riding tour through Champagne, led by legendary cyclist Eddy Merckx, who has gone down in the history books as the most successful rider in the history of competitive cycling with five Tour de France wins under his belt.
Leblanq's cycling tours are suited to all fitness levels and abilities, from leisure cyclists to serious club riders. Guests are split into different groups based on ability, allowing everyone to push themselves to a comfortable level, but for those ready to take it up a notch, Leblanq also offers an optional training program for anyone wanting to improve their fitness beforehand.
After coasting through the French countryside, guests will head to the historic Maison Laurent Perrier, which sits in the southeastern corner of the Montagne de Reims Regional Natural Park, to enjoy a private Champagne tasting.
The itinerary is topped off with an evening of gastronomy at Royal Champagne's Michelin-starred restaurant, Le Royal, where guests will be served an exclusive seven-course menu co-created by head chef Ashley Palmer-Watts and gastronomic legend, Raymond Blanc, accompanied by a Champagne pairing. Following dinner, retreat to the fireside to hear stories from Merckx and fellow cycling great Sir Bradley Wiggins over a dram or two of whisky.
[See also: The Best Champagne Brands to Try in 2021]
In between sipping champagne, cycling through vineyards and sampling some of the finest food in the world, guests can also make use of Royal Champagne's expansive spa and wellness facilities. Here, they can indulge in a holistic spa treatment by cult French brand Biologique Recherche or take a dip in the calming pool with floor-to-ceiling windows overlooking the surrounding landscape.
Accommodation for the weekend will be in one of Royal Champagne's Junior Suites, all of which are beautifully finished in a calming yet stylish style. Every room features Hermès amenities and, most excitingly, an in-room 'Champagne Please' button for Champagne on-demand.
"Champagne and cycling have a deep-rooted history as both a destination and beverage of choice during the Tour de France, and cycling is one of the most extraordinary ways to experience the beauty of our region," says Royal Champagne director of sales and marketing, Jennifer Delord. "We can't wait to blend our Michelin-starred cuisine and Champagne expertise with an activity that's so intrinsic to our destination."
The Champagne tour joins Leblanq's diverse portfolio of European itineraries, designed to merge the great cultures of cycling and gastronomy by bringing greats from the two industries together for a series of one-off weekend breaks.
[See also: The Most Beautiful Wineries to Visit in France]
Leblanq and Royal Champagne Hotel and Spa Champagne cycling tour from £3,495 ($4,883) per person.