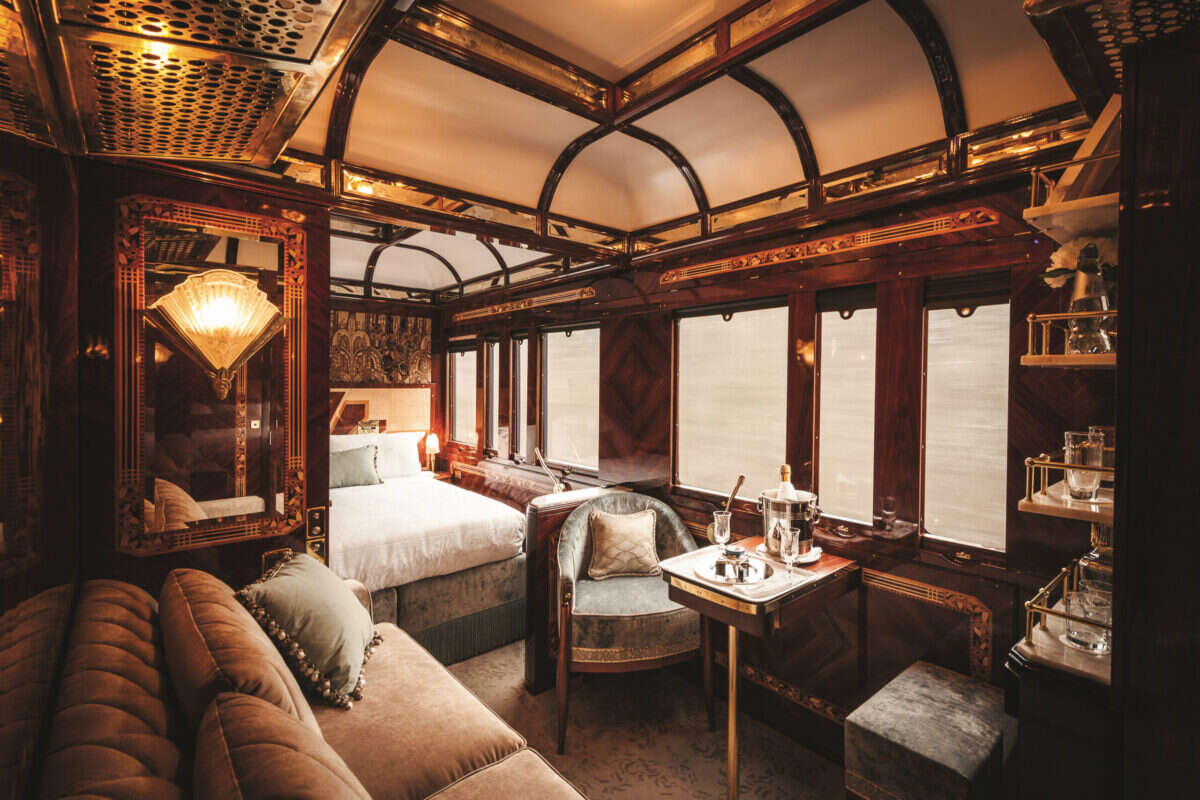 Never one to do things quietly, Veuve Clicquot is celebrating its 250th anniversary by taking over the most luxurious train in the world. This summer, the iconic Champagne house is inviting guests onboard the Venice Simplon-Orient-Express for a seriously lavish trip to mark the occasion. Revelers can expect gourmet food, live music and (of course) ridiculous amounts of bubbly.
The two-night journey kicks off in Reims, the heart of the Champagne region. Here, guests will visit Veuve Clicquot's historic underground white limestone quarries (known as crayères) to sample the Maison's cuvées with cellar master Didier Mariotti before boarding the glamorous Venice Simplon-Orient-Express.
Once you've settled into your opulent 1920s cabin, you'll be invited to don your finest evening wear and head to the dining car for a four-course pairing dinner created specially by Jean Imbert (head chef at the prestigious Plaza Athénée in Paris).
[See also: The Best Champagne Brands to Try]
After a night of festivities, you'll wake up to stunning views of the sun rising over the Alps. Following the shipping route of Veuve Clicquot's very first bottles, the Venice Simplon-Orient-Express will arrive in Venice where you'll be taken by boat for an unforgettable night's stay at Hotel Cipriani. Situated on the Giudecca Island overlooking the Venetian lagoon, it's hard to think of a more romantic setting to end your stay.
You'll need to pack plenty of black-tie attire as Veuve Clicquot will host an extravagant ball at the hotel on the last evening for a final blowout where (you guessed it) the Champagne will be flowing.
If you're looking to go all out, book the Grand Suite, the most exclusive of the cabins, which comes with an extra special celebratory breakfast in the morning and a pre-night stay at Veuve Clicquot's super exclusive Hôtel du Marc in Reims (formerly the private residence of the Veuve Clicquot family).
The cost of a Twin Cabin is $8,400 per person based on two people sharing; a Cabin Suite is $14,230 per person based on two people sharing and the Grand Suite is $29,138 per person based on two people sharing.