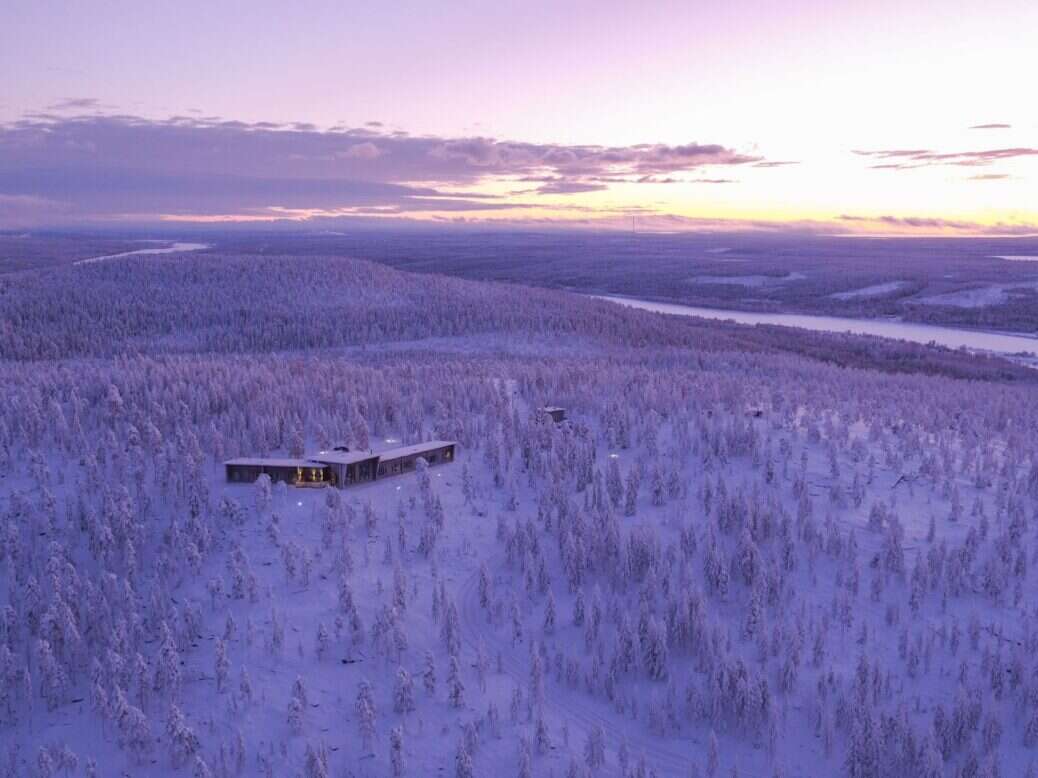 Looking to get away from it all with your nearest and dearest? There's no better place to gather than in a hidden gem hotel, a very remote lodge or a private island – these accommodations are the ultimate spots for group vacations.
[See also: The Best Private Island Resorts in the World]
The Nautilus, Maldives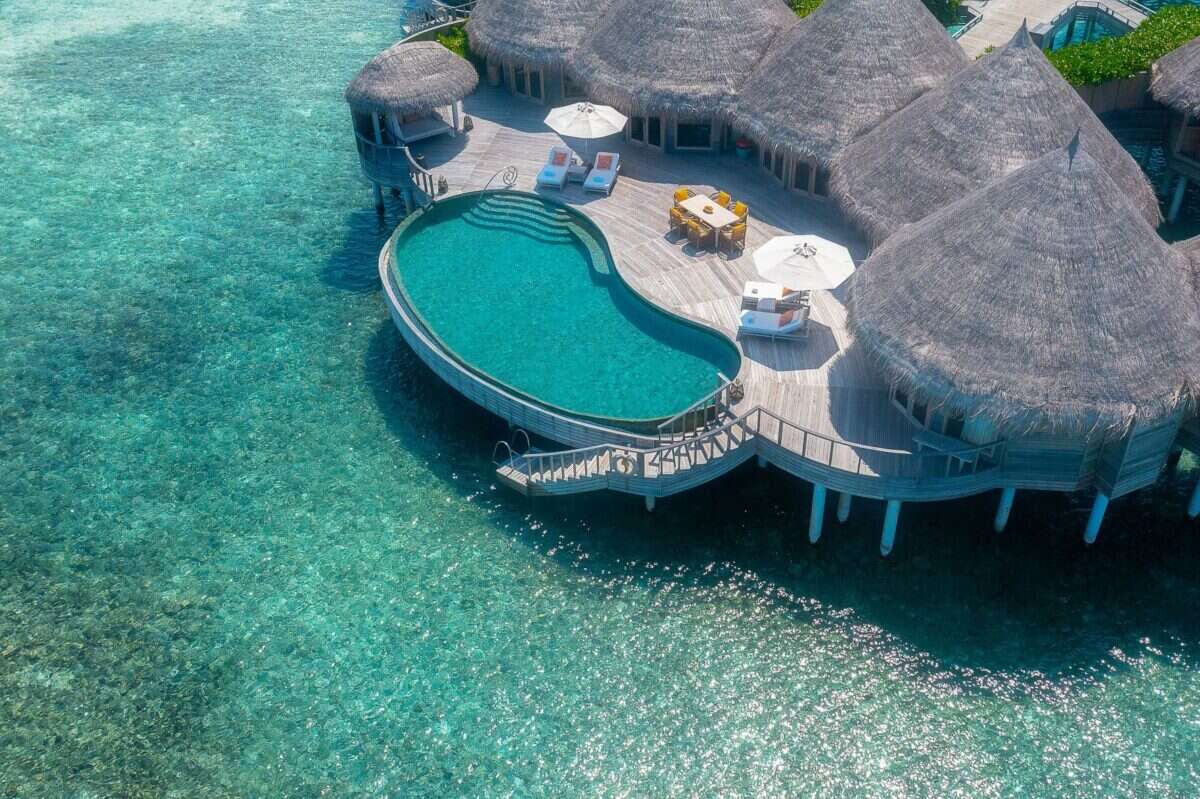 You might think that your vacation begins when you step on to The Nautilus' vibrant purple seaplane. But it begins quite a while before that — in the weeks leading up to your stay, a house master will be in touch to arrange every little detail: Your favorite wine will be stocked in the fridge, your preferred pillow type will be on the bed, and your optimum swimming pool temperature will be set. This pre-departure care sets the tone for when you do arrive at The Nautilus, an intimate island found in the Baa Atoll Unesco Biosphere Reserve, as everything will be exactly as you wish.
The Nautilus has just 26 villas (or 'houses') and the island is available for exclusive use. Visiting with a smaller group? The Retreat is a 5,840-sq-ft, two-bedroom villa located at the very end of an over-water wooden walkway. It can be booked with the two neighboring over-water villas so you can commandeer the whole section. All the accommodations feature typical Maldivian style — think lots of wood and natural materials with pops of ocean hues and clever architectural details (the two-bedroom Beach Residence has a spiral staircase that, when viewed from the bottom of the stairs, creates the shape of a nautilus shell).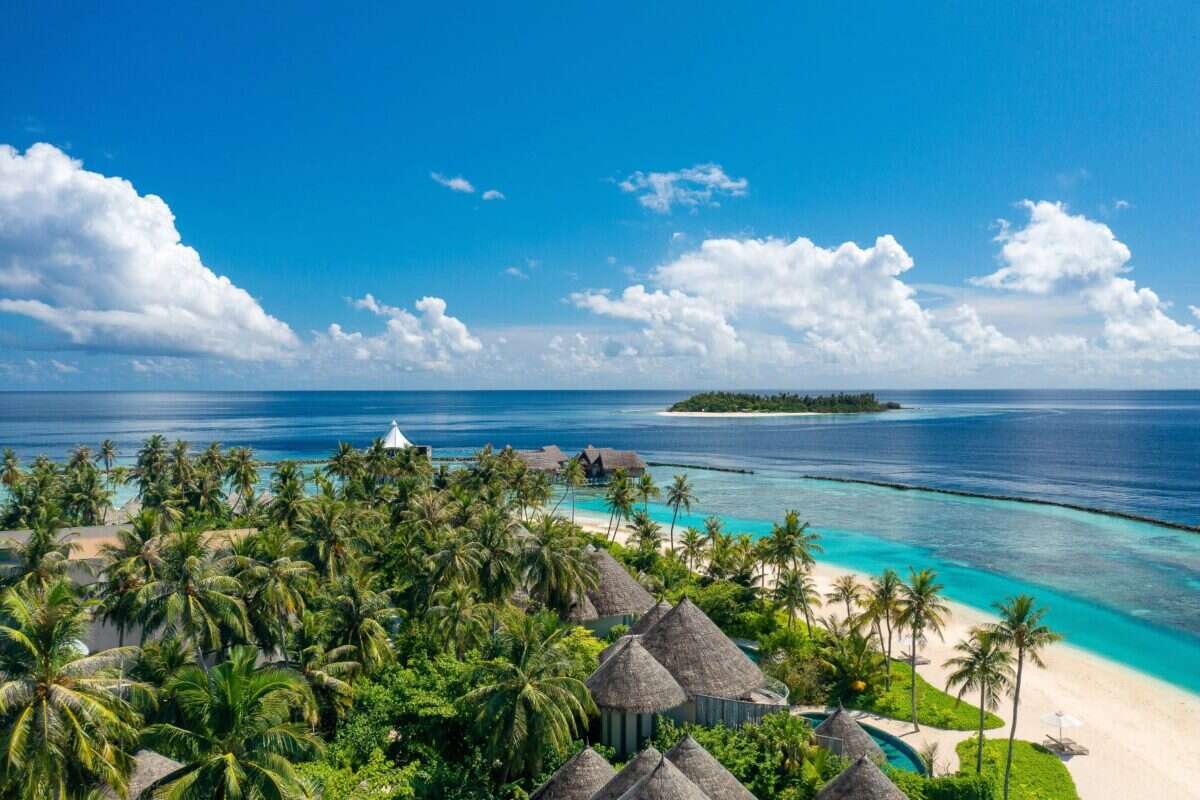 The island is also home to four delectable restaurants, a sizable spa with treatment rooms that have viewing holes to the underwater kingdom below (tip: book the volcanic hot-stone massage) and a water sports center where you can borrow a clear-bottom kayak for a gentle glide through the glittering ocean. If you do choose to take over the whole island for yourself, the options are endless — from a swimming pool filled with 175 lbs of rose petals to an underwater treasure hunt.
One birthday party extravaganza took The Nautilus team three months to plan and entailed a Robinson Crusoe-esque experience on the neighboring uninhabited island (it's close enough that you can see it clearly from The Nautilus, so easy to head back if you've decided that the castaway life isn't quite for you). Guests spent the night on the wild island, gathering around a gourmet barbecue and bonfire.
Best for: Celebrating a milestone event, From $3,600 per night; exclusive use price on request. Contact Gerrit Chng-Luchau, director of sales and marketing, hello@thenautilusmaldives.com, +960 660 0000, thenautilusmaldives.com
Octola Lodge, Finnish Lapland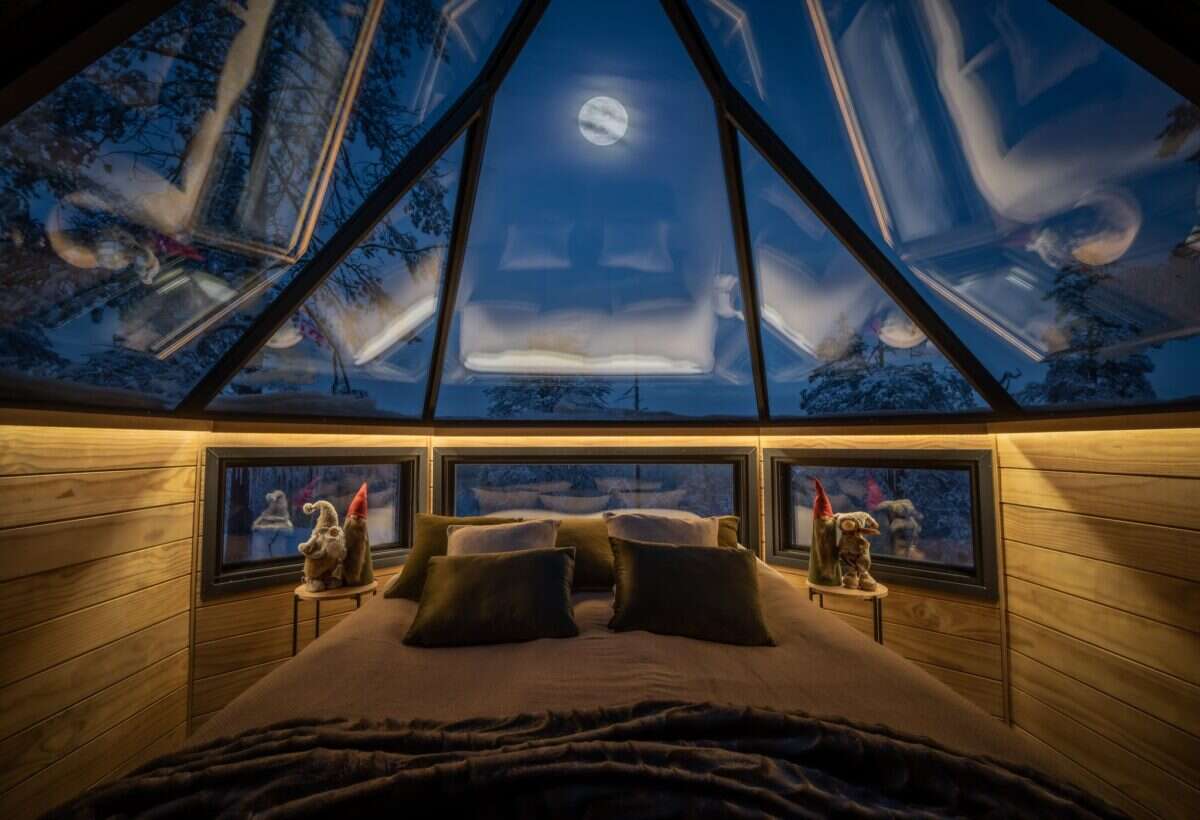 As the CEO and founder of Luxury Action, a private travel company that specializes in top-tier travel in the Arctic and Nordic regions, Janne Honkanen found that he couldn't find the right caliber of accommodation in Finnish Lapland. So, he set out to create one — and thus Octola Lodge was created. The lodge is seriously hidden away in 740 acres of private wilderness reserve, but is surprisingly straightforward to find — Rovaniemi Airport is a 20-minute drive away, or you could come by snowmobile (which takes around one hour) or by husky dog sled (three hours). There's also a helipad should you wish to fly.
The lodge's architecture is Sámi- and Lapp-inspired and consists a wooden chalet with 10 en-suite bedrooms plus another two-bedroom villa that comes with its own sauna, outdoor Jacuzzi and two terraces. The interiors are classic Scandi — cozy and chic with floor-to-ceiling windows to gaze out at the endless snow-topped forest.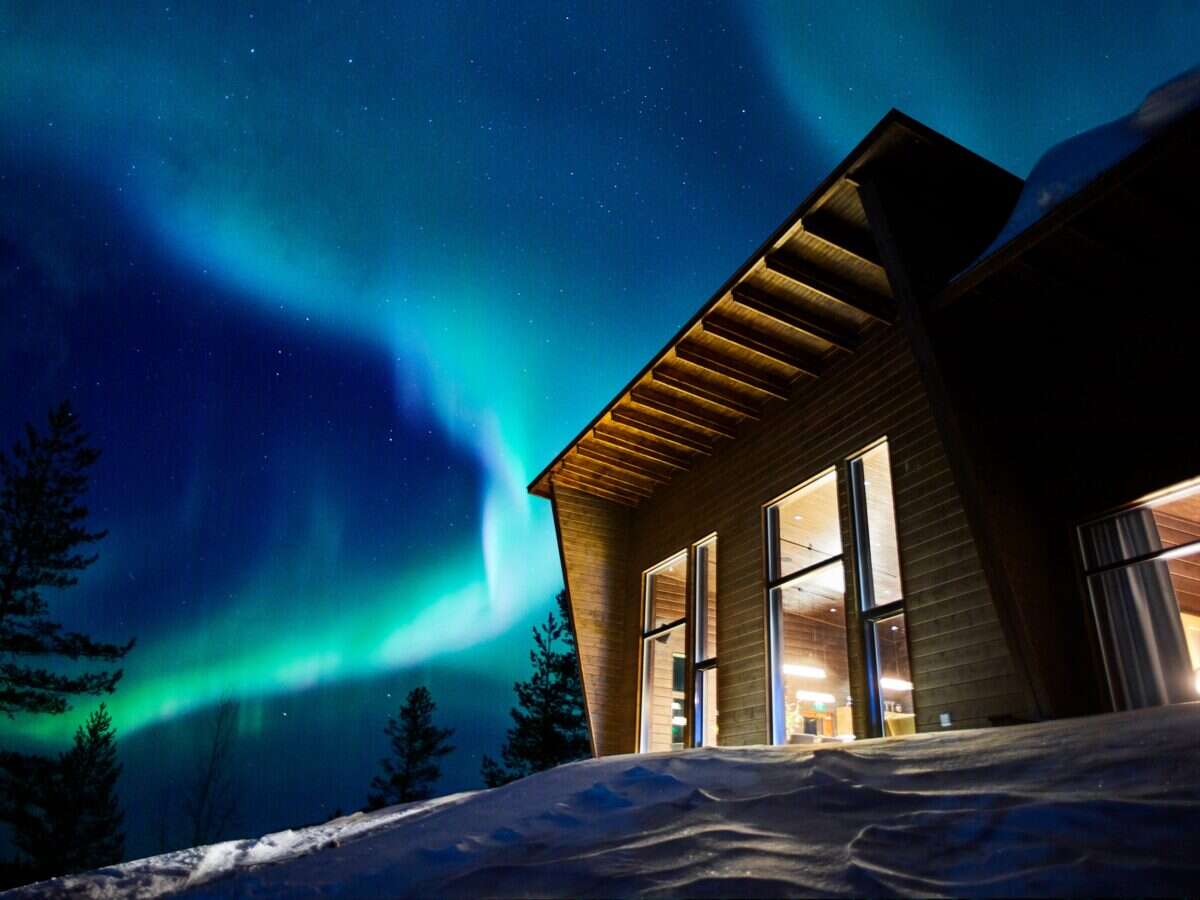 There's also a Northern Lights glass cabin (the lodge is located in one of the best spots in the Arctic for Northern Lights viewing), Spa and Health Clinic, two saunas (one indoors and one outdoors) and two indoor pools. There's even a recording studio kitted out with a Genelec sound system. And when booking the entire place, you get the services of a butler, wilderness guide, a personal chef and a 24-hour concierge.
But, naturally, you'll want to explore the magical surroundings — and there's tons of fun stuff to do: snowmobiling, fatbiking, ice fishing, husky dog sledding, tobogganing, learning survival skills, ice driving and river rafting in the summer months. The lodge has its own private reindeer herding area, too, which is sure to delight little ones.
Best for: A magical snowy adventure for families, From $34,700 per night for exclusive use. Contact Janne Honk founder, janne@octola.com, +358 445 151 796, octola.com
Le Farnatchi, Marrakech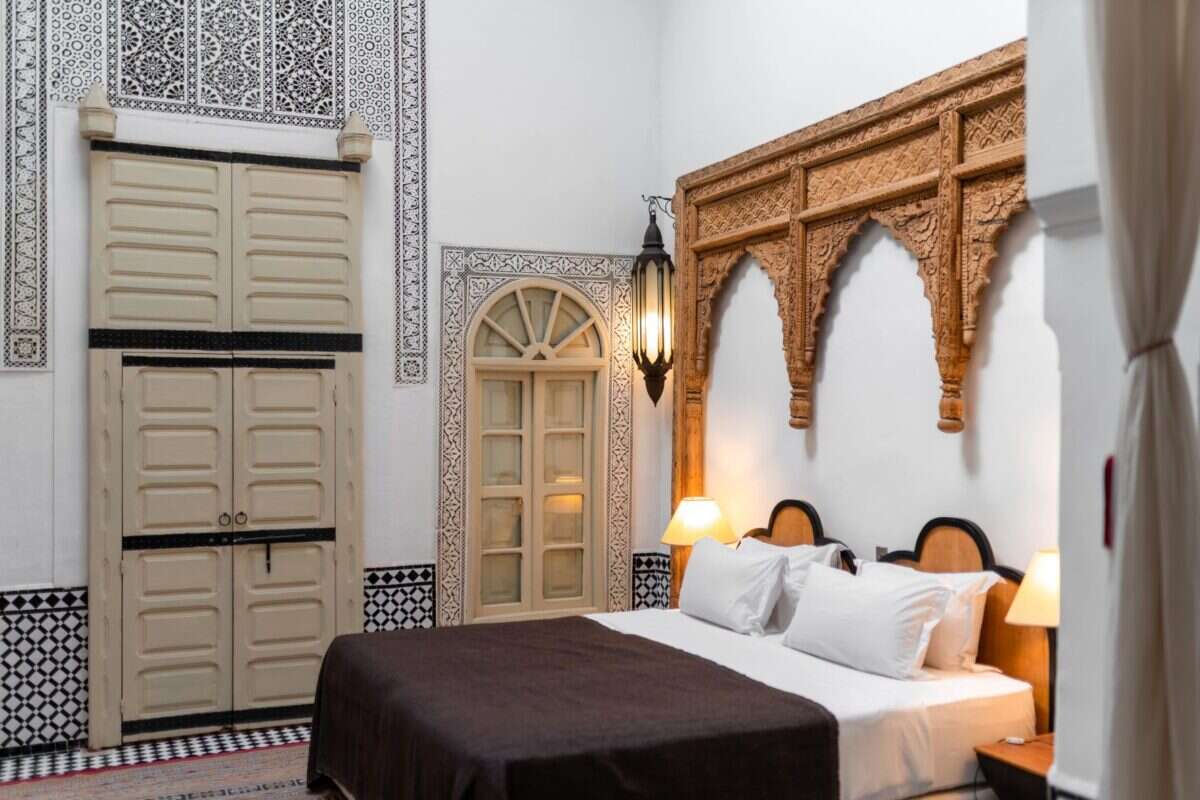 In a city known for ornate hotels, Le Farnatchi certainly holds its own against its lavish neighbors. But the charmingly boutique hotel feels more akin to a home, which — considering it was one of the first riad hotels to open in the Medina — makes perfect sense.
An unassuming wooden entrance conceals the glamour within; you're immediately greeted by quintessential Moroccan design and a glimmering emerald swimming pool. Le Farnatchi has just 10 suites, each one with its own distinct character — Suite 1 has a headboard made from an antique Moroccan door frame and a tile-framed fireplace; Suite 3 has a sunken black granite bath; Suite 6 is a duplex that has an intricate arched snug and a large private sun terrace; Suite 10 is the newest addition and has direct access to the spa. The suites, and the hotel itself, are peppered with Moroccan works of art from owner James Wix's personal collection.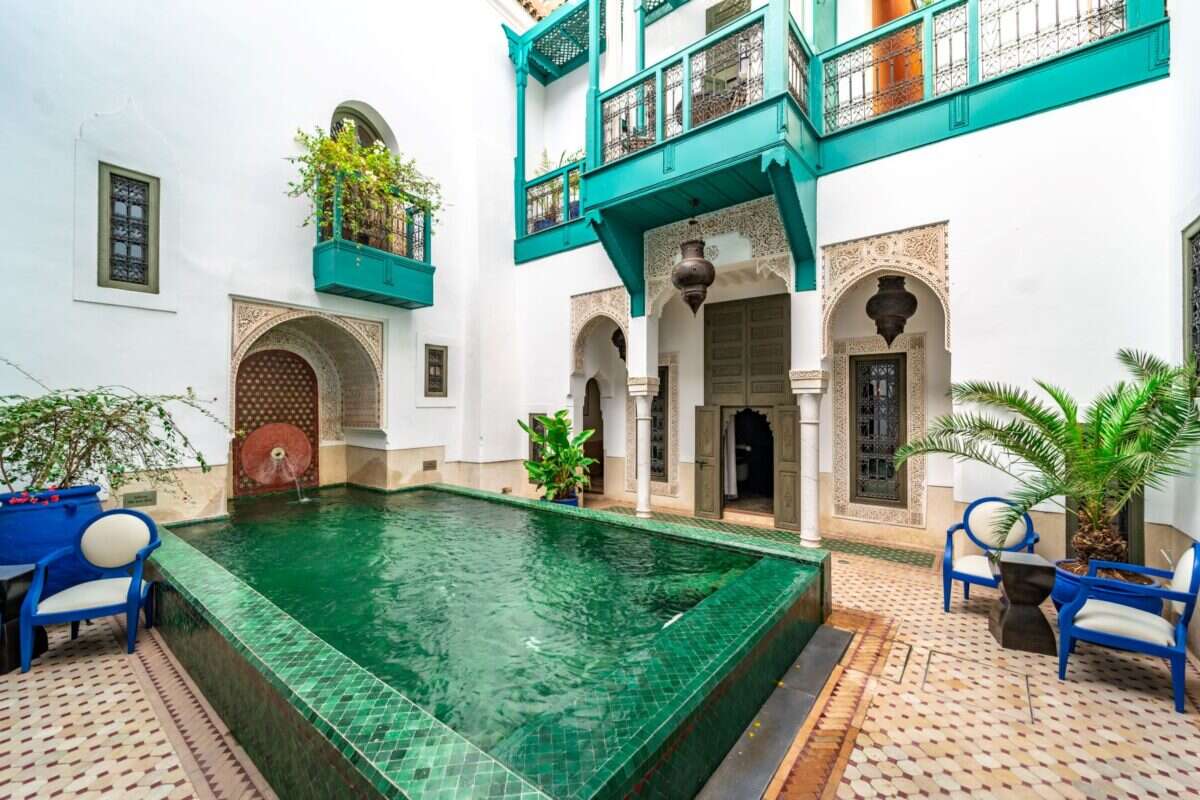 The rooftop dining area is a real delight — it has space for up to 22 guests and a barbecue, and has views overlooking the city and the Atlas Mountains. Le Trou Au Mur is a culinary hot spot found opposite the hotel. The name means 'hole in the wall,' and the restaurant serves authentic, laid-back dishes that are rarely seen outside Moroccan homes. Cuisine is prepared using traditional cooking techniques such as clay mechoui ovens.
There's also a gorgeous spa housed next door with two vaulted-ceiling marble hammams — opt for the Royal Hammam, which entails a full-body scrub with eucalyptus black soap followed by a ghassoul (a natural mineral clay that has been mined in the Atlas Mountains of Morocco since the 8th century) mask.
While it's easy to spend days languidly at Le Farnatchi, if you're keen to explore the bustling city the concierge team will help plan everything from scavenger hunts through the souk, to street food tours or jaunts to check out the artworks of local artists. For something further flung, day trips to the women's cooperatives or the Eve Branson Foundation in the Atlas Mountains can also be arranged.
Best for Hosting an alfresco dinner party with peerless views of Marrakech From $3,975 per night for exclusive use. Contact info@lefarnatchi.com, +212 524 384 910, lefarnatchi.com
Green O, Montana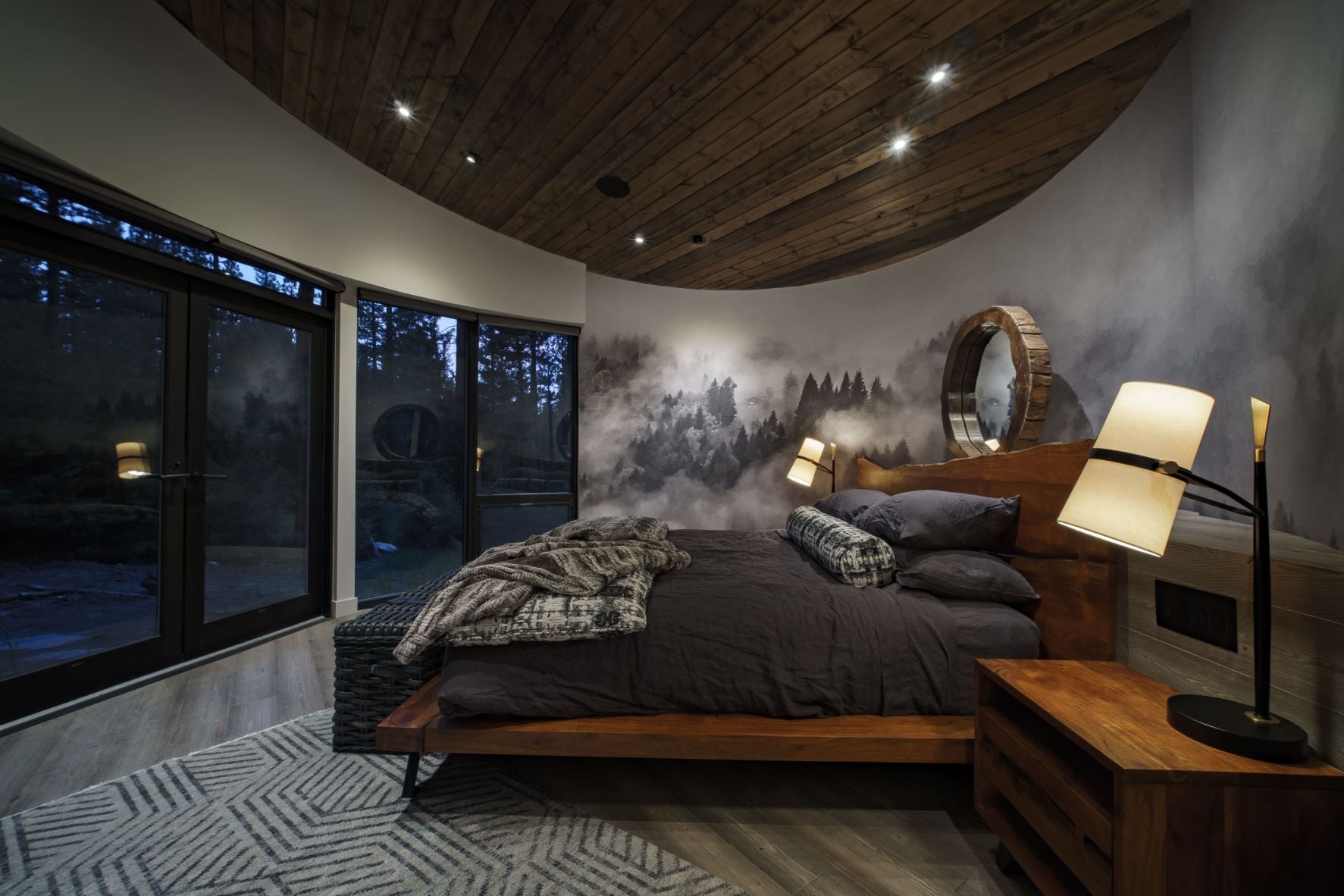 Even though Green O is just over a scenic half-hour's drive from Missoula Airport, it feels deliciously remote. The new-ish property opened in summer 2021 in response to guests of its sister property, The Resort at Paws Up, seeking a more evergreen option. And evergreen it is — Green O is surrounded by thick, verdant pine forest and is found on an enormous 37,000-acre spread (which it shares with Paws Up). Paws Up is known for being high-end yet familyfriendly; Green O differs in that it is an adults-only venue — so it's a superb option for a grown-up getaway.
There are just 12 handsomely appointed treehouse-style accommodations. Each treehouse, or 'haus,' sleeps two and has jaw-dropping views of the Blackfoot River Valley. Each one is unique and has its own evocative name — the Round Haus has a curious circular architectural design and as such it offers 180-degree views. The Light Haus has a glass-encased living room and a huge skylight above the king-size bed for stargazing from bed. The Tree Haus is elevated 23 ft in the air and has two stories with two decks.
The 12 standalone abodes surround The Social Haus, which is also designed to feel like an extension of the forest thanks to considered details like Shou Sugi Ban wood that has been stained to match the pine trees. There's a cozy lounge, inner circle bar, and a dining area and open kitchen. Dine on seriously local fare — the Blackfoot River Valley is home to Angus cattle, bison and elk, as well as morel mushrooms and huckleberries — and these local ingredients feature in the eight-course tasting menu.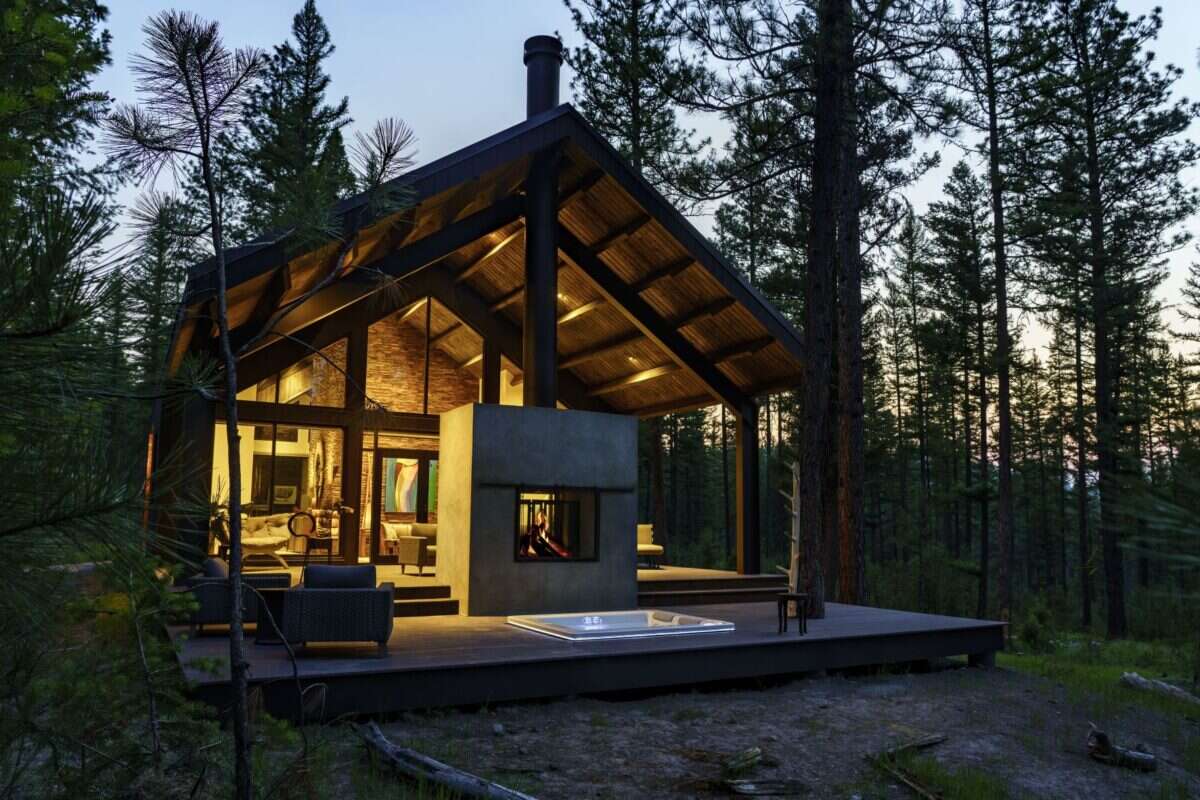 But perhaps the primary reason you and your posse would visit is for the plethora of adventures in the great outdoors: hiking, fishing, climbing, sailing…. There are all-year-round options like horseback riding (with over 100 miles of trails), but visit in winter and the horseback ride turns into a horse-drawn sleigh ride courtesy of Pete and Repete, the resident Percheron draft horses. If you want to see the landscape from above, head on a gentle flight via hot air balloon or on a private helicopter tour — best to do during the fall months when the rich autumnal colors paint the foliage in warm shades.
Best for: An adults-only adventure in the forest, From $24,580 per night for exclusive use. Contact pawsupgroupsales@pawsup.com, +1 888 957 9917, thegreeno.com
[See also: The Most Luxurious Eco-Friendly Hotels Around the World]
This article appears in the 06 Mar 2023 issue of the New Statesman, Spring 2023